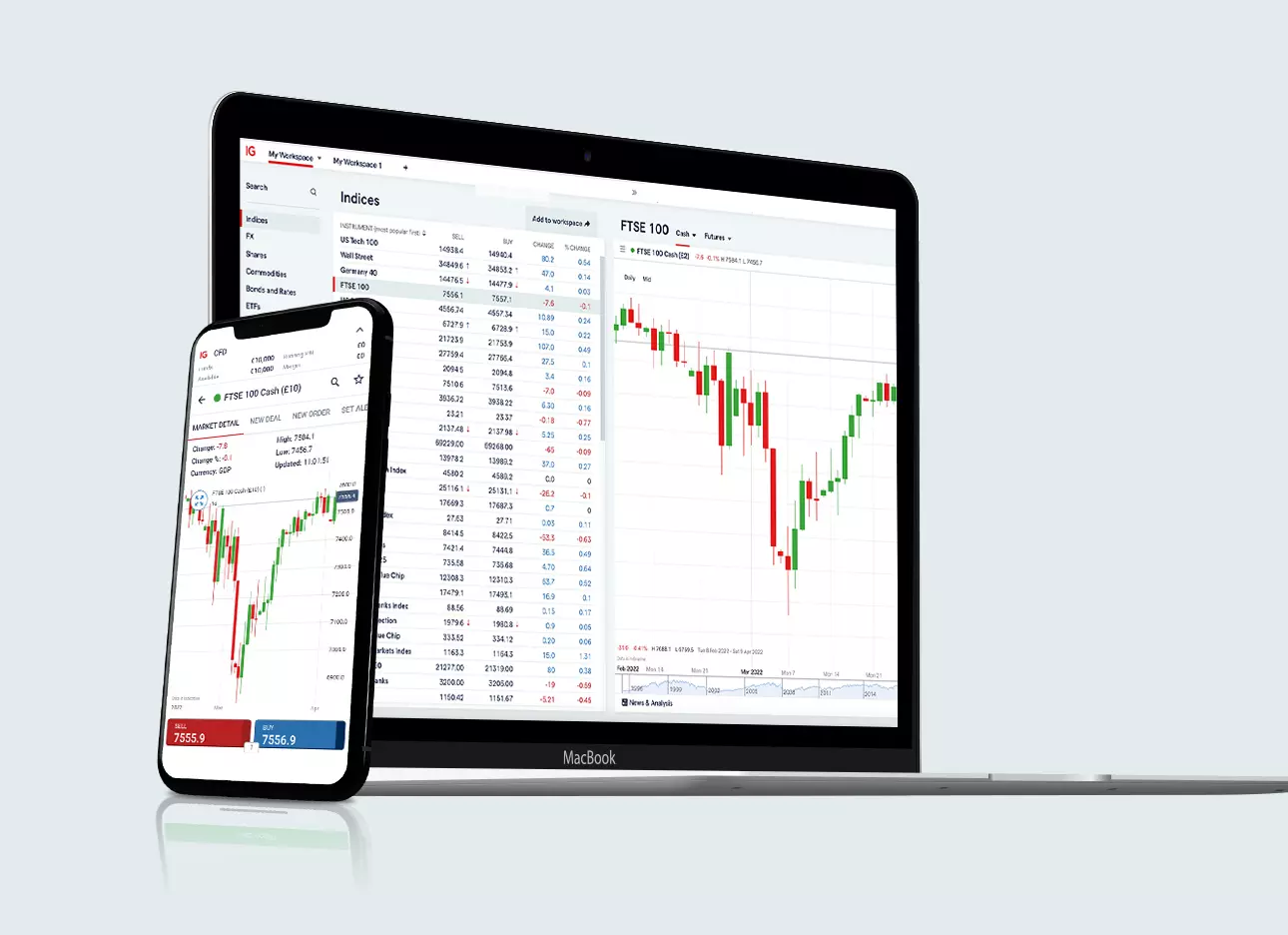 Trading in Australia: everything you need to know
New to the world of trading? From how trading works to the markets you can speculate on, here you'll discover all the trading need-to-knows to start you off on the right foot.
Trading essentials
Trading is the act of buying and selling financial assets for the purpose of making profit. You predict the price movement of the underlying asset by going long or short; and make a profit if your position is accurate. Many people use the terms 'trading' and 'investing' interchangableably but there's a difference.
Investing is when you buy and own an asset. Trading is when you use a financial instrument called a derivative – like CFDs – to speculate on an asset's price movements – without owning the asset.
Share trading
Buy and own company stocks with a share trading account. You can choose from over 12,000 leading Australian and international shares to invest in and earn dividends.
CFD trading
Exchange the difference in price between opening the position and closing it using a contract for difference (CFD).
Note: CFDs are complex instruments and come with a high risk of losing money rapidly due to leverage.
Share trading
Buy and own company stocks with a share trading account. You can choose from over 12,000 leading Australian and international shares to invest in and earn dividends.
Markets and assets to trade in Australia
Shares
Shares are units of ownership in a company. You can earn profit by investing in the stocks and selling them at a higher price. When trading, you can also profit when prices fall.
Indices
Trade indices to get exposure to the world's biggest stock markets – from the Dow Jones and the FTSE 100, to the ASX 200 and the Hang Seng Index.
ETFs
ETFs, known as exchange traded funds, are investment baskets that track the value of an individual commodity as well as a collection of stocks.
Forex
Forex trading involves speculating on the price of one currency against another. You trade on movements in the market price between currencies
Commodities
Commodities are physical goods bought and sold on exchanges, like stocks. There are different types of categories of commodities, from agriculture and energy to minerals.
Thematic and basket
Thematic and basket trading is a process of forming a portfolio based on trends and taking a position on a group of stocks simultaneously that are part of a theme.
IPOs
An IPO is a process for private companies to be traded publicly. With us, you can trade or invest in the shares of the company before, during and after they're listed on the stock exchange.
Bonds
Bond trading involves buying and selling corporate and government bonds. You trade on the actual prices of the bond sold on the secondary market.
Interest rates
Interest rates are the value charged on the borrower of a loan of an asset, indicated as a percentage. You can trade three interest rates with us.
Live market prices for Australian traders
Trade what you want, when you want, with us. Our innovative platform enables you to set alerts on the most popular markets and receive notifications about market events – as they happen. We offer more than 17,000 markets to trade. You won't find that anywhere else.
Out of hours market prices
Get access to a range of trading opportunities after hours when the market has closed. We offer the longest trading hours for key markets like US stocks, the FTSE 100, Dow Jones, DAX, Hang Seng, GBP/USD, EUR/USD and USD/JPY.
This period generally features a lot of volatility in prices because trading volumes after hours tend to be modest.
While there exists the potential to make a profit when other investors are not active, there's risk in trading after hours due to reduced liquidity, a wider spread and volatility in the market.
Trading strategies and styles you need to know
Trading strategies
Discover several trading strategies and styles you can use when speculating on price movements. Analyse the market and track emerging trends to tailor your position for a particular strategy to get the best results.
Day trading strategies
Choose the strategy that may work for you to buy and sell stocks within a short time frame, usually in a single trading day. Traders speculate on asset prices, executing trades multiple times to take advantage of market movements in a day.
Scalping trading strategies
Learn more about four scalping strategies that take advantage of small price changes. You open a trade and close it the moment that profit is made to lower exposure to risk.
Swing trading strategies
A swing trading strategy involves taking a position that lasts for a couple of days. You'll make profit or potential loss depending on how much the price moves in line with the prevailing trend.
Popular position trading strategies
Position trading involves taking a long-term position on an asset and keeping it open for long. You can trade or invest using position trading strategies when you spot a trend developing.
Free trading resources for Australian traders
Discover a world of opportunity - with over 18,000 markets
Find out how to trade CFDs on our platform
Learn more about share trading
1 Best Finance App, Best Multi-Platform Provider and Best Platform for the Active Trader as awarded at the ADVFN International Financial Awards 2023.