IG trading signals
Identify the right time to trade forex, indices and commodities with our free trading signals.
Why use IG's trading signals?


Free real-time trading ideas for your chosen markets
Continuous market analysis done on your behalf
What are trading signals?
Trading signals are actionable 'buy' and 'sell' suggestions, based on technical analysis. You can choose to have signals sent directly to you, as opportunities in selected markets arise, and use them to help you decide how to trade.
Disclaimer
The signal service does not constitute and should not be regarded as investment advice. IG provides an execution only service. You act on the signals entirely at your own risk.
Examples of trading signals
View signals at a glance
Use the signals pane in-platform to view signals for your desired markets at a glance, including provider, direction and time frame.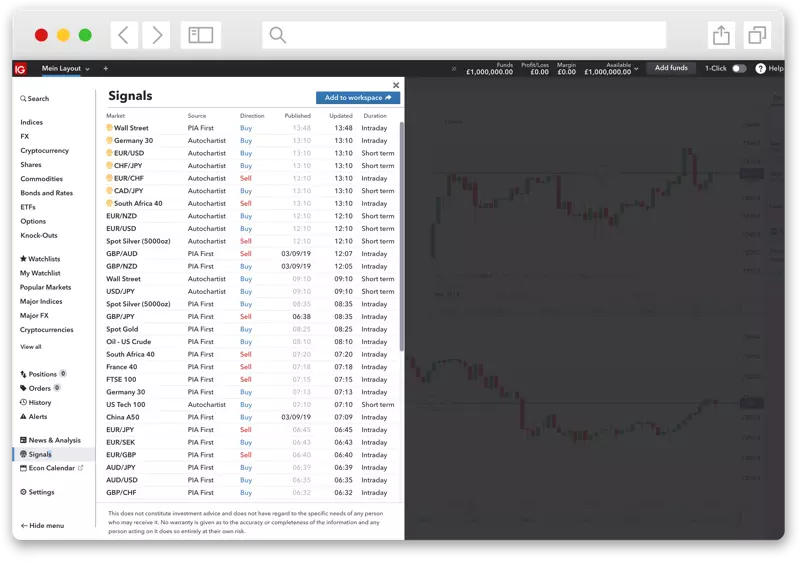 Access technical signals
This is an example of a technical signal. Here you'll get chart analysis of your selected market, along with entry and exit price targets to inform your trade.
Who creates IG's trading signals?
Our signals come directly from two third-party providers, Autochartist and PIA-First.
Autochartist's advanced pattern-recognition technology and PIA-First's experienced analysts monitor the markets on your behalf, giving you the best of both worlds in terms of technical analysis software and professional expertise.
Established in 2004, Autochartist is a market leader in automated technical analysis.
Scans the markets and analyses data across multiple timeframes
Provides objective information to help guide your decisions
Eliminates the subjectivity and guesswork from chart analysis

Trading strategy service provided by two market professionals with over 45 years' combined experience.
Award-winning analysis
Easy-to-implement trading strategies
Expert commentary on market movements
Fill in our simple online form
We'll ask a few questions about your trading experience.
Get swift verification
We can usually verify your ID in just a few seconds.
Fund your account and trade
Or practise on a risk-free demo if you'd prefer.
How to use trading signals
Create a trading account with IG
Log in to your account and open the trading platform

Select 'signals' from our menu

Choose from our suggested signals (ie 'Buy FTSE 100', or 'Sell EUR/GBP')

View the trading signal and accompanying analysis from Autochartist or PIA

Choose 'copy to order'
What markets can I get trading signals for?


Forex
Get signals for a range of popular FX pairs – including EUR/USD, GBP/USD, USD/JPY – with just one click.
Indices
Take your position on Germany 40, Wall Street, US Tech 100 and other top indices with cutting-edge analysis.
Commodities
Recognise opportunity in metals, energies and softs as they develop.
What can I get trading signals for?
You can get trading signals – technical – on popular forex, indices and commodities markets.
How reliable are trading signals?
Trading signals can prove complementary to a strategy when employed as part of a broader analysis toolkit. However, no warranty is given as to the accuracy or completeness of the information, and any person acting on it does so entirely at their own risk.
Who provides trading signals for IG?
Our signals come directly from third-party providers – Autochartist and PIA-First.
What devices can I get trading signals on?
You can access signals on mobile devices via the IG Trading app, and on desktop with the IG Trading platform.
What's the difference between a trading alert and a trading signal?
Trading alerts can be created to notify you of the most recent economic releases, price level changes and when your technical conditions are met. Trading signals inform you of significant trends or patterns in the markets that could lead to a trading opportunity.
You might be interested in…
Browser-based desktop trading and native apps for all devices.
Trade wherever you are, whenever you want with our range of apps designed to suit you.
Automate your trading with your own algorithms using our new web-based API, or the MT4 platform.