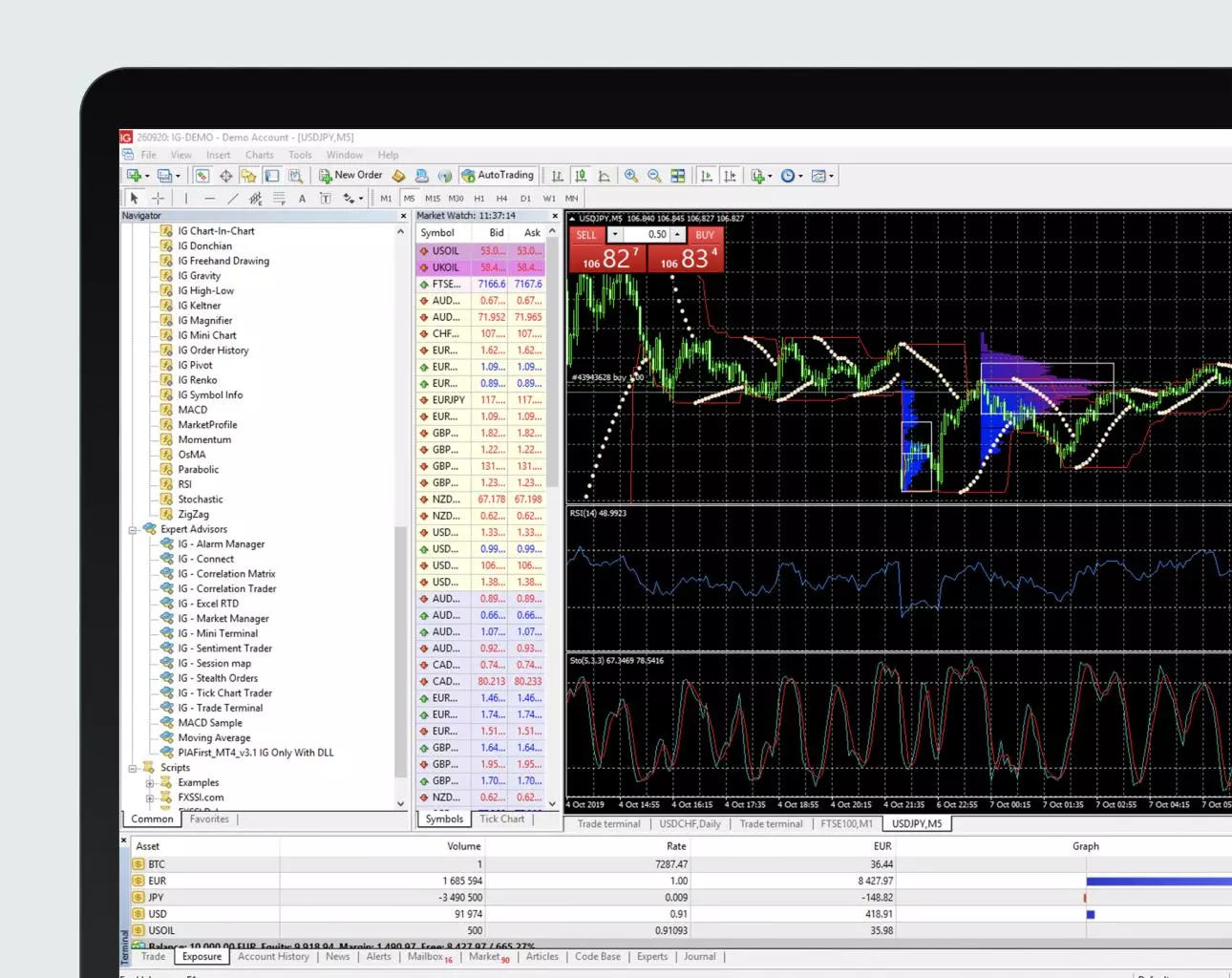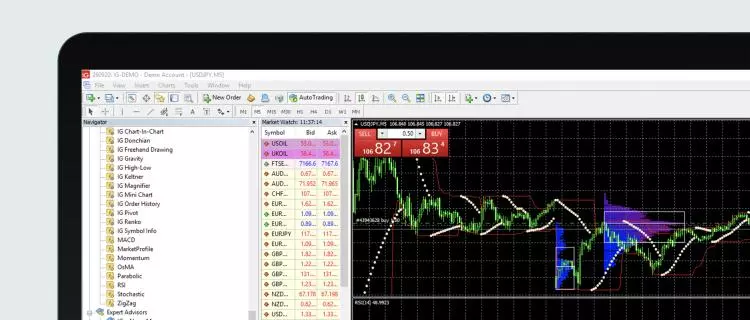 MetaTrader 4 demo account
Learn how to use MT4 in a secure environment with our MetaTrader 4 demo account. You can use your virtual balance to gain confidence and develop an understanding of the markets.
Try out a MetaTrader 4 Demo
The IG MetaTrader 4 demo has the same layout as the live version of the MT4 platform, with four trading windows and over 80 markets to choose from.
You get $10,000 in virtual funds to trade however you like. You can deal on forex pairs, commodities, indices and cryptocurrencies. The wide variety of markets available on our MT4 demo account enables you to test your trading strategies, as well as gain a feel for one of the most popular online trading platforms.
In addition, you'll get access to the same free add-ons and indicators that you receive with a live account. These include indicators such as pivot points, order history and the Renko indicator. The add-ons include the mini terminal, stealth orders and alarm manager, which all help you fully customise the MT4 platform.
Sign up for a demo account
Features of an MT4 demo account
$10,000 in virtual funds to help you get comfortable using MT4 and familiar with the financial markets
Live data to test out your strategies accurately and effectively
Access to Expert Advisors, which enable you to implement your trading strategies and automate your trading
Can be used on Windows or Android devices
18 free indicators and add-ons from IG – the same as a full account – to let you get to grips using chart pattern indicators and technical analysis before opening a live account
Differences between an MT4 demo account and MT4 live account
Trades made on your MT4 demo account will not be subject to slippage, interest and dividend adjustments, or out-of-hours price movements
Trades may be rejected if you have insufficient demo funds to open them, but, unlike on a live account, will never be rejected on the grounds of size or price
You will not be charged for chart packages on a MetaTrader 4 demo account, but would be charged on a live account
Trades will not be closed if you have insufficient funds to cover margin and running losses, while trades could be closed in such a scenario on a live account
Upgrade to a live MT4 account
There is no way to change your MT4 demo account to a live IG MT4 account. Instead, you will need to create a separate live account. Fortunately, with IG this is a straightforward process.
First, create a live account and log in to the My IG dashboard on the IG site. Next, select 'add another account', and choose a MetaTrader 4 account for CFDs.
It's important to bear in mind that while demo and live accounts are technically very similar, your state of mind when using each is likely to be very different. After all, when it's real money on the line, the decision to open a new position will seem a lot more daunting, and the decision to close a lot more difficult.
There is more information on how to download MT4 with a live IG MT4 account on our download MT4 page.
Are there any charges for an MT4 demo account with IG?
An IG MT4 demo account is free of charge. It gives you the opportunity to learn about trading on the MT4 platform.