Discover Australia's best mobile trading app1
Take control of your mobile trading and access thousands of markets – including stocks, forex and indices – with Australia's best trading app. Download now, and trade wherever you are, whenever you want.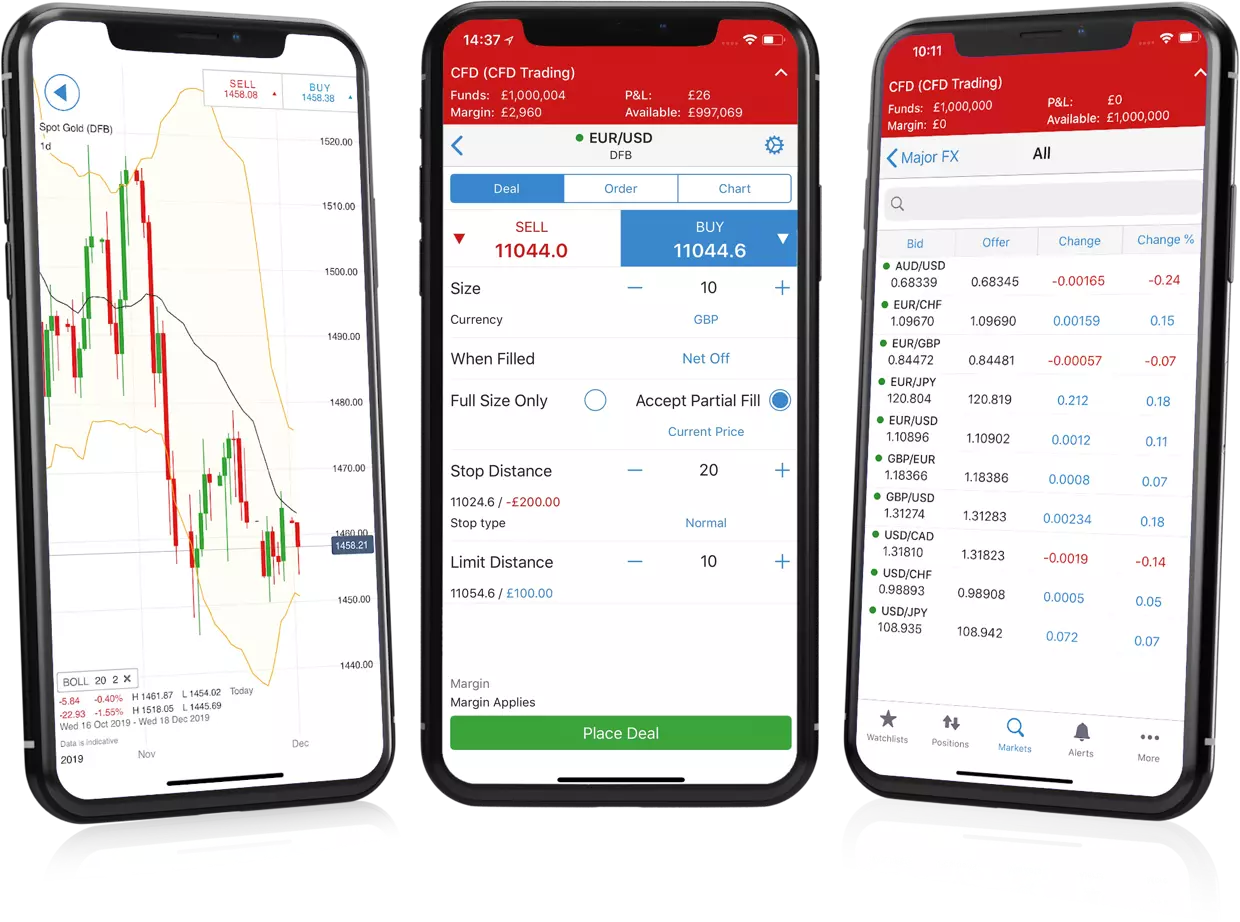 What our clients are saying




"Superb app which allows instant trading"
"App is very user-friendly"
"Easy-to-use platform on both desktop and mobile devices"
"Simply awesome. Easy-to-use interface"
Why download our trading app?


Speculate on markets with CFDs, even when you're on the move
It's free, with fast execution and real-time price data
Access exclusive data and analysis on over 17,000 markets


React instantly to price alerts and trading signals with email, SMS or push notifications
Make deposits and withdrawals on any of your preferred devices
Trade seamlessly on a natively designed, in-house app
Dealing
Risk management
Charts
Alerts
Advanced
Full dealing functionality
Get all the features you need to trade from within our app
Open, monitor, edit and close your positions from wherever you are
Manage your risk with our range of tools, including trailing and guaranteed stops2
Take control of risk
Minimise potential losses for free with normal or trailing stops
Avoid any risk of slippage with guaranteed stops, which only incur a fee if triggered2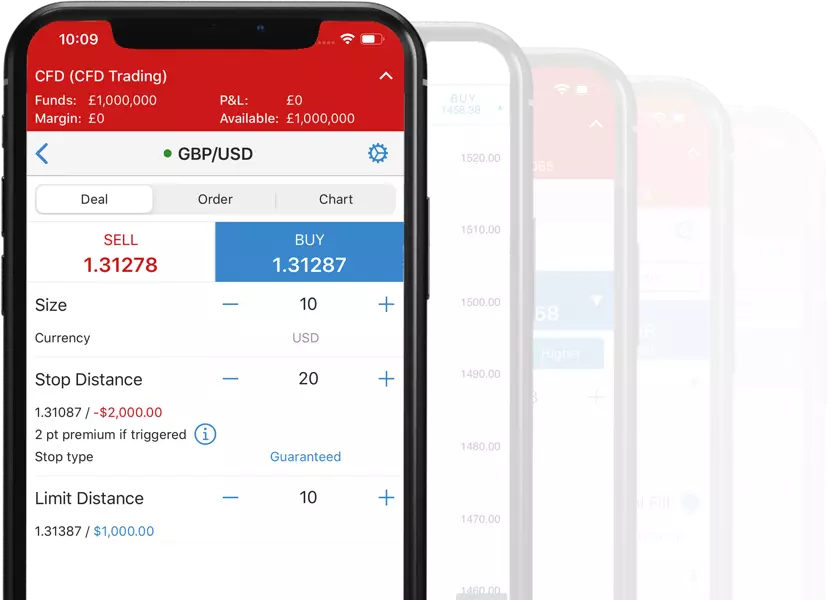 Full-screen intuitive charts
Deal directly through fully customisable and full-screen charts
Analyse the markets with a range of technical indicators
Trade on the move with real-time prices and market data
Get price alerts directly to your device
Create price alerts for any market, and receive trading signals by email, SMS or push notification
Use our economic calendar and set alerts for key market events and announcements
Track the markets with our client sentiment indicators and personalised watchlists
Advanced dealing options
Make the most of a range of advanced features such as partial fills and points through current
Receive tailored order types when opening a position, including 'good till cancelled' or 'good till date'
Save your last stake size and stop distance
Award winning platform. Award winning app.
Our smooth, feature-rich mobile app makes it easy to trade from anywhere. Probably why it won ADVFN Best Financial App 2023.

You can also trade on IG's award-winning desktop platform
Fast execution on a huge range of markets
Enjoy flexible access to more than 17,000 global markets, with reliable execution
Deal seamlessly, wherever you are
Trade on the move with our natively designed, award-winning trading app
Feel secure with a trusted provider
With 45 years of experience, we're proud to offer a truly market-leading service
Available devices
The IG trading app has been natively designed for iOS and Android devices, including smartphones and tablets.
On iOS devices, the app will operate on the iPhone, iPad or iPod Touch
For Android, the app is compatible with smartphones or tablets with an operating system of 4.0.3 or above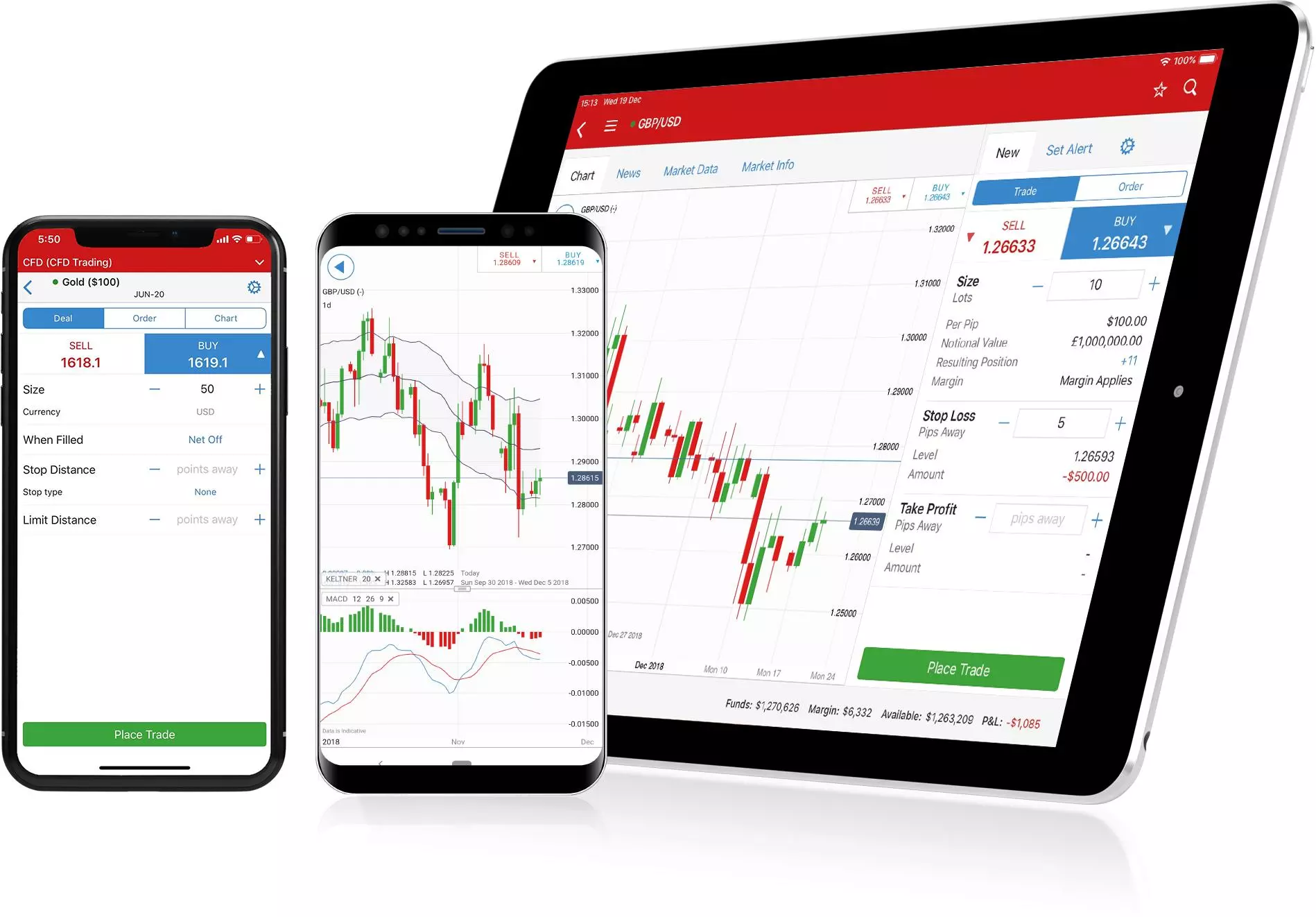 Analyse over 17,000 markets
Trade thousands of markets, including forex, indices, shares, commodities and cryptocurrencies on the IG trading app.
Explore IG's award-winning desktop platform
Trade the same markets available on our app and speculate on markets rising or falling with our award-winning desktop platform.
Can I trade digital 100s on mobile?
You can trade digital 100s on mobile, but you'll need to use our mobile web platform rather than our app.
You might be interested in…
Discover the differences between our online trading platform and our award-winning trading apps.
Learn about MT4 and its tools and features, which can help to customise your trading experience.
We're clear about our charges, so you always know what fees you will incur.
1 As awarded at the Investors Chronicle and Financial Times Investment and Wealth Management Awards 2018, and at the Professional Trader Awards 2019.
2 A premium is incurred if a guaranteed stop is triggered.