How to buy and trade Polkadot (DOT) coin in Australia
Polkadot is a relatively new network that encourages interconnectivity between blockchains, increasing the speed of multichain transactions among various cryptocurrencies. Discover how to buy and trade Polkadot.
How to buy Polkadot coin: investing vs trading
When investing, you'll acquire the actual Polkadot coins and own these outright. By investing, you'll be paying the full value of the Polkadot coins upfront. This will be at a capped risk – meaning you'll only lose what you've paid. Note that we don't offer this on our platform.
When trading, you won't own the Polkadot coin but you'll speculate on its price movement on the market. Trading enables you to go both long ('buy') and short ('sell'), whereas you can only go long when investing.
When trading with us, you'll do so using leverage. Our leveraged products enable you to trade the full value at a fraction of the cost by using a margin, giving you more exposure and potentially increasing the amount of profit you make, if you make a correct prediction. However, any losses will also be magnified. Always take measures to manage your risk.
| | Trading Polkadot through CFDs with us | Buying Polkadot via an exchange |
| --- | --- | --- |
| Capital required to open a position | Margin for retail clients is 50% of the total value of the coin | Full cost of the coin |
| Short selling? | Yes | No – unless there's a willing counterparty |
| Regulation | We're a regulated company | No dedicated regulatory body in place |
| Restrictions on funding and withdrawing | Restrictions on funding and withdrawing | You may be charged penalty fees for adding and withdrawing funds |
| Execution | 0.0141 second execution speed, with access to our deep liquidity | Dependent on exchange liquidity levels |
| Overnight funding charges? | Yes | No |
Investing in Polkadot (DOT)
The DOT cryptocurrency is the digital coin shareholders can buy to own a stake of the Polkadot network.
Once you have bought Polkadot coins, you can make gains on your investment by selling for a higher price if and when the coin appreciates in value over time. However, if the asset depreciates in value as time goes by, selling it then would result in you making a loss.
To start investing in Polkadot, get an online broker that enables you to buy cryptocurrencies. Ensure you've got a Polkadot wallet where you'll keep your DOT coins until you're in a position to sell. Note that we currently don't offer this on our platform.
Trading Polkadot with CFDs
Trading this cryptocurrency means that you're taking a speculative position on whether the Polkadot price will rise or fall. When trading on Polkadot with CFDs (contracts for difference), you'll speculate on the DOT coin's price and make gains – or losses – depending on whether your prediction is correct or not.
The profit or loss you make will be based on the price difference between your open and close positions. Read more about leverage and the risks involved.
Unlike investing, you won't take direct ownership of the DOT coins, so there won't be a need to create an exchange account or a Polkadot wallet.
Here's how trading Polkadot with CFDs works:
Pay your margin upfront: you'll open your position with an initial deposit – called margin – which is a fraction of your total market exposure. Trading this cryptocurrency gives you exposure to the underlying asset without you taking ownership of it, as you would if you were investing in it.
Open a trade: to take your position when trading Polkadot, 'buy' the market if you think the price will rise or 'sell' if you think it'll fall. There could be tax benefits that come with CFD trading, depending on your individual circumstances2.
Utilise leverage: remember that trading Polkadot with CFDs is done using leverage, which has its pros and cons. Leverage gives you more exposure to the underlying asset at a fraction of the initial deposit (margin) you pay upfront. This means that both profits and losses will be magnified. You can use our risk management tools as part of your strategy
Beware of the risks: since the profit and loss on the trade of leveraged products is calculated on the total position size and not the margin, your losses could far outweigh the deposit amount. When trading with us, remember to manage your risks carefully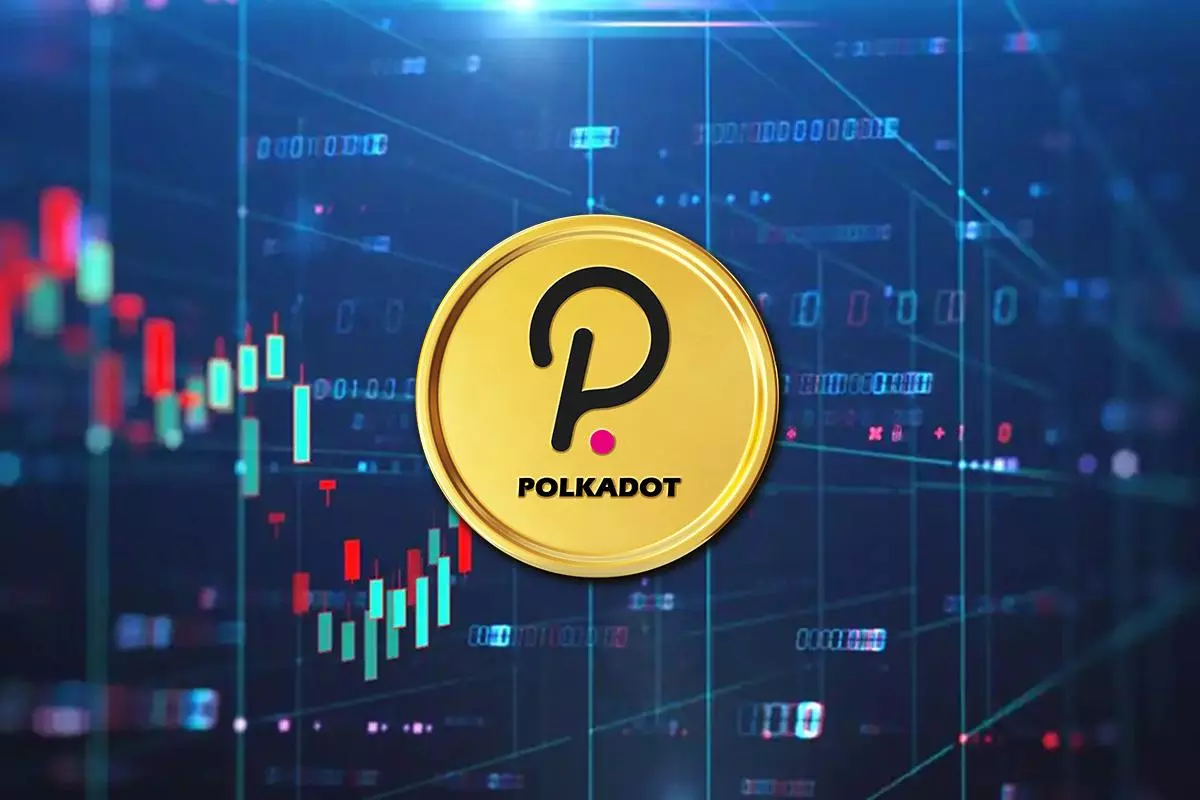 How to sell or short Polkadot
If you've monitored Polkadot's performance on the market and you think the price might go down, you can decide to go short (sell).
Here's how to short Polkadot with CFDs:
Create a CFD trading account or log into your existing account
Open the trading platform and type 'Polkadot' into the search bar
Select 'sell' on the deal ticket
Set your position size, as well as your stops and limits
Click 'place deal' to confirm the position and open the trade
If you're not ready to trade the live markets just yet, you can always build your confidence with our demo account. You'll get $10,000 worth of virtual money to practise trading Polkadot with us and acquaint yourself with how this asset performs. Our demo account also helps you to familiarise yourself with managing risk when trading cryptocurrencies.
What is Polkadot (DOT)?
Polkadot is an open-source multiple blockchain environment that operates on Substrate, a software development framework. It enables the bundling of lots of different blocks, simultaneously executing them to run parallel to one another.
By using oracle technology, Polkadot has created a decentralised network where various cryptocurrencies can connect and interoperate ('speak') with one another without the need for a 'middleman'. This then creates a multichain that can run at 100 times the amount of the transactions' throughput as compared to what would've been achieved by one Polkadot or Ethereum chain.
In short, Polkadot improves how blockchains communicate with one another, increasing the scalability of transactions.
A brief history of Polkadot
Polkadot is the brainchild of Ethereum co-founder, Dr Gavin Wood, but it was not built with the specific intention to replace Ethereum. The idea was to create a platform that would complement Ethereum by removing the 'middleman', which would enable blockchains to securely interact with one another, increasing trust within the blockchain community.
Polkadot came into existence after Dr Wood expressed frustration with the slow development of Ethereum. Dr Wood, along with Robert Habermeier and Peter Czaban, founded Polkadot in 2016. This was as part of the Web3 Foundation, which aims to nurture cutting-edge applications for decentralised web software protocols.
The trio had initially intended for Polkadot to use Ethereum technology to build its network, but ended up implementing it on Substrate, a software development framework that's maintained by Parity Technologies – a company co-founded by Dr Wood in 2015. Substrate was used to create new infrastructure chains parallel to one another called 'parachains' that contain specialised logic that can process transactions at high speeds.3
In October 2016, Dr Wood released the first draft of the Polkadot whitepaper, printed on a blush pink sheets of paper speckled with white polka dots. In it, he provides justification for the rationale behind the then-experimental development of the blockchain paradigm that Polkadot would achieve – a multi blockchain network.4
A year later, Dr Wood's concept of a 'scalable heterogenous multi-chain' platform that would serve as a bedrock (or 'relay-chain') for hosting parachains became a reality.
This meant the multichain network can process many transactions on numerous parallel chains running at the same time – a unique feature that set Polkadot apart.
In October 2017, Polkadot had its initial coin offering (ICO). It launched its DOT crypto token in 2020 and its launch price was $0.29, with 2.48 million tokens on offer.5
To date, Polkadot has raised more than $200 million from the sales of its DOT cryptocurrency.3 As of December 2021, Polkadot's market cap was $26 billion.5
How to analyse Polkadot's price movements
As you would with any asset you plan to invest in, ensure that you closely monitor and analyse Polkadot's price movements on the market. You can use technical analysis tools to help you track price movements.
You can also use fundamental analysis to study the historical price charts. This enables you to study what resulted in sharp price movements and try to discern what could lead to similar shifts in future. That being said, it's important to note that past performance does not guarantee success in the future.
Polkadot trading strategies
Like many of its crypto peers, Polkadot can be very volatile, so it's crucial that you build an arsenal of trading strategies that are suitable for cryptocurrencies and specifically for Polkadot.
Here are some trading strategies you can adapt or add into your trading plan:
Day trading with Polkadot
Day trading Polkadot means that you'll open and close a position within a single day, meaning you won't have market exposure to the asset overnight. The positive is that you'll avoid overnight charges for keeping your position open after trading hours.
You might consider using day trading if you're looking to get exposure to Polkadot's price movements in the short-term. This strategy will also enable you to trade on the daily volatility of Polkadot's price.
Trend trading with Polkadot
When trend trading, you'll be taking a position that's aligned to current Polkadot market trend. This means if the market is bullish, you'd buy ('go long') and if it's bearish, you'd sell ('go short').
As you observe the performance of Polkadot and see that these trends are slowing down or headed in the opposite direction to your desired outcomes, you might consider closing your position. You can then follow this by opening a new position that's aligned to the emerging trend.
Polkadot hedging strategy
When you hedge Polkadot you'd be mitigating your exposure to risk by taking an opposing position to the one you've already opened. Let's say, for instance, you own Polkadot coins and you're concerned about the market moving against you, leading to a drop in their value in the short term.
In such a case, you'd open a short position on Polkadot with CFDs and if the DOT price falls, the profit you make on your short position will offset some or all of your losses on the crypto coins you own.
HODL Polkadot strategy
The 'HODL' strategy, which stands for 'hold on for dear life', is very popular among crypto traders. This strategy involves buying and holding your Polkadot.

However, you'll only use this strategy if you buy and hold when you've got a positive outlook on its long-term price.
If your research or trading plan indicates that you should sell your positions to make gains or limit loss, you can set up stop losses to automatically close your position.
How to buy and trade DOT summed up
Polkadot was created to improve how blockchains communicate with one another, increasing the scalability of transactions
The DOT cryptocurrency is the digital coin shareholders can buy to own a stake of the Polkadot network
Trading the DOT cryptocurrency means that you're taking a speculative position on Polkadot's price
You can trade Polkadot with us using CFDs
Closely monitor and analyse Polkadot's price movements on the market and use the technical analysis and fundamental analysis tools to help you track its price movements
Footnotes:

1 Based on IG Group's OTC data for October 2019
2 Tax laws are subject to change and depend on individual circumstances. Tax law may differ in different jurisdictions.
3 Kraken, 2021
4 Polkadot white paper, 2016
5 CoinMarketCap, 2021
This information has been prepared by IG, a trading name of IG Australia Pty Ltd. In addition to the disclaimer below, the material on this page does not contain a record of our trading prices, or an offer of, or solicitation for, a transaction in any financial instrument. IG accepts no responsibility for any use that may be made of these comments and for any consequences that result. No representation or warranty is given as to the accuracy or completeness of this information. Consequently any person acting on it does so entirely at their own risk. Any research provided does not have regard to the specific investment objectives, financial situation and needs of any specific person who may receive it. It has not been prepared in accordance with legal requirements designed to promote the independence of investment research and as such is considered to be a marketing communication. Although we are not specifically constrained from dealing ahead of our recommendations we do not seek to take advantage of them before they are provided to our clients.