How to trade FTSE 100 CFDs
Discover all you need to know about trading CFDs on the FTSE 100 – including what CFDs are, how to trade FTSE 100 CFDs, trading strategies, FTSE 100 trading hours, timeframe tips and other guidelines.
Trading CFDs on the FTSE 100: what you need to know
There is a lot to know about trading CFDs – one of the most popular financial derivatives – and the FTSE 100, one of the world's best-known indices.
CFD trading is the buying and selling of contracts for difference (CFDs) via an online provider like us. In fact, the FTSE 100, as a major and generally well-supported index, is a great way to get started trading CFDs.
The FTSE 100 is a stock index of the London Stock Exchange's (LSE) 100 largest companies by market capitalisation. This makes the FTSE 100 a 'who's who' list of the biggest and best stocks to trade in the UK.
In fact, thanks to its inclusion of the UK's largest companies, some financial experts see it as a frequent barometer of UK economic health. There is also the FTSE 250 index, which is comprised of the 101st to 350th largest companies listed on the LSE. The FTSE 350 is made up of both FTSE 100 and FTSE 250 companies.
There are many ways to trade the FTSE 100, including spread betting on the FTSE, but one of the most popular is CFDs.
When trading CFDs on the FTSE 100, you enter into an agreement to exchange the difference in the price of the index from the point at which your position is opened to when it's closed. So, you will speculate on whether you think the price of the FTSE 100 will rise or fall – and make a profit if you predict correctly and a loss if you don't.
FTSE 100 CFD example
Let's look at an example. Say you think that the FTSE 100 price is going to increase, so you buy five FTSE 100 CFD contracts, valued at £2 each, when the buy price was at 7300. The total value of your position would be £73,000 (a buy price of 7300 x 5 contracts x £2).
However, CFDs are leveraged, so you'll only put up a deposit (called margin) to open a position. The margin rate for trading CFDs on the FTSE 100 is 5%, so you would only need to put up a margin worth 5% of total value of your futures position – this equals £3650 (5% x £73,000).
Now, let's say your prediction is correct, and the price increases to 7500, your profit will be calculated as the difference between 7500 and 7300, multiplied by the five FTSE CFD contracts at £2 each. This would give you a profit of £2000 (7500 - 7300 x 5 FTSE 100 contracts at £2 each).
However, if your prediction was incorrect and the price of the FTSE 100 falls to 7100, you'd incur a loss of £2000 (7100 - 7300 x 5 FTSE 100 contracts at £2 each). Remember that both profits and losses are calculated based on 100% of your position value, not your margin amount.
7 steps to trading FTSE 100 CFDs
Choose your timeframe and open an account
Just like there are different ways to trade the FTSE 100, there are different timeframes to choose from as well: cash (spot) indices and index futures.
You can choose to trade on the FTSE 100 with either cash CFDs, also known as 'spot' (best for short-term traders) or FTSE 100 futures (best for the longer term). This is because of the different costs associated with both types of FTSE 100 CFD trading.
There are two main charges when trading CFDs on the FTSE 100: 
This is the difference between the buy price and sell price and includes the market spread, which can vary depending on market conditions
Only on cash CFDs, not futures. If you want to keep a trade open past 10pm (UK time), there is an additional overnight funding adjustment fee. This includes an admin fee of 2.5% and is calculated by taking into account the amount of nights your position is held, your trade size and the market closing price
Trading CFDs on the spot price means you get low spreads but also incur overnight fees – making it perfect for those preferring short-term trading. FTSE 100 CFD futures, on the other hand, have no overnight fees but trade with higher spreads, making them perfect for longer-term trading styles
Find out more about how to trade CFDs
Depending on your preference, you would select either 'cash' or 'futures' when placing your CFD trade like in the illustration below:
Once you've decided what timeframe is best for you, the only thing left to do is open an account:
Choose whether to buy or sell
Pick your position size and
Set your stops and limits
Place your trade and monitor your trade
Ready to start trading CFDs on the FTSE 100? Create a live account or practise on a free demo account with £10,000 of virtual funds.
Analyse the FTSE 100 price and charts
There are two main methods of conducting your own analysis, which is vital to any trader:
Technical analysis is just that – it looks at technical indicators, chart patterns and historical price action to attempt predicting how the FTSE 100 might move in the future.
Learn more about technical analysis here
Fundamental analysis is more holistic and looks at the macroeconomic market environment surrounding the index – things like fundamental economic metrics such as government interest rates, the UK's gross domestic product (GDP) and other market risk factors.
Learn more about fundamental analysis here
While analysis is vital, no one trader can be expected to see every trend coming. For this reason, we've taken some of the guesswork out for you with trading signals. Our trading signals can also help you spot potential trades that analyses don't always pick up, as well as our free trading alerts.
Both will send you customisable notifications at no cost to alert you to market shifts of particular interest to your positions, so that you don't have to watch the market 24/7.
Choose whether to buy or sell
With CFDs, you can speculate on an underlying asset (such as the FTSE 100 index) without having to take ownership of anything. This can make CFDs far more versatile as you can make a profit (or a loss) whether the index's price is rising or falling.
There are two ways to trade the FTSE 100. You can either 'buy' CFDs (known as going long) or 'sell' CFDs (known as going short).
If you think that the FTSE 100 price will rise, you'd select 'buy' when trading to go long
If you think that the FTSE 100 price will drop, you'd select 'sell' when trading to go short
Pick your position size
Once you've decided whether to go long or short, you need to choose your position size – which is the amount of money you are staking for every point the FTSE 100 moves, with your profit or loss calculated by pounds per point. So, if you opened a £10 position, you'd make a £100 profit if the FTSE 100's price moves 10 points' difference in your favour and a £100 loss if it moves 10 points against you.

As we've said above, because CFDs are leveraged, you only have to put up a deposit to open a position (called margin). This enables you to get exposure to the full value of the trade (say £2 to open a £10 position) without committing the full position value upfront. While this can magnify possible profits, it will also amplify your losses, as both will be calculated on the full trade size and not your margin amount.
Learn more about the impact of leverage on your trading
If you are uncertain whether CFDs are right for you when trading the FTSE 100, another option is spread betting. While CFDs are an agreement to exchange the difference between your opening and closing positions, spread betting is all about staking an amount per point of movement.
So, for every point the FTSE 100 moves, you'll make a profit or loss based on the accuracy of your prediction. Unlike CFDs, spread betting is generally tax-free. We invented spread betting in the 1970s and are the world's No.1 spread betting and CFD provider.1
Set your stops and limits
Because predicting the exact moment when to close your trade to make a profit or prevent further loss can be difficult, we have stop orders and limit orders available for you, which automate your trading decisions to limit loss or lock in profits automatically at your predetermined levels.
A stop order closes your trade when the market moves against you by a specified amount, which you would set beforehand. This means you limit the amount you can lose
A limit order closes your position when the market moves in your favour by your specified amount. This means you can lock in profits before the market moves again.
Of course, sometimes the FTSE 100 can move unpredictably and suddenly in very volatile conditions – even before your stop order or limit order can kick in. Negative slippage is an unfortunate side effect of this, which occurs when the market moves as you place your order and the stop you have set can't be processed quickly enough, so your order is filled at a worse price than expected.
This can be avoided by attaching a guaranteed stop to your trade. Unlike basic stop losses, these will always fill your trade at the price at which you have set it. You'll pay a small premium for it, but will gain the peace of mind that comes with knowing your profits and losses are locked in at the amount you set, regardless of what the index does.
Place your trade
After choosing your position and its size, plus setting your stop and limit amounts, all that's left to do is place your trade. To do so, simply click 'place deal'. Once you have seen the 'deal confirmed' notification pop up, your CFD position is open and tracking the FTSE 100.
Monitor the market and close your trade
Once you've opened your position, it's time to monitor it to determine when would be a good time to close your trade, either to lock in profits or to prevent further losses.
Again, our stop orders, limit orders and even guaranteed stops can be invaluable here, closing your position for you when it reaches the parameters which you've set. Other useful tools here include our free trading signals and alerts to stay up to date with marketing conditions, automatically alerting you to market conditions that might be favourable for you.
Once your position has reached the level of profit or loss that you're comfortable with, close your trade. To do so, simply 'reverse' your position. If you were going long, click 'sell' and, if you were going short, click 'buy', to close. When you do so, whatever the FTSE 100's price was at the moment the trade was closed is your trade's profit or loss.
There are a number of exit strategies you can use to best close a trade.
Read more about exit strategies in this article.
Again, this will be unnecessary if the position reaches the parameters you've set if using a stop order, limit order or guaranteed stop. These will automatically close your trade for you when the parameters you set are met without any action required on your part.
FTSE 100 CFDs summed up
The FTSE 100 is one of the best known indices in the world and one of the most popular ways to trade it is with CFDs
As CFDs are leveraged, you are only required to put up a deposit margin upfront, called margin. This can make your capital go further, but also means your losses can far exceed your initial margin amount
Once you've decided to trade CFDs on the FTSE 100 and have set up an account with us, all that remains to do is decide whether to go long or short, pick a position size and open your trade
You can put stop losses and limit orders in place to help limit losses and lock in profits, as well as guaranteed stops, to prevent against losses when volatility causes slippage, for a small fee
Once you've placed your trade, our trading signals and alerts can help you to monitor your position so as to close when most advantageous for you
Can I trade CFDs on other FTSE markets?
Yes – while the FTSE 100 is the most well-known index and consists of the UK's 100 biggest LSE-listed companies, there are also the FTSE 250 (the 101-350 biggest companies) and FTSE 350 (which combines both the FTSE 100 and FTSE 250) indices. You can trade the FTSE 250 with us, as well as FTSE 350 sectors like banks, oil, gas, travel and leisure.
What are the costs of trading CFDs on the FTSE 100?
There are two main charges when trading CFDs: the spread and any overnight charges. The spread is simply is the difference between the buy price and the sell prices on the FTSE 100 and includes within it the cost of making that trade. Overnight funding is the additional fee charged by us to keep a position open after 10pm (UK time). The exception to this is futures CFDs, which do not incur an overnight fee but do incur wider spreads.
Find out more about our charges
How do I get started with FTSE 100 CFDs?
To start trading CFDs, you'll need to open and fund a CFD account. Then, after conducting your own analysis, you'd choose a position size, set stops and limit orders and then open and monitor your first trade. If you're not yet ready to start live trading, you can also open a demo account to practise CFD trading on the FTSE 100 first, free of charge, with £10,000 worth of virtual funds.
What times can I trade the FTSE 100?
With 158 weekly trading hours out of 168 total hours, we offer 30 more weekly trading hours on the FTSE 100 than our nearest competitor.2
Our normal hours for FTSE 100 CFD trading are from 11pm on Sunday to 10pm on Friday night (UK time). On weekends, you can trade the FTSE 100 from 8am Saturday to 10.40pm Sunday (UK time) – and you won't find these hours anywhere else in the UK.
It's important to note, however, that dealing from 8am Saturday to 10.40pm Sunday is a separate market to our normal times. Positions still open in the weekend market will roll over to the main FTSE 100 market on Sunday night after 10:40pm (UK time), but positions in the main market on Friday won't roll into the weekend market.
Footnotes
1 Based on revenue (published financial statements, 2022).
2 This data is based on analysis of the FTSE 100, DAX and Wall Street offering from our UK competitors' websites, and is correct to the best of our ability as of 30 July 2020. Some trading hours have been rounded up or down to the nearest hour. This table is for comparative purposes only, and the data is subject to change.
This information has been prepared by IG, a trading name of IG Markets Limited. In addition to the disclaimer below, the material on this page does not contain a record of our trading prices, or an offer of, or solicitation for, a transaction in any financial instrument. IG accepts no responsibility for any use that may be made of these comments and for any consequences that result. No representation or warranty is given as to the accuracy or completeness of this information. Consequently any person acting on it does so entirely at their own risk. Any research provided does not have regard to the specific investment objectives, financial situation and needs of any specific person who may receive it. It has not been prepared in accordance with legal requirements designed to promote the independence of investment research and as such is considered to be a marketing communication. Although we are not specifically constrained from dealing ahead of our recommendations we do not seek to take advantage of them before they are provided to our clients. See full non-independent research disclaimer and quarterly summary.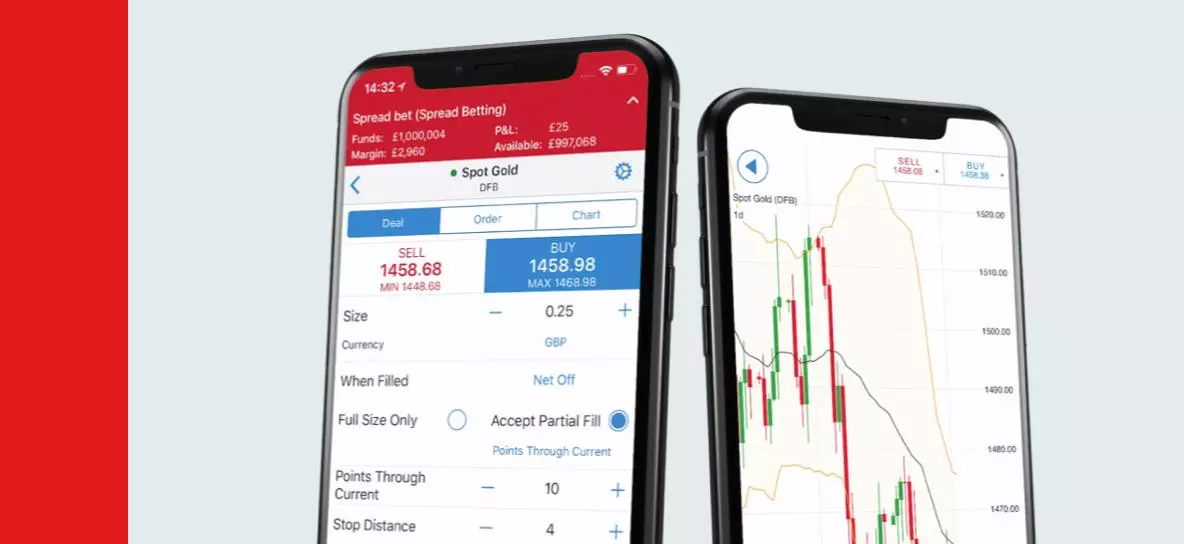 See your opportunity?
Seize it now. Trade over 17,000+ markets on our award-winning platform, with low spreads on indices, shares, commodities and more.