What is the FTSE 350 index and how can you trade and invest in it?
You may be familiar with the FTSE 100 and the FTSE 250 – but what is the FTSE 350? Read on to find out which industries make up the FTSE 350 and how to trade and invest in it with us.
What is the FTSE 350?
The FTSE 350 is a stock market index that incorporates both the FTSE 100 and the FTSE 250. As such, it is made up of 350 stocks that are listed on the London Stock Exchange (LSE).
It's published by Financial Times Stock Exchange (FTSE), a British financial organisation owned by The London Stock Exchange Group (LSEG). The group provides index offerings that global financial markets can use as benchmarks. Apart from the FTSE 100, 250 and 350, LSEG accounts for 100 000 market indices across the world.
Companies (also called constituents) in each respective index are either promoted or demoted according to how they rise or fall, this occurs quarterly in March, June, September, and December.
To better understand the FTSE 350, we go into some detail about the FTSE 100 and FTSE 250 below.

What is the FTSE 100?
The FTSE 100 is the UK's most well-known stock index and shows the 100 largest publicly traded companies (also known as blue-chip or large-cap companies) on the LSE.
As such, it isn't restricted to UK companies, and contains many international businesses. In this regard, it is often used as a barometer to gauge the health of the global economy.
Its top ten companies account for upwards of 40% of its index value, which means that it only represents a small and specific region of economic activity.
Because many of the FTSE 100 companies earn revenues internationally, but report in pound sterling, exchange rates can affect the price of stocks.
For an overview of the UK economy, by contrast, you can look to the FTSE 250.
What is the FTSE 250?
The FTSE 250 is an index of small to mid-cap companies mostly from the UK. Because it contains a wider selection of stocks, and because these are UK-focused, it is also sometimes used in assessments of economic activity in the UK.
Because the FTSE 350 contains the stocks of both the FTSE 100 and 250, you get to see the total performance of the most valuable (by market cap) stocks traded on the LSE.
What's the difference between the FTSE 100, FTSE 250 and FTSE 350?
FTSE 100 = biggest companies on the LSE, numbers 1 to 100
FTSE 250 = biggest companies on the LSE, numbers 101 to 350
FTSE 350 = FTSE 100 + FTSE 250 = biggest companies on the LSE, numbers 1 to 350
The main difference is the value of the market capitalisation of companies in each index. The FTSE 100 is about five times larger than the 250 in terms of value, which means that the FTSE 350 is heavily weighted towards the performance of the FTSE 100.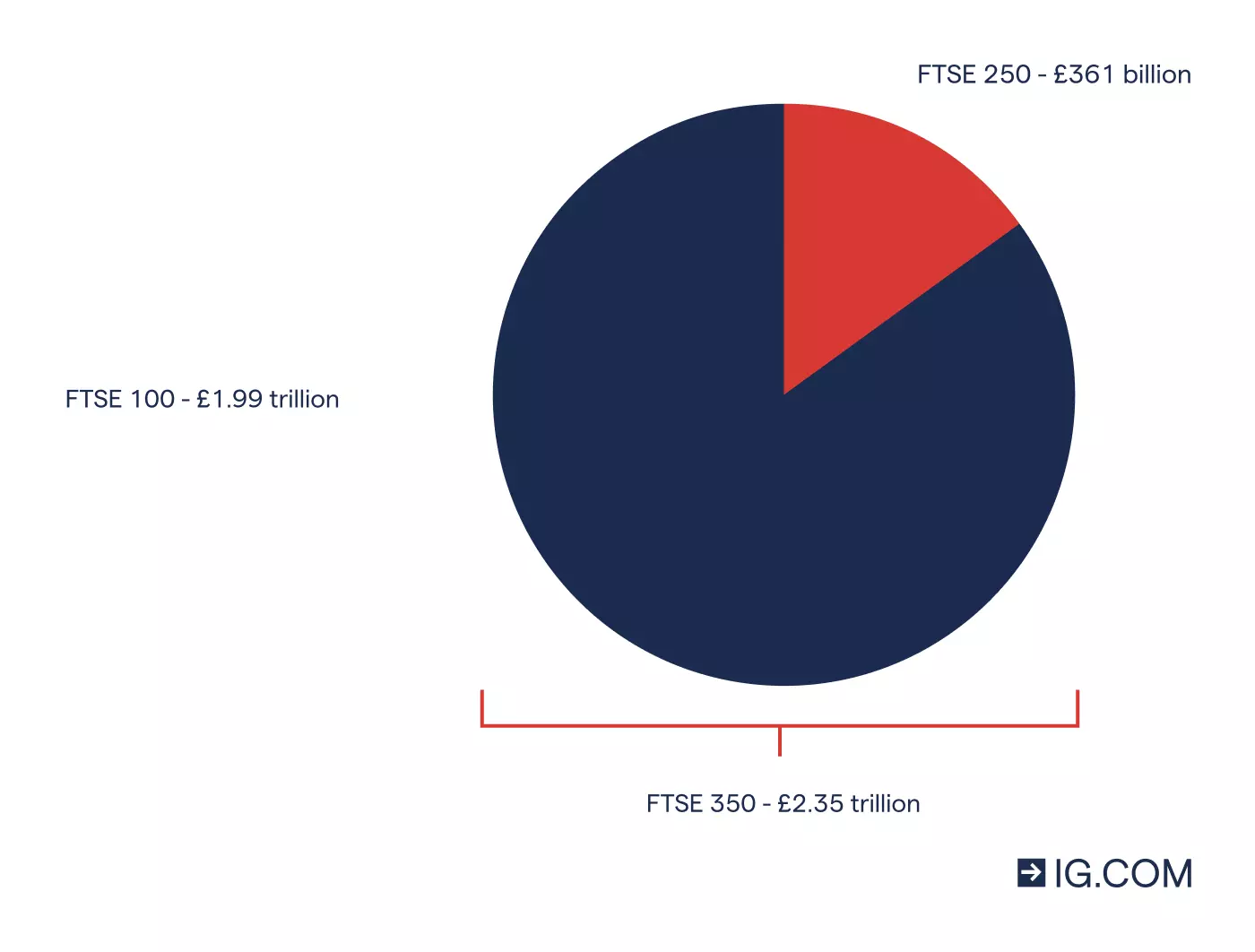 Both the FTSE 100 and FTSE 250 – and by extension the FTSE 350 – are capitalisation-weighted indices.
What is a capitalisation-weighted index?
A stock market index in which each constituent is weighted relative to its free float market capitalisation. The impact that the price change of an individual stock has on the index value is directly proportional to the company's free float adjusted market cap. This implies that larger companies with higher market cap exert a greater impact on the index value and vice versa.

What is a price-weighted index?
A stock market index where each component of the index is weighted according to its current share price. Companies with a high share price thus have a greater weight than those with a low share price and will have a larger impact on the index's value. Price-weighted indexes are rarer nowadays, with the most notable being the US Dow Jones Industrial Average and the Nikkei 225.
Each index tells us something different, and each has its own unique benefits and drawbacks; but capitalisation-weighted indices are generally preferred as an indicator of economic health.

What industries are in the FTSE 350 index?
The following industries are in the FTSE 350 index:
Financials
Oil and gas
Consumer goods
Consumer services
Industrials
Healthcare
Basic materials
Telecommunications
Utilities
Technology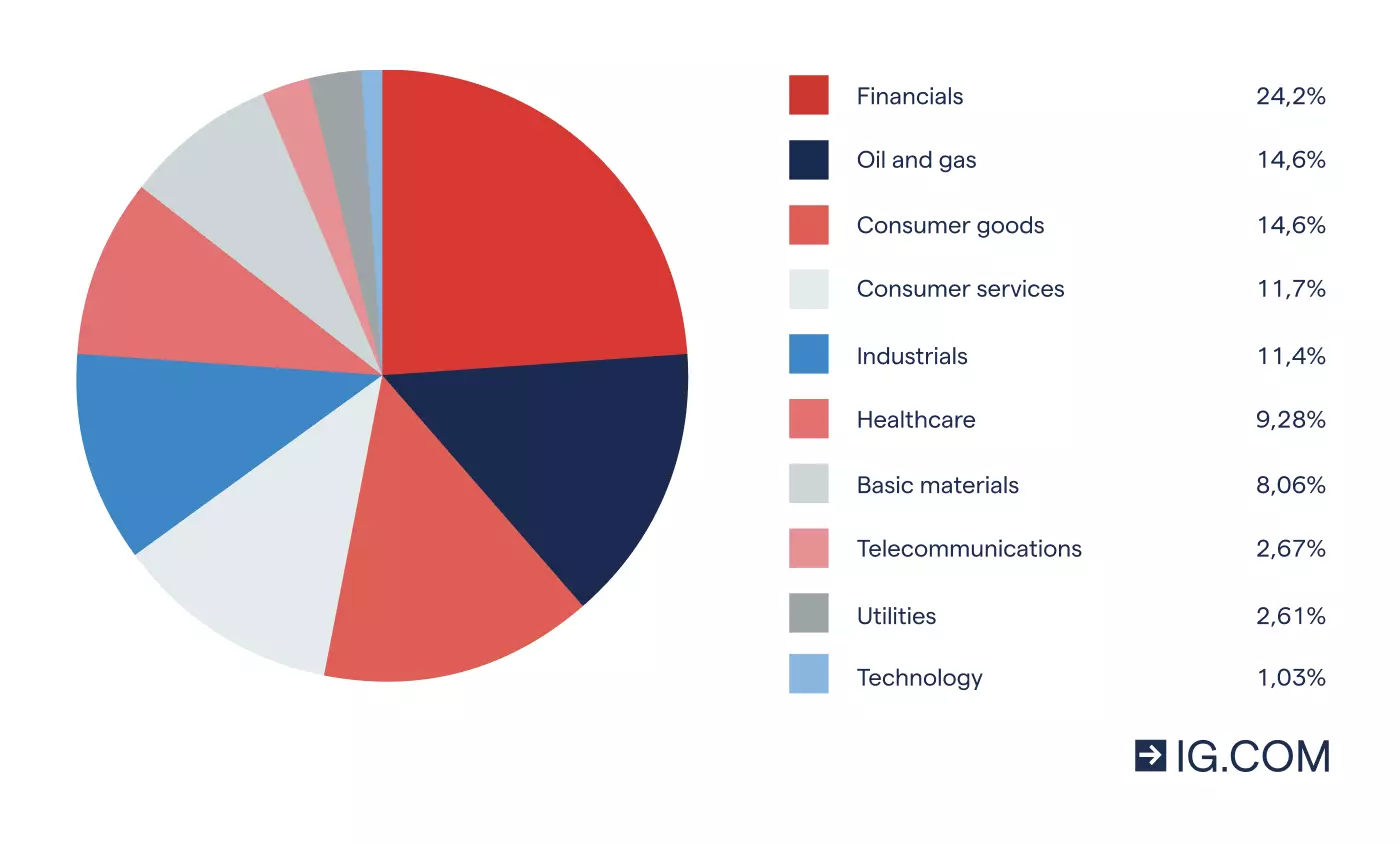 What is an industry?
An industry is a sector of the economy that produces closely related raw materials, goods, or services. In other words, it's a group of companies related by their primary business activities. Examples would be the food industry or the commercial real estate industry.
The Industry Classification Benchmark (ICB) determines what counts as an industry for the FTSE. They use a comprehensive rules-based classification methodology based on research and market trends.
The ICB is used globally, by stock exchanges like the London Stock Exchange, Euronext, NASDAQ OMX, Johannesburg Stock Exchange, SIX Swiss Exchange, Borsa Italiana, Athens Exchange and many more.
According to the ICB, there are 11 industries that are subdivided into 20 super sectors, which are further divided into 45 sectors. Being an amalgamation of the FTSE 100 and FTSE 250, the FTSE 350 is dominated by financials, oil and gas, consumer goods and consumer services.

What sectors are in the FTSE 100?
Four sectors dominate the FTSE 100, with a weighting of more than 10% each. These include oil and gas, healthcare, mining, and banking. The largest constituents of the FTSE 100 are Shell, BP, GlaxoSmithKline, AstraZeneca, HP Billiton, Rio Tinto, HSBC, and Barclays.
These companies have a large weighting in the index – for example, HSBC's weighting is 9.22% and Shell's 8.39%, which means that fluctuations in these individual constituents will have an increased impact on the wider index. Remember, weightings will fluctuate as capitalisations change.

What sectors are in the FTSE 250?
The FTSE 250 is widely believed to enjoy a more balanced split between sectors than the FTSE 100. This is arguable considering 78% of its weighting is split between just three sectors: financials, industrials and consumer services. Major players in the FTSE 250 include insurance firms Hiscox and Phoenix and engineers Spirax-Sarco and Weir.

How to trade or invest in the FTSE 350
There are two ways to take a position on the FTSE 350 with us. Both give you the opportunity to get exposure to 350 stocks in one position.
Firstly, you can use our share dealing account to buy and own physical FTSE 350 stocks listed on the LSE. You can also invest in FTSE 350-related ETFs.
Alternatively, you can trade using derivatives like spread bets and CFDs. This means you won't own any shares outright – you'd only be speculating on upward and downward price movements.
To get started:
Select your preferred FTSE 350 sector
Choose whether you want to trade or invest
Take steps to manage your risk
Place your deal and monitor your position
What is the FTSE 350 summed up
The FTSE 100 is an index of the 100 biggest blue-chip companies (numbers 1 to 100) on the London Stock Exchange
The FTSE 250 is an index of the next biggest 250 companies (numbers 101 to 350) on the London Stock Exchange
The FTSE 350 is made up of the FTSE 100 and FTSE 250 combined
The FTSE 100, 250 and 350 are capitalisation-weighted indices
You can invest in the FTSE 350 via share dealing, or trade on the index using spread bets or CFDs

This information has been prepared by IG, a trading name of IG Markets Limited. In addition to the disclaimer below, the material on this page does not contain a record of our trading prices, or an offer of, or solicitation for, a transaction in any financial instrument. IG accepts no responsibility for any use that may be made of these comments and for any consequences that result. No representation or warranty is given as to the accuracy or completeness of this information. Consequently any person acting on it does so entirely at their own risk. Any research provided does not have regard to the specific investment objectives, financial situation and needs of any specific person who may receive it. It has not been prepared in accordance with legal requirements designed to promote the independence of investment research and as such is considered to be a marketing communication. Although we are not specifically constrained from dealing ahead of our recommendations we do not seek to take advantage of them before they are provided to our clients. See full non-independent research disclaimer and quarterly summary.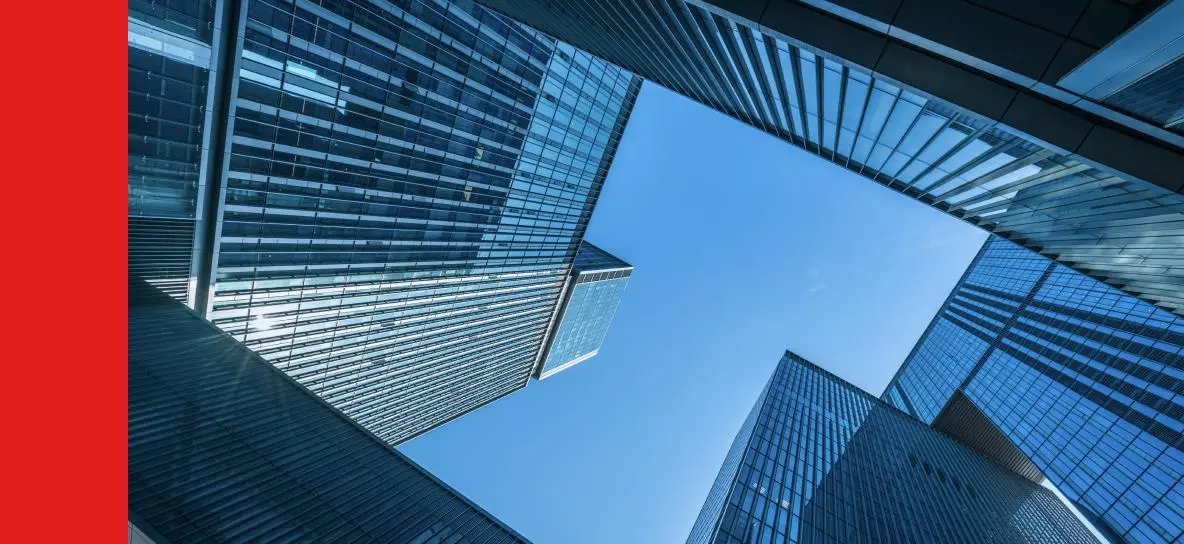 Explore the markets with our free course
Learn how shares work – and discover the wide range of markets you can spread bet on – with IG Academy's free 'introducing the financial markets' course.
Put learning into action
Try out what you've learned in this shares strategy article risk-free in your demo account.
Ready to trade shares?
Put the lessons in this article to use in a live account – upgrading is quick and easy.
Trade on over 13,000+ popular global stocks
Protect your capital with risk management tools
React to breaking news with out-of-hours trading on 70 key US stocks
Inspired to trade?
Put your new knowledge into practice. Log in to your account now.