If you're looking to trade coffee, it's important to understand the intricate, multi-billion-dollar economy it has created over the years. Here, we're going to discuss coffee trading and give you more insight into the industry.
Coffee trading basics
Coffee is one of the most highly-traded commodities in the world – the market is worth more than $100 billion annually.1 Here are few useful things to know before you start trading coffee.
Where is coffee grown?
Coffee is grown in more than 50 countries, all with tropical and sub-tropical climates, across what is known as 'the coffee belt'. The top producers of coffee are Brazil, Vietnam and Colombia.2
| | | |
| --- | --- | --- |
| Rank | Top producers | Coffee production (in metric tonnes) |
| 1 | Brazil | 2.6 million |
| 2 | Vietnam | 1.7 million |
| 3 | Colombia | 0.81 million |
Depending on the variety of coffee, it can be grown in higher and lower altitudes. Higher altitude crops are grown closer to the equator, in countries such as Ethiopia and Colombia. While lower altitude crops are grown in areas with specific dry and rainy seasons, such as Mexico and Brazil.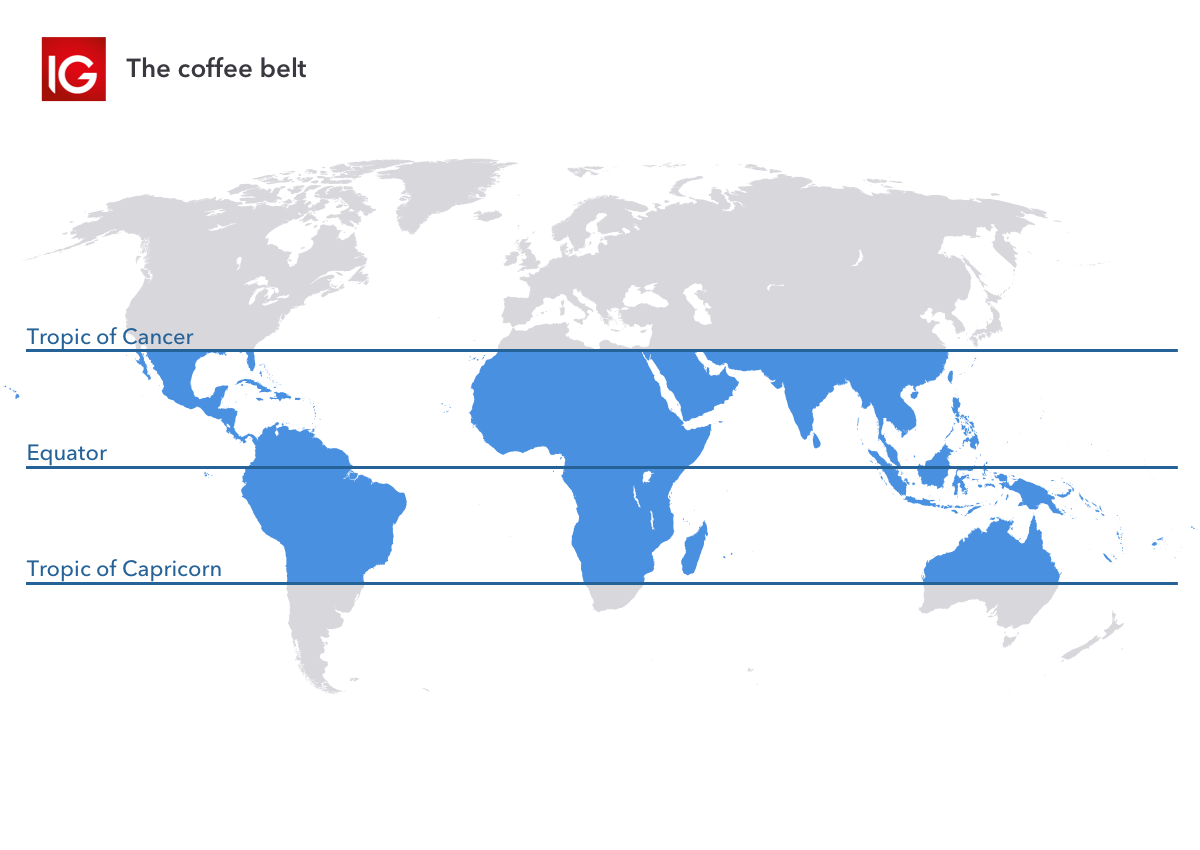 What are the different coffee varieties?
There are two different coffee varieties – Arabica and Robusta. Arabica is considered the premium, more flavourful bean, so it attracts a higher market price. Robusta has a bitter flavour and contains more caffeine. Trend followers like to trade Arabica as it has more stable pricing, while traders who prefer to trade volatility lean towards Robusta.
What moves the price of coffee?
The price of coffee is moved by factors that relate to supply and demand. The factors that impact coffee prices include:
The climate: c

offee crops are very sensitive to changing weather conditions. If the weather is not conducive to healthy crops – especially if it becomes very cold – coffee supply decreases, and prices will likely rise

Distribution costs: transporting coffee requires fuel, which means that the price of oil directly affects coffee prices. The more expensive it is to distribute, the more expensive coffee will become
Geopolitics:

a shaky political landscape in a coffee-producing country can disrupt supply chains and cause market volatility. This could again lead to higher coffee prices across the globe

Global health issues:

the ongoing debate surrounding the effects of coffee on health has an impact on its consumption, which in turn leads to heightened or lessened demand

Strength of US dollar: as coffee is priced in dollars, any ups and downs in the strength of USD will impact the price of coffee. Additionally, if you're planning on trading shares of coffee-producing companies, it's important to learn about the factors that affect share prices
Essentially, if more people want to buy coffee than sell it, the price will rise because it is more sought-after (the 'demand' outstrips the 'supply'). On the other hand, if supply is greater than demand, the price will fall. Coffee prices are notoriously volatile, because any type of interference with production or distribution can have knock-on effects.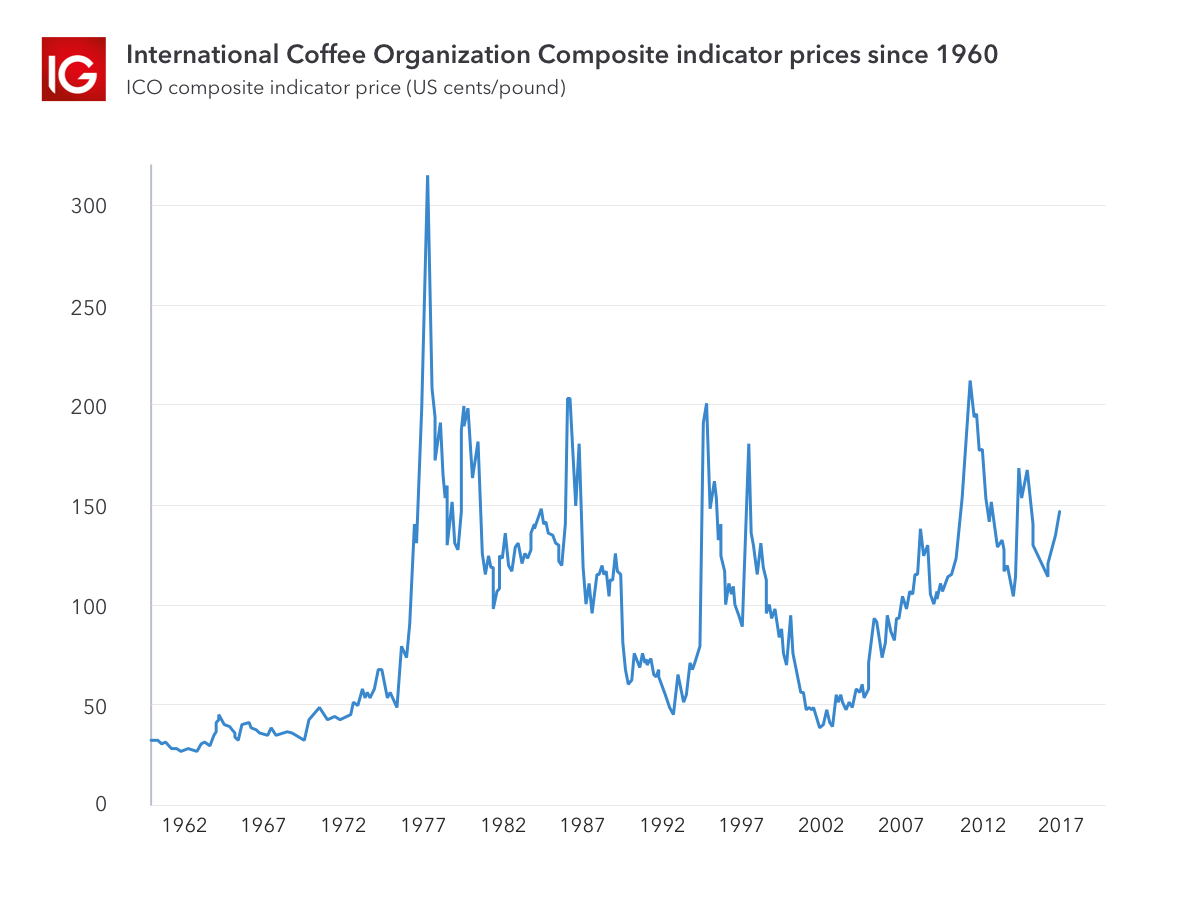 Four steps to start trading coffee
Choose a coffee asset to trade
When you trade coffee, it is likely that you will be trading coffee futures. These are contracts in which you agree to exchange a set amount of the underlying commodity at a set price on a set date. These contracts are traded on futures exchanges – it's important to use the right exchange for the coffee benchmark you'd like to trade.
However, there are some other ways that you can gain exposure to the coffee market. Your choice will depend on whether you want to own the physical assets or not.
For example, you could decide to trade or invest in the shares of coffee-producing companies, such as Kraft or through known retailers such as Starbucks as the shares of these companies are heavily influenced by the price of the commodity but can offer good value compared to trading coffee itself.
Alternatively, you could use coffee exchange traded funds (ETFs), which can be used to trade coffee benchmarks, or track a basket of coffee stocks.
Decide how you want to trade
There are a range of different financial instruments you could use to trade coffee, including futures, CFDs and spread bets.
Futures are the most popular way of trading coffee, offering high liquidity and volatility. However, futures contracts do have an expectation that the physical commodity will be delivered, unless the contract is rolled over, which can be a problem for some traders.
With CFD trading and spread betting, you can deal on changing prices of coffee futures and options, without buying or selling the contract. CFD trading and spread betting use leverage, which means you only have to put up a small margin to gain exposure to the full value of the trade. This can magnify your potential profit – but also your potential loss. And, as you won't ever take ownership of the underlying asset, you can go long or short – which means you can speculate on rising as well as falling coffee prices.
Alternatively, you could choose to invest in the shares of coffee companies or ETFs through our share dealing service.
Create your risk management strategy
Once you've familiarised yourself with the different ways to trade coffee, you can choose which method best suits your trading strategy and risk appetite.
All trading involves risk, especially if you're trading using leverage, which is why you need a strategy to manage your risk and protect against unnecessary losses. You can minimise your risk by attaching stops and limits to your positions. Stops will close your trade at a certain point if the market moves against you, while limits allow you to set a level to close your position and realise your profits.
Open and monitor your first trade
Once you've completed these steps, it's time to enter the market. When you trade coffee with CFDs or spread bets, you can speculate on both rising and falling markets. If you think the price will rise, you would open a position to 'buy' coffee, and if you think the price will decline, you open a position to 'sell'. Your trading decision should be based on your analysis of the market and your trading strategy.
After you have opened your position – attaching the appropriate stops and limits – it is important to monitor your position's progress and to keep up to date with anything that could impact the price of coffee.
To learn more about analysing the market, visit IG Academy
Coffee trading strategies
Coffee trading strategies will depend on your personal preferences and knowledge of technical indicators. Broadly speaking, your trading strategy could take advantage of trending markets, consolidating markets or volatility.
Trading trending markets
If a coffee market is reaching higher highs and higher lows, or lower highs and lower lows, it means that the market is trending. Traders seeking to match their strategy to a trending coffee market will often use indicators such as moving averages and the MACD to identify buy and sell signals.
Trading consolidating markets
Consolidating markets are markets that remain within support and resistance levels. Traders will use historical levels of support and resistance to identify points of entry and exit within the price range. This coffee trading strategy would involve buying coffee at a known support level and selling when it reaches a point of resistance, taking advantage of shorter-term market movements.
Trading volatility
The coffee market is notoriously volatile due to its complexity and the wide range of factors that affect the price of coffee, such as unpredictable weather patterns.
Trading coffee market volatility can be challenging, but there are technical indicators that can help you. For example, when coffee price action tightens, the Bollinger Band indicator would contract to highlight a fall in market volatility. However, this could also be a pending sign of a sharp rise in volatility will occur. Many traders wait for a sharp breakout of the Bollinger Band, which demonstrates a strong directional move.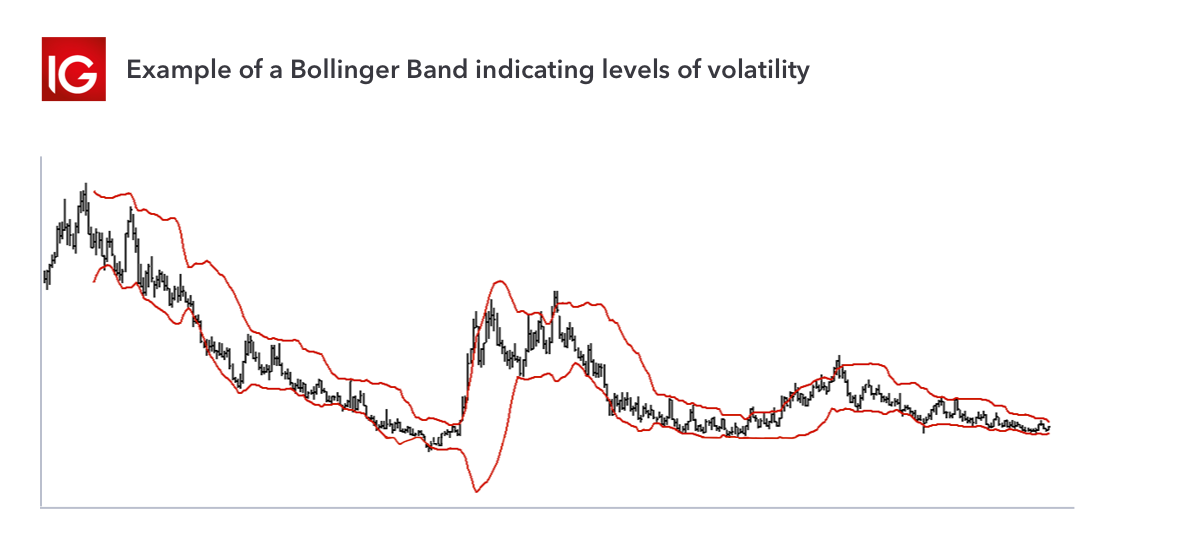 Coffee type and location
Trading hours*
Arabica (

New York)

04:15:05 – 13:30:30 (New York time)
Robusta

(

New York)

04:00:05 – 12:30:00 (New York time)
Arabica (

London)

09:15:05 – 18:30:30 (UK time)
Robusta

(

London)

09:00:05 – 17:30:00 (UK time)
Arabica (

Singapore)

17:15:05 – 02:30:30 (Singapore time)
Robusta

(

Singapore)

17:00:05 – 01:30:00 (Singapore time)
*Hours are set by ICE and may vary. Hours will shift between March and November as the UK and US change to and from daylight savings on different days, while Singapore remains on Singapore Standard Time (UTC+8) all year round.

1 Global Edge, 2018
2 Coffee Maker, 2019
This information has been prepared by IG, a trading name of IG Markets Limited. In addition to the disclaimer below, the material on this page does not contain a record of our trading prices, or an offer of, or solicitation for, a transaction in any financial instrument. IG accepts no responsibility for any use that may be made of these comments and for any consequences that result. No representation or warranty is given as to the accuracy or completeness of this information. Consequently any person acting on it does so entirely at their own risk. Any research provided does not have regard to the specific investment objectives, financial situation and needs of any specific person who may receive it. It has not been prepared in accordance with legal requirements designed to promote the independence of investment research and as such is considered to be a marketing communication. Although we are not specifically constrained from dealing ahead of our recommendations we do not seek to take advantage of them before they are provided to our clients. See full non-independent research disclaimer and quarterly summary.
Discover how to trade the markets
Explore the range of markets you can trade – and learn how they work – with IG Academy's free 'introducing the financial markets' course.