How to buy, sell and short Microsoft shares
Microsoft is one of the most valuable companies in the world, reaching a $1 trillion valuation in April 2019. Learn more about trading or investing in Microsoft shares in this step-by-step guide.
How to buy and invest in Microsoft shares
You can buy Microsoft shares in two ways with IG – via share dealing or derivatives trading. If you want to own the physical shares and profit from upward share price movements, you'll invest via share dealing. In doing so, you can also benefit from dividend payments, if the company pays them.
If you don't want to own the shares, but rather speculate on share price movements, you'll trade via derivatives such as spread bets and CFDs. With derivatives, you can trade Microsoft's share price without taking direct ownership of the shares. Follow these steps to invest in or trade Microsoft shares:
Investing in Microsoft
Create or log in to your IG share dealing account
Look for 'Microsoft' in the search panel
Select 'buy' in the dealing tab
Enter the number of shares you want to buy
Buy the shares and monitor your investment
Trading Microsoft shares
Create or log in to your IG trading account or log in to your existing account
Decide whether you want to spread bet or trade CFDs
Search for 'Microsoft' in the search panel
Choose your position size
Confirm the trade and monitor your position
| | | | |
| --- | --- | --- | --- |
| Provider | FX conversion | US best commission | US standard commission |
| IG | 0.5% | £0 | £10 |
| Hargreaves Lansdown | 1.0% | £5.95 | £11.95 |
| AJ Bell | 1.0% | £9.95 | £9.95 |
Selling Microsoft shares
Create or log in to your IG share dealing account
Go to your open positions and click on 'Microsoft'
Select 'sell' in the dealing tab
Enter the number of shares you wish to sell
Confirm the sale and browse other opportunities
Shorting Microsoft shares
Create or log in to your IG trading account
Look for 'Microsoft' in the search panel
Choose your position size
Choose 'sell' in the deal ticket
Confirm the trade and monitor your position
Microsoft's live market prices
Trading Microsoft with CFDs
A CFD – short for 'contract for difference' – is a financial product where you agree to exchange the difference in the price of Microsoft shares from when you open your position to when you close it. To buy Microsoft shares, you would go long on the market. To sell Microsoft shares, you would go short the market.
Spread betting on Microsoft
Spread betting on Microsoft shares means betting an amount of money per point on whether the share price will go up or down. The more the market moves in your predicted direction, the more profit you'll make and the more it moves against you, the greater your loss.
How to trade Microsoft options
You can trade Microsoft options with IG by following the steps below:
Research the market
Decide whether you want to buy or sell puts or calls
Call 020 7896 0000 to place your trade
Confirm your trade over the phone
A brief history of Microsoft
Microsoft was founded by Bill Gates and Paul Allen in 1975, after the pair wrote the BASIC programming language for the Altair 8800 microcomputer. Their business was registered as 'Microsoft' – a combination of 'microcomputer' and software' – in 1976. Over the next three years, the company opened an office in Japan, made its first $1 million in sales and moved its head office to Washington.
After 11 years of product development and solid profits, Microsoft finally decided to go public. On 13 March 1986, it released more than three million common shares at $21 per share. One of the reasons Gates gave for the decision to hold the initial public offering (IPO) was to increase market liquidity. By the following year, Microsoft was the largest software company in the world.
During the 1990s Microsoft released one of its most successful products – Windows 95. More than 40 million units of the product were sold, the share price was climbing, and Gates was moving up on 'the world's richest' list. Windows 98 followed and, right before the dawn of Y2K, the share price reached a high of $58.38. In 2000, Bill Gates stepped down as chief executive officer (CEO) and was succeeded by Steve Ballmer.
Microsoft launched a few unpopular products in the early-2000s, but the Xbox wasn't one of them. Introduced in 2001, it sold 1.5 million units in only two months. By this time, Microsoft was nearing its ninth stock split, and the share price was dwindling due to increased competition in the industry. At the end of 2003, shares were trading at $27.45.
In 2004, the company announced that it planned to return up to $75 billion to shareholders by means of dividend payments. This had little effect on the share price, which only fell noticeably during the global financial crisis, after Microsoft had to cut around 5000 jobs. It wasn't until 2012 that the share price took off again – this was attributed mostly to a sturdy revenue stream.
Satya Nadella took over from Ballmer as CEO in 2014, and Microsoft's share price has nearly tripled since then. The company has invested a lot of its energy into cloud computing and is rivalling other tech companies such as Amazon and Apple.
Microsoft shares: the basics
Microsoft shares are listed on the Nasdaq 100 (US Tech 100 with IG) under the ticker MSFT. It's important to understand the business and all corporate actions before you decide to invest in Microsoft or trade its shares.
Besides strong fundamentals and a high demand for the stock, Microsoft's share price is also driven by what its competitors are doing. For example, Apple and Google are also at the forefront of global technology services.
Microsoft has undergone nine stock splits since its IPO. The most recent was a two-for-one split in 2003, which means shareholders received an extra share for every share they owned. With stock splits, the amount of shares increase, while the share price decreases in order not to affect the value of a shareholding or the company's market cap. After the 2003 split, one original share equals 288 shares. As of 2019, Microsoft pays a quarterly dividend of $0.46 per share.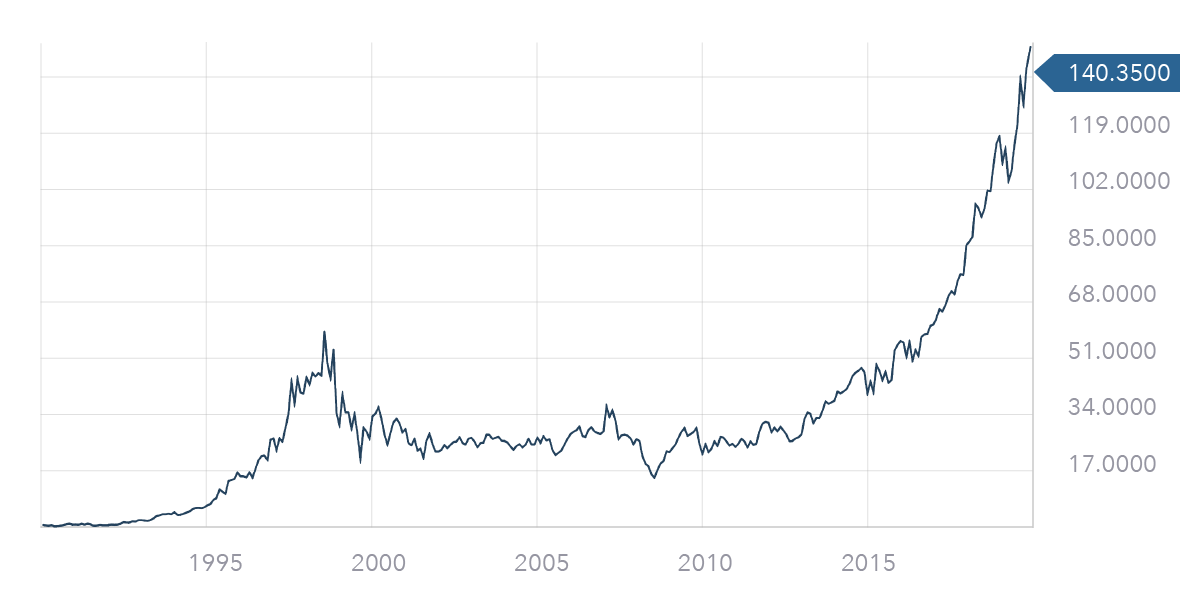 Microsoft key personnel: who manages the company?
Microsoft has several executives that manage the company in different regions across the globe. The key players are:
| | |
| --- | --- |
| Satya Nadella | Chief executive officer |
| Brad Smith | Chief legal officer |
| Bill Gates | Co-founder and technology advisor |
| Amy Hood | Chief financial officer |
| Jean-Phillippe Courtois | President of global sales, marketing and operations |
Microsoft also has a board of directors, which consists of 14 members and includes Nadella and Gates. John Thompson is the chairman of the board.
What is Microsoft's business model?
Originally, Microsoft relied on licensing its software and the Windows operating system to make money, but its business model has evolved over the years. It all changed in 2014 when Microsoft started shifting its focus to product integration.
The Microsoft business model can be broken into four segments:
Productivity and business processes: information, communication and productivity
Intelligent cloud: server products and cloud services
Personal computing: user and developer interests
Corporate and other: alternative products and services
Microsoft fundamental analysis: how to analyse Microsoft
If you're considering buying or selling Microsoft shares, you must first conduct fundamental analysis on the company. This includes studying Microsoft's financials and a range of factors that affect the business. You can analyse the health of the economy and its sectors, study news reports, consider the competition, explore supply and demand, and evaluate the cost of production. By gathering this information, you can identify Microsoft's inherent value.
Microsoft's share value can be studied by using metrics such as the earnings per share (EPS), price-to-earnings ratio (P/E), the return on equity (ROE) and the dividend yield.
Microsoft's EPS determines the value attached to each share and whether the business is profitable or not. EPS is calculated by dividing Microsoft's profit by the number of outstanding shares
Microsoft's P/E ratio outlines how much you must spend on shares to make $1 in profit. P/E ratio is calculated by dividing Microsoft's current market value per share by its EPS
Microsoft's ROE measures how much income the company makes on assets compared to shareholder investments. ROE is calculated by dividing Microsoft's net income by stakeholder equity
Microsoft's dividend yield compares the company's annual dividends to the share price. Dividend yield, expressed as a percentage, is calculated by dividing the dividend amount by the share price, and then multiplying by 100
Learn more about fundamental analysis in this comprehensive guide
1 Deposits for leveraged trades are 20-25% on 99.77% of tier one US shares.
2 Tax laws are subject to change and depend on individual circumstances. Tax law may differ in a jurisdiction other than the UK
This information has been prepared by IG, a trading name of IG Markets Limited. In addition to the disclaimer below, the material on this page does not contain a record of our trading prices, or an offer of, or solicitation for, a transaction in any financial instrument. IG accepts no responsibility for any use that may be made of these comments and for any consequences that result. No representation or warranty is given as to the accuracy or completeness of this information. Consequently any person acting on it does so entirely at their own risk. Any research provided does not have regard to the specific investment objectives, financial situation and needs of any specific person who may receive it. It has not been prepared in accordance with legal requirements designed to promote the independence of investment research and as such is considered to be a marketing communication. Although we are not specifically constrained from dealing ahead of our recommendations we do not seek to take advantage of them before they are provided to our clients. See full non-independent research disclaimer and quarterly summary.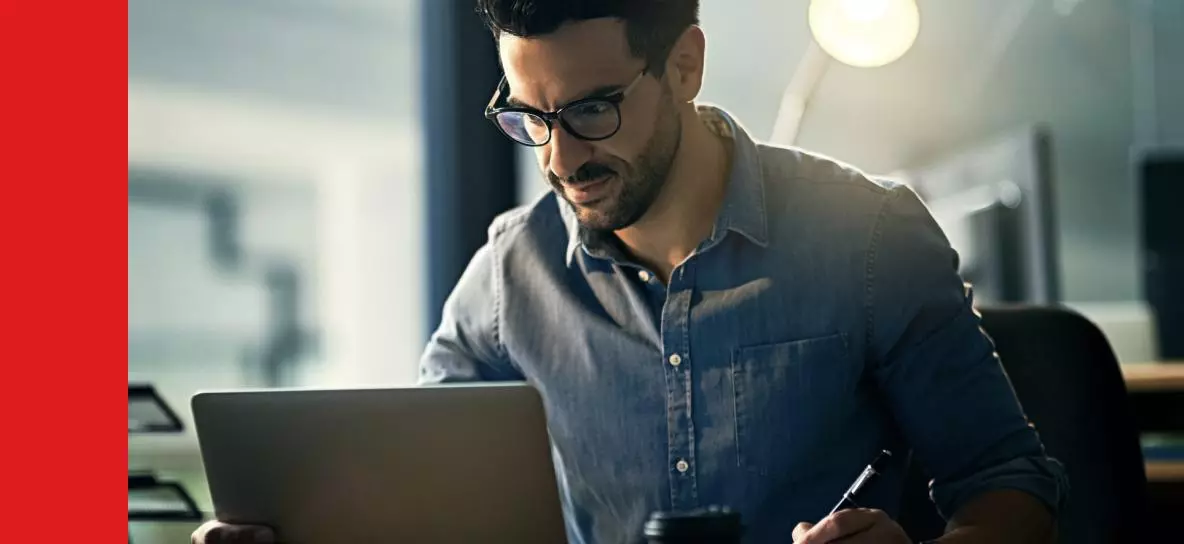 Discover how to trade the markets
Explore the range of markets you can trade – and learn how they work – with IG Academy's free 'introducing the financial markets' course.