Biggest trading mistakes and how to avoid them
Some trading mistakes are unavoidable, but it's important that you learn from your successful and unsuccessful positions. With that in mind, we look at some of the most common trading patterns and mistakes.
Common behaviours among successful traders
Common behaviours among successful traders were identified by looking through anonymised trading data from over 100,000 live accounts and tens of millions of trades.1 Some clear patterns emerged – and this separated profitable traders from those who made mistakes and lost money.
The first interesting finding was that traders closed more than 50% of all trades at a profit. In other words, traders were 'right' more often than not. However, many traders lost significantly more money on their losing trades than they made on their winning trades.
In this article, we are going to look at the ten biggest trading mistakes and show you some techniques for avoiding them so that you can mirror the behaviours of successful traders.
Biggest trading mistakes
Not researching the markets properly
Some traders will open or close a position on a gut feeling, or because they have heard a tip. While this can sometimes yield results, it is important to back these feelings or tips up with evidence and market research before committing to opening or closing a position.
Many traders also simply trade the popular markets, such as Wall Street or GBP/USD, but research shows that the average loss across 15 of the top traded markets is much larger than average gain.1
It is essential that, before you open a position, you understand the market you are entering intimately. Is it an over-the-counter market, or is it on exchange? Is there currently a large degree of volatility in that particular market, or is it more stable? These are some of the things you should research before committing to a position.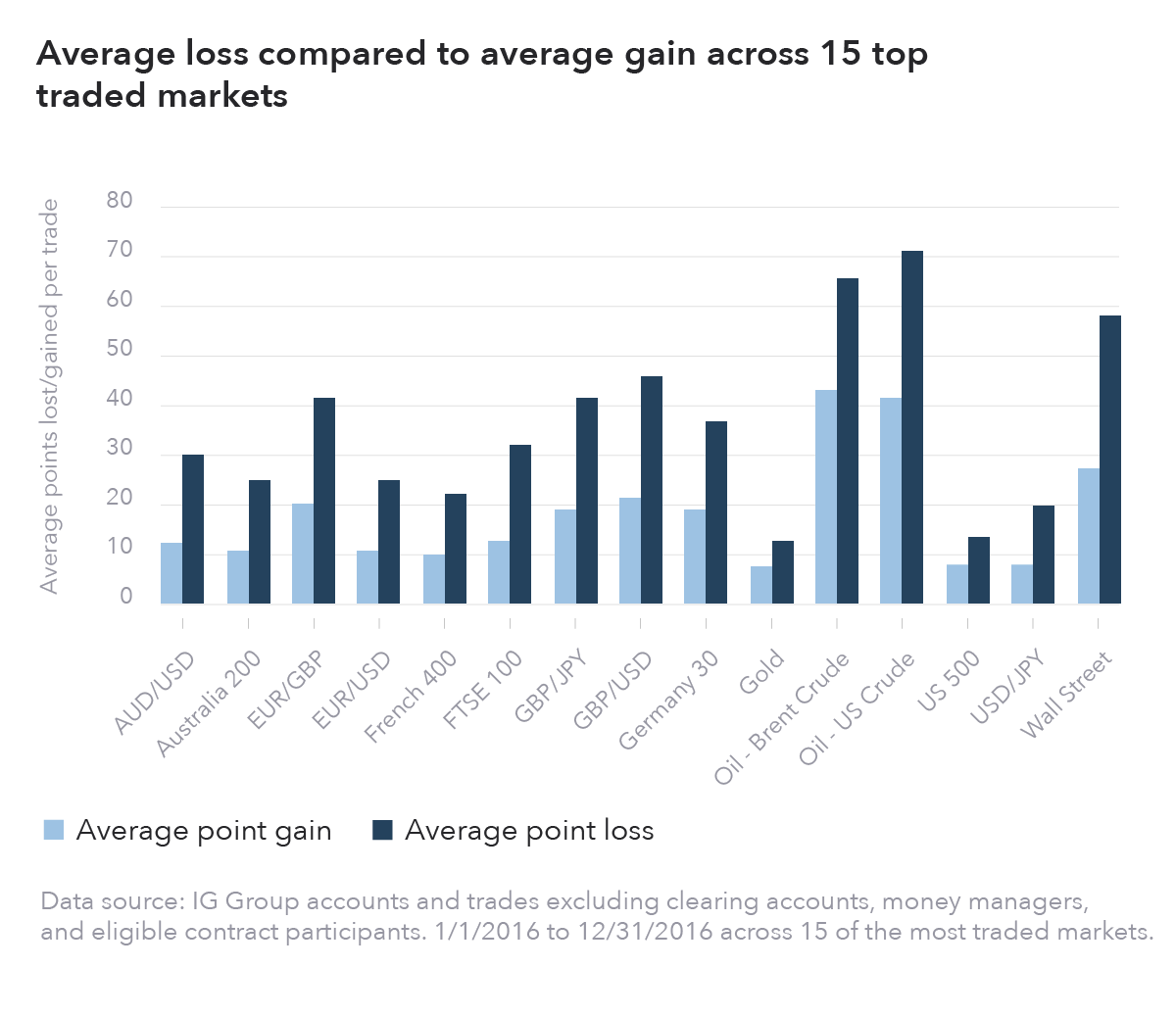 Trading without a plan
Working against your natural biases requires effort, which is why a trading plan is so important. It should act as a blueprint for your time on the markets. Trading plans should contain a strategy, your time commitment and the amount of capital that you are willing to invest.
Learn how to create a successful trading plan in a few easy steps.
Once you have a trading plan, the next challenge is to stick to it. A great way to do this is to set up your trade with stop-loss and limit orders. After a bad day on the markets, traders could be tempted to scrap their plan. This would be a mistake, because a trading plan should be the foundation for any new position. A bad trading day doesn't mean that a plan is flawed, it simply means that the markets weren't moving in the anticipated direction during that particular time. Instead, revise your plan and optimise it over time to make sure you are learning from your wins and losses.
One way to keep a record of what worked and what didn't work for you is to have a trading diary. This would contain your successful and unsuccessful trades and the reasons why they turned out so. This can help you learn from your mistakes and make more informed decisions in the future.
Over-reliance on software
Some trading software can be highly beneficial to traders, and platforms such as MetaTrader 4 offer full automation and customisation to suit individual needs. However, it is important to understand both the pros and cons of software-based systems before using them to open or close a position.
The primary benefit of algorithmic trading is that it can carry out transactions much faster than a manual system and will execute a plan exactly as coded. However, it's important to remember that algorithm-based systems lack the advantage of human judgment because they are only as reactive as they have been programmed to be. In the past, these systems have been seen as responsible for causing market flash crashes, due to the rapid selling of shares or other assets in a market that is temporarily declining.
To avoid this mistake, always backtest any automatic trading system thoroughly and monitor it closely when it is running on live markets, so you are ready to jump in should anything go wrong.
Failing to cut losses
Losses are inevitable, and the temptation to let losing trades run in the hope that the market turns around is a grave error. The first important step is to identify when a trade has gone against you and to close it out as soon as possible. Failure to do so can wipe out any profits a trader may have made elsewhere.
This is particularly true on a day trading or short-term trading strategy, because such techniques rely on quick market movements to realise a profit. There's little point in trying to ride out temporary slumps in the market, as all active positions should be closed by the end of that trading day.
Stops can close a position that is moving against you, minimising your risk. You could also attach a limit to your position, to close your trade automatically after it has secured a certain amount of profit.
It is worth noting that stops don't always close your trade at exactly the level you have specified. The market may jump from one price to another with no market activity in between. This is known as slippage. Guaranteed stops, however, combat this risk, as they will close trades automatically once they reach a predetermined level. Some providers charge for this protection upfront. With IG, there will just be a small premium to pay if a guaranteed stop is triggered.
Overexposing a position
A trader will be overexposed if they commit too much capital to a particular market or open more positions than they can afford to. While the right amount of exposure offers the chance for greater profit from a position, overexposing yourself comes at a huge risk.
By balancing your portfolio, and considering how much you can afford to lose, you can avoid this risk. It's important to consider the exposure carefully, not just the margin required.
All trading involves risk but being overexposed can end up increasing the likelihood of taking on significant losses – even if you have risk management measures in place. To avoid overexposure, it is important to take the time to navigate your chosen market and don't fall into the trap of putting all your eggs in one basket. Investing in one asset heavily is often seen as an unwise trading strategy, but overdiversifying a portfolio can have its own problems, as explained below.
Overdiversifying a portfolio too quickly
While diversifying a trading portfolio can act as a hedge in case one asset's value declines, it can be unwise to open too many positions in a short amount of time. While the potential for returns might be higher, having a diverse portfolio also requires a lot more work and will also increase the potential for losses.
It will involve keeping an eye on more news and events that could cause the markets to move. This extra work may not be worth the reward, particularly if you don't have much time, or are just starting out. That being said, a diverse portfolio does increase your exposure to potential positive market movements, meaning that you could benefit from trends in a lot of markets, rather than relying on a single market to move favourably.
You can get market updates and news in one place with IG's news and trade ideas section.
Not understanding leverage
Leverage is essentially a loan from a provider to open a position. Traders pay a deposit, called margin, to gain a much greater market exposure. However, while it can increase gains, leverage can also amplify losses, so trading on leverage isn't suitable for everyone. Before deciding to trade on leverage, you should carefully consider your objectives, level of experience, and risk appetite.
Trading with leverage can seem like an attractive prospect, but it is important to fully understand the implications before opening a position. It is not unknown for traders with a limited knowledge of leverage to soon find that their losses have wiped out the entire value of their trading account. To avoid this mistake, you should get up to speed with trading on leverage by using our 'what is leverage?' guide.
Not understanding the risk-reward ratio
The risk-to-reward ratio is something every trader should take into consideration, as it helps them decide whether the end profit is worth the possible risk of losing capital. For instance, if the maximum potential loss on a position with a guaranteed stop loss was £200, and the maximum potential profit was £200, the risk-reward ratio would be 1:1. If the maximum potential profit was £600 instead, the risk-reward ratio would be 1:3. Using a 1:3 ratio means you only have to be right 30% of the time to make a profit.
Our data suggests that 50% of all accounts which operated on at least a 1:1 risk-reward ratio turned a net profit in our 12-month sample period. Traders who adhered to this rule were nearly three times more likely to turn a profit.1
Typically, experienced traders tend to be more open to risk and have suitable trading strategies in place. Beginner traders may not have as much of an appetite for risk and could well want to steer clear of markets that can be highly volatile.
Learn forex trading strategies for beginners
Regardless of how open you are to risk, you should have a risk management strategy in place during your time on the markets.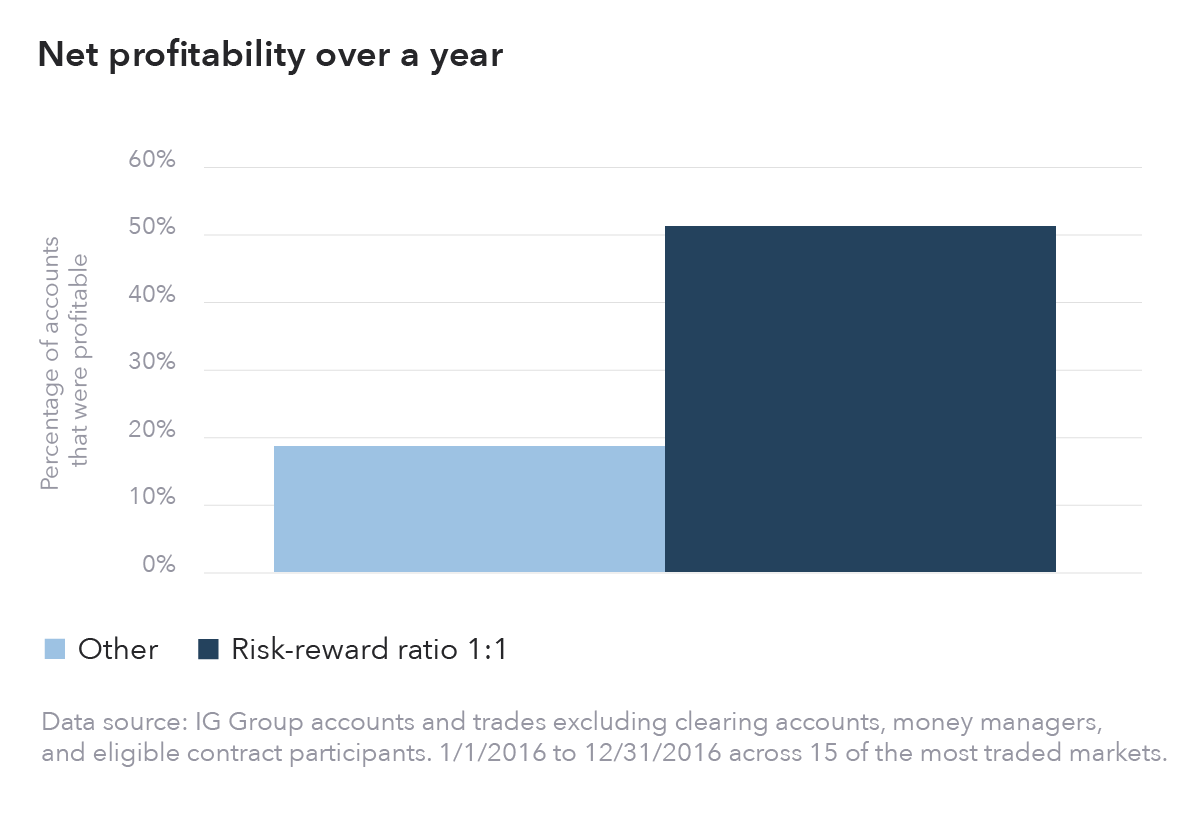 Overconfidence after a profit
It's easy to become overconfident when you start making a profit. However, winning streaks don't exist in trading. A rational person would make decisions purely based on maximising gains and minimising losses.
The euphoria that comes from a successful trade can cloud judgment and decision making just as much as running losses. The buzz from a win could lead traders to rush into another position with their new-found capital without carrying out the proper analysis first. This may lead to losses and could potentially wipe out the recent gains on their account.
Sticking with your trading plan can go some way to combat this. A profit suggests that a plan is working and should serve to validate your previous analysis and predictions rather than act as encouragement to abandon them.
Letting emotions impair decision making
When trading, it's imperative to overcome our natural tendencies and to minimise the impact of emotions on decision making. Emotional trading is not smart trading. Emotions, such as excitement after a good day or despair after a bad day, could cloud decision making and lead traders to deviate from their plan.
A study by Kahneman and Tversky showed that humans most often made irrational decisions when faced with potential gains and losses.2 After suffering a loss, or not achieving as good a profit as expected, traders might start opening positions without any analysis to back them up. In such an instance, traders may add unnecessarily to a running loss in the hope that it will eventually increase, but it is unlikely that this will cause the markets to move in a more favourable direction.
If you want to cut emotions from your trading, you should always base your decisions to enter or exit a trade on fundamental and technical analysis that you have carried out yourself.
Try out IG Academy's technical analysis course
Conclusion: make your own trading plan and stick to it
Always start with a trading plan. This should include your risk management strategy, complete with stops and limits. Humans aren't machines and every trader makes mistakes. The mistakes listed in this article don't need to be the end of your trading. However, they should be taken as opportunities to learn what works and what doesn't work for you. The main points to remember are that you should make a trading plan based on your own analysis and stick to it to prevent emotions from clouding your decision making.
1 DailyFX, 2016
2 Kahneman and Tversky, 1979
This information has been prepared by IG, a trading name of IG Markets Limited. In addition to the disclaimer below, the material on this page does not contain a record of our trading prices, or an offer of, or solicitation for, a transaction in any financial instrument. IG accepts no responsibility for any use that may be made of these comments and for any consequences that result. No representation or warranty is given as to the accuracy or completeness of this information. Consequently any person acting on it does so entirely at their own risk. Any research provided does not have regard to the specific investment objectives, financial situation and needs of any specific person who may receive it. It has not been prepared in accordance with legal requirements designed to promote the independence of investment research and as such is considered to be a marketing communication. Although we are not specifically constrained from dealing ahead of our recommendations we do not seek to take advantage of them before they are provided to our clients. See full non-independent research disclaimer and quarterly summary.
Discover how to trade the markets
Explore the range of markets you can trade – and learn how they work – with IG Academy's free 'introducing the financial markets' course.