How to buy, sell and short Sirius Minerals shares
Sirius Minerals is a leading fertiliser development company, recently burdened by bankruptcy rumours and a dwindling share price. Learn more about the company and find out how you can buy, sell and short Sirius Minerals shares.
How to buy and invest in Sirius Minerals shares
If you want to buy Sirius Minerals shares, you can choose between owning the physical shares or going long on the share price with deirvatives (CFDs or spread bets). Share dealing enables you to buy and own Sirius Minerals shares, while derivatives trading lets you speculate on price movements - positive or negative - without owning the underlying shares.
Investing in Sirius Minerals shares
Create or log in to your IG share dealing account
Look for 'Sirius Minerals' in the search panel
Select 'buy' in the dealing tab
Enter the number of shares you want to buy
Buy the shares and monitor your investment
Trading Sirius Minerals shares
Create or log in to your IG trading account
Decide whether you want to spread bet or trade CFDs

Look for 'Sirius Minerals' in the search panel
Select 'buy' in the deal ticket and enter your position size
Confirm the trade and monitor your position
| | | |
| --- | --- | --- |
| | UK standard commission | UK best commission |
| IG | £8 | £3 |
| Hargreaves Lansdown | £11.95 | £11.95 |
| AJ Bell | £9.95 | £4.95 |
Selling Sirius Minerals shares
Create or log in to your IG share dealing account
Go to your open positions and click on 'Sirius Minerals'
Select 'sell' in the dealing tab
Enter the number of shares you wish to sell
Confirm the sale
Shorting Sirius Minerals shares
Create or log in to your IG trading account
Type 'Sirius Minerals' in the search panel
Choose your position size
Choose 'sell' in the deal ticket
Confirm the trade and monitor your position
Live market prices for Sirius Minerals
Trading Sirius Minerals with CFDs
When trading CFDs, you agree to exchange the difference in the price of Sirius Minerals shares (SXX) from when you open your position to when you close it. To buy SXX shares, you would 'go long' and to sell SXX shares, you would 'go short'.
H4: Spread betting on Sirius Minerals
With spread betting, you're betting an amount of money per point on whether the Sirius Minerals share price will go up or down. If the market moves in your predicted direction, you'll make a profit and if it moves against you, you'll incur a loss.
Understanding Sirius Minerals: a brief history
Sirius Minerals was founded in 2003, and it listed on the London Stock Exchange (LSE) in August 2005. The share price at the time of listing was 6.5p. Originally, the business was focused on mining potash in the American state of North Dakota, but this shifted in 2010 when chief executive officer (CEO) Chris Fraser announced his interest in mining in the UK.
Fraser was introduced to Peter Woods and Rick Smith, who first discovered polyhalite in North Yorkshire. And so, in 2011, an application was submitted to the North York Moors National Park Authority to start drilling at its location. By mid-November, the share price had rocketed to 32p.
In September 2013, Sirius Minerals had to put its plans on hold to re-evaluate the project's environmental impact. The share price dipped to 7p by November of the same year. The company resubmitted its plans the following year, but they weren't approved until June 2015. As a result, shares were finally approaching the 20p mark again.
Construction and mining started while Sirius Minerals was making plans to get all the capital it required. However, it ran into some trouble in 2019 when it postponed the sale of a $500 million bond, causing the share price to plummet by 39%. This development has cast doubt over the future of the North Yorkshire project.
Sirius Minerals shares: the basics
Sirius Minerals shares are listed on the LSE under the ticker symbol SXX. It is also a constituent of the FTSE 250.
Sirius Minerals has had quite a tumultuous few months – with share prices dropping by roughly 85% from April to August 2019. The share price is largely driven by the status of the North Yorkshire mining developments as it has been struggling to raise the funds it needs for the project.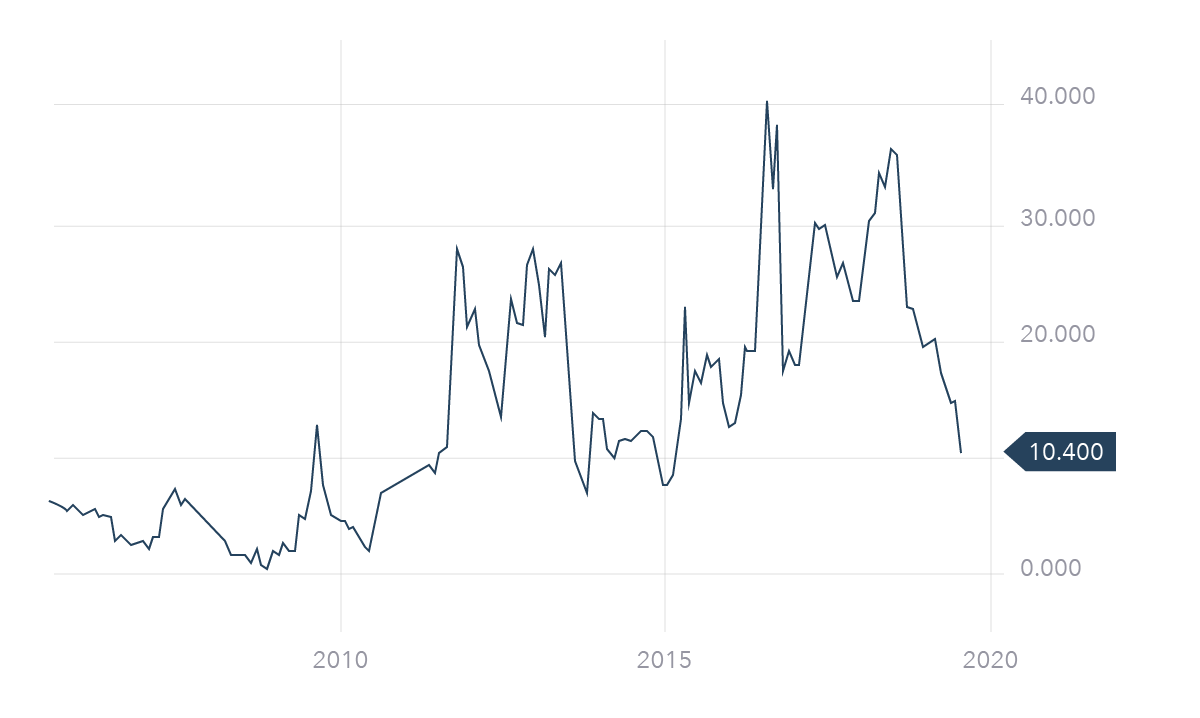 As uncertainty surrounds the future of the Sirius Minerals share price, it has become a popular option for short-sellers. In May 2019, more than 9% of Sirius Minerals' shares were being shorted.
Sirius Minerals key personnel: who manages the company?
Sirius Minerals has five senior executives that manage the company.
| | |
| --- | --- |
| Chris Fraser | CEO and managing director |
| Thomas Staley | Chief financial officer (CFO) |
| Simon Carter | Chief development officer |
| Nicholas King | General counsel |
| JT Starzecki | Chief marketing officer |
Sirius Minerals also has a board of non-executive directors, which consists of eight members and includes Thomas Staley.
What is Sirius Minerals' business model?
Sirius Minerals' business model is based on developing and delivering an industry-leading fertiliser product. The focus is on obtaining the world's largest deposit of polyhalite from its mining project in North Yorkshire. The business aims to maintain long-lasting, low-cost production of its product to deliver the most value to customers, shareholders and other stakeholders.
The Sirius Minerals business model focuses on three key areas:
Research, which proves that the use of polyhalite as a fertiliser is suitable for farmers
Sustainable development, which considers risk management, safety and environmental care
Sales and marketing, which aim to build a market for the product
Sirius Minerals fundamental analysis: how to analyse SXX
Before buying or selling Sirius Minerals, you should conduct thorough fundamental analysis. A business's fundamentals include different factors that affect its operations, such as management structure and financials. Further to this, you must also investigate the health of the sector in which the company operates, and the overall economy. By gathering as much information as possible, you can make an informed decision about Sirius Minerals.
Sirius Minerals' share value can be studied by using metrics such as the earnings per share (EPS), price-to-earnings (P/E) ratio, the return on equity (ROE) and the dividend yield.
Sirius Minerals' EPS outlines the value of each share and whether the company is profitable or not. To calculate EPS, divide Sirius Minerals' profit by the number of outstanding shares
Sirius Minerals' P/E ratio defines how much you must spend on shares to make $1 in profit. To calculate P/E ratio, divide Sirius Minerals' current market value per share by its EPS
Sirius Minerals' ROE measures how much income it makes on assets compared to shareholder investments. To calculate ROE, divide Sirius Minerals' net income by its stakeholder equity
Sirius Minerals' dividend yield compares the annual dividends to the share price. It is expressed as a percentage. To calculate dividend yield, divide the dividend amount by the share price, and then multiply it by 100
Learn more about fundamental analysis
Footnote
1 Deposits for leveraged trades are 20-25% on 99.11% of tier one UK shares.
2 Tax laws are subject to change and depend on individual circumstances. Tax law may differ in a jurisdiction other than the UK
This information has been prepared by IG, a trading name of IG Markets Limited. In addition to the disclaimer below, the material on this page does not contain a record of our trading prices, or an offer of, or solicitation for, a transaction in any financial instrument. IG accepts no responsibility for any use that may be made of these comments and for any consequences that result. No representation or warranty is given as to the accuracy or completeness of this information. Consequently any person acting on it does so entirely at their own risk. Any research provided does not have regard to the specific investment objectives, financial situation and needs of any specific person who may receive it. It has not been prepared in accordance with legal requirements designed to promote the independence of investment research and as such is considered to be a marketing communication. Although we are not specifically constrained from dealing ahead of our recommendations we do not seek to take advantage of them before they are provided to our clients. See full non-independent research disclaimer and quarterly summary.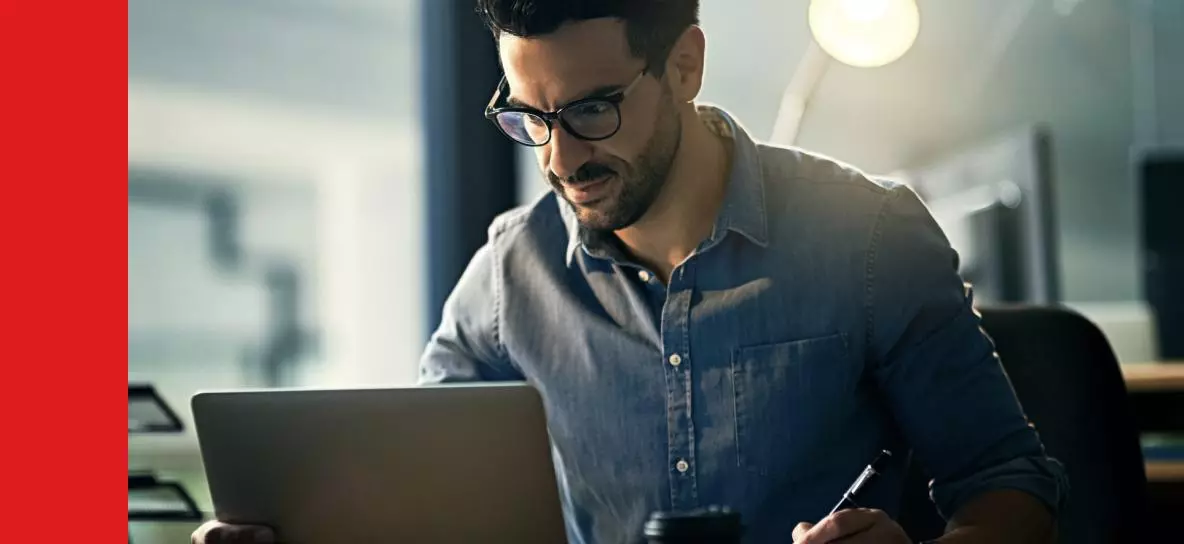 Discover how to trade the markets
Explore the range of markets you can trade – and learn how they work – with IG Academy's free 'introducing the financial markets' course.