How to buy, sell and short Facebook shares
Facebookis the world's biggest social media network, with billions of active users across the globe. Find out how you can buy, sell and short Facebook shares with this useful guide.
How to buy and invest in
Facebook shares
You can buy Facebook shares by share dealing or by trading derivatives, such as CFDs and spread bets.
Share dealing enables you to own shares, meaning you'll profit if the share price goes up, and you could receive dividends if the company pays them. With derivatives, you can speculate on share price movements without buying physical shares. And, you only need a small deposit (margin) to get started. Here are the steps to follow if you want to invest in or trade Facebook shares:
Investing in Facebook shares
Create or log in to your IG share dealing account
Look for 'Facebook' in the search panel
Select 'buy' in the dealing tab
Enter the number of shares you want to buy
Buy the shares and monitor your investment
Trading Facebook shares
Create or log in to your IG trading account
Decide whether you want to spread bet or trade CFDs
Look for 'Facebook' in the search panel
Choose your position size
Confirm the trade and monitor your position
| | | | |
| --- | --- | --- | --- |
| | FX conversion | US best commission | US standard commission |
| IG | 0.5% | £0 | £10 |
| Hargreaves Lansdown | 1.0% | £5.95 | £11.95 |
| AJ Bell | 1.0% | £9.95 | £9.95 |
You'll qualify for the US best commission if you're an active client and you've placed three or more trades in the previous calendar month.
Why choose to trade Facebook via derivatives?
Get full exposure with a small deposit – usually just 20-25% of the full value of the trade1
Spread bet without paying any tax2
Offset your losses against profits for tax purposes with CFDs
How to sell and short Facebook shares
You can sell your Facebook shares through the IG share dealing service if you want to realise a profit (or avoid a possible loss), or you can go 'short' to trade downward price movements via CFDs or spread bets. When you're ready to sell or go short, follow these steps:
Selling Facebook shares
Create or log in to your IG share dealing account
Go to your open positions and click on 'Facebook'
Select 'sell' in the dealing tab
Enter the number of shares you wish to sell
Confirm the sale and browse other opportunities
Shorting Facebook shares
Create or log in to your IG trading account
Enter 'Facebook' in the search panel
Choose your position size
Choose 'sell' in the deal ticket
Confirm the trade and monitor your position
Facebook's live market prices
CFD trading on Facebook shares
When you trade CFDs on Facebook shares, you are speculating on whether the share price will go up or down. If you think it will rise, you'd go long and if you think it will fall, you'd go short. With CFDs, you exchange the price difference between opening and closing your position.
Spread betting on Facebook shares
When you spread bet on Facebook, you are betting an amount of money per point on its share price movement. If your prediction is right, you will make a profit and if you're wrong, you will make a loss. The extent of the price movement and your position size determines your profit or loss.
A brief history of Facebook
In 2003, a student of Harvard University - Mark Zuckerberg - unknowingly launched his career into becoming one of the most influential people in history. It all started when he designed an online service called Facemash. The service was shut down by university officials after just two days, but Zuckerberg got the traction he needed. Almost immediately after the shutdown, he started planning and coding Facebook with Dustin Moskovitz and Eduardo Saverin, which launched as 'The Facebook' in February 2004. By the end of the year, it had one million users.
Between 2005 and 2011, a lot of business development happened for Facebook. It secured the official facebook.com domain, and expanded its reach, functions, teams and physical locations. It hired Google executive Sheryl Sandberg and also received financial boosts from organisations such as Accel Partners and Microsoft.
In April 2012, Facebook acquired Instagram and a month later it held its initial public offering (IPO) – ending the first trading day with a valuation of $104 billion. This was slightly higher than the $77 billion to $96 billion valuation it had been predicting. Facebook stock was listed at $38 a share, but after a week of trading, the price fell to less than $27. The drop was attributed to a lack of investor confidence in the stock and disappointing first quarter (Q1) results. This was the same year that Facebook reached one billion users.
A lot of product development took place over the next five years, making Facebook more popular and pushing the share price over the $100 mark. However, the focus shifted to more legal troubles in 2017 as Facebook's policies came under scrutiny for issues related to fake accounts and user privacy. In 2018, Zuckerberg attended his first congressional hearing on Facebook's data privacy. The turbulence in the business caused Facebook shares to drop from $184 to $153 in March 2018. It recovered in July, reaching $214, but then fell dramatically to $124 by the end of the year. Since then, Facebook has committed thousands of personnel to work on the platform's safety and security.
In June 2019, Facebook announced the launch of its cryptocurrency, Libra. The share price experienced a slow upward movement from $187 to $188 a day after the announcement was made.
Learn more about the history of Facebook
Facebook shares: the basics
Facebook shares are listed on the NASDAQ 100 (US Tech 100 with IG) under the ticker FB.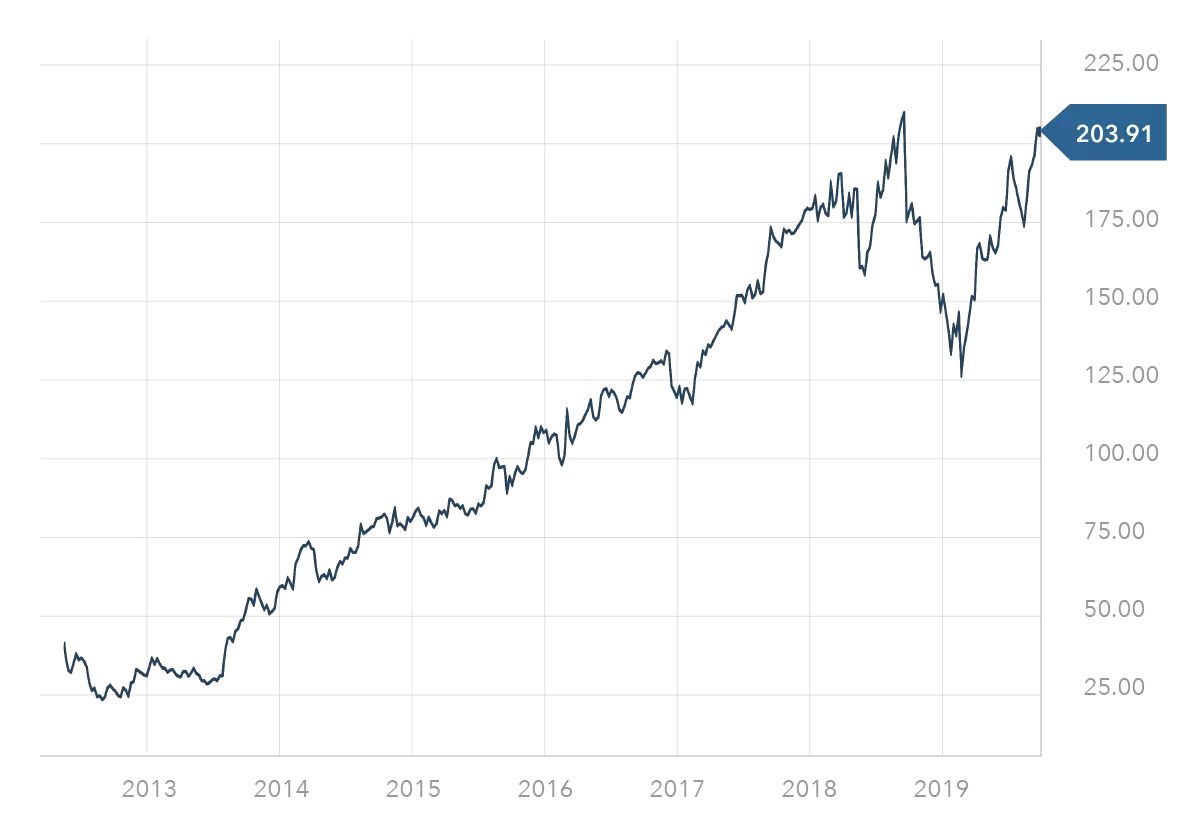 Although Facebook does not have a lot of direct competition, there are other players in the market that may influence its popularity – including Snapchat, Twitter and Pinterest. However, because it owns so many other social media channels, Facebook still has the biggest market share.
The majority of its shares belong to institutional investors and key figures in the Facebook sphere, including Zuckerberg, Sandberg, Moskovitz and Saverin. Chief technology officer Michael Schroepfer and WhatsApp's chief executive officer (CEO) Jan Koum also hold Facebook stock.
Facebook key personnel: who manages the company?
There are four members on Facebook's management team:
| | |
| --- | --- |
| Mark Zuckerberg | Founder, chairman and chief executive officer |
| Sheryl Sandberg | Chief operating officer |
| David Wehner | Chief financial officer |
| Mike Schroepfer | Chief technology officer |
Facebook also has a board of directors, which consists of eight members and includes Zuckerberg and Sandberg.
What is Facebook's business model?
Facebook's business model is based on providing its platform to users for free in exchange for data, which allows them to deliver targeted advertising through Facebook's news feed. Companies pay Facebook to have their ads delivered to a very targeted audience, and this is how Facebook makes money.
Facebook does not sell user data to any third party, they only use a personalised algorithm to deliver the most suitable ads to Facebook users.
It has secured additional digital businesses over the years, leading to a five-pillar model that includes Facebook itself, Instagram, Messenger, WhatsApp and Oculus.
Facebook has made a promise to its more than 2.3 billion users that the platform will always be free to use – even when it was urged to charge for its offering after the privacy concerns of 2017 to 2018.
Facebook fundamental analysis: how to analyse Facebook
Fundamental analysis is the study of a company's financials, including external factors that may affect these figures. It's important to do thorough fundamental analysis before buying or trading Facebook shares. You can estimate Facebook's share value by using popular fundamental analysis metrics, such as the price-to-earnings (P/E) ratio and the return-on-equity (ROE) ratio.
Facebook's price-to-earnings (P/E) ratio
A price-to-earnings (P/E) ratio is one of the most popular valuation metrics, which defines how much you have to spend to make $1 in profit. It is calculated by dividing a company's market value per share by its earnings per share. A high P/E ratio could indicate that shareholders are expecting earnings to rise, or that the stock is overvalued. Traders and investors should always compare P/E ratios of the company they are interested to that of its competitors.
Facebook's ROE
ROE is another good measure of Facebook's financial standing, indicating how much income it is making on its assets relative to its shareholder investments. To calculate ROE, you'd divide Facebook's net income by its stakeholder equity. A high ROE could mean that Facebook's shares are undervalued.
Log in to IG Academy to learn more about fundamental analysis
1 Deposits for leveraged trades are 20-25% on 99.77% of tier one US shares.
2 Tax laws are subject to change and depend on individual circumstances. Tax law may differ in a jurisdiction other than the UK.
This information has been prepared by IG, a trading name of IG Markets Limited. In addition to the disclaimer below, the material on this page does not contain a record of our trading prices, or an offer of, or solicitation for, a transaction in any financial instrument. IG accepts no responsibility for any use that may be made of these comments and for any consequences that result. No representation or warranty is given as to the accuracy or completeness of this information. Consequently any person acting on it does so entirely at their own risk. Any research provided does not have regard to the specific investment objectives, financial situation and needs of any specific person who may receive it. It has not been prepared in accordance with legal requirements designed to promote the independence of investment research and as such is considered to be a marketing communication. Although we are not specifically constrained from dealing ahead of our recommendations we do not seek to take advantage of them before they are provided to our clients. See full non-independent research disclaimer and quarterly summary.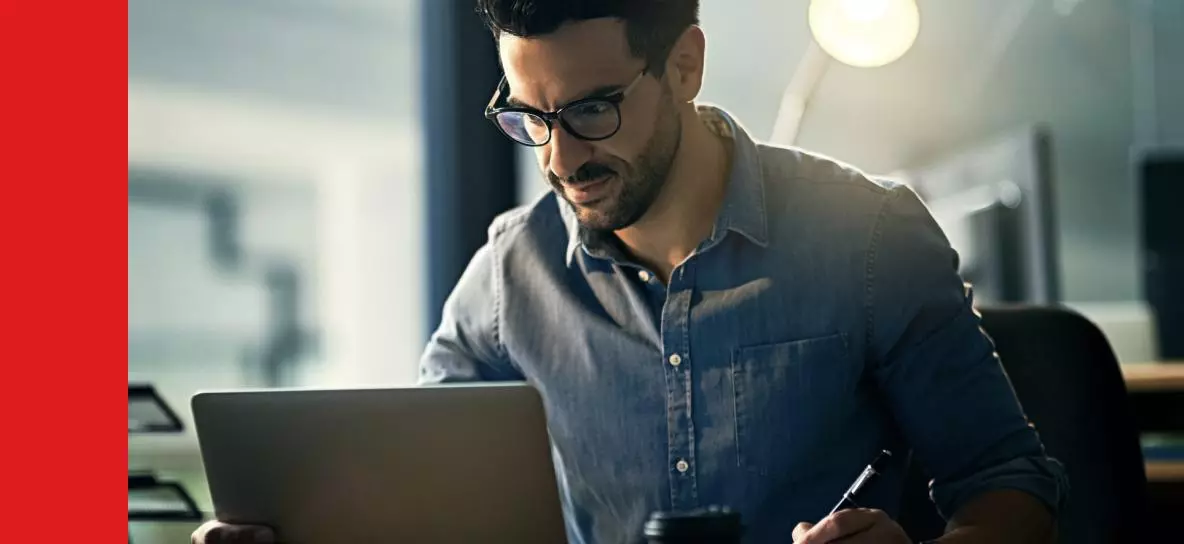 Discover how to trade the markets
Explore the range of markets you can trade – and learn how they work – with IG Academy's free 'introducing the financial markets' course.