What will the post-pandemic economic recovery look like?
The post-pandemic recovery and how quickly things will return to normal has been a sticking point of Covid-19. Discover the outlook for recovery with insights from our portfolio managers and market analysts.
Market outlook for post-pandemic recovery
We asked some of our portfolio managers and market analysts for their opinions on the market outlook in a post-pandemic world.
The sectors that can be expected to outperform over the next 12 months will largely depend on how quickly the various vaccines for Covid-19 are approved and made available for widespread distribution.
If there becomes greater clarity on timelines for this, sectors that have suffered the most, such as hospitality, travel and energy stocks, may start to outperform industries that have been less impacted by the pandemic. We have already seen share prices in these industries move higher after positive vaccine efficacy results were published in November 2020.
Investors looking towards the post-pandemic world will need to ask themselves whether it makes more sense to play the rebound for the beaten down sectors like travel, or stick with the established winners like tech and pharma stocks that have shrugged off the slump from early March.
An end to lockdowns and a strong economic rebound might lift bank stocks, which have been notable underperformers, as consumers and companies borrow more. But the problem here will be the continued low interest rate world that has crimped bank profitability, and could continue to hold the sector back.
It is also important to keep in mind the weightings of various sectors, and with tech, healthcare and consumer spending such big parts of US indices in particular, it will be these sectors that determine how well indices perform over the next couple of years.
The recent vaccine breakthroughs from Pfizer, Moderna, and AstraZeneca have shifted the focus for markets, with the finishing line finally appearing after a particularly testing time for equities. That difficulty has largely been masked by the outperformance in technology and pharmaceutical stocks which have managed to make up for the lagging 'value' names'.
That relationship shifted in November 2020, as investors looked for bargains across sectors such as energy, travel, and banking-related stocks. The forthcoming six months will undoubtedly involve plenty of hurdles for economic recovery, but the question for traders will be around just how much people concentrate on the present vs the future.
The post-March market recovery does highlight the willingness to focus on what could be coming around the corner, and thus the fact that there have been three successful vaccines should help drive a similarly bullish outlook in the coming months. That outperformance in value does look likely to continue, with rising energy prices also likely to help oil and gas names.
However, it is worth noting that while the best some of those stocks can hope for is a return to pre-crisis levels, the huge gains in tech over this year does highlight that those growth and momentum stocks will ultimately return as the area of choice for investors once that recovery has played out.
Hidden opportunities for recovery
As our analysts indicate, tech and pharma have been the big winners of the pandemic so far. That's not to say that other stocks might perform well going forward. Equally, hidden opportunities for growth in a post-pandemic recovery may come from sectors that have been heavily impacted during the pandemic itself, including hospitality, travel and energy - particularly oil and gas.
If we look at the business cycle, then it might stand to reason that in the current recessionary climate, utilities and other 'essentials' could perform well during an economic recovery.
In our IG Trading the Markets podcast, the topic of business cycles came up. Akhil Patel from Property Sharemarket Economics said that the recessions which involve a major collapse in the land market are the ones which affect the financial and banking systems most heavily. According to him, these are the recessions that are the hardest to bounce back from.
See how Covid-19 has impacted the UK property market
Ultimately, he said, the land market and the banking system was not in bad shape, despite Covid-19 and the recessions that are in effect around the world. He did say however, that some industries will need to adapt and possibly be reshaped to determine how they operate in a post-Covid world – such as travel and hospitality.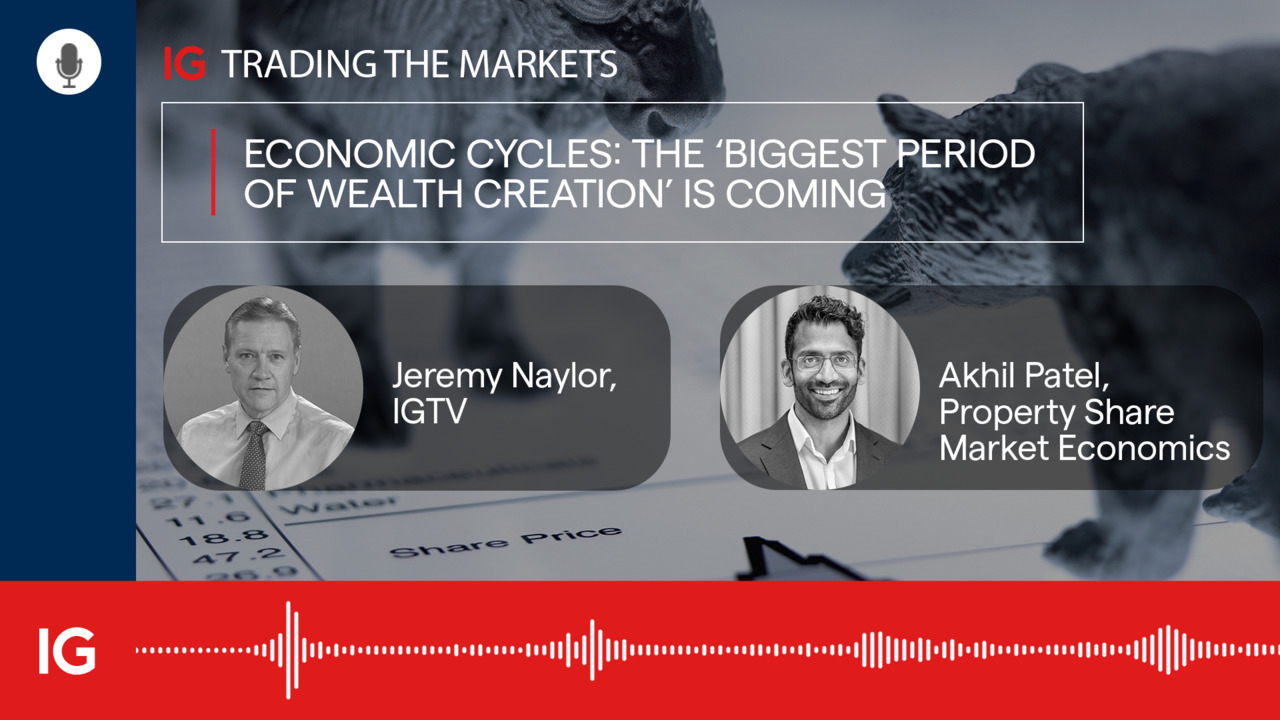 Listen to more episodes of the IG Trading the Markets podcast on Apple, Google or Spotify.
Likely shape of recovery in different regions around the world
Many factors have to be taken into account when assessing the shape and rate of recovery in different regions of the world. Greater stimulus will help countries bounce back quicker, and so central banks with a looser monetary policy – or governments that are doing more to help struggling workers and sectors like hospitality – will be ones to watch.
We crunched the numbers for the MSCI World index, which is often used as a cross-section for the performance of global markets. The data reveals that from 28 February to 31 October 2020, the best performing sectors were technology and consumer discretionary. But, we also looked at how various sectors reacted to the news of potential vaccines on 9 November 2020.
The data shows an almost exact reversal from the sectors that performed best during the pandemic, to those that performed best on the news of a potential vaccine. So, based on the data, the sectors that could gain the most from a post pandemic recovery might be financials, real estate and energy.
This information has been prepared by IG, a trading name of IG Markets Limited. In addition to the disclaimer below, the material on this page does not contain a record of our trading prices, or an offer of, or solicitation for, a transaction in any financial instrument. IG accepts no responsibility for any use that may be made of these comments and for any consequences that result. No representation or warranty is given as to the accuracy or completeness of this information. Consequently any person acting on it does so entirely at their own risk. Any research provided does not have regard to the specific investment objectives, financial situation and needs of any specific person who may receive it. It has not been prepared in accordance with legal requirements designed to promote the independence of investment research and as such is considered to be a marketing communication. Although we are not specifically constrained from dealing ahead of our recommendations we do not seek to take advantage of them before they are provided to our clients. See full non-independent research disclaimer and quarterly summary.
React to global volatility
Market volatility continues as coronavirus dominates the global agenda. Trade with us to take advantage of:
Tight spreads – from just 1 point on major indices, and 2.8 on US crude
Guaranteed stops – they're free to use, and you'll only pay a small fee if they're triggered
Round-the-clock assistance – our highly-skilled team are on hand to support you