Just Eat and Deliveroo: what has the takeaway delivery market got on the menu?
Competition between Just Eat and Deliveroo is heightening as they both continue to expand after transforming the UK online takeaway delivery market. Learn more about the rivalry and how to trade it.
Britain loves a takeaway. Inspired by the vast array of international cuisine that has been adopted in the country, the UK spends close to £10 billion a year on Chinese, Indian and other takeaway food like pizza, over a third more than back in 2009.
This has largely been the result of two transformations that have occurred in the industry. Firstly, the vast majority of takeaways in the UK and overseas are still ordered using the telephone, with customers directly contacting their favourite outlets. But ordering a takeaway on a mobile app is becoming increasingly common, particularly for the sector's core clientele of 18-34 year olds. Secondly, what has traditionally been (and remains) a very fragmented industry comprised of tens of thousands of small, independent takeaway restaurants, has now been brought together by companies that effectively operate as aggregators such as Just Eat and Deliveroo.
These companies have predominantly leveraged technology in order to plug the gaps that have remained because of the nature of the market, such as a centralised platform that is able to attract more customers or providing delivery services for restaurants that don't have their own. The two have so far taken different approaches as to how best to aid their respective restaurant partners and serve their customers, but both have thrived acting as the digital middlemen between restaurants and consumers.
For every £100p that UK consumers spend on food, 12p is spent on takeaways. And although takeaway orders last year represented just 6% of the total eating out-of-home market, takeaways are growing in popularity at a time when restaurants are crumbling under the lower footfall on high streets (as consumers shift to shopping online). Having listed in April 2014, Just Eat entered the FTSE 100 last December when Restaurant Group (which owns chains like Frankie & Benny's and Garfunkel's) was pushed out of the FTSE 250 amid a string of competitors shutting up shop.
Read more about Just Eat joining the big league
While the UK has become one of the biggest markets for the likes of Just Eat and Deliveroo, both have expanded into several other territories around the world, where they face stiff competition from other rivals also seeking to steal a slice of the market. These include Delivery Hero and Takeaway.com in Europe, as well as firms like GrubHub in the US.
Competition to attract both customers and restaurants is rising, pressuring the sector to evolve its technology to benefit both sides of the market while expanding its services to provide more assistance to restaurants. This has also driven the rapid consolidation of a fragmented sector that has seen the majority of firms acquire businesses to open up overseas or to build technological capabilities.
How to take a position on Just Eat or Deliveroo
Invest in the shares of Just Eat or Deliveroo by opening a share dealing account with IG
Start trading CFDs or spread betting on the underlying market price, without taking ownership of the companies' shares, by opening a live account with IG
Build your confidence trading CFDs and spread betting in a risk-free environment by opening a demo account
Alternatively, if you don't feel ready to start trading in any form, you can continue to learn more about financial markets with IG Academy's range of online courses.
Just Eat vs Deliveroo: on course to cross paths
Although both are centred on technology, Just Eat and Deliveroo have revolutionised the UK takeaway delivery market in their own ways, largely avoiding having to directly compete with one another.
Just Eat makes the majority of its money from charging its restaurant partners a commission on each order taken through its platform, promising higher sales through its app and assistance with the likes of promotional work. Customers order using the Just Eat app or online, and the company's technology transmits this to the restaurant, but they are not responsible for the physical delivery of the food that is ordered, which is still handled by the restaurant.
Deliveroo, on the other hand, differs distinctly. The company also takes orders through an app on behalf of its restaurant partners but uses its huge fleet of self-employed delivery staff that are renowned for zipping around cities on their bikes, picking up the food and taking it to the customer. The model is different too, with Deliveroo charging customers £2.50 per delivery in addition to a slice of the restaurant's profits.
These different approaches has so far seen the pair avoid one another. Just Eat's geographical reach has been able to spread further afield and at a quicker rate because it simply provides the modern technology and scale that small independent restaurants need, while Deliveroo has had to concentrate its efforts on city centres where it can source adequate riders and restaurants.
Just Eat can deploy its technology anywhere there is demand from restaurants without having to worry about recruiting delivery staff, and has obviously appealed to restaurants with their own delivery options. Meanwhile, Deliveroo's model of charging customers and metropolitan focus has seen it become associated with a more affluent customer, providing the logistics for city restaurants looking to diversify their revenue streams that have traditionally come from people eating in, not out, of their establishments.
However, Deliveroo has started to infringe on Just Eat's space after launching a new service named Marketplace+, which will allow restaurants with their own delivery operations (Just Eat's prime customer) to sign up. While Deliveroo cannot scale up anywhere near as quickly as its rival, Just Eat is now racing to plug the hole that has emerged in its model by expanding its own delivery operations that would, in turn, directly challenge Deliveroo's market.
Deliveroo started small and is now going for the lion's share of the market, while Just Eat started big by swallowing up the market before expanding into heavy human resource delivery operations.
Which approach is best is yet to be seen, and it does pose the question: are Just Eat and Deliveroo heading for a collision course when they could form a promising pairing that complements one another? Just Eat shares have rallied since early 2016 and the company is now worth around £5.4 billion and while the valuation of Deliveroo, a private company, is not known the business was thought to be worth over £1.5 billion based on a fundraising conducted last September.
Just Eat: 'catering to every taste, mood, occasion and budget
'The bedrock of our business model is offering customers the widest possible range of restaurants and the best possible ordering experience in every market where we operate,' – Just Eat chief executive Peter Plumb.
Just Eat is a technology business that originated in Denmark but has since set up home in the UK, where it generates about 44% of its sales. The hub of the business is based around Orderpad, its own platform that allows restaurants to receive orders placed through Just Eat, and communicate the status of the order back to the customer. This has continued to be rolled out at home and abroad, with over 23,000 installed in the UK, Canada, Denmark, Ireland, Italy and Spain at the end of last year. About 69% of all orders in those markets are being handled through Orderpad (77% in the UK) and the firm has accelerated its introduction this year.
Just Eat generated 92% of its annual revenue in 2017 through the commission that restaurants pay on the orders conducted through its web or mobile platform, with 2% coming from the one off connection fees it charges restaurants to join its network. The remaining 6%, which is growing, is from ancillary services such as its top placement promotional service that will push restaurants to the top of the platform. The provision of data and providing discounted deals to long-standing partners are additional services that Just Eat is keen to grow.
Ultimately, Just Eat strives to offer a broad range of cuisines to customers to raise interest and inspire loyalty, and helping restaurants by the digital expertise they would struggle to develop alone ultimately helps them improve both their top-line and bottom-line.
Just Eat keeps growing but sinks to loss in 2017
Just Eat has delivered consistently high revenue growth over the past five years, with its established UK market generating the majority of earnings. Revenue, order and customer growth has been spurred on by its international operations in recent years. However, the company sank to a pre-tax loss in 2017 after restructuring its arms in Australia and New Zealand, encountering a few problems along the way.
It started to consolidate its two brands in the region last year, folding Eat Now into the better known Menulog brand, and bringing both units under its core Just Eat platform. The restructuring took longer than expected, increasing the costs, and was exacerbated as a new competitor entered key cities like Melbourne and Sydney and rapidly rolled out a new delivery service.
Overall, this knocked £180 million off the value of the Australia and New Zealand business, forcing Just Eat to chew on a £76 million pre-tax loss in 2017. But on an underlying basis that strips out those one-off costs, Just Eat would have seen profit grow 14% in 2017 to £104.4 million.
Just Eat's financial performance over the five years to 2017
| | | | | | |
| --- | --- | --- | --- | --- | --- |
| (£, millions) | 2013 | 2014 | 2015 | 2016 | 2017 |
| Revenue | 96.8 | 157 | 247.6 | 375.7 | 546.3 |
| Adjusted EBITDA | 14.1 | 32.6 | 59.7 | 115.3 | 163.5 |
| Pre-tax profit (loss) | 10.2 | 57.4 | 34.6 | 91.3 | (76) |
| Net operating cash flow | 19.2 | 84.2 | 425.1 | 2.3 | 2.7 |
| Cash balance | 61.6 | 164.4 | 192.7 | 130.6 | 265.1 |
| Orders (millions) | 40.2 | 61.2 | 96.2 | 136.4 | 172.4 |
| Avg rev per order (£) | 2.11 | 2.29 | 2.35 | 2.59 | 2.92 |
| Active customers (mil) | 5.9 | 8.1 | 13.4 | 17.6 | 21.5 |
| Restaurant partners | 36,400 | 45,700 | 61,500 | 68,500 | 82,300 |
The growth is nothing short of impressive. Revenue has increased almost six-fold in the past five years. Orders have grown at a faster rate than new customers, demonstrating that existing ones are finding some loyalty and placing more orders. In turn, customer numbers have outpaced the number of new restaurants on Just Eat's books, meaning more customers and orders for each restaurant are listed on its platform, and the average value of each order has risen every year. Adjusted earnings before interest, tax, depreciation and amortisation (EBITDA) was nearly 12 times higher in 2017 than it was in 2013.
Growth has continued at a rapid rate, but markedly slower since peaking in 2015. Customer numbers grew 22% in 2017 compared to 65% in 2015, and orders rose just 27% last year compared to 57% in 2015. Although growth in volumes has slowed, Just Eat has done well to ensure it focuses on improving value. The company squeezed out 38% more revenue from each order in 2017 than it did the year before, as more orders worth a higher value continued to flow through the platform and because it raised the commission rate it takes from UK restaurants.
Just Eat: integrating Hungryhouse and SkipTheDishes
Just Eat strengthened its position in the UK through the acquisition of Hungryhouse at the end of January. Regulators waved the deal through despite the company representing one of Just Eat's only significant competitors, demonstrating its dominance in the space by stating that Hungryhouse was too small to be considered serious competition. Besides, new and faster growing companies like Deliveroo and UberEats 'generally present a greater competitive challenge to Just Eat than Hungryhouse' going forward, according to the Competition and Markets Authority (CMA).
The other major integration has been SkipTheDishes, the Canadian business purchased in late 2016 that operates under a slightly different business model that Just Eat has found suitable for other geographical regions. The addition of SkipTheDishes has been the main driver of growth for its established markets division that includes Canada, Denmark, France, Ireland, Norway and Switzerland. All but Canada are mature markets, where the focus is on scaling the business to improve profitability over the medium term. SkipTheDishes made Canada the second biggest market for Just Eat outside of the UK, and the fastest growing business. Still, it is still loss-making as heavy investment continues, generating £50.4 million of revenue last year and an adjusted EBITDA loss of £8.5 million.
Having migrated its units in Australia and New Zealand under its core platform, Just Eat is planning to move them onto the platform used by SkipTheDishes. This is due to the geography of the region. With consumers heavily concentrated in cities spread far apart, the ability to accurately predict demand and deploy delivery drivers is therefore even more invaluable. While some acquired brands have managed to keep their own identity, the general approach is to bring the majority of the business under the core Just Eat brand so its marketing can be more effective. The company renamed its French brand Allo Resto in January and launched major campaigns last year that saw it sponsor the Dublin bikes and the Geneva and Milan trams, pushing its brand into nine markets overall.
All other regions are housed under the developing markets unit, where 98% of revenue comes from Italy and Spain, and the balance coming from Mexico. The market is at an earlier stage in these countries and although rapid growth is anticipated, profit won't come until it matures enough to carve out a significant share of the market.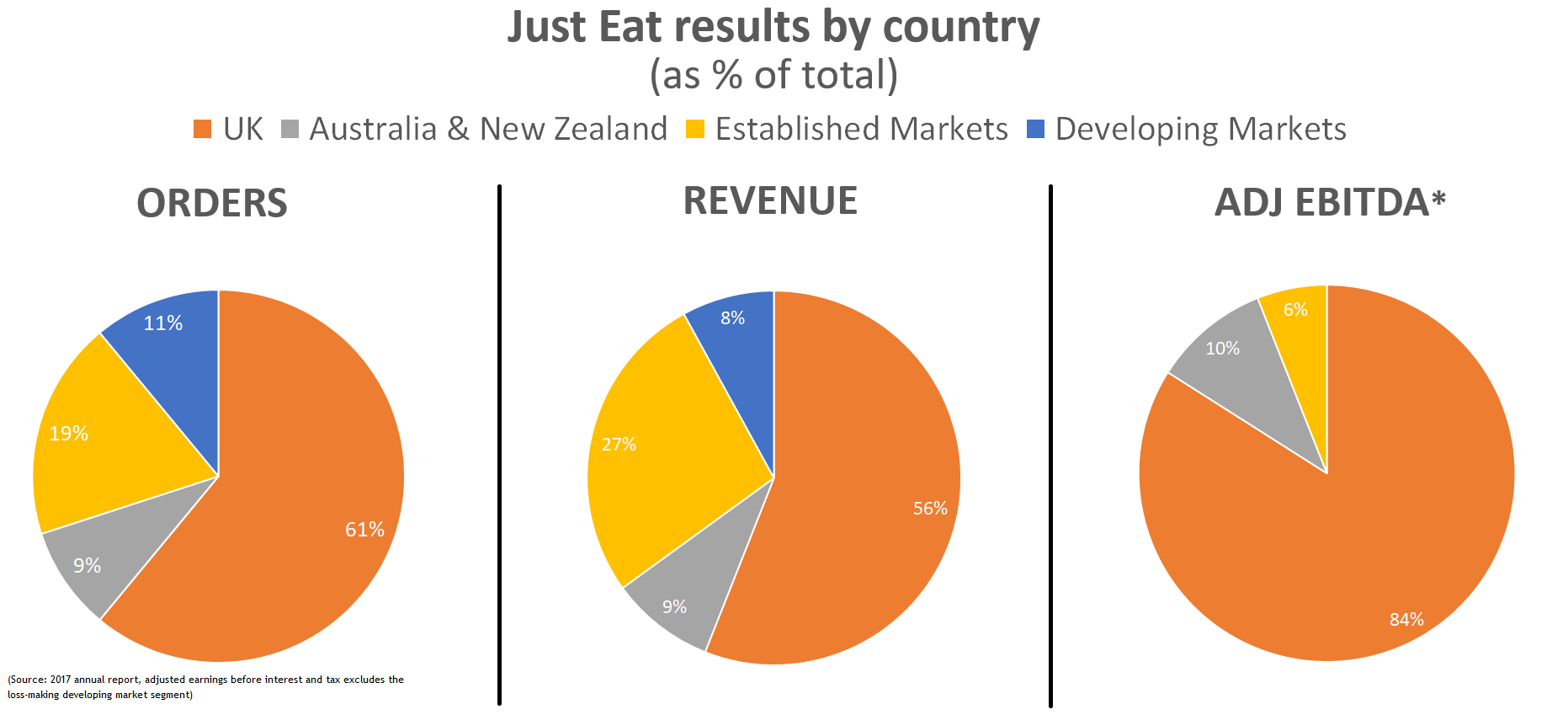 Just Eat keeps on course to deliver 2018 earnings guidance
Just Eat reported a 32% year-on-year rise in order numbers in the first three months of 2018, and the average value of each order continued to rise. That resulted in a 49% lift in revenue to £177.4 million. UK order growth remained strong, rising 24%, with international orders going strong after increasing 46% thanks to Canada, Italy and Spain, offsetting softness in Australia.
The results have kept Just Eat on course to deliver its full-year guidance for 2018, aiming to deliver annual revenue of £660 million to £700 million and adjusted EBITDA of £165 million to £185 million. If achieved, revenue will be 21%-28% higher than 2017, and adjusted earnings will be anywhere between 0.9% and 13% higher year-on-year – both representing a further year of a significant slowdown in growth.
Just Eat will release its financial results for the first half of 2018 on 31 July, followed by a third quarter (Q3) update on 1 November.
Just Eat shares trade below all-time high seen in February 2018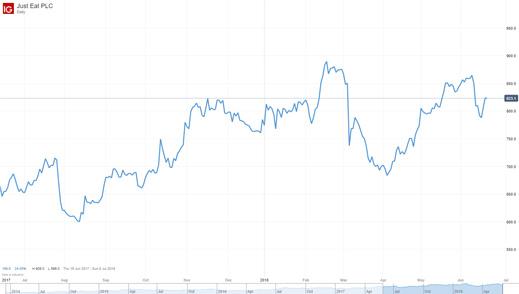 Where does Just Eat expect to find future growth?
'In the markets where we operate today, we estimate that there are still more than 30 million people who are yet to order a takeaway online with us. For those who already use Just Eat, we want to continue improving their experience by personalising our service, which will build brand loyalty. In our markets, around half of takeaway orders for delivery are still placed on the telephone, demonstrating the opportunity for Just Eat to convert those customers to ordering on our platform,' – Just Eat.
With established markets and a foot in the door in others, Just Eat's plan is pretty straight forward. In mature markets like the UK it plans to grow value by developing new services, become a closer partner to its restaurant partners. This will see it leverage the data it collects.
But the big expansion will see the company move into delivering more takeaways on behalf of its restaurants, not just facilitate the order and payment, in order to take on the likes of Deliveroo. It has already made tentative steps into offering a delivery service and is currently trialling ventures with both Burger King and KFC.
This will also see Just Eat serve more restaurants that don't usually offer a takeaway service, by providing the delivery service they lack (exactly the more high-end outlets that Deliveroo caters for). Just Eat is also looking into more 'non-dinner offerings' to improve the frequency of orders, targeting the lunchtime rush that has also been led by Deliveroo riders delivering swathes of lunches to office workers during the week.
This hybrid model that will see Just Eat able to cater for restaurants with or without their own delivery services makes sense – the company openly admits it would be foolish to ignore the opportunity, claiming a delivery model could attract new restaurants that together share an £18 billion market, almost double the size of its current addressable market. In Canada, another country with heavily concentrated but far apart cities, Just Eat believes a delivery operation could yield 'positive, albeit smaller,' margins (at the adjusted EBITDA level).
The only problem is, Deliveroo has the same idea.
Deliveroo: 'no one does delivery quite like us'
Deliveroo's main market is in the UK where it operates in over 100 cities and towns, serving food from over 10,000 restaurants using a fleet of 15,000 riders. But the company is also active in Australia, Belgium, France, Germany, Hong Kong, Ireland, Italy, Netherlands, Singapore, Spain and the UAE.
In the same way as the Just Eat platform is used, customers place their order online or using the Deliveroo app, which sends the order to the restaurant. A Deliveroo rider then picks up the food from the restaurant and delivers the food to the customer, effectively taking over customer service. In addition to restaurant commission, it charges customers £2.50 for each order. Customers can also subscribe to a new loyalty card that allows them to pay one flat fee monthly (£8.99) or annually (£89) to avoid the fee each time they order. Notably, Deliveroo only accepts card payments, with no option to pay with cash like Just Eat.
Although the assistance it provides restaurants is growing, helping them to get discounted energy bills, customer Wi-Fi, printing services or with packaging, Deliveroo's business model is based around providing logistics to restaurants that otherwise wouldn't offer a delivery service, helping them to maximise value by centralising systems, facilitating payments and digitalising the business.
Deliveroo's technology, echoing similarities to SkipTheDishes, is centred on machine learning: its 'Frank' algorithm based on predicting demand and deploying resources. Deliveroo claims it has already cut delivery time by 20%, allowing restaurants to serve more orders and riders to complete more deliveries while speeding up the time taken for customers to get their food. In some cases, Deliveroo's technology has allowed some partners to double production. A new package of digital services named the 'Deliveroo ToolKit' will be fully launched this year, helping restaurants organise and optimise their kitchen operations to streamline food preparation.
For Deliveroo, the introduction of Marketplace+ opens up the business to more restaurants, those that have so far been uninterested in using Deliveroo because they already have their own delivery drivers. This will see Deliveroo aggressively secure new partners, aiming for a total of 15,000 in the near term as it pushes into another 50 towns and cities this year.
While Just Eat will have a tougher time launching a profitable delivery operation, Deliveroo is expecting Marketplace+ to be profitable, although without revealing any details. Having said that, Just Eat will have learned a lot from Deliveroo and the rest of the so-called 'gig economy' and the scrutiny they have come under regarding the rights and benefits they provide self-employed staff.
Deliveroo and others are desperate to keep flexible employment alive, such as the use of zero-hours contracts, and has improved the rights it offers to its self-employed staff (such as insurance cover) in an attempt to deflect any major overhauls in employment law by governments in the UK and abroad.
International rivals: Delivery Hero, Takeaway.com and GrubHub
With online takeaway delivery companies pursuing growth outside of mature markets, competition is heightening across the world as companies continue to impede on one another's territories and chase acquisitions to enter new regions. This will see national battles spill over and entangle international players like Delivery Hero, Takeaway.com and GrubHub.
European takeaway delivery market: Delivery Hero vs Takeaway.com
Delivery Hero listed in Frankfurt in the middle of 2017 and represents the biggest competition to Just Eat outside of the UK, particularly since it sold Hungryhouse to the UK firm. It operates in over 40 countries with nearly five times as many employees as Just Eat, but Delivery Hero is firmly in the red with losses swelling amid rising revenue and order growth over the past two years.
The company generates most of its revenue through commissions, like Just Eat. But it also offers its own delivery service with over 7000 drivers and riders operating in 31 countries, mimicking Deliveroo to boast a hybrid model. Delivery services only generated €47.3 million last year, up from €15.9 million the year before, compared to commission revenue rising to €408.0 million from €217.3 million.
Interestingly, the German firm makes a loss in its main base in Europe, and in Asia and the Americas. The only region that produced positive adjusted EBITDA last year was the Middle East and North Africa (MENA). Europe accounted for 36.5% of all revenue in 2017 and is still the main driver of revenue, but its reliance on the region has eased from 48.5% in 2016. Asia's contribution has grown, with the MENA region growing at a slower rate.
In the Q1 of 2018 Delivery Hero reported a 48% jump in orders to 89 million, pushing revenue up 61% at constant currency and 47% on a reported basis to €171 million.
Delivery Hero will report its interim results on 13 September, and a Q3 update on 7 November. The company is expecting revenue to grow to €740 million-€770 million in 2018, with the aim of running at breakeven at the adjusted EBITDA level by the last quarter of the year.
| | | | | |
| --- | --- | --- | --- | --- |
| | Delivery Hero | | Takeaway.com | |
| | 2016 | 2017 | 2016 | 2017 |
| Revenue | 289.9 | 543.7 | 111.6 | 166.5 |
| Gross profit | 212.7 | 345.8 | 96 | 139.5 |
| Pre-tax profit (loss) | (202.3) | (336.4) | (27.3) | (37.6) |
| Orders | 197.1 | 291.5 | 49.3 | 68.3 |
| GMV | 2617.8 | 3824.3 | 941.7 | 1,313.2 |
Takeaway.com is considerably smaller than its European counterpart, but is a veteran in this relatively new space, having spawned out of one of the world's first online food delivery marketplaces, Thuisbezorgd, in the Netherlands back in 2000. The company's business model matches that of Just Eat, whereby it only facilitates orders and payments in return for charging commission on each order.
The company claims to be the 'leading online food delivery marketplace of Continental Europe'. The Netherlands and Germany are its two main markets, but it also holds leading positions in Belgium, Poland and Austria as well as a top three position in Portugal, Switzerland, Romania and Bulgaria. Its Asian expansion is being led with a joint venture in Vietnam.
Revenue has grown across the board over recent years, but all of its divisions are making heavy loss, apart from its Dutch arm, which made adjusted EBIDTA of €43 million last year, with a €47 million loss seen in Germany and a €23.6 million loss from the rest of its operations.
Order growth, while still strong, lags that of Delivery Hero after coming in at 31% in Q1 of 2018, with a 23% increase in the Netherlands, a 32% lift in Germany and a 40% increase from its other market.
Takeaway.com has raised its commission rates in its leading market which will drive a 5% increase in revenue in 2018. Over the medium term, the company aims to grow orders at a compound annual growth rate (CAGR) of 30% over 2015 to 2018, followed by 25% annual growth. Revenue has outpaced order growth since 2016 and is expected to continue going forward, with the ambition of growing earnings in the Netherlands whilst making its German and other markets profitable (at the adjusted EBITDA level) 'within two to three years'.
Delivery Hero share price hits record high since listing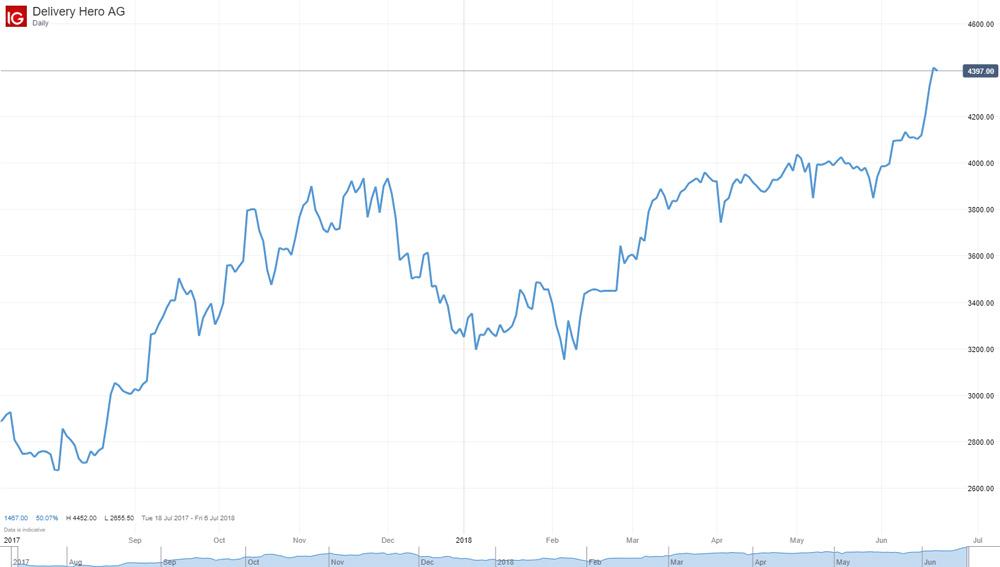 Takeaway.com shares hover near all-time high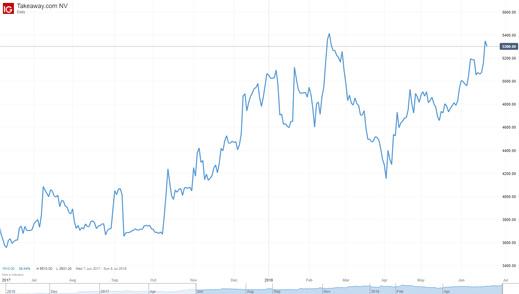 US takeaway delivery market: GrubHub
GrubHub is a US giant that facilitates orders and payments across 1600 cities in the country. The company facilitates takeaway orders and payments on behalf of restaurants, with GrubHub drivers delivering the food too. Restaurants have access to the firm's 24/7 customer service team and can see monthly orders rise by 30% after one year on the platform, with annual revenue increasing by as much as six-fold, according to GrubHub.
Defying most of its European counterparts, GrubHub has long been in the black, with annual pre-tax profit more than quadrupling over the past five years.
GrubHub financial performance over the five years to 2017
| | | | | | |
| --- | --- | --- | --- | --- | --- |
| GrubHub ($, millions) | 2013 | 2014 | 2015 | 2016 | 2017 |
| Revenue | 137.1 | 253.9 | 361.8 | 493.3 | 683.1 |
| Pre-tax profit (loss) | 14.9 | 45 | 61.9 | 83.9 | 89.6 |
| Active customers (m) | 3.4 | 5 | 6.7 | 8.2 | 14.5 |
| Daily 'Grubs' | 107,900 | 182,800 | 227,100 | 274,800 | 334,000 |
Attention at GrubHub has been on its partnerships as it powers ahead with its exclusive deal with Yum! Brands handling orders and delivery for the KFC and Taco Bell brands – two giants in the US. That partnership saw Yum! invest $200 million in GrubHub, with the company also striking deals with the likes of review site Yelp and group discount firm Groupon.
In Q1 of 2018 GrubHub said it had completed the integration of its own acquisitions earlier than expected, and reported double-digit lifts across the board. It ended March with 15.1 million diners, with daily 'Grubs' soaring to 436,900.
GrubHub expects to deliver annual revenue of $930 million to $965 million in 2018, with adjusted EBITDA of $242 million to $262 million. If achieved, revenue would be 36% to 41% higher year-on-year while adjusted EBITDA would be up 32% to 42% higher than in 2017.
GrubHub shares dip after climbing to all-time high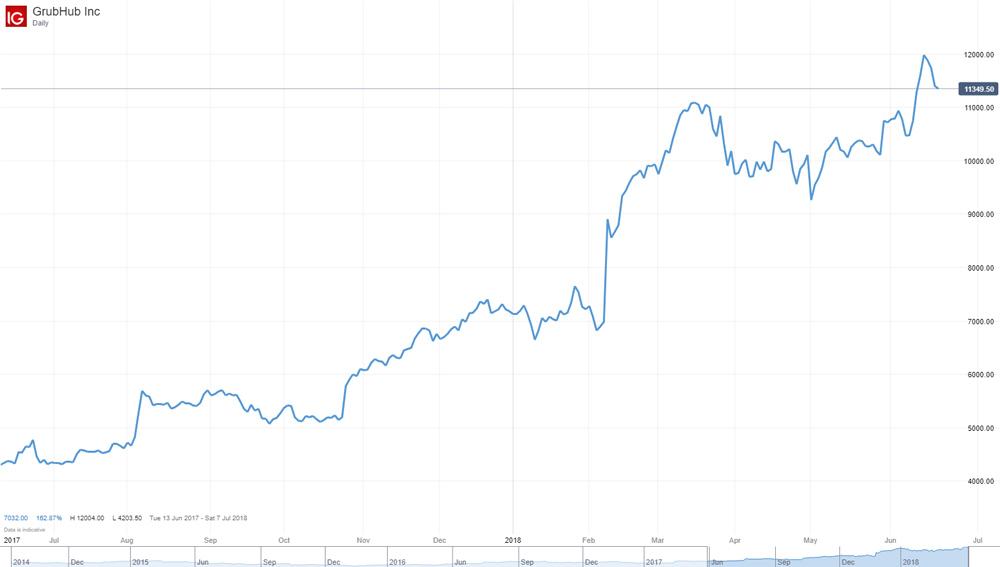 Domino's Pizza still grabbing a large slice of the market
There is one cuisine that has been dominated by a few select big players more than any other - pizza. Domino's Pizza has long been a leader that battled it out with the likes of Pizza Hut, and despite the transformation of the industry it has largely resisted the idea of abandoning its own ordering and delivery systems. However, that could be changing, as Just Eat has one of Domino's branches on its Danish platform.
Importantly, Domino's Pizza has been partly built on a franchise model and this has seen numerous different companies come to market offering investors the opportunity to grab a slice of the action. These are:
Domino's Pizza Inc: This is the largest listed Domino's entity, predominantly made up of franchises in North America, with faster growing international franchises in countries like Japan, the Netherlands and India. It is listed in the US and leases out major franchises in other countries.
Q1 of 2018 saw the firm deliver its 97th consecutive quarter of same store sales growth from its international operations and the 28th consecutive lift for international sales. Overall sales climbed 17%, with US like-for-likes up 8% and the international at up 5%.
The firm keeps quarterly dividend pay-out flat, having paid 38 cents throughout 2016 ($1.52 annually), 46 cents in 2017 ($1.84), and 55 cents per share in the Q1 to imply that the annual pay-out in 2018 will be $2.20.
Domino's Pizza Group PLC: This is a London-listed company that holds the master franchise for the brand in the UK and Ireland, with more operations in Switzerland, Luxembourg and Liechtenstein. It also has a controlling stake in the holders of the Domino's master franchise agreements in Iceland, Norway and Sweden, as well as an associate investment in Germany. At the start of April the company had 1203 stores across six markets, including 1054 stores in the UK.
The company has been focusing on its value proposition to customers and rolling-out GPS to stores so drivers can be tracked, in the hope of improving labour productivity. It plans to open 65 to 75 new stores in 2018. In Q1 it said sales through its system were 18% higher than the year before, with sales growing on both a like-for-like and a reported basis across all regions. The progressive dividend jumped 13% in 2017 to 9 pence from 8p in 2016 and should rise again this year.
DP Poland PLC: This AIM-listed stock holds the exclusive rights over the master franchise in Poland until at least 2025 with the option for a ten-year renewal if it can hit certain growth targets, some stores franchised out and some company-owned. The first store was opened in 2011 and it aims to have 70 open by the end of this year and 100 by 2020.
The company continued to deliver double-digit like-for-like sales growth in Q1 in addition to better margins at the store level. Still, it is the only loss-making business of the three as it rolls out new stores and faces cost pressure for ingredients and labour costs. This, unsurprisingly, means it does not pay a dividend.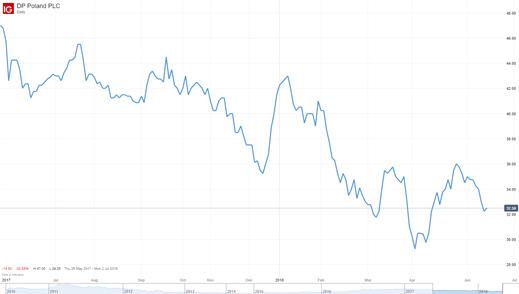 | | | | | | | |
| --- | --- | --- | --- | --- | --- | --- |
| (Millions) | Domino's Pizza Inc ($) | | Domino's Pizza Group (£) | | DP Poland (£) | |
| | 2016 | 2017 | 2016 | 2017 | 2016 | 2017 |
| Revenue | 2473 | 2788 | 360.6 | 474.6 | 7.6 | 10.4 |
| Pre-tax profit | 344.7 | 400.2 | 82.5 | 81.2 | (2.5) | (2.6) |
| Stores | 13,811 | 14,856 | 1013 | 1192 | 35 | 54 |
This information has been prepared by IG, a trading name of IG Markets Limited. In addition to the disclaimer below, the material on this page does not contain a record of our trading prices, or an offer of, or solicitation for, a transaction in any financial instrument. IG accepts no responsibility for any use that may be made of these comments and for any consequences that result. No representation or warranty is given as to the accuracy or completeness of this information. Consequently any person acting on it does so entirely at their own risk. Any research provided does not have regard to the specific investment objectives, financial situation and needs of any specific person who may receive it. It has not been prepared in accordance with legal requirements designed to promote the independence of investment research and as such is considered to be a marketing communication. Although we are not specifically constrained from dealing ahead of our recommendations we do not seek to take advantage of them before they are provided to our clients. See full non-independent research disclaimer and quarterly summary.
Act on share opportunities today
Go long or short on thousands of international stocks with spread bets and CFDs.
Get full exposure for a comparatively small deposit
Trade on spreads from just 0.1%
Get greater order book visibility with direct market access
See opportunity on a stock?
Try a risk-free trade in your demo account, and see whether you're on to something.
Log in to your demo
Take your position
See whether your hunch pays off
See opportunity on a stock?
Don't miss your chance – upgrade to a live account to take advantage.
Trade a huge range of popular stocks
Analyse and deal seamlessly on fast, intuitive charts
See and react to breaking news in-platform
See opportunity on a stock?
Don't miss your chance. Log in to take advantage while conditions prevail.
Live prices on most popular markets
Equities
Indices
Forex
Commodities
website terms and agreements. Prices are indicative only. All share prices are delayed by at least 15 minutes. " >
Prices above are subject to our website terms and agreements. Prices are indicative only. All shares prices are delayed by at least 15 mins.