What is short covering and how does it work?
Short covering is a key part of a short-selling strategy, in which you attempt to profit from stocks or other markets falling in value. Here, we explain the details of short covering with an example of how it works.
What is short covering?
Short covering is a specific step in a short-selling strategy. It refers to the act of buying back borrowed stock to return it to a lender. In doing so, you've covered your short position, and you'll be able to meet your obligation to return the stock.
How does short covering work?
To understand how short covering works, you'll need to learn the different steps of a short-selling strategy. Let's go through those steps now.
First, you'd borrow shares from a lender – often a broker or a market maker. Second, you'd sell them on the open market to get cash. Third, you'd use the cash to buy the shares back and to them to the lender. Step three is the short covering part of a short-selling strategy.
You'd keep the difference between the price at which you sold the borrowed shares and the price for which you bought them back as profit. But, if the shares had increased in value, the difference between the price at which you sold the shares and the higher price at which you bought them back would be your loss.
Learn more about how to short sell stocks
What is short interest?
Short interest can show what the current market sentiment is for a company's stock. It's taken as the total number of shares that have been sold short, but which have not yet been covered or closed – expressed as a percentage.
A high short interest indicates that investors are currently pessimistic, while a low short interest indicates the opposite. Any sharp changes in a stock's short interest can also be an indicator that a market could turn bearish or bullish, depending on the current trend.
To calculate short interest, divide the number of a company's shares that have been sold short by the total number of shares outstanding and multiply the outcome by 100. For example, a company with 20 million shares outstanding, of which 2 million have been sold short, has a short interest of 10% ([2 million ÷ 20 million] x 100).
Short covering example
As a short covering example, let's suppose that you thought the price of company XYZ's stock was going to fall.
The stock is currently trading at £20 a share and you borrow 100 shares. You sell the shares, which gives you a cash stack of £2000 (£20 x 100).
In the next week or so, the price of stock XYZ falls to £15, and you buy them back. This is the short covering part of the process, and you now have the shares back in your position to return them to the lender.
In this scenario, you'll have the original 100 shares, bought for £1500 (£15 x 100), and once they're returned to the lender, you'll be able to keep the £500 difference between the sell and buy prices as profit (£2000 - £1500 = £500).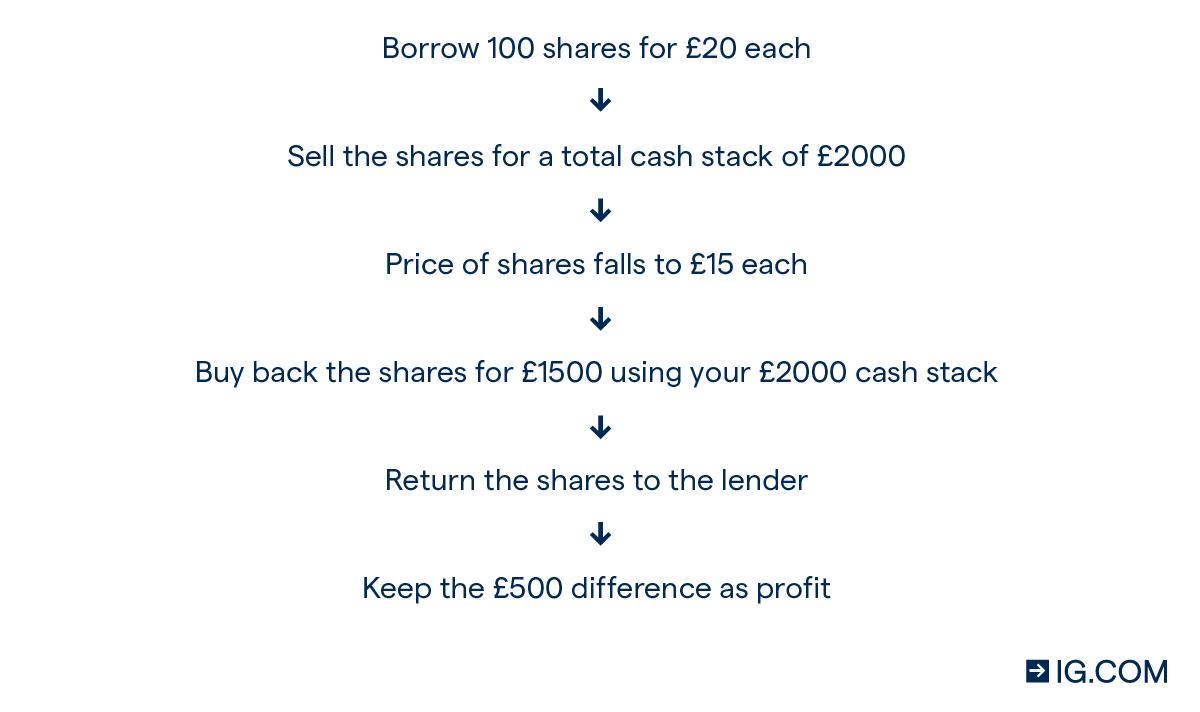 This information has been prepared by IG, a trading name of IG Markets Limited. In addition to the disclaimer below, the material on this page does not contain a record of our trading prices, or an offer of, or solicitation for, a transaction in any financial instrument. IG accepts no responsibility for any use that may be made of these comments and for any consequences that result. No representation or warranty is given as to the accuracy or completeness of this information. Consequently any person acting on it does so entirely at their own risk. Any research provided does not have regard to the specific investment objectives, financial situation and needs of any specific person who may receive it. It has not been prepared in accordance with legal requirements designed to promote the independence of investment research and as such is considered to be a marketing communication. Although we are not specifically constrained from dealing ahead of our recommendations we do not seek to take advantage of them before they are provided to our clients. See full non-independent research disclaimer and quarterly summary.
Discover how to trade the markets
Explore the range of markets you can trade – and learn how they work – with IG Academy's free 'introducing the financial markets' course.