Top female CEOs in the UK in 2020
In 2020, only five FTSE 100 companies are steered by women. Will this year see an increase in female leadership? We take a look at the female leaders of these UK companies and outline statistics on FTSE 100 women.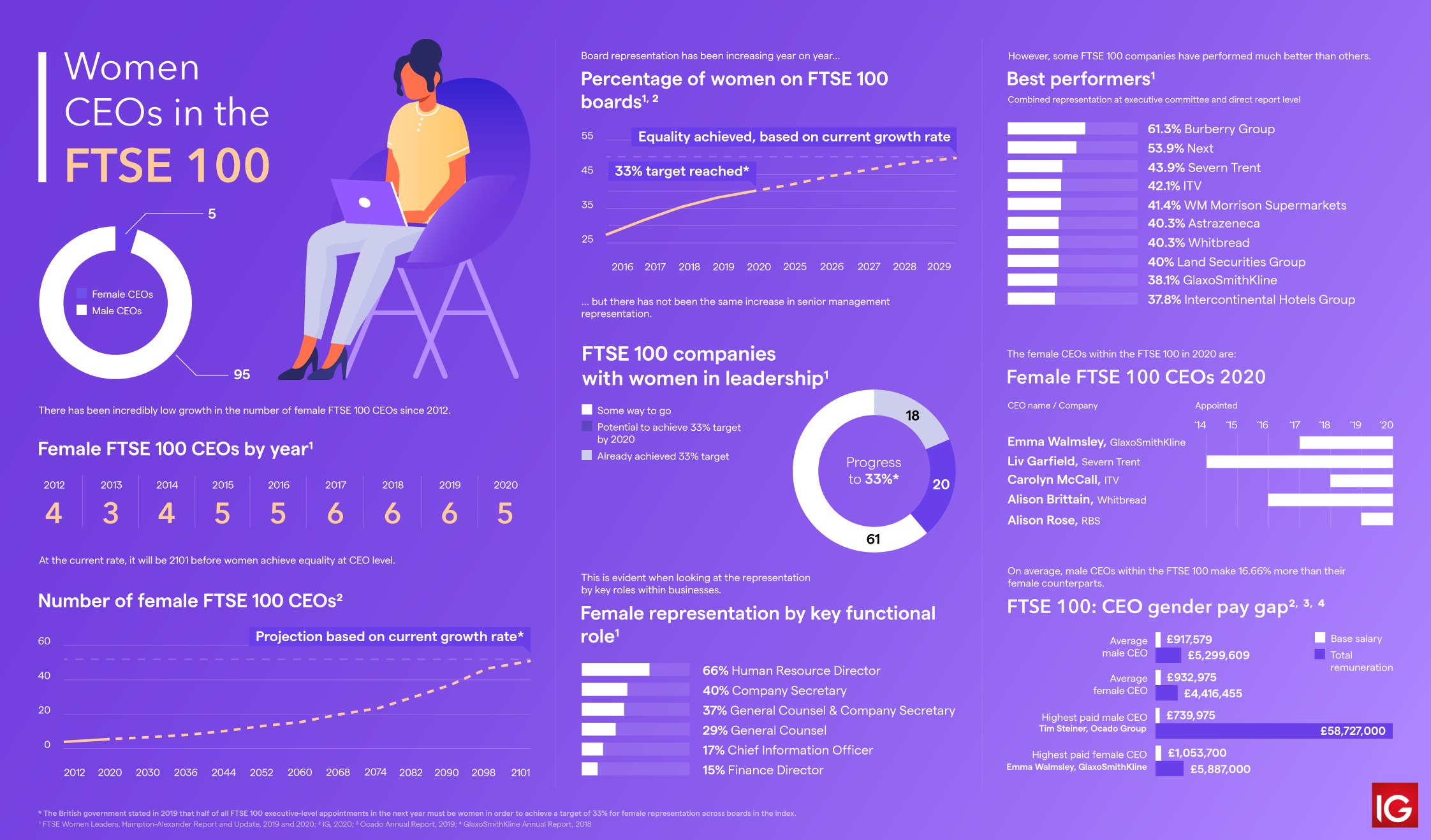 Who are the top women CEOs in the UK?
Emma Walmsley: GlaxoSmithKline
Emma Walmsley joined GlaxoSmithKline (GSK) in 2010, and she became a member of the executive team soon after. In 2017, she was appointed as Chief Executive Officer, following in the footsteps of Andrew Witty. She is the only woman among the 25 highest-paid CEOs in the FTSE 100. Before joining GSK, Walmsley was the head of the Chinese consumer business for L'Oréal.
Walmsley's presence has been welcomed by the business, and she has made huge strides in terms of narrowing the business's focus, developing strong product lines and solidifying partnerships. Since her appointment, GSK shares have declined by 3.8% (as of 25 February 2020).
Liv Garfield: Severn Trent
Liv Garfield has been with Severn Trent since 2014, immediately fulfilling the role of CEO (succeeding Tony Wray). At 44, she is currently the youngest chief executive officer of a FTSE 100 company. This is not Garfield's first top job – she was CEO of Openreach before joining Severn Trent.
Garfield has been lauded for her ability to create a strong customer focus for the business, while also taking care of environmental factors. Severn Trent's share price has seen an improvement of 33.9% since Liv Garfield has been at the helm of the business.
Carolyn McCall: ITV
Carolynn McCall took the reins at ITV in 2018, after completing seven years as an EasyJet executive. She replaced Adam Crozier and became the first female chief executive of the group. A clear frontrunner in her field, McCall was awarded the Office of the Order of the British Empire for her services to women in business.
McCall has been heavily invested in diversifying ITV and differentiating the brand. Plans for her future include the expansion of ITV's on-demand streaming service, Britbox, which aims to compete with the likes of Netflix. Since joining the business, ITV's share price has dropped by 31.9% (as of 26 February 2020).
Alison Brittain: Whitbread
Alison Brittain became the CEO of Whitbread in 2016, taking over from Andy Harrison. She was previously considered for the CEO role at Royal Bank of Scotland as her previous experience includes heading up Lloyds Banking Group's retail operations. In 2019, she was appointed a Commander of the Order of the British Empire.
In her time as CEO at Whitbread, Brittain has overseen the sale of the Costa portion of the business, which provided a major cash injection for Whitbread. She also ensured major growth of the hotel business in the UK, Germany and the Middle East. Since becoming CEO, Whitbread's share price has declined by 7.7% (as of 27 February 2020).
Alison Rose: Royal Bank of Scotland Group
Alison Rose has worked for Royal Bank of Scotland Group (RBS) for 27 years and was appointed as chief executive in late 2019. Her predecessor was Ross McEwan. Prior to her latest appointment, she was Deputy CEO of NatWest Holdings and CEO of the Commercial and Private Banking business.
Rose is expected to roll out a new strategy for the bank to boost efficiency – including spending more money on technology – but this plan may include thousands of job cuts. RBS's share price has dropped by 15.7% (as of 27 February 2020).
Percentage of female vs male CEOs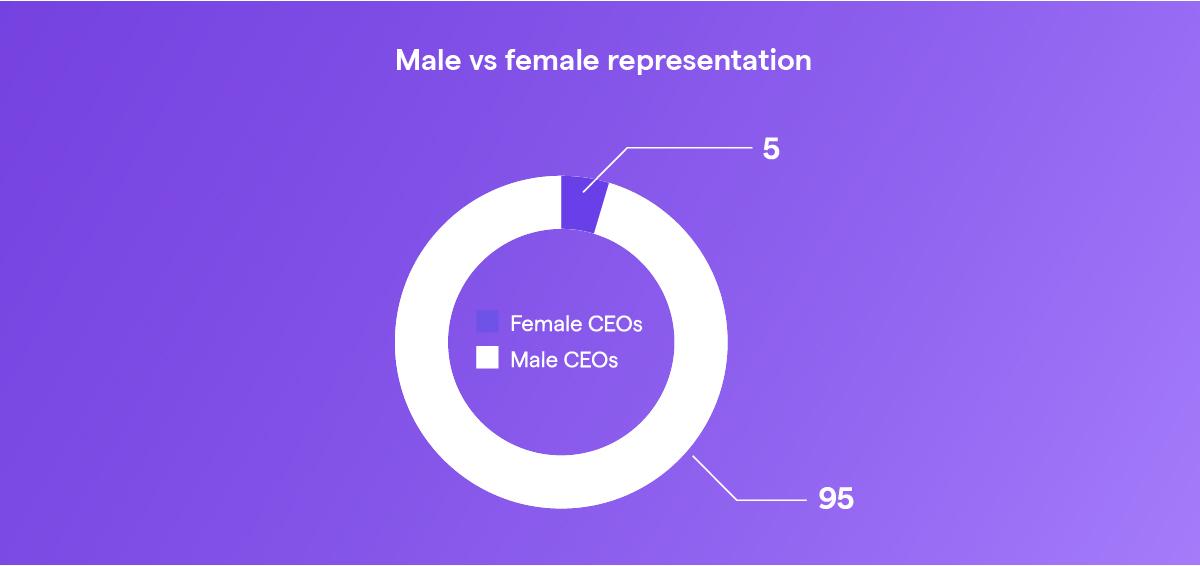 In 2020, only 5% of FTSE 100 CEOs are women, which means 95% are male. The FTSE 250 is even further behind, with five women as CEOs, including IG's June Felix. Last year, 23% of executive committees in the FTSE 100 were women and the combined number of women in executive and senior positions reached 28.6%.3

The good news is that the gender imbalance across UK businesses is on the British government's radar. In 2019, it stated that half of all FTSE 100 executive-level appointments in the next year must be women in order to achieve a target of 33% for female representation across boards in the index. This goal was met in February 2020.
Putting these measure in place is extremely important. A 2015 study found that, if women were as integrated into the economy as men, it would add up to 26% to annual global GDP by 2025.4
The FTSE 100 gender pay gap
When analysing the FTSE 100 CEOs – both male and female – there is a clear discrepancy in the salaries earned. Male FTSE 100 CEOs receive total remuneration of £5,299,609 a year on average, while their female counterparts earn 16.66% less (£4,416,455).5
Based on the most recent annual reports, the highest paid male CEO within the FTSE 100 is Ocado's Tim Steiner, with total annual remuneration of £58,727,000 (2019).6 The highest paid female CEO is GlaxoSmithKline's Emma Walmsley, with total annual remuneration of £5,887,000 (2018).7 This means the highest paid male CEO earns almost 90% more than the highest paid female CEO.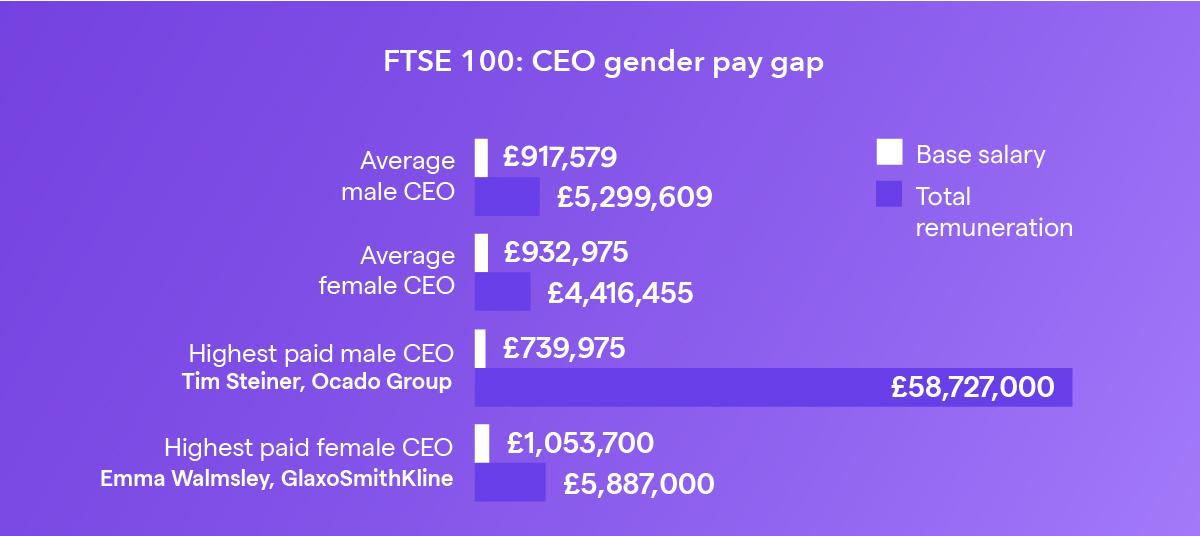 How long will it take until equality is achieved?
At the current rate of growth, it will take more than 80 years for the number of female FTSE 100 CEOs to reach 50%. Since 2012, the number has increased by only 25% (four vs five). Even if the number of female CEOs increased at double the current rate each year (which is highly unlikely), it would still take up to 42 years years to achieve equality.
There has been more improvement with regards to females on FTSE 100 boards. As of March 2020, there are no men-only FTSE 100 boards – compared to 21 less than ten years ago.
When taking overall opportunity and pay into account, it has been estimated that it will take up to the year 2234 for women to achieve equality in the workplace.8
Barriers women face in leadership
Women can face a variety of challenges when climbing the corporate ladder – including gender bias, inequality, lack of support, negative mindsets and workplace cultures, high standards and family choices.9
If men and women don't work together to raise awareness and eliminate some of these obstacles, the gender gap will continue to exist. Addressing issues proactively can help to increase diversity and inclusion.
IG and gender diversity
IG CEO June Felix was recently quoted saying that 'I believe without any doubt whatsoever that equality, fairness, meritocracy, openness and diversity of thought are the most important qualities that any organisation can have.
At IG I lead a business that is targeting growth through innovation and technology; using our expertise to extend into new products and new markets.
We have some ambitious targets – goals that we will only achieve by attracting and retaining the best people from the broadest possible pool and providing them an environment where they can bring their very best each day.
We know that to win in rapidly-changing global markets, gender, age, ethnicity, sexual orientation and religion are immaterial. Regardless of anyone's background, what we are looking for are people who will make our organisation better – not because they fit in and think the same way, but because they bring unique perspectives and experiences.
Diversity of thought is not only the right thing to do – it makes sound commercial sense too.'
IG now has a total of four women on its board, which already represents 36% of the total.
Trade or invest in women-led FTSE 100 companies
If you want to get exposure to the companies led by the top female CEOs in the UK, you can choose between owning company shares outright or speculating on their price movements. IG offers both – you can invest in shares directly with our share dealing service, or you can speculate on the price of shares with derivates such as CFDs and spread bets.
This handy guide explains the differences between trading and investing.
Sources
1 FTSE Women Leaders report, 2020
2 FTSE Women Leaders, 2020
3 FTSE Women Leaders update, 2019
4 McKinsey, 2015
5 This analysis was made on 6 March 2020 and includes 98 of the FTSE 100's firms (Imperial Brands and Scottish Mortgage Investment Trust were excluded due to lack of information). Salaries paid in US dollars and euros were converted to sterling at rates of 0.767088 and 0.867107 respectively. The percentage differences were calculated using male salaries as the base.
6 Ocado Annual Report, 2019
7 GlaxoSmithKline Annual Report, 2018
8 The Guardian, 2017
9 Forbes, 2018
This information has been prepared by IG, a trading name of IG Markets Limited. In addition to the disclaimer below, the material on this page does not contain a record of our trading prices, or an offer of, or solicitation for, a transaction in any financial instrument. IG accepts no responsibility for any use that may be made of these comments and for any consequences that result. No representation or warranty is given as to the accuracy or completeness of this information. Consequently any person acting on it does so entirely at their own risk. Any research provided does not have regard to the specific investment objectives, financial situation and needs of any specific person who may receive it. It has not been prepared in accordance with legal requirements designed to promote the independence of investment research and as such is considered to be a marketing communication. Although we are not specifically constrained from dealing ahead of our recommendations we do not seek to take advantage of them before they are provided to our clients. See full non-independent research disclaimer and quarterly summary.
Discover how to trade the markets
Explore the range of markets you can trade – and learn how they work – with IG Academy's free 'introducing the financial markets' course.