In case you missed it (ICYMI), here's our live coverage of the Bank of England rate decision and what it means for the markets.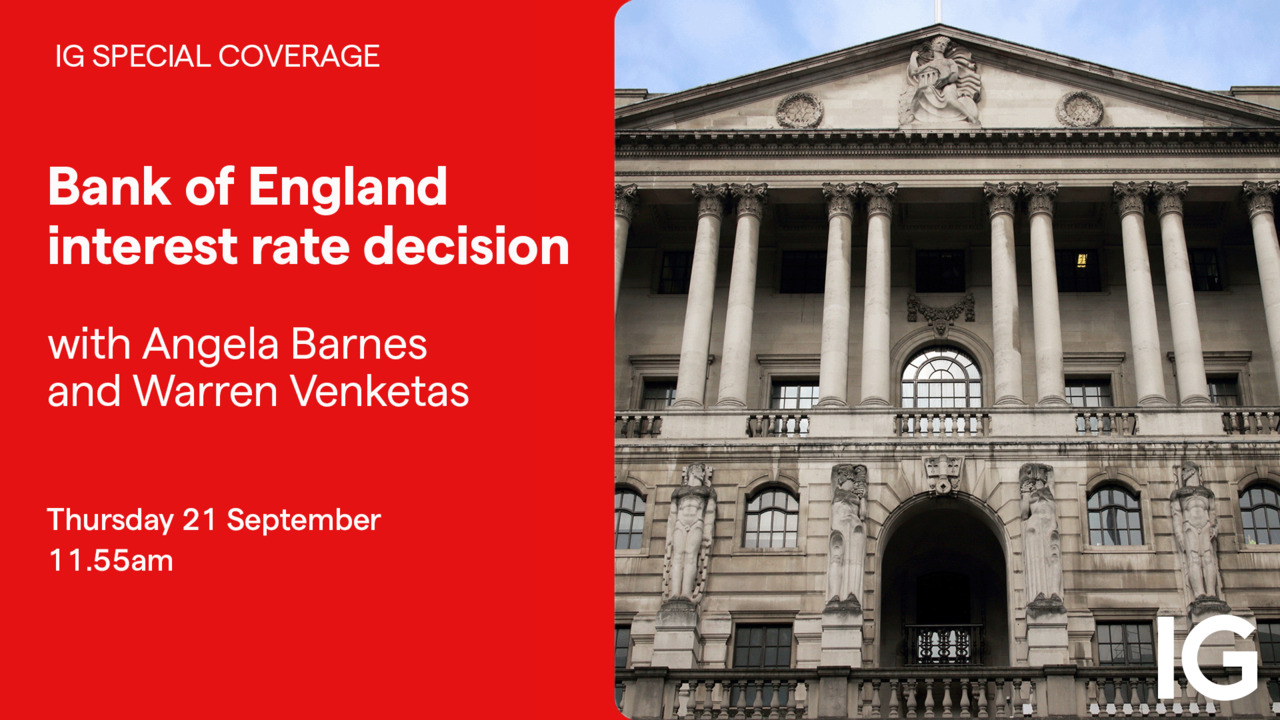 (Video Transcript)
Trading the BoE announcement
AB: Hello and welcome to this special IG coverage of the Bank of England (BoE) rate decision, which is in just five minutes' time. This is IGTV, here to help you trade the BoE announcement and the markets following the release.
Warren Venketas, the senior market analyst at DailyFX is joining us to talk us through the charts, to look at the pound, look at the FTSE in the markets, to see how the markets are reacting. Hopefully we'll get that in before the announcement as well, but certainly post.
But, firstly, what are economists expecting today in five minutes' time? Before yesterday's inflation data, all but one of 65 economists polled by Reuters predicted Andrew Baillie would raise rates by 25 basis points to 5.5%.
Now the BoE could either raise interest rates for the 15th consecutive time today or it could keep rates on hold for the first time in two years. A hike is still on the cards, but as soon as consumer price index (CPI) inflation data about yesterday, investors piled into bets on the BoE actually keeping rates steady.
CPI in Britain fell unexpectedly to 6.7% in August and core inflation also decreased to 6.2% would be good, wouldn't it, after staying untapped and then changed at 6.9% in July.
Britain's inflation among Europe's highest
The slowdown was driven by a drop in volatile hotel prices and airfares and by food prices rising less than a year ago, according to the ONS, and that was offset by a jump in fuel prices and an increase in attacks on alcoholic drinks.
Although Britain's inflation has fallen from a peak above 11% last October, it still remains among the highest in Western Europe, only topped by Austria and Iceland in August.
Well, Warren, our analyst, let's go over to you. So the BoE's policymakers will have been digesting the inflation data from yesterday. Those numbers likely to have pleased them, of course, but they met yesterday, so the decision they know, of course, but we're going to be finding out shortly. Do you think we should be expecting any surprises today?
WV: Hi, Angela, and thanks for having me today. Yes, as you mentioned, CPI really threw a spanner in the works yesterday, shifting money market expectations from roughly 75% probability of a 25 base point hike to now 50-50, so basically a coin toss in terms of money market pricing there.
But we need to remember, as you alluded to: the UK has one of the highest inflationary backdrops in the developed world. We have crude oil prices on the up, so that could then have a lagging effect on the UK economy.
We also saw from that CPI print, producer price index (PPI) figures, particularly those PPI input and output figures, which are generally considered as a leading indicator whereby higher producer prices often transfer through to the consumer at a later stage.
Was dovish repricing an over-reaction?
So all these factors need to be taken into consideration, and I think the BoE could likely remain with that 25 basis point decision. One data point we must remember doesn't make the trend. We've seen this previously when UK inflation did soften, after which we saw an uptick in inflationary pressures.
I do think the market has slightly, or possibly slightly, overreacted to the CPI news in terms of the dovish repricing there, and we've also had very mixed messaging from Bank of England officials.
If we look at the voter split from the previous meeting, we saw seven members in favour of a rate hike versus two in favour of a pause, and I think that will obviously be more divided going into this particular rate announcement.
Sterling sold off after hawkish US approach
I just wanted to touch on a bit of the pound price action. I do have the daily cable chart on screen. We can see the pound being sold off quite drastically, particularly after that Fed rate pause, which included a very hawkish message of higher for longer. I think we could see a bit of that in the BoE messaging as well today.
Now slipping through that May 2023 swing low around the 1.23 psychological level. If we do see a rate pause, I think that could definitely break down further towards 1.22.
Quickly shifting over to FTSE, the FTSE's finding resistance at the 7700 level. We've seen a bit of consolidation over the last few daily candles. A lot of long wicks towards the upside alongside an overbought signal on the relative strength index (RSI). If we take technicals into consideration, we could be looking for a rate hike, which will bring the FTSE down lower, possibly chasing that 200-day moving average.
AB: Okay. Warren. Interestingly, I'm waiting for those figures to drop, and I'm going to bring them to you. We'll go back to the market as soon as I get them to you any second now. Sometimes bear with the system. It can take, as we know, with breaking news, a few seconds to actually update.
OPEC's action constrains global oil supplies
In the meantime, Warren, oil prices, you touched on there. We've seen oil prices, both Brent and WTI rally in recent days, although they were both trading a little lower today in the red, easing a little. Of course, that will be adding to inflation concerns to oil prices, won't it?
WV: For sure. For sure. Oil supply from the Organization of the Petroleum Exporting Countries (OPEC), they've mentioned that they want to maintain tight supply throughout 2023, and that's really constrained oil supplies globally. We've seen stocks definitely decline throughout.
In the US as well, the rig count has been on the decline, and that's obviously impacted oil supply from the US perspective. Overall, that's contributing to global inflationary pressures. If you look at the headline reads, on many developed nations, not just the UK, we can see headlines.
AB: Warren, I'm just going to stop you there. We will come back to oil prices, interestingly, but we have just got the rate decision in now. The BoE has voted to leave UK interest rate on hold at 5.25%. This is the first time since November 2021 that UK borrowing costs have stayed on hold.
So, the Bank's Monetary Policy Committee voted to leave borrowing costs on hold after yesterday's surprise fall in inflation figures. So, Warren, what can you make of that?
BoE's drastic change
Very drastic change from the BOE's perspective. I do think the Fed had a lot to do with their decision-making, considering the Fed did decide to pause their rate cycle yesterday, factors to consider. I think the BoE officials definitely took into account insipid growth in the UK, which we saw recently.
...
AB: Okay, I'm sorry, I think we have just lost Warren there, so we'll try and get him back as soon as possible.
So, just to reiterate then, so the BoE has voted to leave UK interest rates on hold at 5.25%. And this is the first time since November 2021 that UK borrowing costs have stayed on hold. And the Bank's Monetary Policy Committee voted to leave borrowing costs unchanged after yesterday's surprise fall in inflation.
So, interesting, because, of course, we were expecting the BoE interest rate was forecast to be 5.5%, but it's come in at 5.25%. So, when we do get Warren back, we will be going through the chart action with the pound and with the FTSE, and hopefully we'll be able to get him back shortly on that.
But let's see if we have any reaction, because, of course, this comes off the back as well of Catherine Mann, a member of the Monetary Policy Committee, making some remarks last week, much more bullish ones, than the Bank of England Governor Andrew Bailey on rates.
And he said, of course, as well recently, that the hiking cycle that was near the top of this rate hiking cycle, but, of course, inflation is still high. But those inflation figures yesterday, obviously digested by the Monetary Policy Committee for them to come to this decision.
So, let's see if we have any more reaction from the city to this decision yet. Well, interestingly, well, experts said that leaving rates on hold, some experts are saying that it could be declaring victory too soon.
For example, JP Morgan Asset Management, Kim Crawford, from there has reacted in saying that this decision could backfire, that the BoE's decision is more finely balanced as actively data weakens more clearly. But a pause at this meeting could backfire.
She said, since the last meeting, there is inflation. It's coming lower than the BoE's forecast. And there has been clearly a demand-led loosening in the labour market. But wage growth does still continue to surprise to the upside.
Well, last night, the US Federal Reserve delivered a hawkish pause by maintaining US interest rates on hold, but keeping the door open for future hikes. So, that has helped push the US dollar to a five-month high against the pound overnight as well.
And we will be going back to the pound shortly when we have Warren back on the line soon, hopefully. And otherwise, the BoE now, central bankers also decide to pause rates following suits. So, it's been a very interesting day and not what the markets were expecting.
So, let's see now if we can go back to Warren for us to go through the markets. Warren, are you there? OK, I'm afraid. OK, I'm afraid we are having technical issues and we can't get hold of Warren to go through market reaction at the moment.
But, of course, we will make sure that we do put something online for you with Warren. So, let's see if we can take a closer look at the sterling to see how it has reacted and also to look at the markets more broadly to see what's happening in the markets after this reaction.
Well, thank you very much for watching and good evening from Beat the Street with Angeline Ong this afternoon for the Wall Street Pre-Market Open. Thank you.
This information has been prepared by IG, a trading name of IG Markets Limited. In addition to the disclaimer below, the material on this page does not contain a record of our trading prices, or an offer of, or solicitation for, a transaction in any financial instrument. IG accepts no responsibility for any use that may be made of these comments and for any consequences that result. No representation or warranty is given as to the accuracy or completeness of this information. Consequently any person acting on it does so entirely at their own risk. Any research provided does not have regard to the specific investment objectives, financial situation and needs of any specific person who may receive it. It has not been prepared in accordance with legal requirements designed to promote the independence of investment research and as such is considered to be a marketing communication. Although we are not specifically constrained from dealing ahead of our recommendations we do not seek to take advantage of them before they are provided to our clients. See full non-independent research disclaimer and quarterly summary.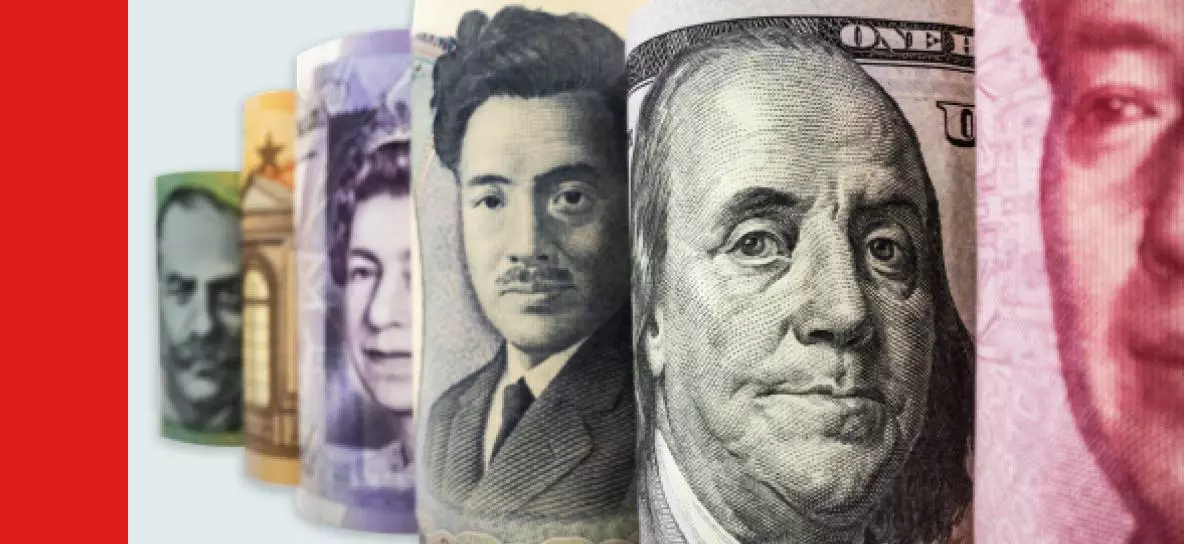 Start trading forex today
Find opportunity on the world's most-traded – and most-volatile – financial market.
Trade spreads from just 0.6 points on EUR/USD
Analyse with clear, fast charts
Speculate wherever you are with our intuitive mobile apps
See an FX opportunity?
Try a risk-free trade in your demo account, and see whether you're onto something.
Log in to your demo
Take your position
See whether your hunch pays off
See an FX opportunity?
Don't miss your chance – upgrade to a live account to take advantage.
Get spreads from just 0.6 points on popular pairs
Analyse and deal seamlessly on fast, intuitive charts
See and react to breaking news in-platform
See an FX opportunity?
Don't miss your chance. Log in to take your position.
Live prices on most popular markets
Equities
Indices
Forex
Commodities
website terms and agreements. Prices are indicative only. All share prices are delayed by at least 15 minutes. " >
Prices above are subject to our website terms and agreements. Prices are indicative only. All shares prices are delayed by at least 15 mins.