Best marijuana stocks to watch
As the legal barriers surrounding retail and pharmaceutical cannabis fall away, there are increasing opportunities for investors and traders in marijuana stocks.
What are marijuana stocks?
Marijuana stocks are shares of the companies involved in growing, developing and supplying cannabis for medical and recreational use. The industry is split into three broad sections:
Growers

are the companies that cultivate, sell and distribute cannabis

Biotechs

are the firms dedicated to developing and bringing pharmaceutical marijuana to market

Supply providers

are those who provide the tools and materials needed to physically grow marijuana – such as light systems and fertilisers
Why is there increased interest in marijuana stocks?
The movement toward the legalisation of marijuana in the United States (US) and Canada has increased the interest surrounding companies in all three sections of the cannabis industry.
For instance, 29 states across the US now allow the use of the controversial plant for medicinal purposes – nine of these states have also legalised cannabis for recreational purposes. And on 17 October 2018, Canada legalised retail cannabis, which had a positive impact on stocks across the board.
By trading marijuana stocks with derivative products, such as CFDs, traders have the opportunity to capitalise on marijuana stocks that are both rising and falling in value.
Top marijuana stocks to watch
As a result of the increased media and market interest in cannabis stocks, they have experienced significant growth over the past few years. So, we've taken a look at five of the most talked about marijuana stocks to watch
Canopy Growth Corp (CGC)
Canopy Growth Corp (CGC) is a cannabis company based in Ontario, Canada, which boasts 5.6 million square feet of production capabilities. The company was the first regulated and publicly traded cannabis producer in North America, which listed on the Toronto Stock Exchange (TSX) under the ticker WEED.
It later began trading on the New York Stock Exchange (NYSE) in May 2018, under CGC, and by late September it was the world's largest cannabis company based on its market capitalisation of $11.5 billion. This followed a major deal in which Constellation Brands (STZ) – owner of Corona and other alcoholic beverage brands – invested $4 billion into CGC for a 38% stake in the company.
Shares of Canopy Growth reached an intraday high of $59.22 in October 2018, an increase of 54.5% from its $30.85 debut on the NYSE.
Cronos Group (CRON)
The Cronos Group (CRON) is a Canadian cannabis grower and distributer. It was first listed on the NASDAQ in March 2018 and was later listed as CRON on the TSX in May 2018.
Like most marijuana stocks, Cronos Group has experienced increased market interest due to the legalisation of recreational cannabis in Canada. This can be seen in the increase in its projected sales figures, which are up to 112 million Canadian dollars for 2019, compared with just 3.8 million Canadian dollars for the third quarter of 2018.
The Cronos Group share price increased significantly in December 2018 after Altria (MO) – the largest American tobacco company – reported interest in buying the company. On 3 December, shares of CRON traded in an intraday range of $8.55 to $11.58 on the back of the news.
Aurora Cannabis (ACB)
Aurora Cannabis (ABC) is a Canada-based cannabis producer with operations in 18 countries. Aurora Cannabis was listed on the TSX in April 2017 under the ticker ABC.TO, but, following other major cannabis producers, it listed on the NYSE in October 2018.
The move of so many Canadian cannabis companies onto US exchanges is thought to be in order to capitalise on the march toward the wider legalisation of marijuana in the US.
Although its initial public offering (IPO) and first two months on the NYSE were not as successful as hoped – with the share price declining from $8.23 in October to $4.85 in early December – analysts were still showing a lot of positivity around the potential of the stock.
Aurora Cannabis gained a lot of attention after its purchase of CanniMed Therapeutics in April 2018, which positioned it to increase its annual output to 283,000 kilograms. Looking to the future, Aurora Cannabis seems to be committed to further expansion.
Tilray (TLRY)
Tilray Corp (TLRY) is a Canadian pharmaceutical and cannabis company. Founded in 2013, Tilray was one of the first cannabis growers to receive a cultivation license from Health Canada.
Tilray was also the first cannabis company to list its shares on NASDAQ – it did so in July 2018 at $17 per share. Its stock hit a high of $300 in intraday trading on 19 September 2018, which briefly gave the company a market capitalisation of almost $28 billion. This rally was on the back of the expectation that Tilray would strike a deal with a partner in the beverage or tobacco industry.
Shares of Tilray traded lower after this high in September 2018, as concerns arose that a $28 billion valuation was unsustainable. But with production on track to reach between 75,000 kilograms to 85,000 kilograms per year, Tilray is still an interesting stock to watch.
HEXO Corp (HEXO)
HEXO Corp (HEXO), previously the Hydropothecary Corporation, creates and distributes cannabis products to serve the Canadian recreational market. HEXO is one of Canada's lowest-cost producers, with a rapidly increasing production capacity – operating with a 310,000 square feet facility, with another one million square feet under construction.
HEXO grabbed the attention of markets in August 2018 when it was announced that it would be entering a deal with the Molson Coors Brewing Co (TAP) – a large alcoholic beverage company – to develop cannabis-infused drinks.
HEXO listed on the TSX in June 2018, having graduated from the TSX Venture Exchange. Its share price reached a high of $9.28 in October 2018 but subsequently fell back down to around the $5.01 level.
Best UK cannabis stocks
Medical marijuana has been illegal in the United Kingdom (UK) since 1971 but in November 2018 was legalised. This has caused speculation about whether the UK's policies regarding recreational use – which remains illegal – will be brought closer in line with those of Canada and the US.
As of December 2018, there were only two companies that are listed on the London Stock Exchange (LSE) that are involved in the marijuana industry:
GW Pharmaceuticals Plc (GWP)
GW Pharmaceuticals PLC (GWP) develops cannabinoid medicines for the treatment of multiple sclerosis, cancer pains and childhood epilepsy. GWP listed on the alternative investment market (AIM) of the LSE in 2001, and listed on the NASDAQ in 2013, under the ticker GWPH.
Surprisingly, in October 2018, GW Pharmaceutical shares fell following the FDA approval of its cannabis-based drunk, Epidiolex – from an all-time high of $179.00 to $139.18.
However, the estimates for sales of Epidiolex are close to $1 billion, with optimistic analysts thinking this figure could be closer to $2 billion, which has increased speculation about the future of GW Pharmaceutical's share price.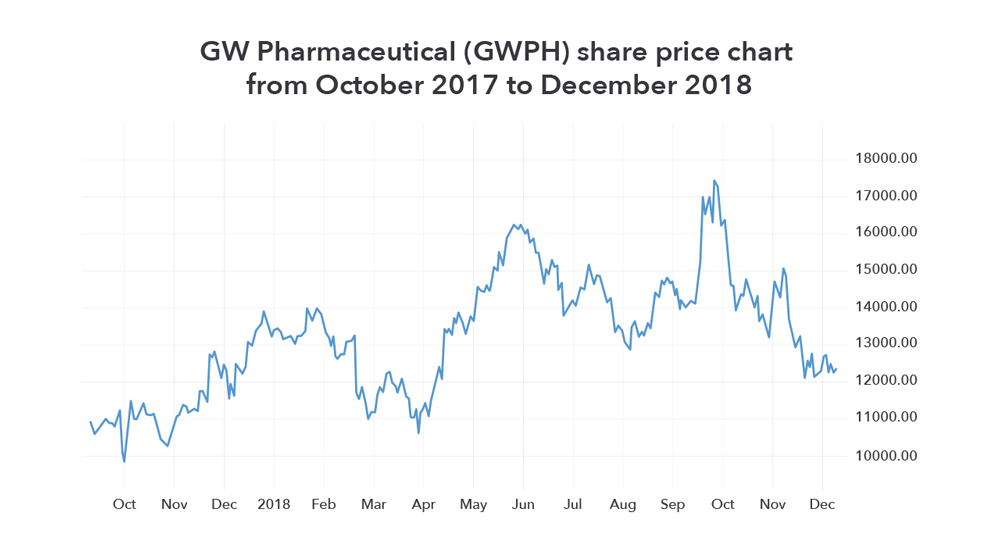 Associated British Foods (ABSFY)
Associated British Foods (ABSFY) is a food and textile retailing company in the UK. But its wholly-owned subsidiary, British Sugar, became a large-scale cannabis cultivator and supplier to the pharmaceutical industry in 2017. This shift in production came about through a deal with GW Pharmaceuticals, in which British Sugar will grow a specific variety of cannabis for GWP's drug Epidiolex.
As Associated British Foods has a diverse business offering, it is difficult to pinpoint exactly how this venture has contributed to its share price.
See an opportunity to trade?
Go long or short on more than 15,000 markets with IG.
Trade CFDs on our award-winning platform, with low spreads on indices, shares, commodities and more.
Live prices on most popular markets
Prices above are subject to our website terms and agreements. Prices are indicative only. All shares prices are delayed by at least 15 mins.