Weekend trading1
Maximise your opportunities to profit by trading on weekends with IG – the only provider to offer 24/72 trading on indices such as the FTSE 100, and cryptocurrencies including bitcoin.
Contact us on +971 (0) 4 5592108 or sales.ae@ig.com about opening an account. Our customer service team is available 24 hrs a day, except for Saturday from 1:00am to 11:00am (Dubai time).
Why trade on weekends with IG?
Trade GBP/USD and key indices with the only provider to offer 24/7 pricing on these markets2
React to breaking news over the weekend and never miss an opportunity to trade
Access guaranteed stops3 and advanced order types with the world's No.1 provider4
What markets can I trade on the weekend with IG?
Forex
We are the only provider to offer GBP/USD, enabling you to trade this major pair when others can't.
Global indices
We're also the only provider that lets you trade the FTSE 100, Germany 30, Wall Street and HS50 on the weekend.5
Cryptocurrencies
We offer all major coins including bitcoin, ether, ripple, litecoin and our own Crypto 10 index.6
Live prices on our weekend markets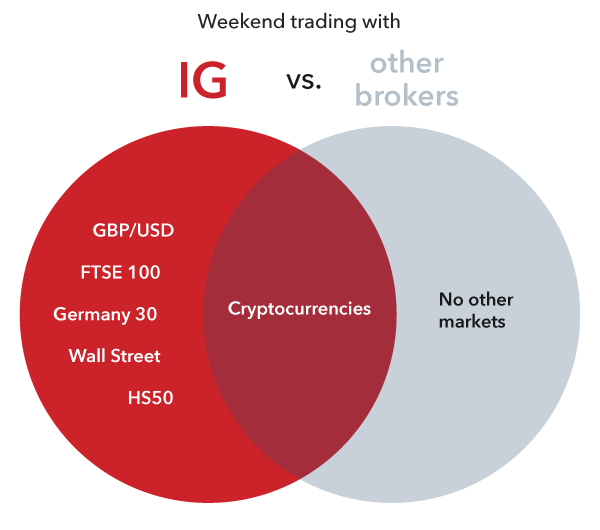 What is weekend trading?
Weekend trading is how you can access indices and cryptocurrency markets on a Saturday and Sunday. This means, for example, that if you thought Brexit news was going to break on a Saturday which would cause the FTSE 100 to move, you no longer have to wait until markets open on Monday to trade.
The weekend prices for indices are quoted separately to their weekday counterparts, based on our view of the prospects for that market given client business and news flow. As a result, you can use these markets to hedge against risk on your weekday positions. Weekend indices positions will rollover into regular weekday positions if they are kept open after the Sunday close, with any stops or limits remaining in place.
For cryptocurrencies, because the markets are open over a weekend anyway, we've just extended our weekday markets. This means that any positions on cryptocurrencies will continue to move over the weekend, and your stops and limits can still be triggered.
Start trading key markets from this weekend
Fill in our simple online form
We'll ask a few questions about your trading experience.
Get swift verification
We can usually verify your identity on the same day
Fund your account and trade
Or practise on a risk-free demo if you'd prefer.
How to hedge with weekend trading
Weekend trading is an extremely effective way to offset potentially negative weekend movements in a market that you have an open weekday position on.
For example, let's suppose you buy five contracts on our weekday FTSE 100 offering before the market closes on Friday. However, rumours emerge on Saturday that the prime minister is going to resign. As a result, you believe the FTSE 100 will fall if the rumours are confirmed, so you want to reduce your exposure to risk.
On Sunday morning, we quote a weekend FTSE price of 6700. Rather than wait for the weekday market to open, you decide to sell five contracts of our weekend FTSE at 6700. In this scenario your long position on the weekday FTSE is now offset by your short position on the weekend FTSE.
A few hours later the prime minister announces their resignation, and our weekday FTSE market reopens on Sunday night at the lower price of 6600. However, as you hedged your long weekday position at 6700 by trading on our weekend FTSE 100, you're protected against the losses involved with closing at the weekday market opening price of 6600..
Any Sunday positions on indices must be held until 10.40pm (UK time) to rollover into a standard weekday contract, and thus net off against your existing weekday contract.7
Choose IG as your weekend trading provider
Take a position on weekend markets with the only broker to offer FTSE 100 and Wall Street trading on Saturday and Sunday.
How does weekend trading work?
Saturday and Sunday trading works differently depending on the market.
GBP/USD
Our weekend GBP/USD market is separate to its weekday equivalent, enabling you to speculate on market developments on a Saturday or Sunday without having to alter an existing weekday position. It is distinguished from the weekday market by its name – 'weekend GBP/USD'.
Trading hours on weekend GBP/USD are from 4am on Saturday to 8.40pm on Sunday (UK time). Positions open at 8.40pm (UK time) on a Sunday will roll over into weekday positions when those markets resume at 9pm on Sunday.
Indices
With indices, your weekday positions will be separate to their weekend counterparts, enabling you to speculate on market developments over the weekend without having to alter your weekday positions. These weekend markets are differentiated from their weekday counterparts by their names. For example, rather than trading 'FTSE 100' on a Saturday, you would trade 'Weekend FTSE 100'.
Weekend trading hours on indices are from 4am on Saturday to 10.40pm on Sunday (UK time). Positions open at 10.40pm (UK time) on a Sunday will roll over into weekday positions when those markets resume at 11pm on Sunday. Please note, however, that the FTSE 100 and Germany 30 will open for trading two minutes later than normal, at 11.02pm (UK time).
Cryptocurrencies
Trading cryptocurrencies on a Saturday and Sunday works a little differently because the underlying market is already open over the weekend. As a result, we've simply extended our weekday market so any cryptocurrency positions will move over the weekend and your active stops and limits can be triggered.3 Cryptocurrency trading is available from 4am on Saturday through to 10pm on Friday.
Who offers weekend trading?
IG is the only provider to offer weekend trading. We offer it on a range of indices, forex pairs and cryptocurrencies, as well as our Crypto 10 Index.
Does the FTSE trade on Saturday and Sunday?
You can trade the FTSE 100 on a Saturday and Sunday with IG – the only provider to offer this market on the weekend. IG clients also have access to a number of other indices including Wall Street, Germany 30 and HS50.
You might be interested in…
Extended hours on over 70 key US stocks – trade even after the US markets close
Browser-based desktop trading and native apps for all devices
The latest analysis and insights from our in-house experts
1 The word weekend on this page refers to the days Saturday and Sunday.
2 24/7 means all week apart from six hours on Saturday from 1am to 7am (Dubai time), and 20 minutes just before the weekday market opens on Sunday.
3 Guaranteed stops with IG are free and only incur a premium if they are triggered.
4 Based on revenue excluding FX (published half yearly financial statements, June 2019). For forex: For forex, by number of primary relationships with FX traders (Investment Trends UK Leveraged Trading Report released July 2019)
5 If you have traditional weekday positions on the FTSE 100, Germany 30, Wall Street or HS50, the valuations of these positions will not change during weekend trading after IG closes on a Friday. Stops and limits on these weekday positions will not be processed during weekend trading and order to open positions and trailing stops will not be accepted.
6 Trade cryptocurrencies 24hrs a day, 7 days a week, except for Saturday from 1am to 7am (Dubai time). If you have a position open on one of these cryptocurrency markets, it will be affected by weekend trading. This additional trading period during the weekend means not only do you have longer to speculate on the price of different coins, but also any stops and limits you have open can be filled on the weekend.
7 Please note that weekend positions with attached stops and limits will not be netted off against existing weekday contracts. In this instance the weekend position will roll into a new weekday position, with the same stops and limits attached to it.