It's been accused at times of resembling a banana republic and suffering from Dutch disease but regardless of the pejoratives used to disparage it, Australia's economic health remains inextricably linked to the mining industry.
What is mined in Australia
Australia is known as the lucky country. Though this notion was conceived as an insult to Australian culture, there is no denying that Australians, when compared to the rest of the world, possess enviable wealth. A matter of luck indeed, this wealth has been sustained by way of virtue of the abundance of raw minerals that exist underneath the Australian soil.
Mineral exports comprise 35% of Australia's total exports. Being right at the doorstep of China, Australia's economy has been in prime position to exploit the Chinese economic miracle. As China has grown, and their need for industrial materials increased, Australia has played a significant role in building and fuelling the Chinese economic engine.
While not the nation's only trading partner, the list of minerals that Australia mines and exports is illustrative of the Chinese and Australian economic relationship. The most well-known of Australia's mineral exports include iron ore, coal, lead and gold. In fact, Australia is the world's largest exporter of iron ore and coal, and the world's second-largest exporter of gold.
Gold mining in Australia
Gold has a special place in the Australian psyche. The first modern mining and economic boom experienced by the Great Southern Land came in the form of the gold rush, back in the early 1850s. As is well known to most Australians, the colonial era boom in gold mining attracted people the world over, all of whom dreamt of getting rich from the wealth in Australia's soil.
In modern Australia, gold remains a big and important element of the economy. Gold is the third-ranked export commodity for the Australian economy, only exceeded by its export of iron ore and coal. One of the ASX200's largest companies, Newcrest Mining, is at the forefront of this: it specialises in the exploration, mining and sale of gold and gold-copper products.
Coal mining in Australia
Although it is controversial and a political hot topic – an Australian Prime Minister once brought a lump of it into parliament to extoll its virtues – coal is a major mineral export, and a considerable source of income, for the Australian economy. Again, with a fortunate proximity to Asia, Australia has proven well-placed to power that region's economic rise.
Australia is the world's largest exporter of coal, and its fourth largest producer. As a commodity, coal demand has been on a downward trend for several years, as the world looks to move towards cleaner and more sustainable sources of energy. However, large-cap stocks in the ASX200, like household names BHP Billiton (BHP) and Rio Tinto, still derive significant profits from mining coal.
Other minerals mined in Australia
The minerals mined in Australia are various, opening up ample opportunities for Australia's corporate sector to establish a deep, diverse and profitable mining sector. The more famous of these minerals are well known, but Australian mining is responsible for the exploration, production and selling of many other high-demand commodities. These include industrial metals like copper, nickel and aluminium; along with precious materials such as silver and diamonds.
Australian mining companies
In the ASX200 alone, there is 26 publicly-listed metals and mining companies making up the heavily weighted materials sector. Second, only to the financials sector, the Australian materials sector constitutes over 18% of the overall ASX200 index. The fate of the Australian share market, just as with the total Australian economy, is heavily geared to the underlying strength of the mining industry. Some of the biggest corporate names in the country, such as BHP, Rio Tinto and South32, belong to the industry, with their success and failure monitored by investors, the press, and your everyday punter to assess the status of national and personal wealth.
Rio Tinto
An international, dually-listed company, Rio Tinto is one of the two most prominent mining companies in Australia. Mining a variety of minerals, 44% of Rio Tinto's sales are derived from the extraction and exporting of iron ore. The company's interests are not limited just to iron ore, as they also mine coal, aluminium, copper and gold. Having benefitted greatly from Australia's mining boom in the early 2000's, Rio Tinto's strategy has the company looking east, with plans to expand into Asia. Rio Tinto presently boasts a market capitalisation of $27 billion, making it Australia's second-largest miner by that measure, and in top 20 of Australia's largest businesses.
BHP Billiton
Behind only the Commonwealth Bank of Australia (CBA), BHP is the second-largest company (and the largest miner) on the ASX by market capitalisation, valued by that measure at over $97 billion. Specialising in the exploration and production of coal, iron ore, gold and copper, BHP also draws significant revenue from petroleum exploration, production and refining. One of the world's top commodity producers, and with operations headquartered in Melbourne and London, BHP has a presence that extends throughout North America, South America and Europe.
South32
In terms of market capitalisation, South32 is the ASX's third-largest miner behind BHP and Rio Tinto. A relatively new company to the market, it was spun off from BHP in 2015, in a bid to 'streamline' that business. South32's focus is primarily on base metals, producing alumina, aluminium, nickel, silver, lead and zinc. Operating in Australia, South Africa, and parts of South America, South32 has less of a strategic focus on China than other miners, generating less than a fifth of its revenues from that country. Instead, it has positioned itself for the African and European markets.
The future of Mining in Australia
The mining industry has delivered to Australians extraordinary wealth and good fortune. The country's post-colonial history has been punctuated by periods of mining booms, that has been used to develop the wealth of the nation.
Since the rise of China as an economic powerhouse in the early 2000's, contemporary Australians have been lucky enough to enjoy the riches generated from mining activities. Arguably, with the help of Chinese economic stimulus to spur the demand, it was the boom in commodity prices and mining activity that guided Australia through the worst of the Global Financial Crisis unscathed.
Such a dependence on the export of raw materials is a risk to the Australian economy. It's often said in Australia that the nation's economic model is to dig stuff up and speculate the proceeds on residential housing. The country's economic welfare is very much tied to global growth and can therefore be exposed to the whims of the economic cycle.
However, with new innovations in the global economy, such as the growth in the electric car market, and developments in the renewable energy industry, Australian miners have moved to exploit the country's vast deposits of minerals like lithium and uranium.
This information has been prepared by IG, a trading name of IG Markets Limited. In addition to the disclaimer below, the material on this page does not contain a record of our trading prices, or an offer of, or solicitation for, a transaction in any financial instrument. IG accepts no responsibility for any use that may be made of these comments and for any consequences that result. No representation or warranty is given as to the accuracy or completeness of this information. Consequently any person acting on it does so entirely at their own risk. Any research provided does not have regard to the specific investment objectives, financial situation and needs of any specific person who may receive it. It has not been prepared in accordance with legal requirements designed to promote the independence of investment research and as such is considered to be a marketing communication. Although we are not specifically constrained from dealing ahead of our recommendations we do not seek to take advantage of them before they are provided to our clients.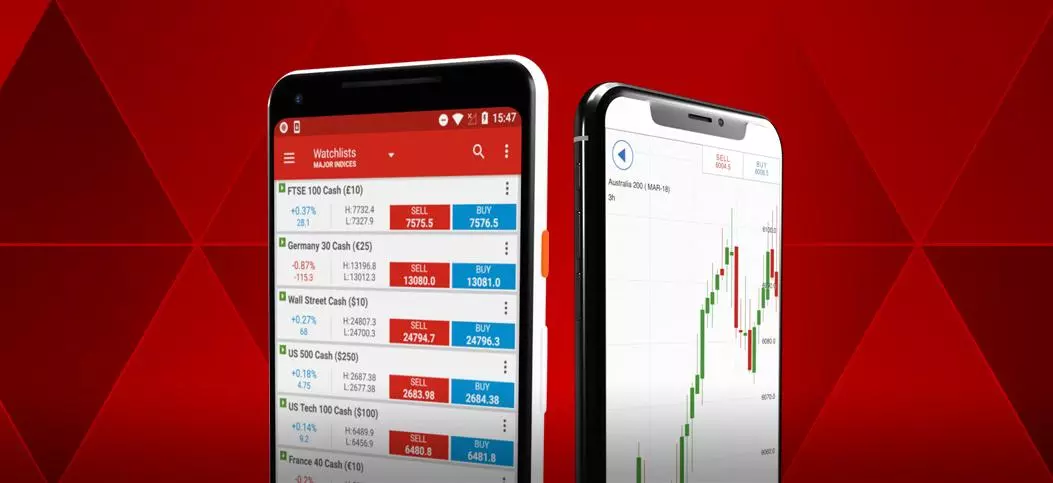 See an opportunity to trade?
Go long or short on more than 17,000* markets with IG.
Trade CFDs on our award-winning platform, with low spreads on indices, shares, commodities and more.
Live prices on most popular markets