Every move counts.
Get up to a $150 rebate on your first trades.
Up to $150 of your trading costs1 on us when you open an account with us.
See full terms and conditions for more details.
Make the move that counts and get a $150 rebate
Open an account with us today and you'll earn rebates on your first trades. We'll cover up to $150 of your trading expenses1.
Create your account
Open a new account on our award-winning platform2
Fund it
Fund your account using your preferred payment method
Start trading
Trade CFDs during your welcome period
How does it work?
You'll get a rebate of up to $150 on the spread or commission of your CFD trading on forex, indices, shares and commodities during the first two calendar months of your account being active, which is your welcome period.
We will calculate the Spread/Commission Paid during the first two full or partial calendar months that you have an active Account (the "Welcome Period"). For example, if the activation of your Account occurs on any day in November, the Welcome Period will be considered to be November, and December.
Trade CFDs with the world's No.1 CFD provider3

Manage risk effectively
Mitigate your risk with our range of stop and limit orders

Open a position from any platform
Use our award-winning web-based platform and mobile trading app2

Trade a vast range of markets
We offer CFDs on more than 17,000+ markets

Take your capital further
Open a position for a fraction of the cost with our competitive margins

Keep your finger
on the pulse
React to breaking news with custom price alerts

Go long or short
Take a position on price movements and 'buy' or 'sell' on fast-moving markets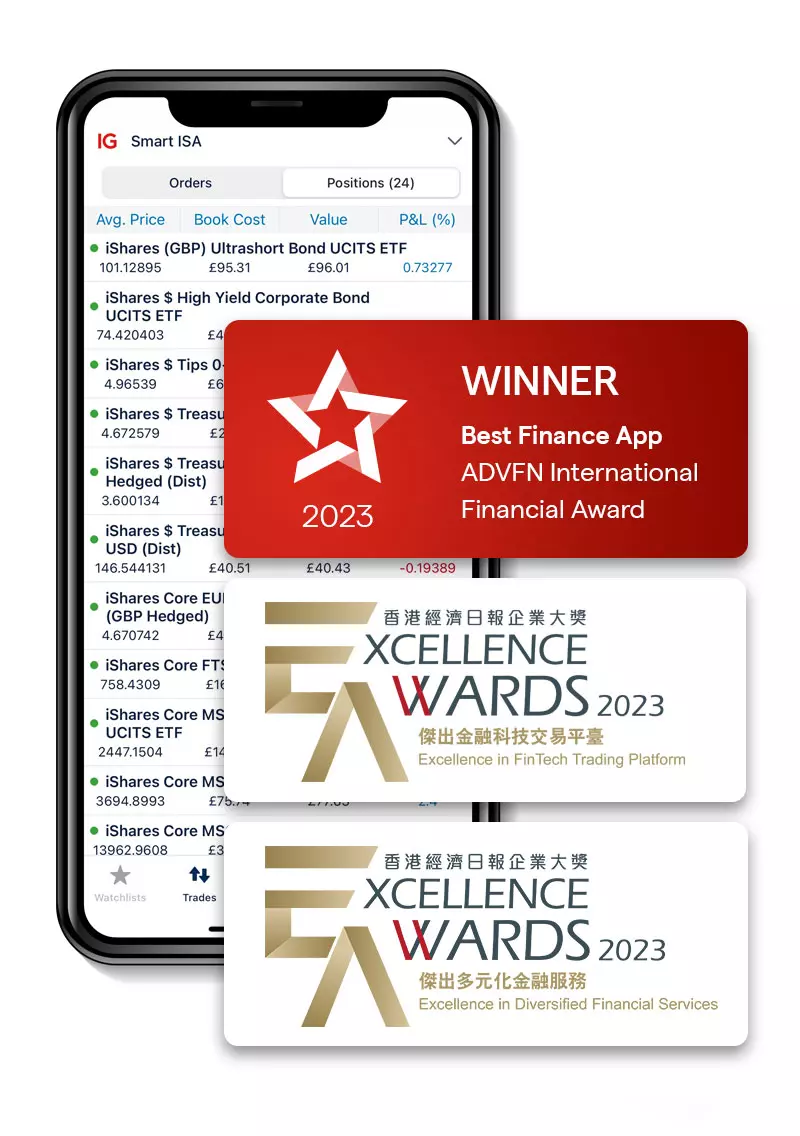 By traders, for traders
Seize opportunity knowing you'll receive our best execution on each and every trade. Use a fast and user-friendly web platform that offers a full range of alerts and risk management tools.
Our award-winning apps2 are optimized for all devices. Get full dealing functionality, full-screen charts and news and analysis. How you get price alerts is completely up to you, whether it's through email, push notifications, or SMS.
Do I have to register for the welcome rebate?
You don´t have to do anything to get your welcome rebate. It will be paid directly to your account within 45 days after the Welcome Period ends.
What happens if I applied before the 10th October 2023 but my account was activated after that date?
To benefit from the welcome rebate, you must apply from 10th October onwards, but the 2-month calculation of the rebate will only start once your account has been activated (activation date). For instance, if you have applied on 10th October, but your account has only been activated in November, then the period to calculate the rebate would be November and December.
How is the rebate calculated and when will I get it?
Example 1: Your account is activated on 31st October and your October/November spread/commissions is $84, we will rebate the full $84 in December or January.
Example 2: Your account is activated on 1st November and your November and December spread/commission is $325, we will rebate $150 in January or February.
Can I get the welcome rebate and still be eligible for reduced minimums, volume-based rebates or any benefit from the Refer-a-friend scheme?
Yes, you can still benefit from the reduced minimums in your first trading weeks.
If the level of trading on your account over the welcome period makes you eligible for a rebate under any IG volume-based rebate scheme, you will receive whichever rebate that is greater.
If you opened your account following a referral under a Refer-a- friend scheme, any rebate you receive under this Welcome Rebate Scheme will be deducted from the amount which you would otherwise be eligible to receive under that Refer-a-friend programme.
| | |
| --- | --- |
| 1 | See full terms and conditions for more details. |
| 2 | Best Finance App, Best Multi-Platform Provider and Best Platform for the Active Trader as awarded at the ADVFN International Financial Awards 2023. |
| 3 | Based on revenue (published financial statements, October 2022). |