US service sector growth slowest in five months
US services sector growth hit a five-month low in December, according to the Institute of Supply and Management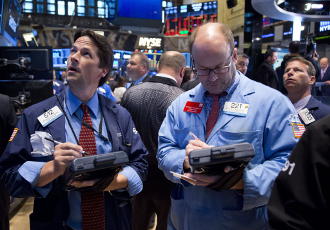 Source: Bloomberg
US ISM data showed on Monday, its non-manufacturing activity index fell to the lowest reading since July.
The index fell to 57.6 in December, from 60.7 in November missing expectations.
Analysts forecast a December reading of 59.0, slightly higher than recorded. Analysts say that the drop in the industry was somewhat expected, after seeing declines in business surveys.
Dollar falls upon weak PMI
Stocks on Wall Street were trading higher while US Treasury prices were lower and the dollar fell upon the data.
The fall was also pressured by growing concerns over the Federal Reserve and their monetary policy, which is expected to either pause or halt its interest rate hikes.
The ISM also noted that despite on-going monetary policy tightening from the Fed the sector is still solid and the economy is in good shape.
The ISM said that trade tensions between the US and China remained a major concern for business.
The economy grew at a 3.4% pace in the third quarter, while growth estimates for the fourth quarter coming in at around 2.6%.
Services industries employment fell to 56.3 in December, the lowest since July.
The ISM non-manufacturing index shows business conditions in the US non-manufacturing sector, which constitutes the largest sector of the US economy.
Live prices on most popular markets
Prices above are subject to our website terms and agreements. Prices are indicative only. All shares prices are delayed by at least 20 mins.