Coronavirus market impact
As the reaction to coronavirus continues to cause dramatic market volatility, traders choose us because we've been delivering a world-class trading experience for over 45 years.1
Follow the impact the disease is having on financial markets here, and discover how we can help you navigate volatility.
How is the coronavirus impacting financial markets?
Covid-19 caused widespread harm to financial markets in 2020, with all hopes for a return to normality pinned on the development of a vaccine. That hope came on 9 November 2020, when Pfizer announced that it had developed a treatment for Covid-19 that was 90% effective. Markets bounced on the news, with global indices hitting annual highs.
That said, for the most part economies around the globe have suffered hits to GDP growth during the pandemic as lockdown measures alter supply and demand. Millions of people have been off work, schools have been shut and thousands of restaurants and other businesses have closed – some for good. As a result, recessions are in effect in a large number of the world's leading economies.
Global financial markets have also been experiencing extreme volatility as investors grapple with the multitude of effects the virus could have. To highlight the impact that coronavirus is having on global markets, we've taken a look at the way the S&P 500 – a common benchmark for global economic health – has reacted compared to other market crashes.
The first chart to the right shows that the initial few days of coronavirus volatility had a much more rapid impact than the other crashes

The second chart indicates that the effects of coronavirus are likely to be in their infancy
From the final chart, we can see that it has taken the stock market varying periods of time to recover from each crash – so we could see the effects of coronavirus last up to a year or much longer
Read more on the markets' reaction to coronavirus, or take a look at our latest news and trade ideas.
Comparing the impact of coronavirus and historical crashes on the S&P 500
Initial impact
What happened next
Recovery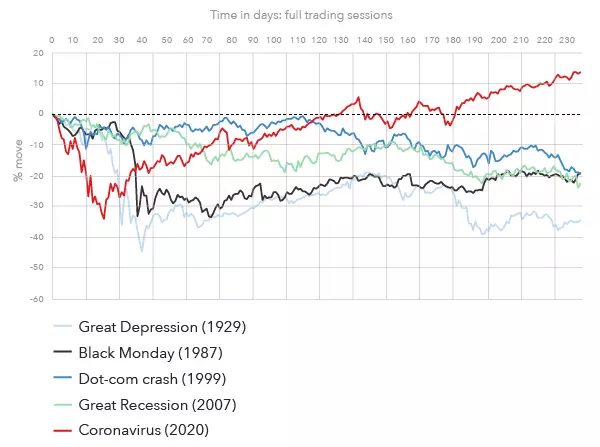 Day zero on the chart is the final high of the S&P 500 at market close, before the bear market began.
Data is accurate as of 25 January 2021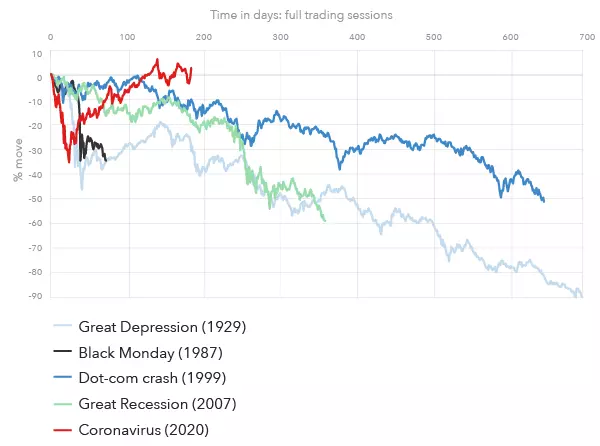 Day zero on the chart is the final high of the S&P 500 at market close, before the bear market began.
Data is accurate as of 25 January 2021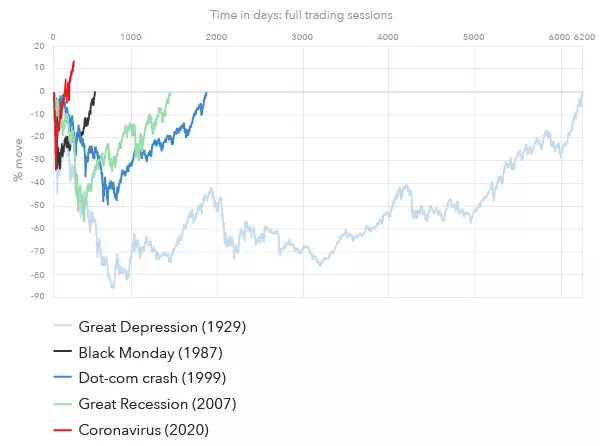 Day zero on the chart is the final high of the S&P 500 at market close, before the bear market began.
Data is accurate as of 25 January 2021
Why trade market volatility with IG?





Guaranteed risk protection
A guaranteed stop limits your downside risk and you'll only incur a fee if it's triggered2
React instantly to price movement
Choose from our unique range of price alerts to stay up to date with volatility
Coronavirus and market volatility
What's happening now
What could be to come
What's happened already
The table below shows the live prices for some of the financial markets that have been impacted by coronavirus volatility.
Although there's no way to know for sure what the lasting effects of Covid-19 could be on financial markets, discussions have become increasingly forward-thinking as countries begin to discuss the easing of lockdown measures and a potential second wave of infection.
While the economic measures to support businesses and individuals throughout this crisis may lessen the impact, the 'new normal' of social distancing will inevitably have a significant effect on travel, tourism and consumption.
At times like this, markets tend to trade on herd sentiment and news flow. With that in mind, it's important to keep an eye on the latest news and ensure you have a suitable risk management strategy in place.
Take a look at IG analyst Josh Mahony's summaries of recent market activity below.

Stocks
While coronavirus volatility started in mid-February, it came to a head on what's being called the new 'Black Monday' – 9 March 2020. The day saw global stock markets collapse in one of the largest single-day declines since the financial crisis of 2007-2009. That kicked off a move out of stocks in the travel sector and services, in favour of growth or momentum names in the tech sector. With traders considering how this could represent a permanent shift towards tech business, the outperformance for the Nasdaq over more services-led markets like the FTSE 350 has been marked.
While earnings have been disappointing, markets typically trade on expectations. Thus much of the focus has been on the forecasts and outlooks as much as the numbers themselves.
Indices
Stock indices have experienced significant price fluctuations in response to the ongoing situation. On Black Monday, US indices hit the limit down of 7%, causing the NYSE to halt trading.
The automatic stabilisers have been triggered numerous times as the economic fallout of this global pandemic plays out. In the UK, the FTSE 100 fell to an eight and half year low following the news that the country would go into lockdown. Over time markets have become less sensitive to such announcements, with the proximity to a vaccine ensuring that declines are somewhat lessened in nature.


Commodities
Oil markets have seen significant volatility which centred around an April capitulation in WTI that sent the front-month contract into negative territory. With fears over huge oversupply due to an unprecedented drop in demand, OPEC+ actions has been a drop in the ocean. Nevertheless, we have seen a recovery since those April lows. While the secondary lockdown fears have dented that journey, the prospect of a pharma-led recovery in global travel should gradually help improve the outlook for crude.
Forex
The US dollar's 'haven' status initially saw the currency increase in value to reach a peak in March. However, with markets recovering, so we also saw that haven demand dry up to send the greenback heavily lower, reaching a fresh two-year low in September.
Open a trading account to trade volatility
Fill in the form
We'll ask a few questions about your trading knowledge to ensure you get the best experience.
Instant Activation for Singaporean citizen or PR
Or send in your documents and we'll validate your ID and address
Fund your account and trade
You can withdraw your funds easily, whenever you like.
Fast execution on a huge range of markets
Enjoy flexible access to more than 13,000 global markets, with reliable execution
Deal seamlessly, wherever you are
Trade on the move with our natively designed, award-winning trading app
Feel secure with a trusted provider
With 45 of experience, we're proud to offer a truly market-leading service
Start trading now
Log in to your account now to access today's opportunity in a huge range of markets.
Get the latest coronavirus news
You might be interested in…
Learn about what trading contracts for differences entails.
Catch up on latest analysis and insights from our in-house experts.
Trade with our award-winning trading app3. Experience a faster, clearer, smarter way to trade via your web browser.
1 Based on revenue excluding FX (published half yearly financial statements, June 2019)

2 A small premium is payable if a guaranteed stop is triggered.

3 Based on the Investment Trends 2018 Singapore CFD & FX Report based on a survey of over 4,500 traders and investors. Awarded the Best Online Trading Platform by Influential Brands in 2019.

IGA, may distribute information/research produced by its respective foreign marketing partners within the IG Group of companies pursuant to an arrangement under Regulation 32C of the Financial Advisers Regulations. Where the research is distributed in Singapore to a person who is not an Accredited Investor, Expert Investor or an Institutional Investor, IGA accepts legal responsibility for the contents of the report to such persons only to the extent required by law. Singapore recipients should contact IGA at 6390 5118 for matters arising from, or in connection with the information distributed.

The information/research herein is prepared by IG Asia Pte Ltd (IGA) and its foreign affiliated companies (collectively known as the IG Group) and is intended for general circulation only. It does not take into account the specific investment objectives, financial situation, or particular needs of any particular person. You should take into account your specific investment objectives, financial situation, and particular needs before making a commitment to trade, including seeking advice from an independent financial adviser regarding the suitability of the investment, under a separate engagement, as you deem fit.

See important Research Disclaimer.