US employment up and wages down in latest employment report
The January 2019 US job numbers exceeds expectations.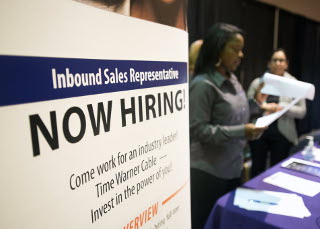 Source: Bloomberg
US employment numbers surged in January 2019, but wages stagnated in the latest US Bureau of Labour Statistics(BLS). The latest figures helped The Dow Jones have a good start in early morning trading.
Which jobs grew in January?
Non-farm payrolls grew by 304,000 in January 2019, far exceeding the 165,000 jobs expected. While employment grew, hourly wages dipped lower than usual with a 0.1% increase, less than the predicted 0.3% estimate. These figures continue the job growth of the December 2018 jobs report.
Different job sectors contributed to US job growth. Employment in the leisure and hospitality industry added 74,000 jobs, while construction added 52,000 positions in January. While some positions grew, the US government shutdown led to a higher unemployment rate.
How did the US government shutdown impact jobs numbers?
While the month-long government shutdown didn't greatly affect jobs numbers, there was a slight impact. The BLS noted that there was an increase in the unemployment rate as laid-off federal workers filed for benefits.
'Both the unemployment rate, at 4.0 percent, and the number of unemployed persons, at 6.5 million, edged up in January. The impact of the partial federal government shutdown contributed to the uptick in these measures. Among the unemployed, the number who reported being on temporary layoff increased by 175,000,' said the BLS in a statement.
What do the US jobs numbers mean for Wall Street?
The better-than-expected US jobs report will likely have a positive effect on The Dow Jones. Jim Baird, chief investment officer at Plante Moran Financial Advisors, wrote that though there is volatility in the US stock market, the encouraging jobs numbers will ultimately strengthen the US economy.
'Certainly, the economy has slowed, and that will undoubtedly be apparent in other data in the coming weeks. Still, the jobs market remains a bright spot. Employers are still hiring at a strong pace. That's good news for the consumer sector, and ultimately good news for the economy,' noted Baird.
See an opportunity to trade?
Go long or short on more than 16,000 markets with IG.
Trade CFDs on our award-winning platform, with low spreads on indices, shares, commodities and more.
Live prices on most popular markets
Prices above are subject to our website terms and agreements. Prices are indicative only. All shares prices are delayed by at least 20 mins.