US factory activity hits 2-year low sparking economic slowdown worries
US manufacturing activity slowed to a 24-month-low in December, revealing concerns over a slowing economy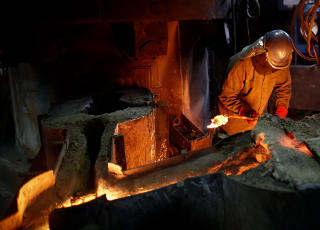 Source: Bloomberg
Data released on Thursday from The Institute for Supply Management (ISM) has revealed US manufacturing sectors declined last month.
The report revealed its index of national factory activity fell 5.2 points to 54.1 in December, marking the lowest reading since 2016.
IG market analyst, Kyle Roda says the ISM data showed lower than expected results.
'It added fuel to the notion that a cyclical economic slowdown in both the US and China, exacerbated by those two countries' trade-war, is upon us.' Mr Rodda said.
The ISM's new orders sub-index dropped 11 points to 51.1 in December marking its lowest since August 2016, with the factory employment measure plunging to 56.2 in December, down from 58.4 in November.
The report revealed that ongoing issues with tariffs between US and China had caused long-term concern for machinery makers, with cost and sourcing strategies being questioned.
US Stocks fall upon data
US stocks and US treasury yields fell upon the weak ISM survey affecting the Dow Jones Industrial Average, touching a 600-point drop on Thursday.
Oil prices drop on economic concerns
US oil prices fell on Friday, with WTI crude futures down 27 cents at $46.82 per barrel at time of writing.
Analysts say oil prices are expected to see some support as OPEC supply cuts start to kick in. IG market analyst, Kyle Rodda says the economic data has driven traders from equities into safe havens.
'Both European and US stocks were down, gold has burst higher to $US1293, the Yen has climbed across the board. Most significantly, US Treasuries have rallied, bending the yield curve into a very ugly shape, as traders price in the prospect of Fed rate cuts in 2019.' Mr Rodda said.
Live prices on most popular markets
Prices above are subject to our website terms and agreements. Prices are indicative only. All shares prices are delayed by at least 20 mins.