eBay share price: what to expect from trading Q2 results
The shift to online shopping during the coronavirus storm has been a boon for e-commerce companies, and investors have been snapping up eBay shares as a result.
eBay shares have nearly doubled since the start of the second quarter (Q2) to post fresh record highs earlier this month, easily undoing losses suffered in the Q1 of this year as investors seek lower-cost Amazon alternatives.
Meanwhile, a restructuring in its business leading to selling off the bulk of its classified ads unit for nearly $9 billion as it focuses on its core e-commerce business.
Given it used the proceeds from selling StubHub to improve its stock repurchase programme, expectations are that the sale of its classified-ads unit will result in a similar action.
When is eBay's results date?
That is expected to make its Q2 earnings an interesting one on two fronts. Firstly, to see how it has fared during the pandemic as shoppers switch to online purchases, and secondly, how the restructuring will impact its balance sheet.
And traders and investors will be closely monitoring its earnings release on 28 July 2020 for clarification on those items.
eBay share price: forecasts from Q2 results
When it comes to e-commerce companies, expectations by default are for a year-over-year increase in earnings. This is opposite to brick-and-mortar outlets that have been heavily hit by quarantine and social distancing restrictions, as well as increased costs in handling a smaller number of customers. This has forced a number of popular retailers into filing for bankruptcy in the US.
Rising coronavirus cases and social distancing (as well as partial lockdown) re-emerging in the US and elsewhere could once again provide a further boost in terms of traffic, and as a result investor interest.
Hence, expectations are for an earnings per share (EPS) increase year-over-year by at least 50% to around $1 following what has been better-than-expected sales volume globally for most of the first half (H1) of this year, a higher gross volume outlook and indications of heavy activity on the app front.
Should the actual figures beat expectations and it may aid eBay shares in moving higher, while a lower than expected figure may result in a further undoing of recent price gains.
Its outlook will also be closely watched when it comes to justifying forward price-to-earnings expectations, especially given where eBay share prices currently reside, and following its announcement of the expiry in its PayPal five-year agreement. This will allow it to expand into the payment processing business on its platform.
Trading eBay's Q2 results: technical overview and trading strategies
With the eBay share price making recent fresh record highs and nearly doubling since the start of Q2 2020, all its main technical indicators on the weekly are flashing green.
Its price sits well above its main long-term moving averages (MAs) - the 50-week, 100-week and 200-week MAs - and its Average Directional Movement Index (ADX) showing an ongoing propensity to trend. A bull trend technical overview befitting its bullish moves albeit stalling when viewed on the daily chart on what has been a lack of intraday bullish momentum as of late.
That means strategies conforming to its current technical overview involves buy strategies, be it off of its first Support level after a reversal (buying after the level breaks significantly and initiating if prices recover to the key level), or buying its first Resistance level upon a breakout from below anticipating further upside bias.
Those looking to trade opposite the current technical overview anticipating a shift in its overview and a bigger test of its current bullish technicals can consider contrarian sell strategies, selling the first Support level upon a breakout from above and/or selling the first Resistance level at or before the level anticipating the recent partial retracement to gain downside momentum.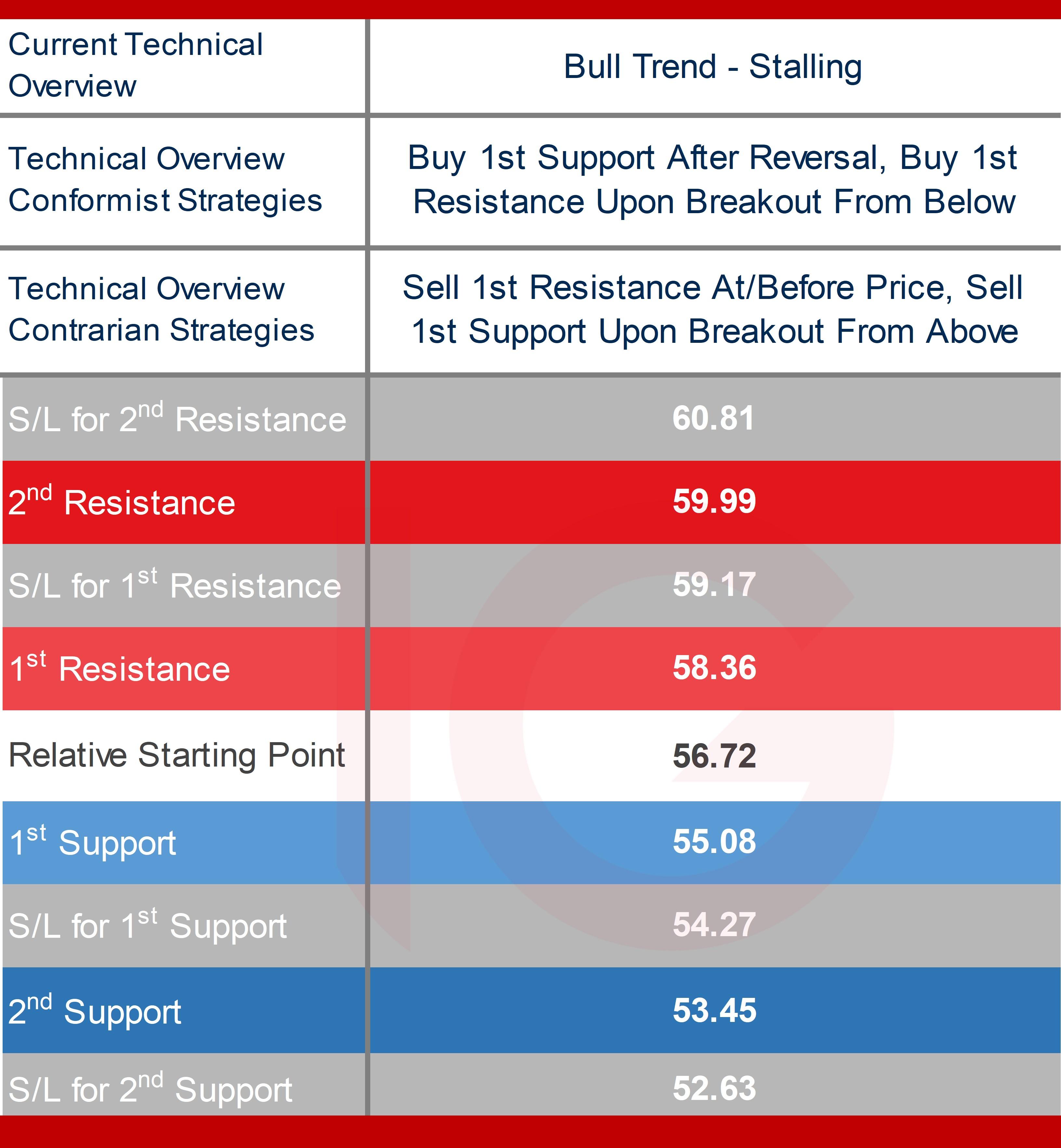 IG client sentiment* and short interest for eBay shares
Client sentiment for FAANG (Facebook, Apple, Amazon, Netflix, Google/Alphabet) stocks are in extreme buy territory, and its no exception when it comes to eBay shares, with sentiment at an extreme long 82% as per the latest reading, and unchanged from the start of the week's majority buy sentiment. That would make clients heavy beneficiaries of any further bullish moves and any fresh record highs in the e-commerce company's share price.
As for short interest, it has dropped from the 55 millon figure witnessed at the end of February to less than half that amount, the latest reading for the end of June closer to 20 million shares that represents less than 3% of the floating shares and close to the roughly 22 million amount of short interest when averaged over the past year.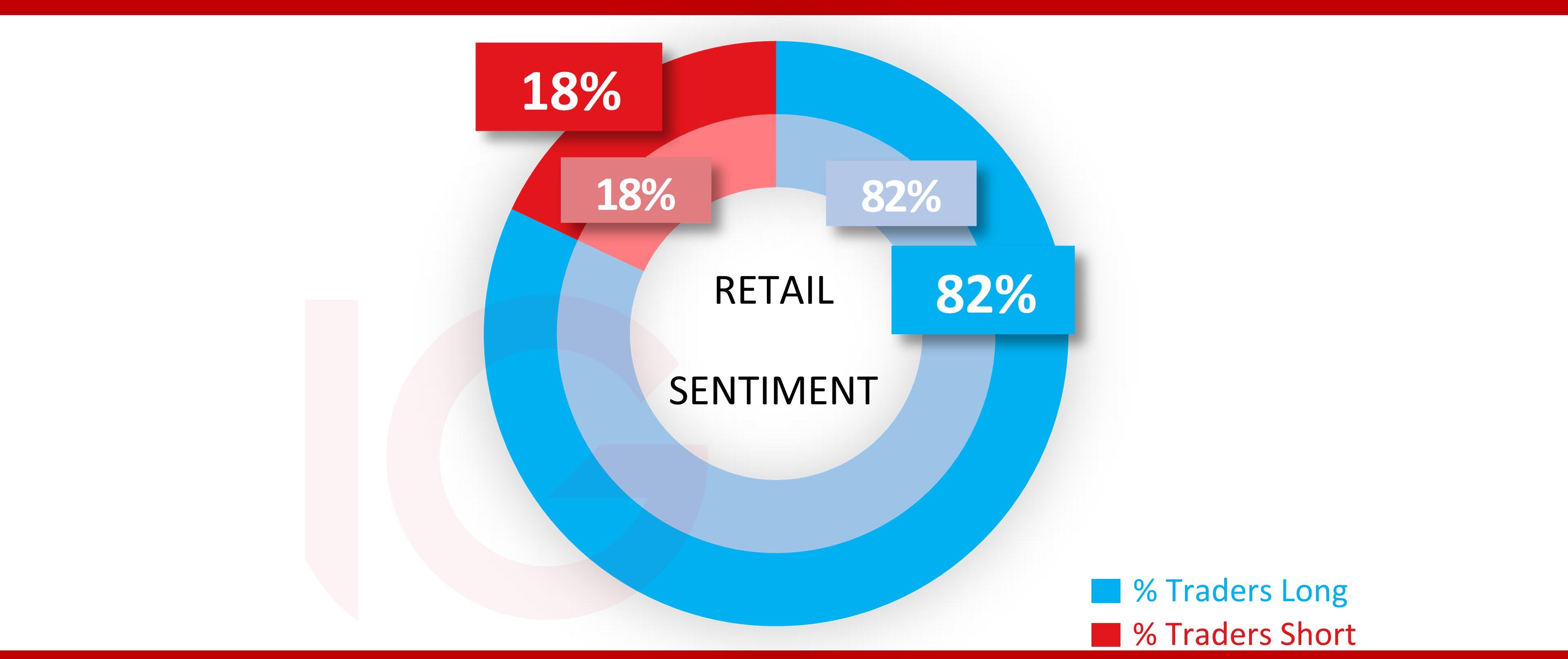 *The percentage of IG client accounts with positions in this market that are currently long or short. Calculated to the nearest 1%, as of today morning. Inner circle sentiment is from the start of this week.
IGA, may distribute information/research produced by its respective foreign affiliates within the IG Group of companies pursuant to an arrangement under Regulation 32C of the Financial Advisers Regulations. Where the research is distributed in Singapore to a person who is not an Accredited Investor, Expert Investor or an Institutional Investor, IGA accepts legal responsibility for the contents of the report to such persons only to the extent required by law. Singapore recipients should contact IGA at 6390 5118 for matters arising from, or in connection with the information distributed.

The information/research herein is prepared by IG Asia Pte Ltd (IGA) and its foreign affiliated companies (collectively known as the IG Group) and is intended for general circulation only. It does not take into account the specific investment objectives, financial situation, or particular needs of any particular person. You should take into account your specific investment objectives, financial situation, and particular needs before making a commitment to trade, including seeking advice from an independent financial adviser regarding the suitability of the investment, under a separate engagement, as you deem fit.

No representation or warranty is given as to the accuracy or completeness of this information. Consequently, any person acting on it does so entirely at their own risk. Please see important Research Disclaimer.
Please also note that the information does not contain a record of our trading prices, or an offer of, or solicitation for, a transaction in any financial instrument. Any views and opinions expressed may be changed without an update.
Look closer this US earnings season
Discover opportunities with using our award-winning technology* and range of educational resources.
Get expert analysis on upcoming announcements
Set automated alerts to never miss an opportunity
Choose from 10,000+ shares with our stock screener
* Based on the Investment Trends 2018 Singapore CFD & FX Report based on a survey of over 4,500 traders and investors. Awarded the Best Online Trading Platform by Influential Brands in 2022.
Live prices on most popular markets
Prices above are subject to our website terms and agreements. Prices are indicative only. All shares prices are delayed by at least 15 mins.
Prices above are subject to our website terms and agreements. Prices are indicative only. All shares prices are delayed by at least 20 mins.