DBS' net income to decline by 26% in Q2: analysts
Equity analysts predict that DBS Group's Q2 net profit and earnings per share will drop by 26% and 25% respectively, on top of recent dividend cuts.
DBS Group Holdings (SGX: D05) will be reporting its second quarter results for financial year 2020 (FY2020) before the market opens on Thursday 06 August 2020.
Below, we highlight three areas that investors should be aware of ahead of the earnings report.
DBS stock is down 4.7% since MAS capped dividends
DBS' share price has fallen 4.7% since last Thursday 30 July 2020, when the Monetary Authority of Singapore (MAS) announced new restrictions requiring local banks to cap their dividend pay-outs for the 2020 financial year at 60% of FY2019's final amount.
MAS also advised local banks to offer shareholders the option of receiving the dividends to be paid for FY2020 in scrip in lieu of cash.
The 60% cap on the local banks' FY2020 dividends is intended to help banks balance the objective of capital conservation with the interests of shareholders, the central bank further noted.
As at 12:00 SGT on Monday 03 August 2020, DBS shares are still trending downwards, and are trading at S$19.48 each.
IG's market analysis show that 'sells' formed 55% of all trades on the DBS Group counter for the week ending 31 July 2020. In terms of sentiment, 85% of IG client accounts are currently holding 'long' (buy) positions on the DBS stock, with the remaining 15% on 'short' (sell).
For the month of July, the DBS stock descended nearly 6%, and was down by as much as 11% at one point.
Are you looking to buy long or short sell DBS shares? Start today by opening a live or demo IG account.
DBS share price has been caught in a downtrend
IG market strategist Pan Jingyi said in a previous client note that although MAS' advisory had 'perhaps been a milder recommendation' compared to other central banks' orders, this would 'nevertheless diminish the attractiveness of (Singapore banks') shares in the short-term if adopted'.
A 60% cap on FY2019 dividends per share (DPS) would mean that DBS Group's FY2020 DPS will max out at S$0.738 (based on 2019's pay-out of S$1.23). DBS has confirmed a full-year DPS of S$0.72 for FY2020.
Pan added that investors should watch the bank's earnings performance against consensus and guidance 'for any disappointments that could see (share) prices be susceptible to declines once again'.
On a technical basis, she wrote that DBS' share price can be seen caught in a short-term downtrend after the resurgence in Covid-19 cases became more rampant across the globe in the second half of 2020, as well as with US-China tensions resurfacing.
'Prices had deviated from the uptrend seen since March and tipped past the 38.2% Fibonacci retracement level after the MAS advisory on dividends. Immediate support seen at S$18.96 while a break past the downtrend resistance would be needed to see prices move out of this short-term decline,' Pan added.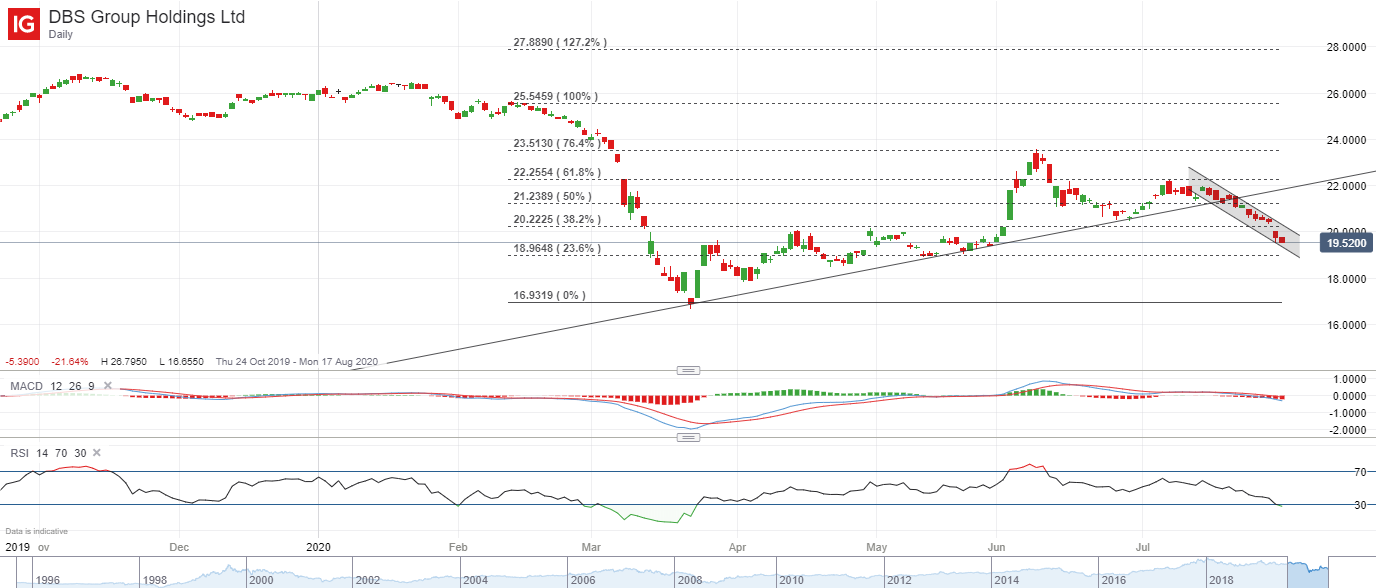 Across the board, the DBS stock has received an average share price target of S$20.60 per share from six analysts (representing a 5.75% upside from the last traded price), alongside a consensus rating of 'buy' from 18 brokers polled by Refinitiv.
DBS Q2 earnings per share estimated to fall by 25%
In terms of earnings estimates, analysts polled by Refinitiv are expecting for DBS Group's earnings per share to come in 24.9% lower year-on-year at S$0.471 per share, with net income also dropping 25.9% from Q2 FY2019 to S$1.187 billion.
Analysts also estimated for DBS to post a Q2 FY2020 DPS of S$0.315, up from S$0.300 per share a year prior, although these figures had been provided before MAS' dividend advisory.
According to Citi analyst Robert Kong, Q2 could potentially produce DBS' worst quarterly results for FY2020. He predicts that the bank's Q2 net profit will drop by 37% year-on-year.
Meanwhile, CIMB's Andrea Choong and Lim Siew Khee foresee that Singapore banks will record stronger trading and investment gains in the second quarter on the back of better market performance, offsetting some of the headwinds from narrowing net interest margins.
Finally, Maybank analyst Thilan Wickramasinghe highlighted higher provisioning costs, 'significant' drops in interest rates driving negative pressure on net interest margins, as well as non-performing loans during the Covid-19 lockdown period as key areas to note in the upcoming Q2 earnings.
How to trade DBS with IG
Are you feeling bullish or bearish on DBS shares? Either way you can buy (long) or sell (short) the asset using derivatives like CFDs offered on IG's industry-leading trading platform in a few easy steps:
Enter <DBS Group Holdings Ltd> in the search bar and select the instrument
Choose your position size
Click on 'buy' or 'sell' in the deal ticket
Confirm the trade
IGA, may distribute information/research produced by its respective foreign affiliates within the IG Group of companies pursuant to an arrangement under Regulation 32C of the Financial Advisers Regulations. Where the research is distributed in Singapore to a person who is not an Accredited Investor, Expert Investor or an Institutional Investor, IGA accepts legal responsibility for the contents of the report to such persons only to the extent required by law. Singapore recipients should contact IGA at 6390 5118 for matters arising from, or in connection with the information distributed.

The information/research herein is prepared by IG Asia Pte Ltd (IGA) and its foreign affiliated companies (collectively known as the IG Group) and is intended for general circulation only. It does not take into account the specific investment objectives, financial situation, or particular needs of any particular person. You should take into account your specific investment objectives, financial situation, and particular needs before making a commitment to trade, including seeking advice from an independent financial adviser regarding the suitability of the investment, under a separate engagement, as you deem fit.

No representation or warranty is given as to the accuracy or completeness of this information. Consequently, any person acting on it does so entirely at their own risk. Please see important Research Disclaimer.
Please also note that the information does not contain a record of our trading prices, or an offer of, or solicitation for, a transaction in any financial instrument. Any views and opinions expressed may be changed without an update.
React to global volatility
Market volatility continues as coronavirus concerns amplify. Trade with IG and take advantage of:
Tight spreads – from just 1 point on major indices, and 2.8 on US crude
Guaranteed stops – they're free to use, and only incur a fee when triggered
Round-the-clock assistance – our highly skilled team are available when you need support
Live prices on most popular markets
Prices above are subject to our website terms and agreements. Prices are indicative only. All shares prices are delayed by at least 15 mins.
Prices above are subject to our website terms and agreements. Prices are indicative only. All shares prices are delayed by at least 20 mins.