South Korea posts fastest growth in three quarters for Q4
Gross Domestic Product gained an adjusted 1.0% in the fourth quarter from the previous three months.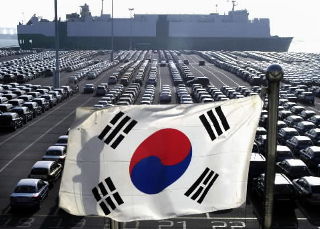 Source: Bloomberg
With the help and support from government spending, the South Korea economy expanded in the fastest pace in three quarters on a seasonally-adjusted basis for the fourth quarter, beating economists' estimates.

Gross Domestic Product (GDP) gained an adjusted 1.0% in the fourth quarter from the previous three months, statistics from the Bank of Korea showed. The performance beat the 0.6% gain economists in a Reuters survey had expected.

On a year-on-year basis, the South Korea economy expanded by 3.1% in the fourth quarter, posting the largest expansion in five quarters. The growth in the last quarter of 2018 was higher than the 2.0% increase in the third quarter and better than its 2.8% estimate.

For the full year of 2018, the economy grew by 2.7%, matching the 2.7% growth the central bank had expected.

Even so, last year's annual growth was the slowest pace of expansion the country has seen in six years. For the third quarter, the country posted its weakest quarterly year-on-year growth since 2009.

Exports account for around half of the export-driven nation's economic growth, and it is exposed to risks from China's stalled performance. Chinese data on Monday showed China's fourth quarter GDP slowing to the weakest since the global financial crisis.

China is South Korea's largest trading partner and any turbulence coming from the Chinese nation is likely to affect South Korea. Despite the South Korean government's stimulus, the weakness in exports and glum global growth outlook casts a dark cloud over the country's growth for this year.
See an opportunity to trade?
Go long or short on more than 15,000 markets with IG.
Trade CFDs on our award-winning platform, with low spreads on indices, shares, commodities and more.