New Zealand Dollar inches higher after central bank holds rates
The central bank of New Zealand has announced on Wednesday that it will hold the official cash rate at 1.75%, causing the New Zealand dollar to rise.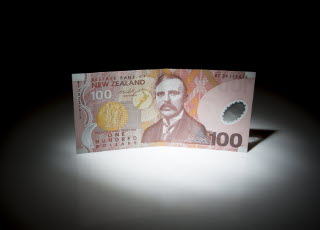 Source: Bloomberg
The Reserve Bank of New Zealand said in a statement, it expects to keep the official cash rate at 1.75% through 2019 and 2020, leaving its next decision unclear.
'The direction of our next OCR move could be up or down.' The RBNZ said in a statement.
The central bank said the decision necessitated over several factors, including employment at its maximum sustainable level, and core consumer price inflation below target mid-point.
The bank said, trading-partner growth is expected to further moderate in 2019 while global commodity prices are softening. The risk of a sharper downturn in trading-partner growth has also heightened over recent months.
Despite the weaker global push, the bank said it expects low interest rates and government spending to support a pick-up in New Zealand's GDP growth over 2019.
'Low interest rates, and continued employment growth, should support household spending and business investment. Government spending on infrastructure and housing also supports domestic demand.'
The central bank's long-term projections still showed the next move would likely be up, with 1.97% pencilled in for June 2021 and 2.36% for March 2022.
New Zealand dollar surges
The New Zealand Dollar has climbed off the back of the news, with traders pricing in the central bank's dovish policy.
The kiwi jumped 1.1% to $0.6811, at time of writing, recovering from a week of losses.
Analysts say the central bank's next move in interest rates moved the kiwi back to a more neutral stance.
The Australian dollar also edged up to $0.7112, from an early $0.7089 due to the RBNZ's dovish policy.