Biotech stocks: how to invest and the best companies to watch
Biotech is an exciting area to invest in - but before you dive in, it pays to be prepared. Here's everything you need to know about biotech stocks, as well as which ones to watch in 2020.
Biotech investing: what you need to know
Since it first took off in the 1970s, biotech has been associated first and foremost with developing cures for diseases and medical conditions. But the sector is broader than that, also encompassing genetically modified (GM) foods, gene cloning, biofuels and more. Because of this, investors usually break the sector down into two categories: medical and agricultural.

Both categories require a different approach to investment than other sectors. That's mostly because of biotech's unique business model, which requires heavy investment in research that may never yield a profit. Even when a project is successful, the path to profitability can be a long one, requiring years of testing before a product gets approved.
So taking a long-term view is a necessity with biotech. That, and keeping an eye out for acquisitions – many smaller firms who make a breakthrough are quickly bought out by one of the larger incumbents.
How to invest in biotechnology stocks
Research the sector. Resources like IG Academy are a great place to start, containing free lessons on how to analyse stocks
Open an IG account to invest in thousands of stocks from just £3 commission,* or trade them with CFDs
Fund your account, and buy your chosen companies
An IG account enables you to invest in biotech stocks, and trade them using CFDs. With these, you can go long or short on the price movements of shares instead of taking ownership of any underlying assets.
Best biotech shares to watch
These are the ten biggest biotech stocks by market cap as of 19 February 2020.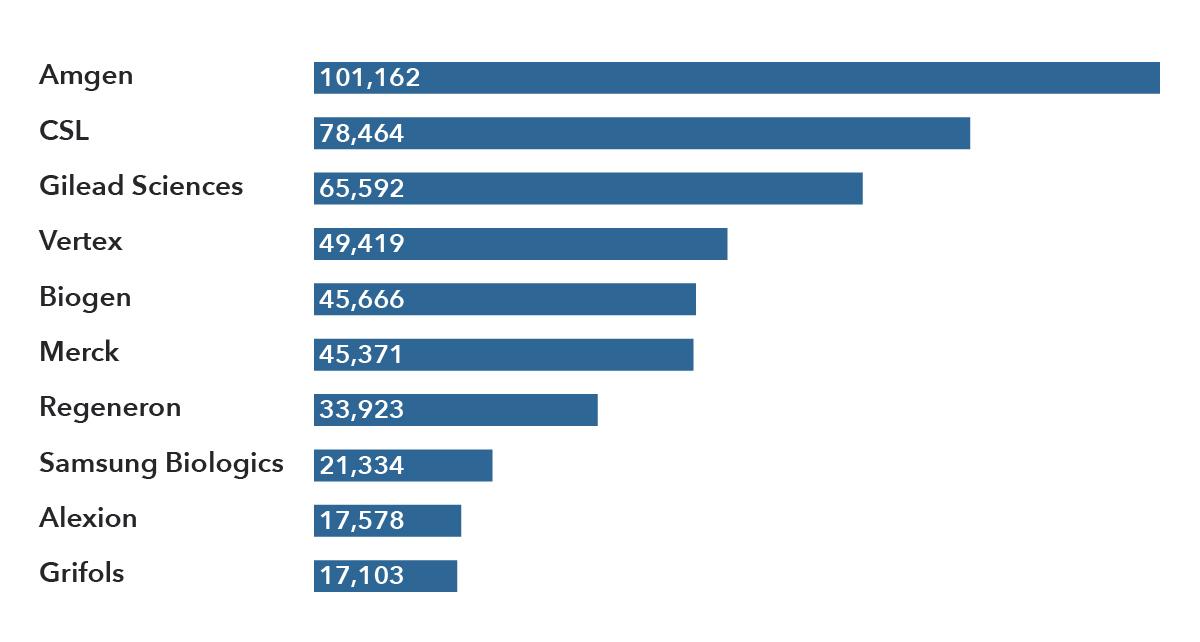 Amgen
Amgen is worth more than £100 billion, making it the world's biggest biotech company by market cap. It isn't hard to see why it's favoured by investors – unlike many of its competitors, Amgen has a suite of approved medicines and treatments on sale today. Those products include:
Neulasta, which is used to prevent infections in chemotherapy patients
Enbrel, used in the treatment of rheumatoid arthritis and other autoimmune diseases
However, the company isn't without its share of issues. Several of its core products are facing competition from 'biosimilars', or copycat drugs created by its rivals. And shares in Amgen fell early in 2020 when it announced a lower-than-expected revenue of $25 billion for the year prior.
CSL
CSL has a long history for a biotech company. It was founded in 1916, as an Australian government body with the aim of developing vaccines. The firm was privatised in 1994, when it was priced at $2.30 per share. A $10,000 investment then would be worth over $1.5 million today.
CSL focuses on making biotherapies, blood plasma derivatives and influenza vaccines. It made headlines in 2009 as the first laboratory to produce an approved vaccine for the H1N1 pandemic, otherwise known as Swine Flu. In 2020, coronavirus fears helped CSL surge to briefly become Australia's most valuable company by market cap.
Gilead Sciences
Gilead Sciences is another company that has come under increased attention due to the coronavirus. In February 2020, the World Health Organisation (WHO) announced that Gilead's Remdevisir may be the 'one drug' capable of treating the disease. Beyond coronavirus, the company focuses primarily on drugs to treat HIV, hepatitis B, hepatitis C and influenza.
The stock was due some positive headlines. Daniel O'Day took over as chief executive in March 2019 with the remit of turning the company around after a tough few years plagued by declining sales across key drugs. The business posted mostly positive results last year, but many fear its turnaround is progressing too slowly.
Gilead is a rare example of a dividend-paying biotech stock, with a current annual payout of $2.52.
Vertex
Vertex stock went on an incredible three-year run from 2017-2020, growing from $74.00 per share to over $220.00.
The firm is an investor darling for good reason. Vertex grew product sales from under $500 million in 2014 to over $3 billion in 2018. Furthermore, it has an impressive historic earnings per share (EPS) growth rate of 216%.
Vertex's main products are ivacaftor, lumacaftor and tezacaftor, which are used to treat half of the estimated 75,000 cystic fibrosis patients in North America, Europe and Australia. It is broadening its portfolio, with new products at various stages of the testing process – targeting a new painkiller and medicines to treat sickle cell disease.
Biogen
Biogen primarily focuses on neurological and neurodegenerative conditions such as multiple sclerosis, Alzheimer's and dementia, as well as movement disorders such as Parkinson's.
The company delivered solid progress in 2018, but its share price plummeted over 30% in early 2019 when it had to suspend trials of a new Alzheimer's drug called aducanumab due to regulatory issues. Then, in a remarkable turnaround, Biogen reinstated trials later in the year after re-evaluating the results of some key trials and recovered most of the loss.
Much of its short-term performance will depend on how the approval process for aducanumab progresses this year.
Merck
Another business that predates the birth of biotech, Merck Group is a pharmaceutical giant that celebrated its 450th birthday in 2018. While much of Merck Group is dedicated to traditional pharma, it has several biotech subsidiaries.
Merck stock performed fairly strongly in 2019, moving from below €90.00 to above €105.00. In early 2020, it climbed again to a new all-time high, surpassing its previous peak of €114.00 from 2017.
It's important to note that Merck Group is an entirely separate entity from Merck & Co, its US counterpart. Merck & Co started as a subsidiary of Merck Group, but the two split in 1917.
Regeneron
Regeneron has several approved products for sale, but it makes the vast majority of its revenue from EYLEA – an eye injection treatment for certain retinal diseases. US sales of this product account for some 60% of Regeneron's total revenue.
Outside the US, sales of EYLEA are managed by Bayer, which generates over $1 billion in annual revenue for Regeneron.
Dependence on one drug can be an issue for any pharma business. This proved to be the case in 2019, when reports that Novartis was producing a rival to EYLEA dragged on Regeneron's stock price. However, setbacks for Novartis in early 2020 saw Regeneron stock climb to a two-year high.
Samsung Biologics
South Korea is only behind the US, Spain and France in terms of its number of total biotech companies. Samsung Biologics, part of the Samsung Group, is its biggest. It makes medicines from living cells.
Samsung Biologics had a mixed 2019, spending much of the first half of the year on a bear run. A late recovery, though, helped the company close the year more than 10% up.
Alexion
Alexion is a world leader in 'complement biology', which involves therapies that enhance the ability of antibodies in the immune system.
It is best known for its drug Soliris, which is used to treat two very rare diseases. In 2019, though, it announced plans to move from 'ultra-rare diseases to rare diseases', which will broaden the use for its products from just 10,000 patients to over 230,000.
Grifols
Grifols is primarily a maker of blood plasma-based products. It is the largest company in this field.
Shares in Grifols have been on a strong run since 2017, climbing from €19.00 to above €32.00 at the start of 2020. It announced revenue growth of 14.5% in the third quarter (Q3) of 2019, surpassing €3.5 billion for the quarter. Its bioscience division is the main driver of growth.
How to analyse biotech shares
The financial model of biotech firms means applying traditional fundamental analysis on its own often doesn't work. Here are three areas that investors look at as well:
1. R&D spend
The most commonly used metric to make a direct comparison between different biotech stocks is the amount of research and development (R&D) spend relative to sales as a percentage. It shows how efficiently a company is turning its profit into research. R&D spend as a percentage of sales can, however, vary year to year and company to company. For example, larger biotech companies may spend 10%-30% of their revenue on R&D but many smaller biotech firms will spend more on R&D than they earn in revenue.
2. Funding
If a biotech venture is starting fresh, then where will it get the money it needs to survive until it can produce a viable product? Raising equity is particularly popular among biotech companies. This is because traditional lenders are often reluctant to supply funds for high-risk research that offers low levels of success with little collateral to collect should it fail. Investors need to be confident a firm has the financial backing it needs to survive in the meantime. Ideally, investors look for companies with several developments in the pipeline to ensure it still has prospects should one of its proposals get rejected.
3. Type of medicine
The types of medicines or treatments being developed are also important, particularly in the medical space. Some firms develop what are known as 'orphan drugs' designed to treat rare conditions that affect a small number of individuals. While there are fewer patients (and therefore a smaller market) these often demand a higher price as a result. Others produce treatments for the mass market, targeting everything from the common cold to cancer, which are considered more lucrative than orphan drugs.
Investors also pay attention to whether companies are developing treatments or vaccines, with the former favoured by investors because they need to be continually used compared to a one-time vaccine.
Ready to take a position on biotech stocks? Open a trading account now. Alternatively, open a free IG demo account to practise trading with £10,000 in virtual funds.
Investing in biotech stocks summed up
Biotech companies come in two categories: medical and agricultural. Both require a different approach to other sectors
The biggest firms in the sector are Amgen, CSL and Gilead Sciences
This information has been prepared by IG, a trading name of IG Markets Limited. In addition to the disclaimer below, the material on this page does not contain a record of our trading prices, or an offer of, or solicitation for, a transaction in any financial instrument. IG accepts no responsibility for any use that may be made of these comments and for any consequences that result. No representation or warranty is given as to the accuracy or completeness of this information. Consequently any person acting on it does so entirely at their own risk. Any research provided does not have regard to the specific investment objectives, financial situation and needs of any specific person who may receive it. It has not been prepared in accordance with legal requirements designed to promote the independence of investment research and as such is considered to be a marketing communication. Although we are not specifically constrained from dealing ahead of our recommendations we do not seek to take advantage of them before they are provided to our clients.
Seize a share opportunity today
Go long or short on thousands of international stocks.
Increase your market exposure with leverage
Get spreads from just 0.1% on major global shares
Trade CFDs straight into order books with direct market access
Live prices on most popular markets