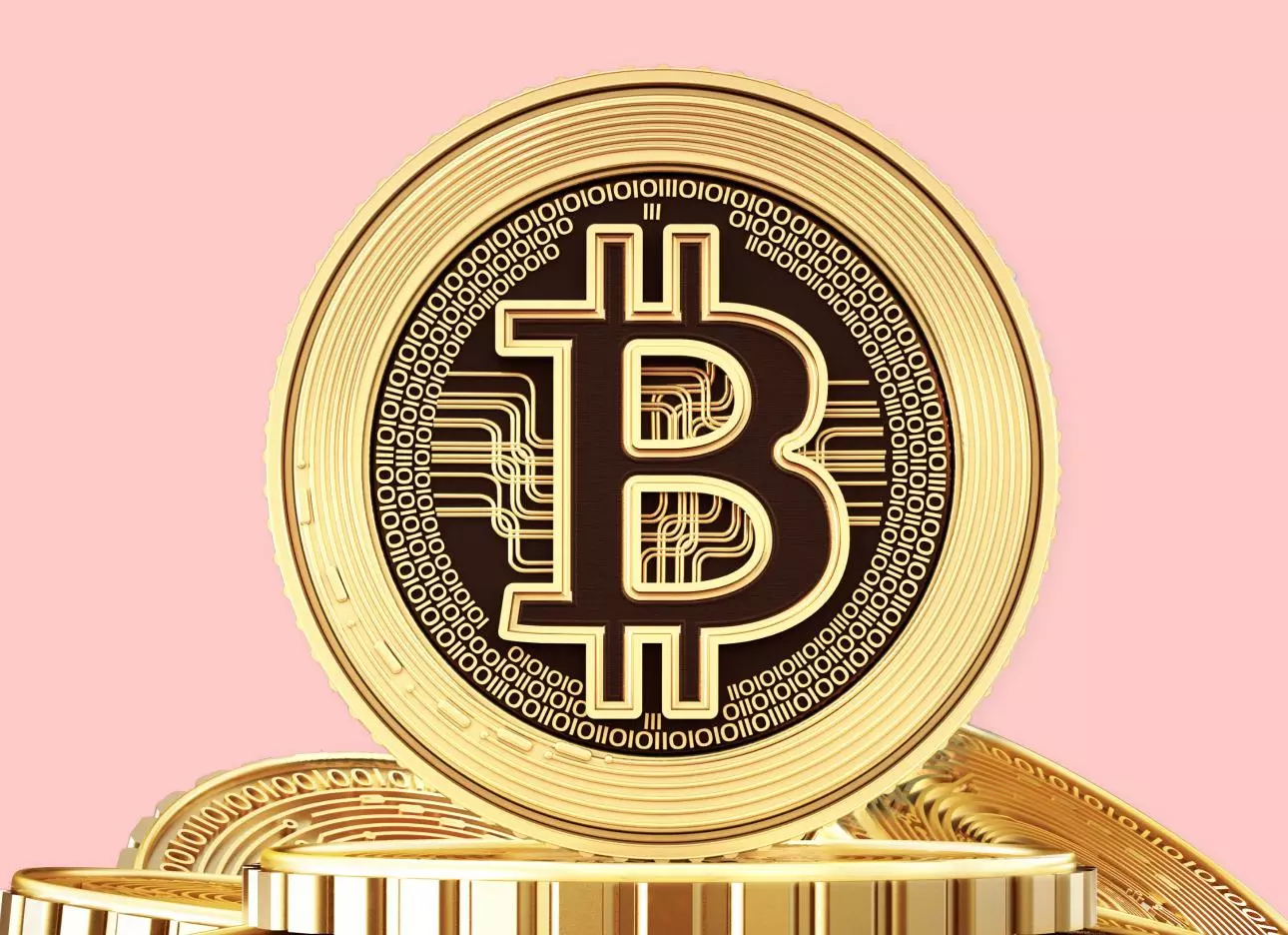 Bitcoin halving 2024: what to know
The next bitcoin (BTC) halving is likely to occur in April 2024 and could have a dramatic impact on the cryptocurrency's price. Discover everything you need to know about the next bitcoin halving – including what it is, why it's happening and how you can trade it.
What is a bitcoin halving?
A bitcoin halving (sometimes 'halvening') is an event where the reward for mining new blocks is halved, meaning miners receive 50% fewer bitcoins for verifying transactions. Bitcoin halvings are scheduled to occur once every 210,000 blocks – roughly every four years – until the maximum supply of 21 million bitcoins has been generated by the network.
Bitcoin halvings are important events for traders because they reduce the number of new bitcoins being generated by the network. This limits the supply of new coins, so prices could rise if demand remains strong.
While this has happened in the months before and after previous halvings – causing bitcoin's price to appreciate rapidly – the circumstances surrounding each halving are different and demand for bitcoin can fluctuate wildly.
When is the next bitcoin halving?
The next bitcoin halving is expected to occur in April 2024, when the number of blocks hits 740,000. It will see the block reward fall from 6.25 to 3.125 bitcoins. The exact date of the halving is not yet known as the time taken to generate new blocks varies, with the network averaging one block every ten minutes.
Bitcoin halvings: key events
| | | | | |
| --- | --- | --- | --- | --- |
| Event | Date | Block number | Block reward | Total new bitcoins between events |
| Bitcoin launches | 3 January 2009 | 0 (genesis block) | 50 new BTC | 10,500,000 BTC |
| First halving | 28 November 2012 | 210,000 | 25 new BTC | 5,250,000 BTC |
| Second halving | 9 July 2016 | 420,000 | 12.5 new BTC | 2,625,000 BTC |
| Third halving | 11 May 2020 | 630,000 | 6.25 new BTC | 1,312,500 BTC |
| Fourth halving | Expected April 2024 | 740,000 | 3.125 new BTC | 656,250 BTC |
| Fifth halving | Expected 2028 | 850,000 | 1.5625 new BTC | 328,125 BTC |
This list is not exhaustive. Bitcoin halvings will occur every 210,000 blocks until around 2140, when all 21 million coins will have been mined.
How to trade the bitcoin halving
There are two ways to trade bitcoin's halving. You can speculate on the price of the cryptocurrency using derivatives such as CFDs, or buy the coins outright via an exchange. Learn more about cryptoccurrency trading and how it works.
To trade the bitcoin halving with us:
1. Find out more about CFD trading on crypto
2. Open an account or practise on a demo
3. Search for 'bitcoin' in our platform
4. Open your position
One of the main benefits of trading cryptocurrencies with derivatives such as CFDs is that you don't take ownership of the underlying coins. This enables you to:
Trade without an exchange account or wallet: with IG, you could be set up and ready to trade in minutes. Please note while trading without an exchange account or wallet, you do not own or have any interest in the underlying asset.
Go long or short: you can take a position on bitcoin whether you expect it to rise or fall in value
Take advantage of leverage: you can open a position by putting down a deposit – known as margin – to gain access to a much larger market exposure. Leverage enables you to gain a large exposure to a financial market while only tying up a relatively small amount of your capital. In this way, leverage magnifies the scope for both gains and losses.
Fill in our simple online form
We'll ask a few questions about your trading experience.
Get swift verification
We aim to complete the verification process as quickly as possible so you can start trading on a huge range of markets.
Fund your account and trade
Or practice on a demo if you'd prefer.
What happened the last time bitcoin halved?
Bitcoin last underwent a halving event on 11 May 2020 – where rewards for mining became 50% lower, falling from 12.5 new bitcoin per block to 6.25 bitcoin. The tightening supply provided a bullish scenario for the asset where the coin's price surged from $6877.62 on 11 April (a month before the halving) to $8821 at the time of the event itself. Despite significant volatility, the price continued to rise over the course of the next year to reach $49504 on 11 May 2021.
A similar pattern emerged surrounding the previous halvings in 2012 and 2016 where the strongest period of upside came post halving and then, despite a significant drop in value around 12-17 months later, the price remained much higher than it was prior to the halving.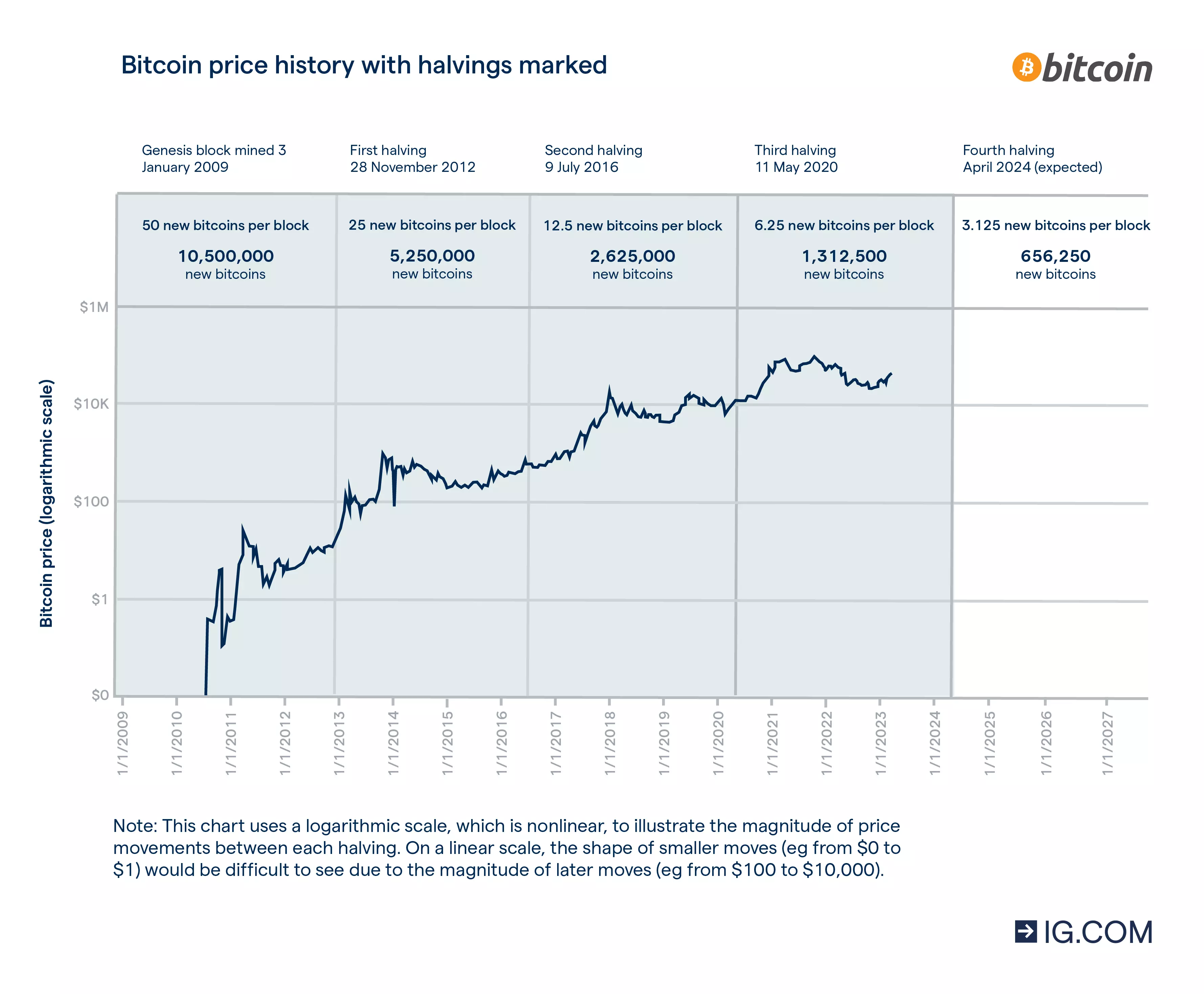 How might the bitcoin halving impact BTC's price?
It is not yet clear how the next halving will impact bitcoin's price. Many commentators believe that the price will follow a similar pattern to the previous three halvings, rising after the event itself as the supply of new coins is constrained.
However, any price rise will depend on how demand for bitcoins shapes up over the course of the halving. Demand is by no means certain to increase – or even remain static – as the market has matured significantly since the last halving in 2020, and there are now many more well-established cryptocurrencies competing for users.
How does a bitcoin halving work?
A bitcoin halving is built into the network's underlying blockchain software, which dictates the rate at which new bitcoins are created. The software requires computers in the network to compete to verify transactions – through a process known as 'mining' – and rewards them with a number of new bitcoins when they can prove that the transactions they have selected are valid. Transactions are verified in groups called 'blocks' and the network is coded to halve the reward received by miners every 210,000 blocks.
Learn more about blockchain technology.

What happens to miners when the bitcoin reward is halved?
When the block reward is halved, some users may calculate that their mining activity will no longer be profitable due to costs such as electricity and hardware. Some users may stop mining altogether if the price of bitcoin doesn't rise to compensate, reducing the amount of processing power in the network. Whatever happens, the speed at which blocks are mined shouldn't be affected as the software automatically adjusts the difficulty of verifying transactions to maintain a steady rate.
What happens when all 21 million bitcoins have been mined?
When the maximum supply of 21 million bitcoins has been mined, users will no longer receive new bitcoins for verifying blocks. However, they will continue to receive transaction fees – contributed by those making payments – as an incentive to verify transactions. It is estimated that the last new bitcoin will be mined in 2140. At this point, the cryptocurrency will become deflationary as coins can be 'lost' through user error – for example, by sending coins to an invalid address.
Bitcoin halves due to the design of its software, which was created by a mysterious person or group using the assumed pseudonym 'Satoshi Nakamoto'.
While Satoshi hasn't explicitly explained the reasons behind halvings, many have speculated that the system was designed to distribute coins more quickly at the beginning to incentivise people to join the network and mine new blocks. Under this theory, block rewards were programmed to halve at regular intervals because the value of each coin rewarded was deemed likely to increase as the network expanded.
Another theory is that the halvings were put in place to introduce deflationary measures into the coin, so the number of new coins rewarded per block is pre-determined. Unlike the fiat monetary system where overprinting by central banks can result in sustained reduction in the value of the currency, the fixed total supply of bitcoin available and the pre-determined rate of printing new bitcoins hedges against this risk.
One criticism of bitcoin's design – including halvings and the finite supply of 21 million coins – is that it encourages users to save rather than spend in the hopes that coins will increase in value over time. This may have fuelled boom and bust cycles in the past, with users hoarding coins only to cash out at key levels.
Some have also compared bitcoin to a pyramid (Ponzi) scheme for similar reasons, arguing that the system's design has disproportionately rewarded users who got in early.
Get expert news and analysis on bitcoin
With more than 40 years in trading and over 195,000 clients around the globe, we're the world's No.1 CFD provider.1 Open an account to stay up to date with the latest cryptocurrency news, and set alerts to notify you of significant price movements.
You might be interested in…
Get to grips with the basics of how to trade bitcoin with our step-by-step guide
Understand the benefits of trading CFDs
Find out what sets IG apart as your partner to trade bitcoin