Tesla stock falls after cutting 7% of its workforce
Tesla stock is down after announcing elimination of workers in the near future.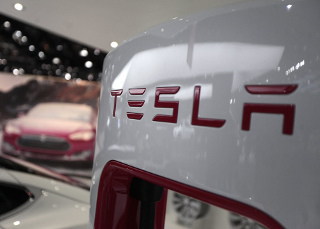 Source: Bloomberg
Tesla shares have plummeted by as much as 9% after the car company announced the firing of 7% of its workforce as it ramps up production of the popular Model 3 cars. Chief executive officer, (CEO) Elon Musk, made the announcement in an email to employees.
'Very difficult' time for Tesla
Musk noted that the automaker is having a 'very difficult' task of producing affordable electric cars that can compete with other automakers like Ford and General Motors that are producing their own gas-free automobiles. Tesla is already struggling after missing its fourth quarter(Q4) delivery goals. Musk said that firing 7% of its 45,000 employees is necessary to decrease costs in production.
'Tesla will need to make these cuts while increasing the Model 3 production rate and making many manufacturing engineering improvements in the coming months. Attempting to build affordable clean energy products at scale necessarily requires extreme effort and relentless creativity, but succeeding in our mission is essential to ensure that the future is good, so we must do everything we can to advance the cause,' noted Musk.
Musk also shared the timeline for delivering the Model 3 sedan in the email to employers.
'Starting around May, we will need to deliver at least the mid-range Model 3 variant in all markets, as we need to reach more customers who can afford our vehicles. Moreover, we need to continue making progress towards lower priced variants of Model 3,' wrote Musk.
Tesla has weak guidance for Q4 results
In addition to the news of cutting staff, investors are concerned about the worse-than-expected guidance Musk has for Tesla when its Q4 earnings report is released.
'In Q4, preliminary, unaudited results indicate that we again made a GAAP [generally accepted accounting principles] profit, but less than Q3,' noted Musk.
However, Musk expressed optimism that Tesla will continue to turn a profit.
'This quarter, as with Q3, shipment of higher priced Model 3 variants (this time to Europe and Asia) will hopefully allow us, with great difficulty, effort and some luck, to target a tiny profit,' wrote Musk.
See an opportunity to trade?
Go long or short on more than 15,000 markets with IG.
Trade CFDs on our award-winning platform, with low spreads on indices, shares, commodities and more.
Live prices on most popular markets
Prices above are subject to our website terms and agreements. Prices are indicative only. All shares prices are delayed by at least 15 mins.