What is a direct listing and how can you invest?
Direct listings are a cost-effective alternative for companies looking to go public. Still, the company will have increased exposure and liquidity, like any other listed firm. Learn more here.
What is a direct listing?
A direct listing, or direct public offering (DPO), is a process that a private company can follow to become publicly listed without going through a traditional initial public offering (IPO). Direct listings are characterised by some key points that set them apart from IPOs, such as not needing the services of an underwriter, lower costs and, typically, listing existing shares.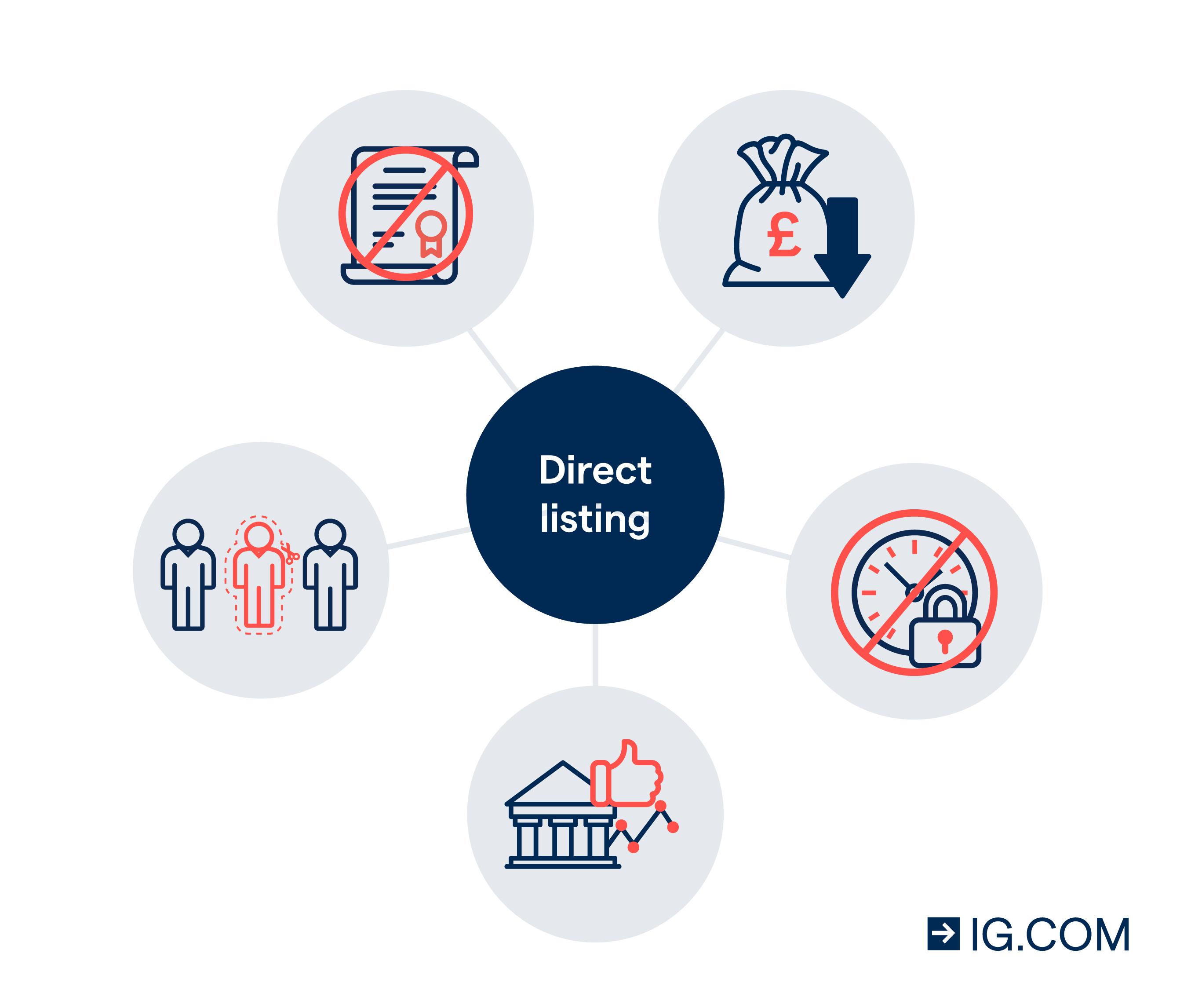 Direct listing vs IPO
Direct listings and IPOs differ in several ways, but ultimately, they are both vehicles to going public. Here are the main differences:
| | |
| --- | --- |
| Direct listing | IPO |
| Existing shares are listed on the chosen stock exchange* | New shares are created and listed on the chosen stock exchange |
| No underwriter is appointed by the company | One underwriter (or more) facilitates the IPO process, including issuing of stock |
| Costs are lower compared to IPOs, but there's no assurance that shares will be sold | IPOs are the costlier alternative, which comes with the guarantee of selling a specified number of shares at the initial price |
| Market demand determines the share price – this can lead to increased volatility | The initial share price is determined using relevant valuation techniques |
| A book building process is not required | The underwriter conducts the book building process |
| No lock-up period – shareholders can start selling their shares on the public market straightaway | Existing shareholders are subject to lock-up restrictions, meaning that they cannot sell their shares for a certain period, usually between 90 and 180 days |
How does a direct public offering work?
Direct public offerings involve a series of phases. Below are some of the main steps: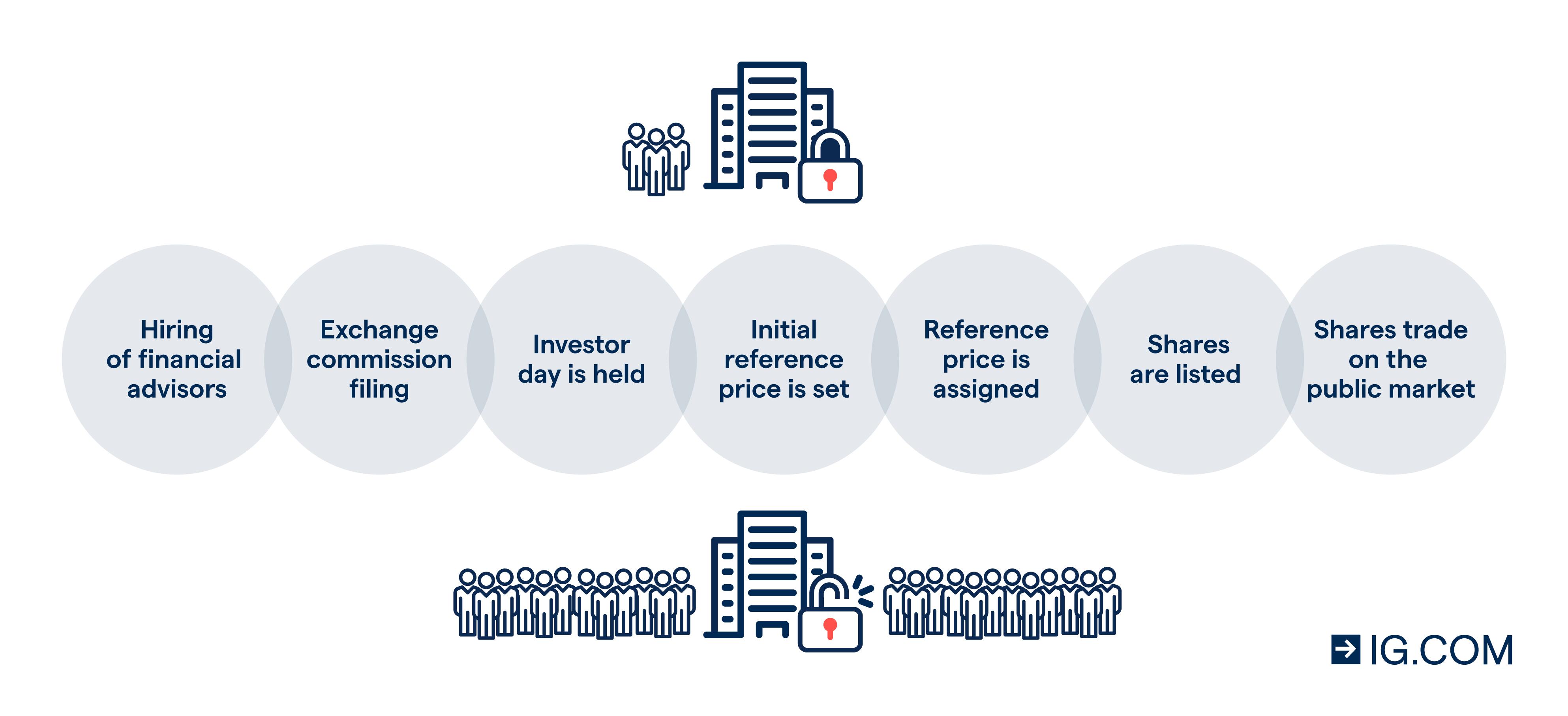 Hiring of financial advisors
The financial advisors assist with defining objectives, regulatory filings, public communications, and more. However, the company essentially facilitates its own listing process (it doesn't need to hire an underwriter)
Exchange commission filing
Filing with the relevant exchange commission ensures that investors can access information that they might need about the company. All regulatory and exchange requirements must be met in order to proceed
Investors are informed about the business and the share offering at this event. Investor day is open to everyone
Initial reference price is set
The financial advisor works with the exchange-appointed market maker to determine the initial reference price
Reference price is assigned
The market maker assigns a demand-based initial reference price to the direct listing, however the opening price may be different
Listing of company shares happens on the chosen stock exchange
Shares trade on the public market
The share price is dependent on market demand
How can you trade in a direct listing?
With us, you can trade in a direct listing right away from the day of listing. You'd trade on the secondary market.
Trading enables you to speculate on companies' share price movements using financial derivatives such as CFDs.
How to start trading with us
Search for the relevant company on our trading platform
Select 'buy' or 'sell' in the deal ticket
Set your position size and take steps to manage your risk
Open and monitor your position
You'll use leverage when trading CFDs with us. This means that you'll only need an initial deposit, known as margin, to open your position. Leverage increases both profits and losses to the full value of the trade, making it essential for you to take steps to manage your risk properly.
Why do companies choose direct listings?
While individual circumstances affect a company's decision to go public, there are various features that make direct listings appealing to companies, and suited to their needs. These include:
It's a cost-effective alternative
The risk of mispricing can be mitigated by supply and demand
Increased exposure and equal access to shares: investor day is open to everyone and all investors can buy shares at the initial price
Reaching the same end point offered by an IPO, with widespread visibility and increased to liquidity
Allowing existing shareholders to sell their shares at the initial price, if they wish to do so
Direct listings summed up
A direct listing is a way in which a private company can go public
Other ways in which companies can go public are via a traditional IPO and a SPAC merger
There are several differences between the vehicles of going public
Direct listings follow a process that includes hiring a financial advisor, hosting an investor day, and more
You can trade in a direct listing with us
This information has been prepared by IG, a trading name of IG Markets Limited. In addition to the disclaimer below, the material on this page does not contain a record of our trading prices, or an offer of, or solicitation for, a transaction in any financial instrument. IG accepts no responsibility for any use that may be made of these comments and for any consequences that result. No representation or warranty is given as to the accuracy or completeness of this information. Consequently any person acting on it does so entirely at their own risk. Any research provided does not have regard to the specific investment objectives, financial situation and needs of any specific person who may receive it. It has not been prepared in accordance with legal requirements designed to promote the independence of investment research and as such is considered to be a marketing communication. Although we are not specifically constrained from dealing ahead of our recommendations we do not seek to take advantage of them before they are provided to our clients.
Get in on the action early
Everything you need to trade a company's initial public offering (IPO), all in one place.
Explore IPOs, learn expected valuations and see company profiles
Speculate on a company's market cap before its IPO with our grey markets
Trade on price movements with CFDs