The UK plays host to a number of the most recognisable brands in the world. In this list, we look at the top 10 UK-registered brands in terms of brand value, and we explain how to take a position on their companies' shares.
What are the best UK brands?
The brands included in this list are the top 10 most valuable brands for companies registered in the United Kingdom (UK). As a result, Royal Dutch Shell has been included, despite the fact that the company has headquarters in the Netherlands, as well as in London.
The rest of the companies in this top 10 are headquartered in the UK. They include brands that are synonymous with the UK such as Land Rover and British Telecoms (BT).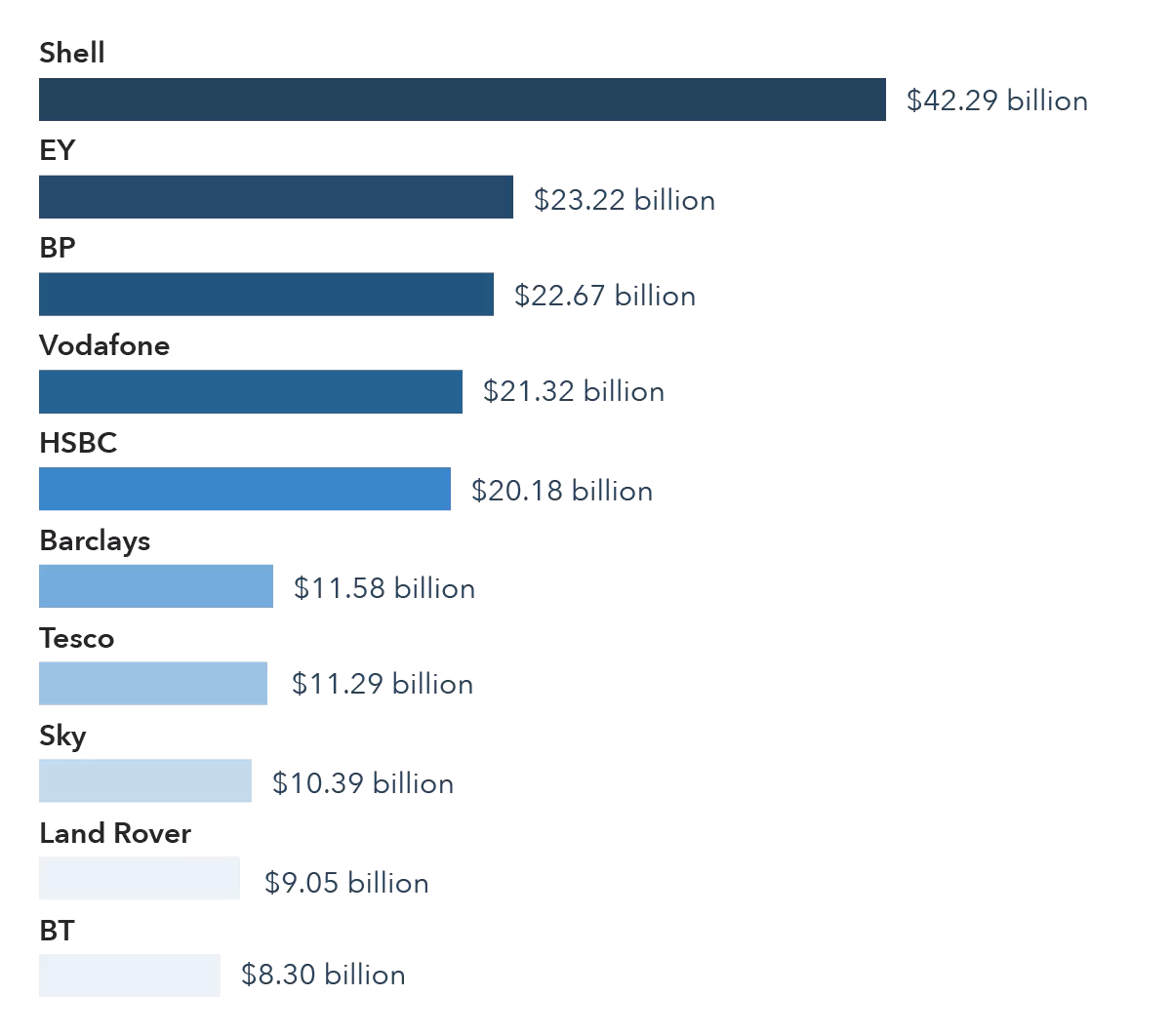 As a brand is an intangible asset, the figures in the above table are estimates based on assessment of each company's name recognition, popularity with consumers and the overall presence that a company has in its particular sector, among other factors.
Shell
Royal Dutch Shell – often known simply as Shell – is an oil and gas company established in 1907 with headquarters in the Netherlands and in London. It is a UK-registered company, with an estimated 82,000 employees.
Shell is one of the supermajors – the six or seven largest oil companies – of the oil market, and it is also one of the 10 largest companies in the world in terms of revenue. Shell has a primary listing on the London Stock Exchange (LSE), with secondary listings on Euronext Amsterdam and the New York Stock Exchange (NYSE). It is also part of the FTSE 100.
For 2019, Shell's brand value stood in the region of $42.3 billion – a value ascribed to the company's dominance in the oil markets, as well as its name recognition in the UK and across the world in general.1
EY
EY – full name Ernst & Young – is a professional services firm, headquartered in London. EY's brand value comes from its reputation and standing as one of the 'big four' accounting firms in the world – the others being KPMG, Deloitte and PricewaterhouseCoopers (PwC).
EY's brand value is estimated to be $23.22 billion, on account of its reputation in the professional services sectors.1 Among the services that the brand offers are financial audit, tax, consultancy and advisory services to companies.
EY is not publicly-listed, meaning that traders cannot take a position on its stock. Instead, the company is owned by around 6000 partners around the world, with the largest proportion coming from the United States.
BP
BP is British Petroleum, and it remains one of the most recognisable energy brands in the world, not just the UK. The second oil company on this list, BP as a brand is known throughout the UK, and as of 2019, it had a brand value of $22.67 billion.1
In the oil market, BP is also one of the supermajors alongside Shell. BP has a primary listing on the LSE, and secondary listings on the Frankfurt Stock Exchange and the NYSE and it is a component of the FTSE 100.
BP's brand value in the UK comes from the fact that it has almost universal name recognition, and its large number of service stations up and down the country.
Vodafone
Vodafone is a British multinational telecommunications conglomerate, which is headquartered in London with registered offices in Berkshire, England. Voted the UK's most popular mobile network, Vodafone has a market cap of around $40 billion.
Vodafone is listed on the LSE and is included in the FTSE 100; it also has a secondary listing on the NASDAQ. Vodafone has the most valuable brand of any telecommunications provider on this list, with a value of $21.32 billion.1
HSBC
HSBC is the largest bank in Europe, and the seventh-largest bank in the world. Headquartered in London's Canary Wharf, it had total assets of $2.5 trillion in 2018, and a brand value of $20.18 billion in 2019.1 It is part of the UK banking system's 'big four' – the four largest banking groups in the UK – the others being Barclays, Lloyds Banking Group and the Royal Bank of Scotland Group.
It has a primary listing on the LSE, with secondary listings on the NYSE, Euronext Paris and the Bermuda Stock Exchange. HSBC's brand value can be attributed to the reputation it has within the banking industry.
Barclays
Barclays is a banking company headquartered in Canary Wharf, London. As one of the most popular banks in the UK – as well as being one of the 'big four' banks alongside HSBC – Barclays enjoys a brand valuation of $11.58 billion.1
The bank has a primary listing on the LSE and a secondary listing on the NYSE. Barclays is also a constituent of the FTSE 100, where it is the second largest bank. The largest shareholder in Barclays is Qatar Holdings – a state managed holding company of the State of Qatar.
Barclays has 24 million customers and clients in the UK, and as of 2018, it managed total assets of £1.13 trillion.
Tesco
Tesco has the largest market share for groceries in the UK, with 27.2%. The next largest, Sainsbury's, has 15.3%. For this reason, Tesco's brand value stands at around $11.29 billion, and it is the only supermarket on this list of top UK brands.1
It is traded on the LSE and, like many other companies on this list, Tesco is a constituent of the FTSE 100. Tesco's name recognition in the UK is 99% according to a YouGov poll, which goes some way to explaining its brand value.2
Sky
Sky – trading as Sky plc – is a telecommunications company. It was acquired by Comcast in 2018 at a price of £17.28 per share, meaning that it trades under the Comcast ticker (CMCSA). Currently, Sky serves broadband to over 6 million people in the UK; as well as providing around 10 million customers with access to its satellite television service.
Its large offering in the UK puts Sky's brand value at $10.39 billion. Because it trades under the Comcast umbrella, Sky is not traded on the LSE and neither it is a constituent of the FTSE 100. Instead, Comcast is listed on the NASDAQ in America, and it is a component of the S&P 100 and S&P 500 respectively.
Land Rover
Land Rover is responsible for making some of the most iconic and luxurious British cars on the market. The Land Rover brand is owned by Jaguar Land Rover plc, which in turn, is owned by Indian car manufacturer Tata Motors.
Because Land Rover as a brand is incorporated under the Tata umbrella, traders seeking to take a position on Land Rover will need to speculate on Tata shares (TELCO). Tata is listed on the Bombay Stock Exchange (BSE), the National Stock Exchange (NSE) of India, and the NYSE.
Land Rover's brand value is estimated at $9.05 billion, thanks in part to the popularity of its products in the UK, and around the world.1
BT
BT – or BT Group plc – is a British telecommunications company that owns well-known brands such as EE, which is the largest mobile phone network operator in the UK and the largest 4G provider in Europe.
Other subsidiaries of BT include BT Consumer, which is the retail division of BT Group, and BT Global Services which offers security, networking and cloud sharing services to over 180 countries.
BT Group's brand value stands at $8.30 billion, and its brand popularity is largely because of its significant subsidiary holdings, and its consumer base of around 30 million in the UK.1 3
How to trade the UK's top brands
The following four steps will help you to trade the UK's top brands:
Carry out fundamental and technical analysis
Before you start thinking about how to trade the UK's top brands, it is important to carry out analysis to determine what is making a company's stock price move. Analysis – both technical and fundamental – can help you to assess whether a stock has the potential to yield a profit.
Fundamental analysis is concerned with a company's fundamental ability to generate a profit. Fundamental analysts will look at profit and loss statements, senior leadership in company and that company's business model, which can all help a trader to determine whether or not they wish to take a position on that company's stock.
Find out more about fundamental analysis
Technical indicators such as Bollinger bands and Fibonacci retracements can enable a trader to determine whether a company's stock is currently underbought or overbought, or whether it is being oversold or undersold.
Learn about technical analysis
As a result, these indicators – along with a host of others – are capable of showing a trader whether a stock is about to experience a bearish or bullish reversal, which could be a time that a trader seeks to close their current position and open a new one.
Choose a trading strategy
There are many trading strategies for you to choose from, and which one will work best for you depends on your individual trading style. For example, do you prefer profiting from small but frequent movements – in which case scalping might be for you – or do you prefer holding a position for a long time to benefit from continued upward or downward movements?
These are things for you to consider before choosing a trading strategy, and it's important that you pick a strategy that feels right for you to give the best chance of generating a profit.
Create an IG account
If you're ready to start trading the UK's top brands, then you might want to create a live account rather than a demo account. On a live account, you can trade stocks through CFDs – or you could invest in shares by using our share trading service.
Learn more about share trading with IG
You can open an IG account in minutes with no obligation to deposit funds until you want to actually place a trade. Alternatively, if you'd rather try and test your analysis first with no risk of losing money, consider opening a demo account. You'll get £10,000 in virtual funds to build your confidence and determine which market you'd like to take a position on before committing any real capital.
Open, monitor and close your first position
One you have chosen your stock, carried out the relevant analysis and selected a strategy, you're ready to start trading. To place a trade, simply open the deal ticket for your chosen market and select either the 'buy' or 'sell' option, depending on whether you want to go long or short.
From this window, you can also select whether you want to add any stops or limits to your position, which can help to minimise losses and lock-in profits. If you want to close your position, you just need to make the opposite trade to the one you used to open it – a sell position when you've gone long, and a buy position when you've gone short.
Alternatively, to place a trade with our share trading service, simply click 'buy', at which point you will take ownership of the shares at their current market value. When you want to sell your shares, you would release them onto the market, either at a profit or to cut your losses.
This information has been prepared by IG, a trading name of IG Markets Limited. In addition to the disclaimer below, the material on this page does not contain a record of our trading prices, or an offer of, or solicitation for, a transaction in any financial instrument. IG accepts no responsibility for any use that may be made of these comments and for any consequences that result. No representation or warranty is given as to the accuracy or completeness of this information. Consequently any person acting on it does so entirely at their own risk. Any research provided does not have regard to the specific investment objectives, financial situation and needs of any specific person who may receive it. It has not been prepared in accordance with legal requirements designed to promote the independence of investment research and as such is considered to be a marketing communication. Although we are not specifically constrained from dealing ahead of our recommendations we do not seek to take advantage of them before they are provided to our clients.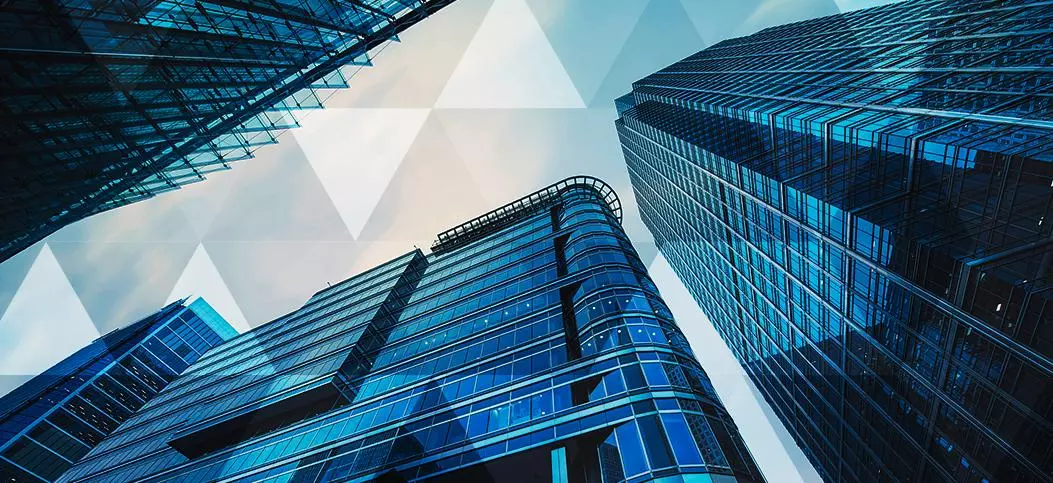 Explore the markets with our free course
Discover the range of markets you can trade on - and learn how they work - with IG Academy's online course.
Ready to trade shares?
Put the lessons in this article to use in a live account. Upgrading is quick and simple.
Trade over 13,000 popular global stocks
Protect your capital with risk management tools
Trade on 70 key US stocks out-of-hours, so you can react to news
Share IG and get rewarded
Share us, be rewarded
Earn up to $51,000 for introducing your friends to us.
Terms and conditions apply.