Learning how to read forex charts is one of the first steps you'll need to take if you're looking to get into trading. Here we explain how you can read the four main types of FX charts to help you get started.
What is a forex chart?
A forex chart is a graphical representation showing how the price of a currency pair changes over time.
The price is plotted on the vertical y-axis, while the horizontal x-axis shows time. On IG's trading platforms, you can choose how frequently new data is plotted to a chart by selecting a timeframe, ranging from tick-by-tick to a whole month.
How to read different types of forex charts
Forex traders tend to choose between four main types of chart – candlestick, HLOC, line and mountain – each of which is read in a different way. The type of chart you choose to use will come down to personal preference, though candlestick and HLOC charts are the most popular as they display much more information than line and mountain charts. Here we take a look at each type of chart in detail:
Candlestick chart
Candlestick charts display pricing information in long, thin bars that resemble candles.
Each candlestick shows price movement over the period of time you selected. For example, if you have chosen a 15-minute timeframe, each candlestick on the chart will show how prices developed over a 15-minute period; the only exception being the candlestick on the far right of the chart, which will show live prices for the current – incomplete – period.
At a glance, a green candlestick indicates that the pair moved up in price over the given period, closing at a higher price than it opened. A red candlestick, on the other hand, indicates that the pair's price decreased, closing at a lower price than it opened.
In addition, each candlestick will show four specific prices for the currency pair:
Open: the price at the start of the period
Close: the price at the end of the period
High: the highest price traded during the period
Low: the lowest price traded during the period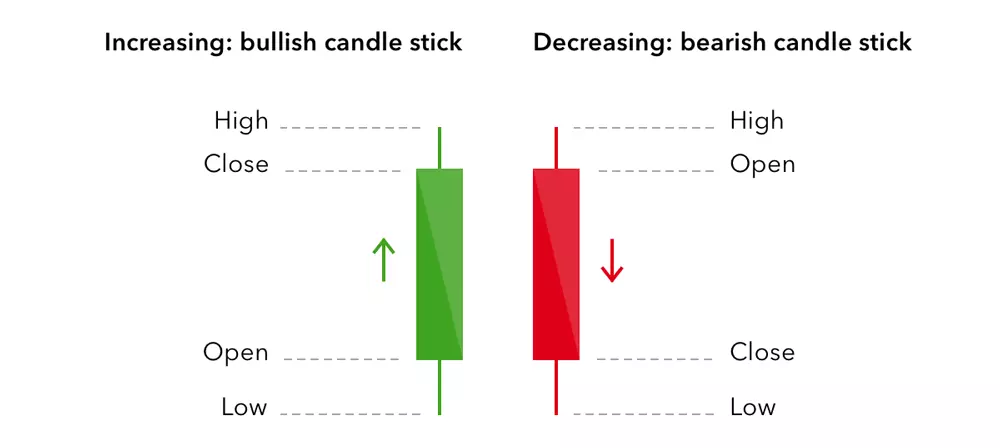 The relationship between the four prices shown by a candlestick can tell you a great deal about how market conditions are shaping up and who is driving the price action: buyers or sellers.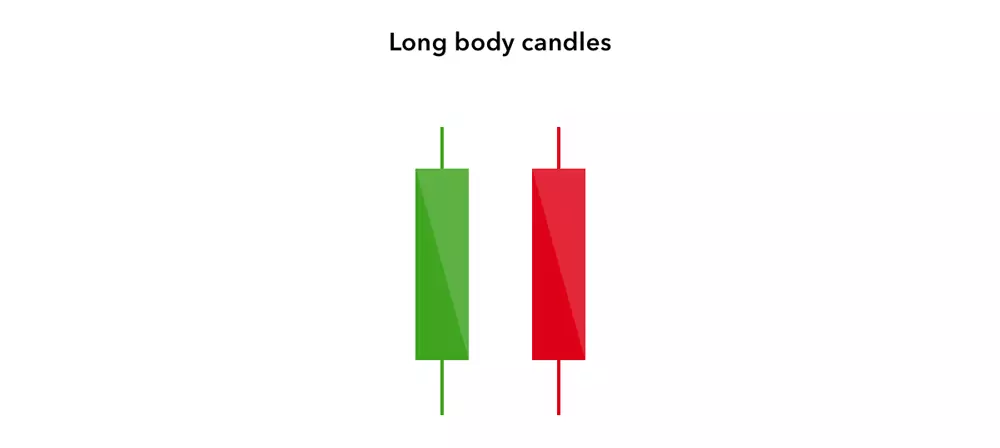 Long green candlesticks may indicate that there is a lot of buying pressure, while long red candlesticks may indicate a lot of selling pressure.

Candlesticks with long wicks but short bodies, on the other hand, indicate that there was considerable pressure in one direction, but that the price was pushed back before the end of that period.
Dojis
Occasionally, the opening and closing prices are equal (or very close together), creating a black cross known as a 'doji'. This is indicative of indecision in the market, with neither buyers nor sellers able to assert sufficient influence over the direction of price movements.

Taken on its own, a doji is a neutral pattern of little significance. However, if a doji forms within an uptrend or downtrend, it may indicate that a reversal is on the way. To learn more about chart patterns, join IG Academy.
HLOC chart (also called a bar chart)
The next type of chart, HLOC, which stands for 'high, low, open, close', shows exactly the same data as a candlestick chart, but in a different way:
The open price is represented by the notch to the left of the vertical line
The close price is represented by the notch to the right of the vertical line
The high price is the uppermost point of the vertical line
The low price is the lowest point of the vertical line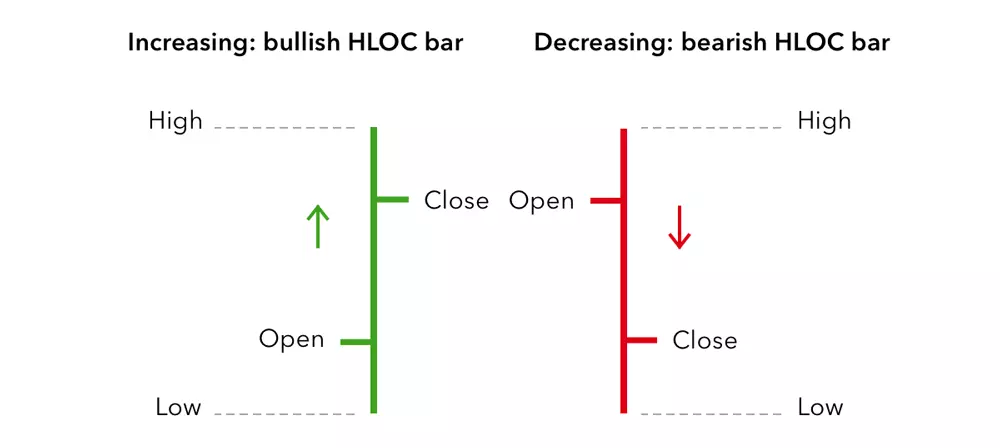 Once again, the line will be green if the currency pair moved up in price over the given period, closing at a higher price than it opened, and red if the pair's price decreased over the given period, closing at a lower price than it opened. It's possible for dojis to form when the open and close prices are equal.
Line chart
Unlike a candlestick or HLOC chart, a line chart only shows the close price for the time period you have selected (eg one hour). The close prices are joined together so that the consecutive points form a line.
This is a very simple way to display pricing data as it does not give any indication of what the high, low or open price for the period was. For this reason, many forex traders only use line charts when assessing long-term trends, where some of the additional information may not be quite as relevant as it is when trading short-term patterns.
Mountain chart
The final type of chart is a mountain chart. This is the same as a line chart, except the area beneath the line is shaded, giving it the appearance of a mountain in silhouette. Like line charts, this type is mainly used to assess long-term trends, as the high, low and open prices for each period are not on show.
Using technical analysis to forecast FX prices
While this guide has introduced the basic concepts you need to know to read forex charts, many experienced traders use more advanced technical analysis to forecast price movements.
Technical analysis involves studying historical chart patterns and formations to predict the future direction of a market's price – for example, looking at the relationship between consecutive candlesticks or HLOC bars. Find out more about technical analysis.
This information has been prepared by IG, a trading name of IG Markets Limited. In addition to the disclaimer below, the material on this page does not contain a record of our trading prices, or an offer of, or solicitation for, a transaction in any financial instrument. IG accepts no responsibility for any use that may be made of these comments and for any consequences that result. No representation or warranty is given as to the accuracy or completeness of this information. Consequently any person acting on it does so entirely at their own risk. Any research provided does not have regard to the specific investment objectives, financial situation and needs of any specific person who may receive it. It has not been prepared in accordance with legal requirements designed to promote the independence of investment research and as such is considered to be a marketing communication. Although we are not specifically constrained from dealing ahead of our recommendations we do not seek to take advantage of them before they are provided to our clients.
Explore the markets with our free course
Discover the range of markets you can trade on - and learn how they work - with IG Academy's online course.
Ready to trade forex?
Put the lessons in this article to use in a live account. Upgrading is quick and simple.
Trade over 80 major and niche currency pairs
Protect your capital with risk management tools
Analyse and deal seamlessly on smart, fast charts
Share IG and get rewarded
Share us, be rewarded
Earn up to $51,000 for introducing your friends to us.
Terms and conditions apply.