Fear and greed: emotional discipline and forex trading
Critical to forex trading success is the nurturing of your ability to control your emotions and rein in impulsive reactions. EQ is far more important than IQ in trend trading success.
Critical to forex trading success, as opposed to investing success, is the nurturing of your ability to control your emotions, rein in impulsivity and be humble in the face of the market's awesome power.
In fact, your market Emotional Quotient (EQ) is likely to be far more important to your forex profit and loss than your Market IQ since, let's face it, nobody – due respect to the technical analysts - really has the faintest idea where prices are headed, especially in the short-term.
At the core of the forex trading emotions complex are two well-known ones to traders in all markets, fear and greed. These two will be fundamental to your experience as a forex trader and mastery of them key in determining whether your outcome is successful, measured and relatively stress-free or a hair-raising trip straight to therapy.
Even the most seasoned traders struggle on a daily basis to improve their forex Market EQ, and prevailing over fear and greed is, arguably, the hardest thing you'll ever do on your way forex trading nirvana. It's simple, but far from easy.
Simple but not easy
And it's not quite as simple as it sounds. One reason: you rarely experience fear and greed separately, but rather a sometimes confusing mixture of both, along with other derivative emotions. After all, if you're like me, you are in love with your money so the prospect of risking it produces a kind of rush that brain science says can light up pathways and turbocharge the emotional response.
"Cut Short Your Loses, Let Your Profits Run On" Classical economics giant David Ricardo said this in the 17th century and thus gave birth to trend trading, part of which his immense fortune was based on. He also proposed the Theory of Comparative Advantage upon which free trade policies were founded, and the Law of Diminishing Returns which allows for the calculation of the point at which investment of money and energy is no longer worthwhile.
In the 1980s, a trio of Cambridge and Oxford graduates came up with the idea of applying the power of computers to trend trading, were wildly successful despite big-time skepticism from established money managers and spawned what is a now a $300B hedge fund sector that has, on the whole, minted money.
Computers in charge
The success of the idea of putting computers in charge of trading, aside from the enhanced ability to spot trends accurately, has also been due to the fact that it takes human nature, or emotional vagaries, out the trend trading equation.
Here at IG we spend a lot time researching our clients' trading. After all, your success is our success. So, we've analyzed the millions of trades you make across our various products, forex included, to find out the extent to which you are making money, the extent to which you are not and, most importantly, why.
The evidence is beyond compelling. Your forex trading success is overwhelmingly tied to the degree to which you can exercise emotional discipline, or to the degree to which you work to improve your Market EQ.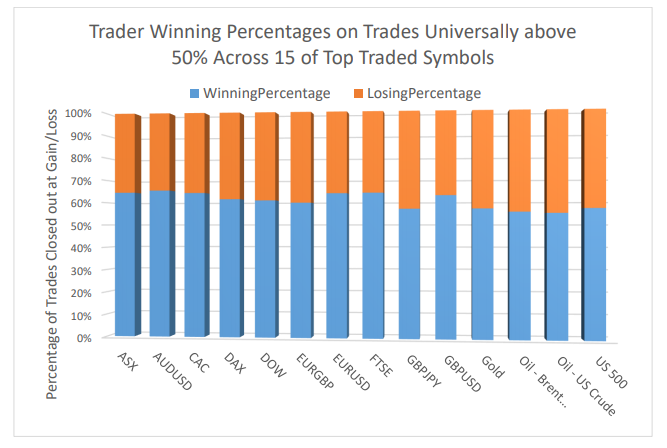 The above chart shows that IG clients overall have a quite high Market IQ. In the various products featured, clients were winners at least more than 50% of the time they placed a trade. Our IG forex clients were rock stars in the EUR/USD making winning trades well over 60% of the time.
But before you start you planning your trip to the Rock & Roll Hall of Fame, wait for the other shoe to drop. Parsing the data another way shows how IG clients' Market EQ isn't nearly has high as their Market IQ and how Market EQ is more important by far to the eventual size of their bank accounts.
The data here show that you feel pain (loss) much more acutely than the pleasure of gain (profit) and thus in practice you are executing David Ricardo's dictum in reverse: you are running with your loses and cutting your profits. Various studies have tried to show why this is, but the reason is essentially the same as why your local mob boss values fear above gratitude.
In GBP/JPY for example, you were taking profits at an average of around 15 pips, but you were taking loses of more than twice that on the downside. The phenomenon held for all products examined and your relatively low Market EQ swamped your high Market IQ in its importance to your profit and loss.
This fundamental quirk of human nature, pain avoidance at all costs, and your mastery of it is going to determine whether you can successfully execute on David Ricardo's classic dictum.
And remember:
THE TREND IS YOUR FRIEND
The information on this page does not contain a record of our trading prices, or an offer of, or solicitation for, a transaction in any financial instrument. IG Bank S.A. accepts no responsibility for any use that may be made of these comments and for any consequences that result. No representation or warranty is given as to the accuracy or completeness of this information. Consequently any person acting on it does so entirely at their own risk. Any research provided does not have regard to the specific investment objectives, financial situation and needs of any specific person who may receive it and as such is considered to be a marketing communication. Although we are not specifically constrained from dealing ahead of our recommendations we do not seek to take advantage of them before they are provided to our clients. See full non-independent research disclaimer.
Start trading forex today
Find opportunity on the world's most-traded – and most-volatile – financial market
Trade spreads from just 0.6 points on EUR/USD
Analyse with clear, fast charts
Speculate wherever you are with our intuitive mobile apps
See an FX opportunity?
Try a risk-free trade in your demo account, and see whether you're onto something.
Log in to your demo
Take your position
See whether your hunch pays off
See an FX opportunity?
Don't miss your chance – upgrade to a live account to take advantage.
Get spreads from just 0.6 points on popular pairs
Analyse and deal seamlessly on fast, intuitive charts
See and react to breaking news in-platform
See an FX opportunity?
Don't miss your chance. Log in to take your position.
Live prices on most popular markets
Prices above are subject to our website terms and agreements. Prices are indicative only. All shares prices are delayed by at least 15 mins.