What's the 2020 Bitcoin price outlook?
The digital commodity has risen and fallen over the years, but 2020 could be the year it strikes gold, with a halving on the horizon.
If you're a bitcoin owner; congratulations, it looks like you will be making bank this year.
That's because experts are predicting that the price of a Bitcoin – the pioneer cryptocurrency built on blockchain technology – is set for exponential gains later this year, thanks to a halving event that some believe will take place toward the middle of 2020.
What is bitcoin, and how did it become so popular?
But before we get into that, let's first take a look at what a bitcoin is, and how prices got to current levels.
The idea of the bitcoin was invented in 2008 by an anonymous coder named Satoshi Nakamoto, who wrote a white paper on the possibility of having a decentralised digital currency that can be sent across a peer-to-peer network without the need for a central bank or single administrator.
Bitcoin essentially came into being as an alternative to traditional cash and credit transactions, in which it was used for the payment of goods and services. The first ever bitcoin transaction took place between Nakamoto and an early adopter called Hal Finney in 2009.
Then in 2010, another early user paid an American pizzeria called Papa John's 10,000 bitcoins for two pizzas that cost US$25, in what was the world's first business transaction using bitcoin.
By 2011, non-profit organisations like WikiLeak began accepting bitcoin donations. One year later, online publishing platform Wordpress became the first commercial entity to accept bitcoin as payment.
Shortly after, bitcoin evolved to become a trading product, when the world's first digital currency exchange – the now defunct bitcoinmarket.com was launched. For the first time in 2013, bitcoin managed to achieve equal parity as the US dollar.
A series of rise and fall over the next couple of years saw bitcoin continue to trade around a more reasonable price of between US$400 and US$750 per coin, before an explosion in 2017 – as much as 1,500% increase in volume on some exchanges – lifted the price to an all-time high of US$19,783.06 per coin on 17 December 2017.
The rise of bitcoin as an investment vehicle has also led to the introduction of other cryptocurrencies over the years, including Ethereum, Litecoin, Ripple, and later this year – Facebook's Libra. Today, there are over 2,000 digital currencies on the market.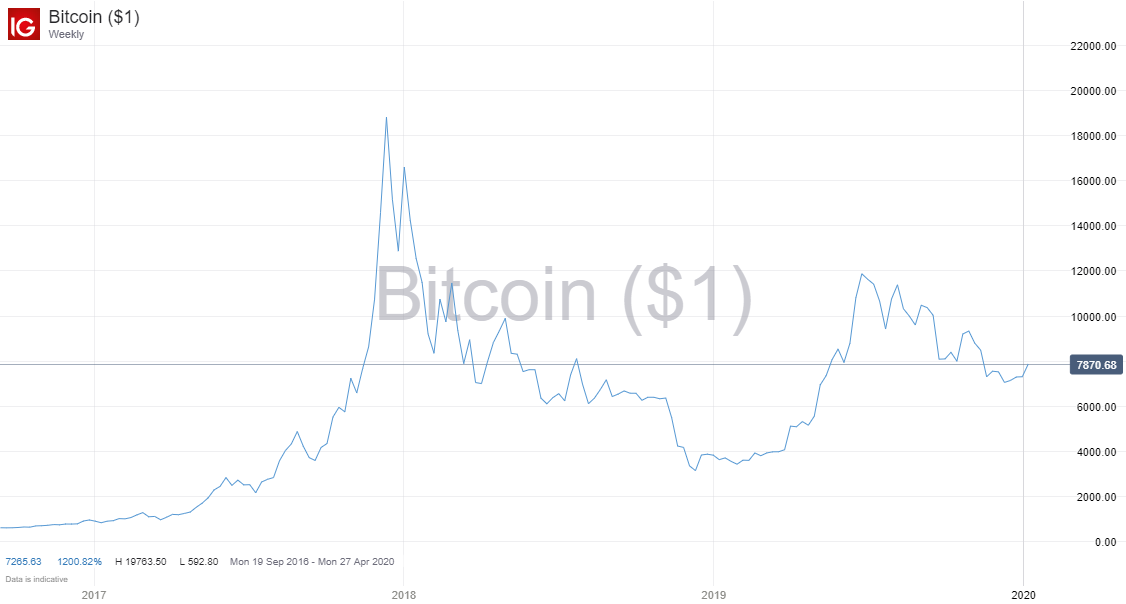 Chart of Bitcoin price from September 2016 to January 2020 (Source: IG)
What's been happening in 2019 to bitcoin price?
Following the high point of winter 2017, the bitcoin bubble began to burst, with its price falling over 50% in just four months. In April 2018, the price of one bitcoin plummeted to US$7,000, before it finally bottomed out at US$3,500 at the end of that year.
Last year, however, was much kinder to the cryptocurrency network. It opened 2019 at a paltry US$3,717, before rising to a 52-week high of US$12,701 on 28 June.
This exponential growth appeared to have come on the back of increasing mining difficulty – the rate of ease of generating one bitcoin. Around the same time that bitcoin price hit its then-52-week peak level of US$9,000 in mid-2019, its mining difficulty rose by 11.26% to 7.46 trillion, an all-time high.
Hash rates – which measures the processing power and how secure the network is – also hit a then-historic high of 74 quintillion hashes per second in August 2019. A higher hash rate means the bitcoin network is less prone to hacking, making it more valuable.
The second half of 2019 was not quite as great, as price started to drop off, eventually losing around 43.5% from the summer's peak to close the year at US$7,120 per bitcoin.
What's the forecast for bitcoin price in 2020?
The year is off to a decent start so far for the digital gold. As of 07 January, its price has risen over 14% (and nearly US$1,000) since the year's first day of trading (02 January) to the present level of US$7,885.
One observer – Antoni Trenchev, the founder of cryptocurrency lending facility Nexo, says that the bitcoin price could rise 9,000,000% to hit US$50,000 by the end of 2020.
'Our analysts have done very substantial research, and there is a hell of a ride coming up because the rewards for miners are dropping. The last time this happened, bitcoin rallied 4,000%,' Trenchev told Bloomberg TV.
Trenchev is referring to an upcoming bitcoin halving event that could take place later this year. According to bitcoinclock.com, a website which counts down to the next event, the halving could take place as early as 11 May 2020.
Bitcoin halving is when the number of new bitcoins being issued are cut by 50%. New bitcoins are issued by the bitcoin network every ten minutes. It is said that this number is reduced by half every four years.
The number of new bitcoins issued every ten minutes for the first four years (2008 to 2012) of bitcoin's existence was 50. In 2012, the number of new bitcoins issued every ten minutes dropped from 50 bitcoins to 25. In 2016, it dropped from 25 to 12.5. In this year's halving, it will drop from 12.5 to 6.25.
With a lower supply of bitcoins and demand still steady, the price is expected to rally dramatically. After the first halving in 2012, bitcoin price skyrocketed 930% in the preceding months. The halving of 2016 helped to lay the foundations for the impending price rallies of 2017.
Even if the price does not come anywhere close to that, a target of US$10,000 – or at least 25% above the current price – looks highly possible, said UK asset analyst Bill Charison.
He noted that the charts of both gold and bitcoin are 'eerily similar', and if bitcoin follows the trajectory of gold closely, the currency could trade in the five figures as early as February, leaving a post-halving price inflation firmly in sight.
With mining difficulty and hash rate currently at a record high of 13.8 trillion and 98.67 EH/s respectively, the bull case for bitcoin is looking strong again.
Stay tuned to IG.com for all the latest updates on the Bitcoin network.
The information on this page does not contain a record of our trading prices, or an offer of, or solicitation for, a transaction in any financial instrument. IG Bank S.A. accepts no responsibility for any use that may be made of these comments and for any consequences that result. No representation or warranty is given as to the accuracy or completeness of this information. Consequently any person acting on it does so entirely at their own risk. Any research provided does not have regard to the specific investment objectives, financial situation and needs of any specific person who may receive it and as such is considered to be a marketing communication. Although we are not specifically constrained from dealing ahead of our recommendations we do not seek to take advantage of them before they are provided to our clients. See full non-independent research disclaimer.
Act on crypto opportunity
Discover the benefits of trading CFDs on cryptocurrencies with us:
You don't need to own any cryptocurrency
Trade on bitcoin, ether and litecoin pairs
Speculate on rising and falling markets
See opportunity on cryptos?
Try a risk-free trade in your demo account, and see whether you're on to something.
Log in to your demo
Take your position
See whether your hunch pays off
See opportunity on cryptos?
Don't miss your chance – upgrade to a live account to take advantage.
Trade on 10 major cryptocurrencies, crosses and our Crypto 10 Index
Analyse and deal seamlessly on fast, intuitive charts
See and react to breaking news in-platform
See opportunity on cryptos?
Don't miss your chance. Log in to take your position.
Live prices on most popular markets
Prices above are subject to our website terms and agreements. Prices are indicative only. All shares prices are delayed by at least 15 mins.