Tesla stock falls after missing delivery goals
The carmaker stumbles after producing fewer cars than expected.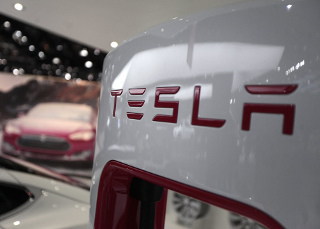 Source: Bloomberg
Tesla stock is down after missing its fourth-quarter (Q4) goals for delivering cars. The company's stock has dropped as much as 9% after the disappointing news.
Tesla's falling numbers
The carmaker delivered 90,700 of its vehicles during Q4, an 8% surge for Tesla. However, the number was 2000 less than investors expected. The company produced 63,150 Model 3's, which was also a lower amount than the 63,700 analysts wanted.
Wall Street is closely watching that specific model because chief executive officer (CEO), Elon Musk, pledged that the corporation would increase manufacturing of the automobile from 100,000 to 500,000 a year.
Tesla also revealed that it's cutting prices on its cars by $2000 to offset the reduction in the $7500 US tax credit for purchasing the electric vehicles. The company vowed that the changes will keep the automobiles at an affordable price.
'Combined with the reduced costs of maintenance and of charging a Tesla versus paying for gas at the pump -- which can result in up to $100 per month or more in savings -- this means our vehicles are even more affordable than similarly priced gasoline vehicles,' said the auto company in a statement.
Optimism for Tesla in 2019
Tesla promised to ramp up production in the new year to meet its delivery goals in the future.Despite the disappointing numbers, the carmaker touted its progress from 2018.
'Tesla's achievements in 2018 likely represent the biggest single-year growth in the history of the automotive industry,' noted the company.
Financial experts like investment researcher, Garrett Nelson, said that Tesla will continue to grow over the course of 2019.
'Tesla shares tend to a have a lot more noise and volatility than most, but we think investors who are willing to take a longer-term view of the story will be rewarded handsomely and continue to believe Tesla is on track to post one of the market's most robust year-over-year earnings increases in 2019,' said Nelson.
See an opportunity to trade?
Go long or short on more than 15,000 markets with IG.
Trade CFDs on our award-winning platform, with low spreads on indices, shares, commodities and more.
Live prices on most popular markets
Prices above are subject to our website terms and agreements. Prices are indicative only. All shares prices are delayed by at least 15 mins.