Royal Mail Q3 results: shares down 13% amid narrowing profit forecast
The UK postal service company recorded a disappointing set of results that saw its share hit a record low as email continues to kill letter delivery volumes.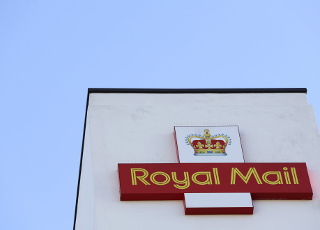 Source: Bloomberg
Royal Mail's share price continued its descent on Tuesday following its decision to cut the upper range of its profit forecast in Q3 trading update after the company suffered a tough end to 2018.
The FTSE 250 company is unlikely to get much of a reprieve in the new year, with letter volumes sent through the postal service expected to fall significantly more than previously forecast, Royal Mail said in its recent trading update.
'Due to our letters performance to date, we expect addressed letter volume declines, excluding elections, to be in the range of 7-8% for 2018-19,' Royal Mail Group CEO Rico Back said.
'While the rate of e-substitution remains in line with our expectations, business uncertainty is impacting letter volumes,' Back added.
Royal Mail results: key figures
Despite the disappointing set of results, the postal service noted that its recent trading performance remains broadly in line with expectations, with the Royal Mail forecasting it will deliver adjusted group operating profit (before transformation costs) of around £500 - £530 million in its 2018-19 fiscal year.
Royal Mail's group revenues were up 2% and despite a major decline in letter volumes, the postal service saw a 6% increase in parcel volumes and revenue.
'We have had a busy Christmas season,' Back said. 'In the UK we recruited 23,000 seasonal workers and opened six temporary parcel sorting centres to make sure we had the capacity to handle the high volumes of parcels and cards through our network.'
'In the December trading period alone we handled 164m parcels, up 10% compared with last year,' he added. 'Our people delivered a great Christmas.'
Royal Mail Q3 results drag its share price lower
Many UK stocks have performed poorly over the last few months, but Royal Mail's performance has been exceptionally bad, with its share price being hit hard by profit warnings and prolonged uncertainty over Brexit.
Consequently, the postal service has seen its share price fall by as much as 52% since May last year, with Royal Mail's stock falling as much as 13% on Tuesday following a disappointing Q3.
As it stands, Royal Mail's share price sits at 268p as of 15:00 GMT.
Live prices on most popular markets
Prices above are subject to our website terms and agreements. Prices are indicative only. All shares prices are delayed by at least 15 mins.