Gain an edge in trading
Join us for an evening of expert insight that will help you become a better and smarter trader. Learn about strategies that will enhance your performance when trading markets like forex, commodities, shares and more.
Contact us on +971 (0) 4 5592108 or sales.ae@ig.com about opening an account. Our customer service team is available 24 hrs a day, except for Saturday from 1:00am to 11:00am (Dubai time).
Trading conference details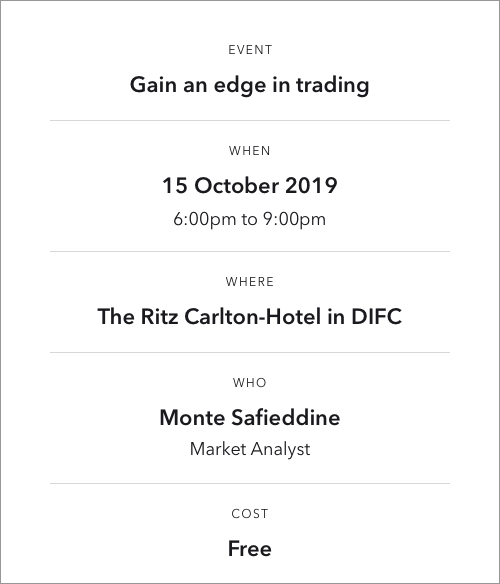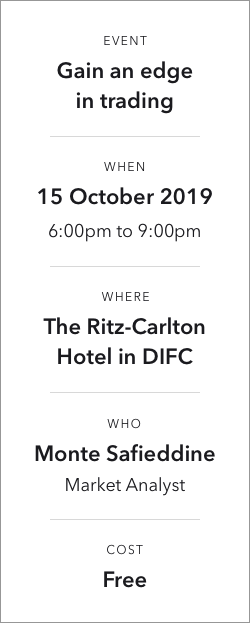 Reserve your free seat now
The event has ended.
Sign up for our mailing list to stay informed about our upcoming events.
Be the first to know about upcoming events
Agenda
Let our experts show you different trading strategies, powerful techniques and the latest financial trends to make you a better trader.
6:00pm - 6:30pm
Registration and F&B will be served
6:30pm - 7:15pm: The Trading Field - Psychology, Price, & Products
Overcoming our number one flaw
Mapping price, seeing is believing
Theory of everything: shopping for your product
7:30pm - 8:00pm: Managing Risk, Size, & Strategies
The ideal risk/reward balance whether you're trading FX, commodities, cryptocurrencies, indices or energy.
8:15pm - 8:45pm: Shifting Structures, Sentiment, & Studying the Daily Market Report
Retain your insight of the latest events effecting the financial markets and the strategies for trading it, be it central bank easing, trade war, cryptocurrency volatility, or currency devaluations.
Undertsand IG's Daily Market Report with it's technical overview, strategies, retail and institutional sentiment, and fundamental outlook.
Location
The Ritz Carlton Hotel, DIFC
15 October 2019, 6:00 pm
Monte Safieddine
With a background in economics, research, programming, and statistics, Monte entered the financial industry nearly a decade ago after moving to Dubai. He initially worked with hedge fund Square Mile Investment, arbitraging between exchanges in the East and the CME. He later settled in FX brokerage industry working in roles that involved analysis, risk, and database building. Monte receieved his Masters in Economics from Wayne State University, where he also taught undergraduate students and completed multiple PhD level courses. He currenlty works as a Market Analyst for IG, authoring works that include IG's Daily Market Report.