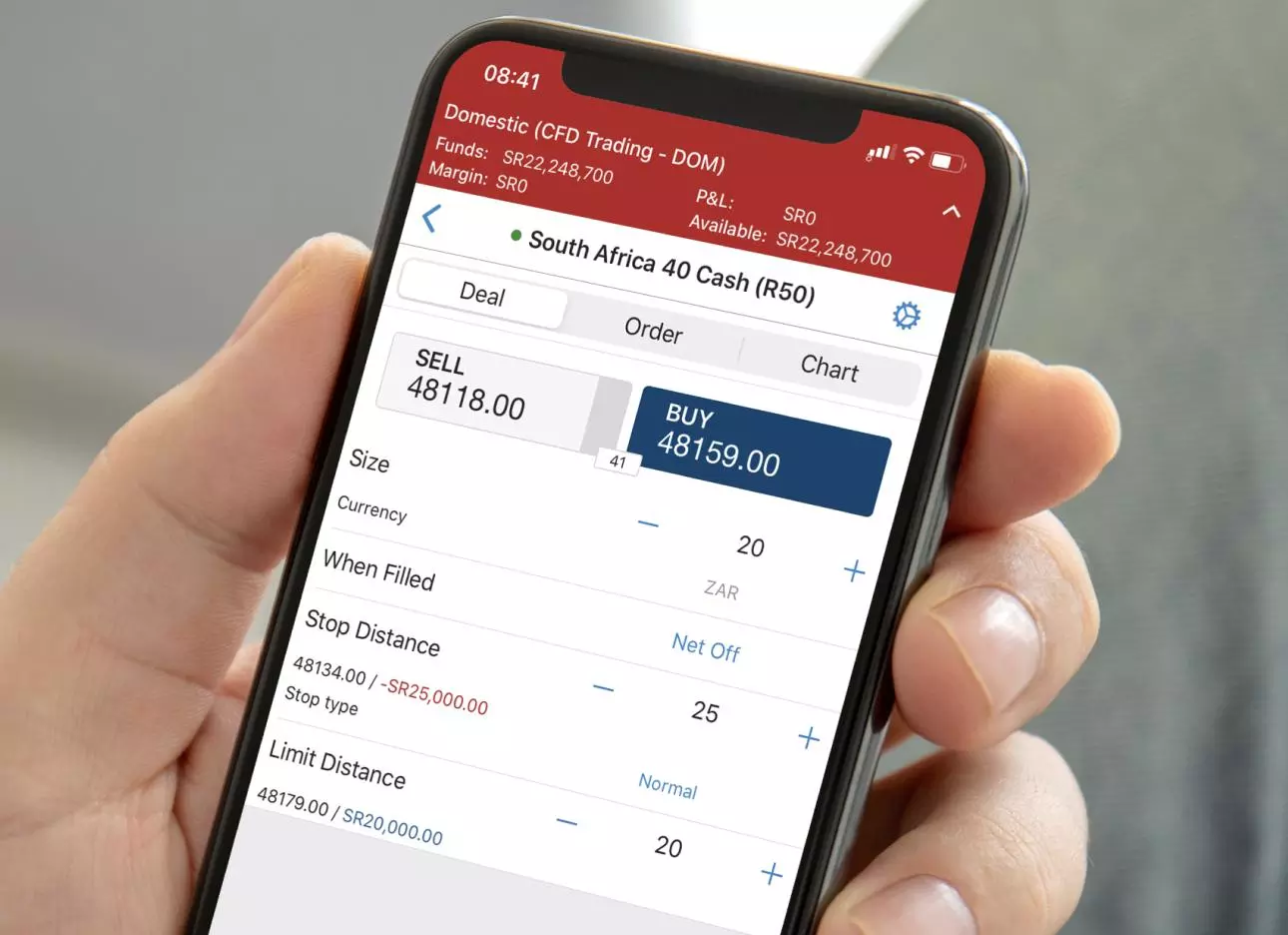 Benefits and risks of CFD trading
Buying or selling CFDs means you're agreeing to exchange the difference in price of an asset from when your position is opened to when it's closed. Find out the benefits, as well as the risks, of CFD trading – including leverage and short selling.
Interested in trading CFDs with us?
Make your capital go further with leverage
When trading CFDs, you could stretch your capital further, as you only have to deposit a fraction of your trade's full value to open a position. The deposit you'll have to put down is called a margin. While this lowers the cost of opening a trade, it can also be very risky, as it'll amplify your losses. This is because CFD profits and losses are calculated on the full size of your trade. Always take sufficient steps to manage your risk.
How much you'll need to deposit depends on the size of your position and the margin factor for your chosen market. For example, many of our share CFDs have a margin of 20%, most major indices have a margin of 5%, cryptos typically have a margin of 50%, and most major forex pairs have a margin of 3.33%. Learn more about our CFD margin requirements.
For an easy way to find out the margin requirement for your trade – as well as the potential profit or loss – try out our CFD calculator . An example would be if you decided to trade CFD shares on BHP, which has a margin factor of 20%. In this case, a position worth R1000 would only require a deposit of R200.
However, it's important to remember that your total profit or loss is based on the full size of your position, not your margin. So, in our previous example of BHP share CFDs, your potential for loss or profit would be based on the full R1000, even though you only paid R200 to open the position.
Go short or long
When you trade CFDs on our platform, you'll see two prices listed: the 'buy' price and the 'sell' price. You'll trade at the buy price if you think that the market is going to go up in price (known as going long), and the sell price if you think it is going to go down in price (known as going short).
If your prediction is correct, you will make a profit based on your overall position (not the initial margin amount you paid to open the trade), which can exceed the initial cost of your margin. However, if your prediction is incorrect and you make a loss, that loss is also calculated based on your total position size. This means that your losses can far outweigh the margin cost, so always ensure you are trading within your means and take appropriate risk management steps.
Trade a huge range of markets
With us, you can trade CFDs on more than 17,000 markets. This includes over 17,000 shares and ETFs, 80 of the world's top indices, 30 commodities, more than 10 cryptos, all major, minor and exotic forex pairs and more.
You can even trade some markets outside of trading hours, to make the most of economic and political events and announcements. We have some of the best pre-market and after-hours offerings available, so you can trade long before and after the main market session on our All Session stocks.
Just keep in mind that the market's opening price may differ from its out-of-hours price and trades opened and not closed by 10pm (UK time) will incur overnight funding charges.
Mirror trading the underlying market
CFDs are designed to mimic trading their underlying market fairly closely. This means you simply buy and sell CFDs as you would the underlying asset. For example, buying an Apple share CFD is the equivalent of buying a single share in Apple – if you want to buy the equivalent of 2000 Apple shares, you'd buy 2000 Apple CFDs.

Buying or selling a forex CFD, meanwhile, is equivalent to buying a certain amount of base currency by selling the equivalent amount of quote currency. These are called lots and there are different sizes of lots for forex: standard, mini, micro and nano. The greater the lot size, the more money you'll need to put down to open a position. So, buying a single CFD on the GBP/USD exchange would give you the same exposure as buying £100,000 in US dollars for a standard lot, but £1000 with a mini lot. Find out more about lot sizes for forex.
With commodities and indices, the points a market moves are directly correlated to the real-time price of that index or commodity.
Access DMA
If you're an advanced trader, you can get direct market access (DMA). Our DMA offering enables you to see and interact with the order books of stock exchanges. Instead of trading at the buy and sell prices offered by us, you can see all the available bid and offer prices at any time and trade at market prices you choose.
Using DMA means there's no spread to pay because these trades are charged on commission. But, while DMA can be a powerful tool, there's no guarantee that you'll find prices that are better than the prices we offer.
DMA is only recommended if you're an advanced trader with plenty of experience, due to the risks and complexities involved. Read about the risks of DMA before you consider this option.
Is there an expiration date on a CFD trade?
Most CFD trades don't have an expiry. However, it's important to remember that all spot positions left open after 10pm UK time will incur overnight funding fees. This is slightly different if you're trading CFD futures – which allow you to speculate on the price that the underlying asset will be on a specific date, at which point the trade will expire. You won't incur overnight funding on your CFD futures trades.
Can you hold a CFD position overnight?
Yes, you can hold CFD positions overnight. However, you'll be charged an overnight funding charge on any positions still open after 10pm (UK time). This fee covers the capital you've effectively borrowed from us and reflects the cost of holding your position open.
What are the commission rates on CFDs?
For most CFD trades, the cost of opening your position is covered in the spread. This means the buy and sell prices already include any charges additional charges. However, for share CFDs you will pay a commission instead of our spread, which means that the buy and sell prices match the underlying market price as it is in real-time.
What is the minimum contract size for a CFD trade?
CFD trades are standardised into lots, but each market has its own minimum number of contracts that aim to mimic how the asset is traded on the live underlying market.
For example, for share CFDs, the contract size is usually the equivalent of one share of the company you're trading. For forex, there are standard lots which equal 100,000 units of the base currency, or mini lots that are equal to 10,000 units of the base currency.
Can you trade both rising and falling markets with CFDs?
Yes. Trading CFDs means you can take a position on markets that are both rising and falling in value. You can 'buy' an asset in the hope that its price will rise (going long), or 'sell' the asset in the hope that its price will fall (going short).
Always take steps to manage your risk, as CFDs come with a high risk of losing money.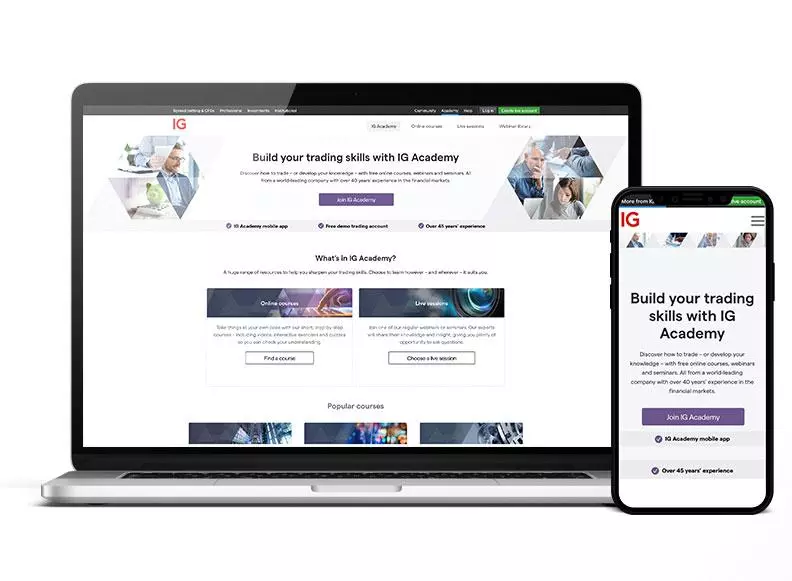 Develop your knowledge of CFD trading
Learn more about CFD trading and test yourself with IG Academy's range of online courses.
A guide to CFD trading: spreads, deal sizes, durations, and profit and loss
Learn about risk management tools including stops and limits
Browser-based desktop trading and native apps for all devices