FAANG Index Preview: Apple, Facebook, and Amazon Share Price Outlook
US corporate earnings will hits its peak in the week ahead, as several of the S&P500's major tech companies deliver their quarterly results.
Company previews: Key issues and themes
Below we examine the key issues and themes impacting Amazon, Alphabet, Facebook, Apple, Facebook and Tesla.
Here's the key data you need to know:
| | | | | | |
| --- | --- | --- | --- | --- | --- |
| Company | EPS Est. | Current P/E | 1Y Tot Return | Market Cap. | Reporting Date |
| Amazon | $12.72 | 79.98 | 80.9% | $US1.68T | 29/04/2021 |
| Alphabet | $18.05 | 46.64 | 39.2% | $US1.55T | 27/04/2021 |
| Apple | $0.98 | 36.46 | 96.9% | $US2.25T | 28/04/2021 |
| Facebook | $2.60 | 29.81 | 62.7% | $US855.6B | 28/04/2021 |
| Tesla | $0.80 | 986.50 | 416.8% | $US700.1B | 26/04/2021 |
Amazon share price: 1-year return +80.9%
Amazon is expected to reveal a drop in both revenues and EPS for the quarter, with EPS forecast to come in at $12.72 and revenues at $US104.55 billion. Although the projected drop in profits, along with the high-multiple and surging share price since the pandemic, Amazon shares remain a strong buy for analysts, with the company's share price trading at a big premium to the current $4038.36 consensus target price.
Once again, it's expected that Amazon will continue to show the benefits of both the changing consumer preferences in online shopping, as well as the last quarter's latest fiscal stimulus package from the Biden administration, with the company's top-line forecast to be driven by 40% growth from Amazon Web Services.
Alphabet share price: 1-year return +39.2%
Analysts are tipping a drop in revenue but an increase in EPS to US$18.05 for Alphabet this quarter. As another company that benefitted during the pandemic as people spent more time at home and working remotely, analysts' consensus price estimates remains at a solid premium over market price at US$2497.90 per share.
While a beneficiary of the so-called "stay-at-home-trade", the reopening of the US economy is expected to underpin Alphabet's revenue in the past quarter: a rebound in spending by travel and hospitality companies is expected to drive growth in Google's core advertising revenue.
Apple share price: 1-year return +96.9%
The market is forecasting a weaker quarter for revenues and earnings for Apple, with revenues tipped to come in at US $77.12b for the quarter, and EPS to come in at US$0.989 per share. Despite the drop in the company's financials comes despite the company's share price trading at a reasonable discount to consensus estimate, with the recent drop in Apple shares trading well below the US $151.12 price target.
The focus this reporting period will be directed towards the company's Mac's and iPhone sales, thanks to a seasonal corporate boost, along with the tailwind effects of US President Biden's direct payments to households. Interest will also be in what the company says about the developing global microchip shortage, and what impact that's having on its bottom line.
Facebook share price: 1-year return +62.7%
Analysts are forecasting a significant reduction in revenues and EPS this quarter for Facebook, with EPS tipped to come-in at US$2.60 per share, and revenues to drop to US$23.7 billion. Nevertheless, the company remains an analyst favourite, trading at a considerable discount to its consensus price target at US$338.82 per share.
The primary interest for the market this reporting period for Facebook will remain user activity and ad impressions across the companies suite of apps. Benefitting from the Northern Hemisphere winter and continue social restrictions throughout US and Europe, user engagement and advertising revenues are expected to have grown strongly in the past quarter, with engagement on Facebook alone up potentially by more than 30%.
Tesla share price: 1-year return +416.8%
Tesla is tipped to deliver roughly flat revenue and EPS this quarter compared to last. After the company's share's astronomical rise in the past 12-months, a shift in market sentiment has seen the share price fall from record highs recently. Even in light of this, Tesla share's remain trading at a considerable premium to analyst consensus price target, which currently stands around US$629.26.
As always, the market will be homing-in on delivery numbers and forecasts, after Tesla reported a new record of 185,000 deliveries last quarter – a notch above the 180,000 analysts had been expecting. As always, this earnings period won't be without some controversial issues, with analysts likely to probe Tesla's mercurial CEO Elon Musk on recent deadly accidents related to Tesla vehicles so-called "self-drive" function.
UPDATE: Tesla on Monday reported total Q1 revenues of $10.38 billion against EPS (non-GAAP) of 93 cents per share, well ahead of Wall Street's 80 cents per share estimate, according to Bloomberg.
FAANG+ Index: Technical Analysis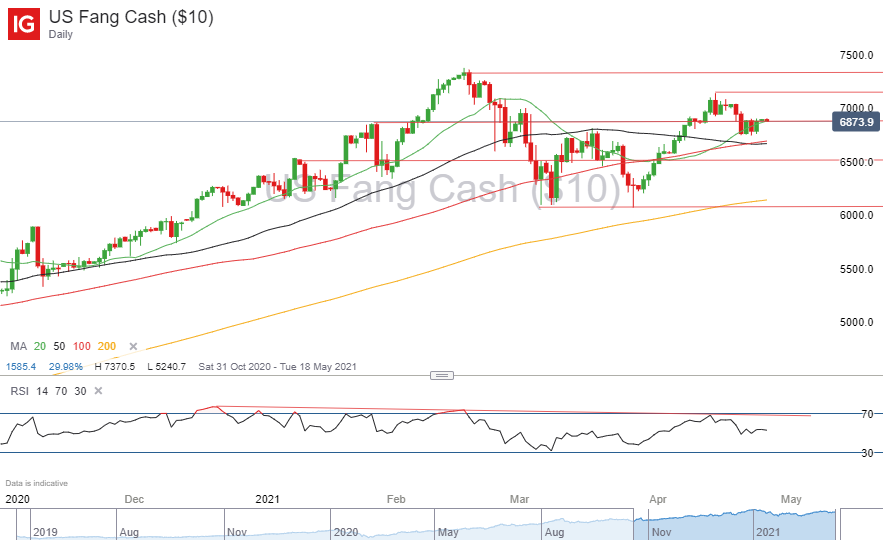 After surging during the post-pandemic as a major beneficiary of the so-called "stay at home trade", the NYSE FANG+ Index has recently began a period of consolidation, as surging global bond yields weighed upon duration sensitive assets.
With bond market volatility diminishing, a solid profit outlook has helped the index recover, with price momentum and the primary uptrend for it remaining clearly skewed to the upside. Coming into the tech reporting period, a break of current resistance at 6870 will open up a test of resistance at 7145, before all-time highs at 7360 comes into view. In the event of a spate of disappointing results, price support just above 6500 will be closesly eyed.
Trade US-listed tech stocks long and short with IG today
Create an IG account or log in to your existing account to get started now.
IGA, may distribute information/research produced by its respective foreign affiliates within the IG Group of companies pursuant to an arrangement under Regulation 32C of the Financial Advisers Regulations. Where the research is distributed in Singapore to a person who is not an Accredited Investor, Expert Investor or an Institutional Investor, IGA accepts legal responsibility for the contents of the report to such persons only to the extent required by law. Singapore recipients should contact IGA at 6390 5118 for matters arising from, or in connection with the information distributed.

The information/research herein is prepared by IG Asia Pte Ltd (IGA) and its foreign affiliated companies (collectively known as the IG Group) and is intended for general circulation only. It does not take into account the specific investment objectives, financial situation, or particular needs of any particular person. You should take into account your specific investment objectives, financial situation, and particular needs before making a commitment to trade, including seeking advice from an independent financial adviser regarding the suitability of the investment, under a separate engagement, as you deem fit.

No representation or warranty is given as to the accuracy or completeness of this information. Consequently, any person acting on it does so entirely at their own risk. Please see important Research Disclaimer.
Please also note that the information does not contain a record of our trading prices, or an offer of, or solicitation for, a transaction in any financial instrument. Any views and opinions expressed may be changed without an update.
Look closer this US earnings season
Discover opportunities with using our award-winning technology* and range of educational resources.
Get expert analysis on upcoming announcements
Set automated alerts to never miss an opportunity
Choose from 12,000+ shares with our stock screener
* Based on the Investment Trends 2018 Singapore CFD & FX Report based on a survey of over 4,500 traders and investors. Awarded the Best Online Trading Platform by Influential Brands in 2022.
Live prices on most popular markets
Prices above are subject to our website terms and agreements. Prices are indicative only. All shares prices are delayed by at least 15 mins.
Prices above are subject to our website terms and agreements. Prices are indicative only. All shares prices are delayed by at least 20 mins.