US 2018 trade deficit rises 19% to 10-year high
The US trade deficit reached a record high in 2018.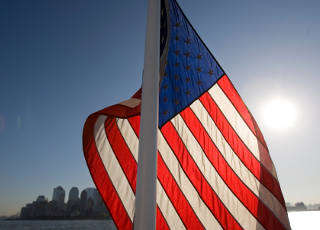 Source: Bloomberg
The US 2018 trade deficit rose to $621 billion, the largest in the nation's history. The trade gap report is an expansion of the December 2018 imbalance.
US trade deficit with other nations: key figures
| | |
| --- | --- |
| China | $419.2 billion |
| European Union | $169.3 billion |
| Mexico | $81.5 billion |
Why did the US trade deficit in 2018 rise?
The US trade deficit rose because the growing US economy and strong US dollar meant Americans bought more foreign-made goods. Despite US President, Donald Trump, wanting to implement an 'America First' policy to reduce the trade gap, Americans bought more goods from overseas after Trump imposed tariffs on $200 billion worth of Chinese imports into the US. Trump bragged in the summer of 2018 about raising tariffs on Twitter.
'I am a Tariff Man. When people or countries come in to raid the great wealth of our Nation, I want them to pay for the privilege of doing so,' tweeted Trump.
China retaliated by putting taxes on American imports and a trade war ensued. The trade gap then between the two nations ballooned to $419.2 billion by the end of 2018. The US and China are now trying to negotiate a deal to end the tariffs.
The US not only had a trade gap with China, but also with Mexico and the European Union(EU). The trade imbalance with Mexico is $81.5 billion, while the goods imbalance with the EU totals $169.2 billion.
How will the US trade deficit be in 2019?
The growing trade gap concerns Capitol Economics, a US macroeconomics research company. In a note, the company warned that the deficit could impact the Q1 gross domestic product (GDP).
'Trade now looks set to be a more serious drag in the first quarter. With real consumption growth also set to slow following weakness in December, the upshot is that GDP growth remains on course to slow to only around 1.5% annualised in the first quarter,' wrote Capital Economics in a note.
William Reinsch, a former US Commerce Department official, noted that no matter how many tariffs Trump imposes on Chinese imports, other economic factors like the US national debt will always be part of the trade imbalance with China.
'Macroeconomics end up ruling. You can't wish it away. You can't tariff it away', said Reinsch.
See an opportunity to trade?
Go long or short on more than 16,000 markets with IG.
Trade CFDs on our award-winning platform, with low spreads on indices, shares, commodities and more.
Live prices on most popular markets
Prices above are subject to our website terms and agreements. Prices are indicative only. All shares prices are delayed by at least 20 mins.