Nike introduces self-tying basketball shoes
Nike is launching a brand of auto-lacing basketball shoes in February.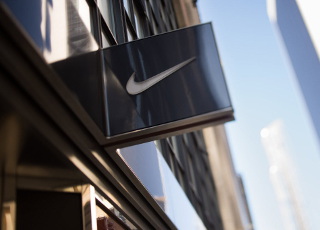 Source: Bloomberg
Nike is trying to revolutionise footwear again with a self-tying sneaker that can be opened by a customer's smartphone. The Adapt BB shoes will be available for global purchase on February 17.
Back to the Future with new Nike shoes
Nike's Adapt BB shoes mix fashion and tech. The company is introducing sneakers that are similar to the 2016 HyperAdapt 1.0 shoes inspired by the 1980s film 'Back to the Future'. In that movie, the main character wore auto-lacing footwear. The Adapt BB shoes build on the technology of the previous sneaker by adding an app that lets users adjust their laces, which are replaced with cables.
The shoe is more like a smartphone than a sneaker, with batteries in a tiny box in the sole. The Adapt BB's battery can last for two weeks and the shoe can be charged on a mat. There are also buttons on the sneakers to loosen or tighten them to the customer's comfort level. Nike touts the shoe as one of the most comfortable on the market that will even help basketball players improve their performance.
'During a basketball game, the athlete's foot changes, and the ability to quickly change your fit by loosening your shoe to increase blood flow and tighten again for performance is a key element that we believe will improve the athlete's experience,' said Nike in a statement.
Many National Basketball Association (NBA) stars that have contracts with Nike are already wearing the shoe after testing it out in August 2018. Boston Celtics forward, Jayson Tatum, said that he liked the Adapt BB's when he first wore them.
'I didn't think about the shoe and I think that's what you want when you're on the court, you just want to focus on the game,' said Tatum.
Will customers buy the Adapt BB shoe?
Loyal Nike customers, or 'sneakerheads', may be eager to buy the $350 shoe, but will the average consumer spend so much on a smart sneaker? The HyperAdapt shoes sold well as limited edition shoes two years ago and smart technology in everyday items is now common. The Adapt BB's could become a successful part of Nike's brand that helps the company have another positive earnings report and introduce a new way for basketball players to wear their shoes while playing the sport they love.
See an opportunity to trade?
Go long or short on more than 15,000 markets with IG.
Trade CFDs on our award-winning platform, with low spreads on indices, shares, commodities and more.
Live prices on most popular markets
Prices above are subject to our website terms and agreements. Prices are indicative only. All shares prices are delayed by at least 20 mins.