Airport security strikes force Lufthansa to cancel hundreds of flights
News that eight German airports will suffer security staff strikes on Tuesday has led to the airline having to cancel more than 400 flights.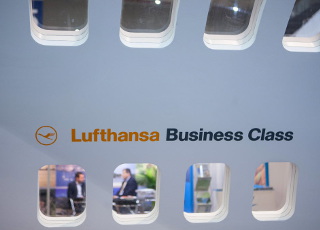 Source: Bloomberg
Deutsche LufthansaDeutsche Lufthansa will have to cancel 414 flights because of a security staff strike that will take place across eight major airports in Germany on Tuesday, including Frankfurt and Munich.
Because of the strikes, Germany's largest airline will have to cancel 386 flights in Europe and 28 intercontinental flights too, according to a statement issued by Lufthansa on Monday.
Thankfully for Lufthansa, the news has not hurt its share price, with the airline actually seeing its stock witness a small uptick on Monday. The German airline's share price rose as much as 2% in the early morning trading, with it hovering at €20.11 levels as of 12:00 GMT.
German trade union pushes for higher wages
Airport security staff in Frankfurt, Munich, Hamburg, Hanover, Bremen, Dresden, Leipzig/Halle and Erfurt all have planned go on strike from 2am to 8pm on Tuesday, with the German trade union Ver.di hoping the walk out will result in higher wages for its members.
'Because employers have shown no willingness to make a better offer, the extension of warning strikes has become necessary,' Ver.di board member Ute Kittel said in a statement on Monday, with talks set to commence on January 23.
More cancellations likely for Lufthansa
In the German airline's statement, the company mentioned that cancellation figures did not yet include its flights coming out of Munich airport and, therefore, the final number of flights cancelled is likely to rise.
'These are no longer just warning strikes but completely disproportionate,' Managing Director of the BDL Employers' Group Matthias von Randow said Monday.
'The wages of security control personnel have increased by almost 50 percent since 2011,' he added.
See an opportunity to trade?
Go long or short on more than 15,000 markets with IG.
Trade CFDs on our award-winning platform, with low spreads on indices, shares, commodities and more.
Live prices on most popular markets
Prices above are subject to our website terms and agreements. Prices are indicative only. All shares prices are delayed by at least 15 mins.