How to create a successful trading plan
Learn how to create a successful trading plan and put it into action. With a smart plan, you'll have guidance on which market to trade, when to take profits, when to cut your losses, and where other opportunities could exist.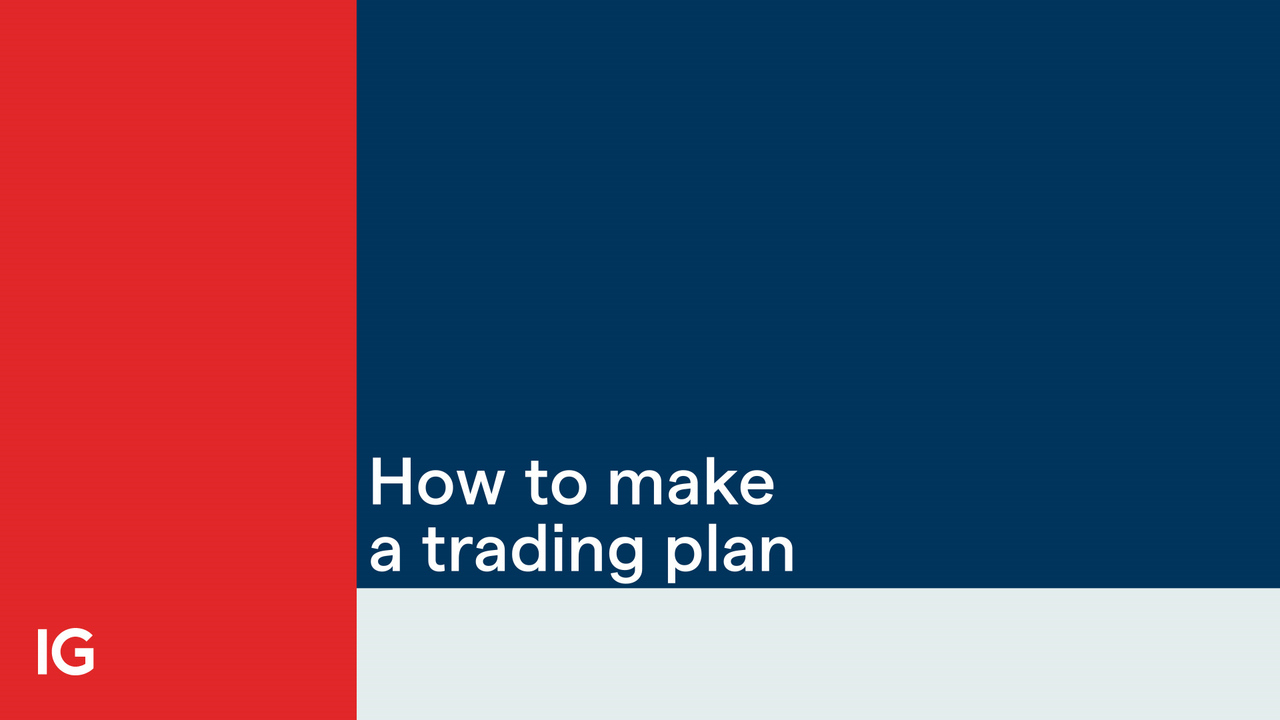 What is a trading plan?
A trading plan is a comprehensive decision-making tool for your trading activity. It helps you decide what, when and how much to trade. A trading plan should be your own, personal plan – you could use someone else's plan as an outline but remember that someone else's attitude towards risk and available capital could be vastly different to yours.
Your trading plan can include anything you would find useful, but it should always cover:
Your motivation for trading
The time commitment you want to make
Your trading goals
Your attitude to risk
Your available capital for trading
Personal risk management rules
The markets you want to trade
Your strategies
Steps for record keeping
A trading plan is different to a trading strategy, which defines precisely how you should enter and exit trades.
Learn more about trading strategies with IG Academy.
Why do you need a trading plan?
You need a trading plan because it can help you make logical trading decisions and define the parameters of your ideal trade. A good trading plan will help you to avoid making emotional decisions in the heat of the moment. The benefits of a trading plan include:
Easier trading: all the planning has been done upfront, so you can trade according to your pre-set parameters
More objective decisions: you already know when you should take profit and cut losses, which means you can take emotions out of your decision-making process
Better trading discipline: by sticking to your plan with discipline, you could discover why certain trades work and others don't
More room for improvement: defining your record-keeping procedure enables you to learn from past trading mistakes and improve your judgment
How to create a trading plan
There are seven easy steps to follow when creating a successful trading plan: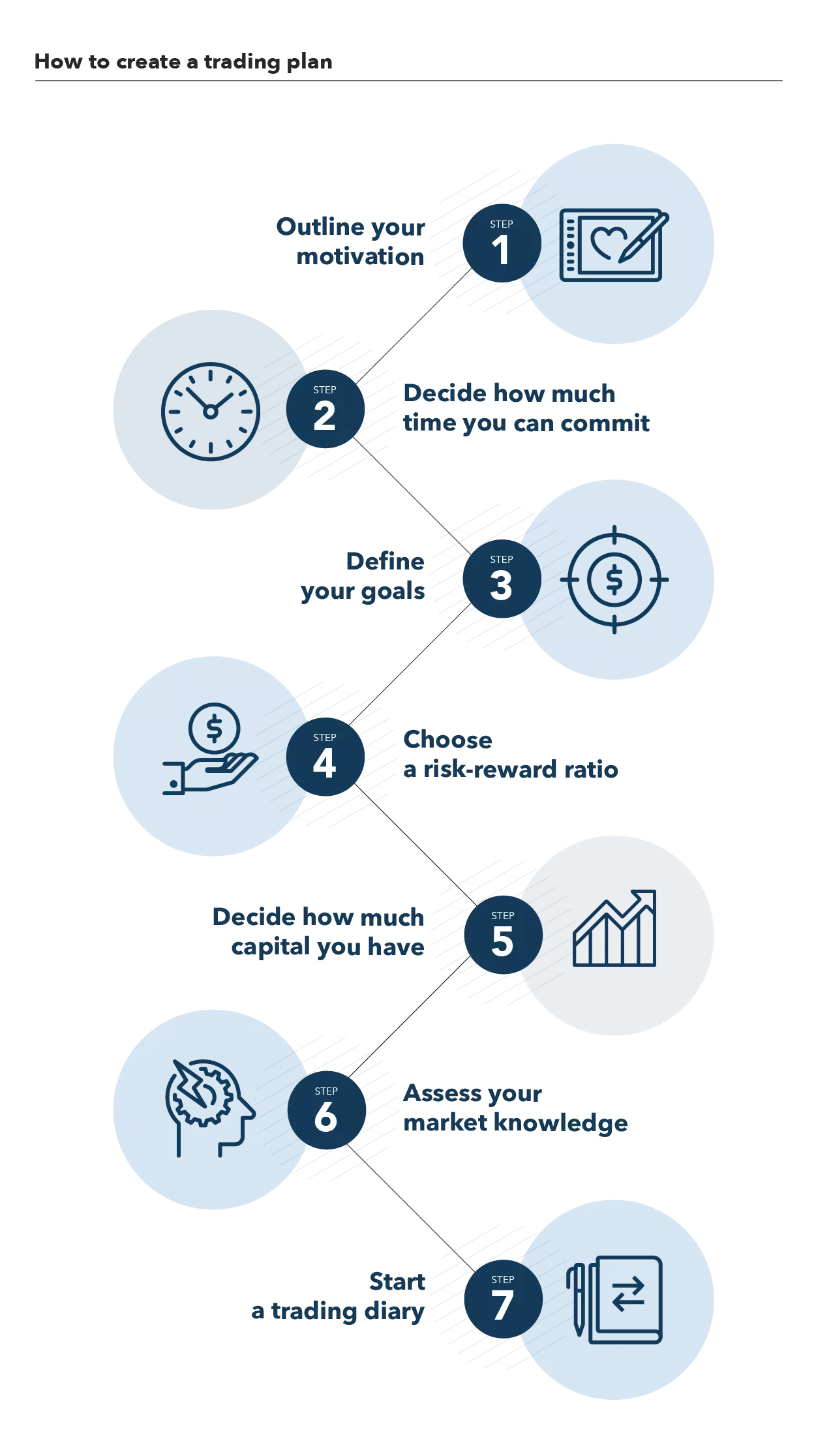 Outline your motivation
Figuring out your motivation for trading and the time you're willing to commit is an important step in creating your trading plan. Ask yourself why you want to become a trader and then write down what you want to achieve from trading.
Decide how much time you can commit to trading
Work out how much time you can commit to your trading activities. Can you trade while you're at work, or do you have to manage your trades early in the mornings or late at night?
If you want to make a lot of trades a day, you'll need more time. If you're going long on assets that will mature over a significant period of time – and plan to use stops, limits and alerts to manage your risk – you may not need many hours a day.
It's also important to spend enough time preparing yourself for trading, which includes education, practising your strategies and analysing the markets.
Define your goals
Any trading goal shouldn't just be a simple statement, it should be specific, measurable, attainable, relevant and time-bound (SMART). For example, 'I want to increase the value of my entire portfolio by 15% in the next 12 months'. This goal is SMART because the figures are specific, you can measure your success, it's attainable, it's about trading, and there's a time-frame attached to it.
You should also decide what type of trader you are. Your trading style should be based on your personality, your attitude to risk, as well as the amount of time you're willing to commit to trading. There are four main trading styles:
Position trading: holding positions for weeks, months or even years with the expectation they will become profitable in the long term
Swing trading: holding positions over several days or weeks, to take advantage of medium-term market moves
Day trading: opening and closing a small number of trades in the same day and not holding any positions overnight, eliminating some costs and risks
Scalping: placing several trades per day, for a few seconds or minutes, in an attempt to make small profits that add up to a large amount
Choose a risk-reward ratio
Before you start trading, work out how much risk you're prepared to take on – both for individual trades and your trading strategy as a whole. Deciding your risk limit is very important. Market prices are always changing and even the safest financial instruments carry some degree of risk. Some new traders prefer to take on a lower risk to test the waters, while some take on more risk in the hopes of making larger profits – this is completely up to you.
It is possible to lose more times than you win and still be consistently profitable. It's all down to risk vs reward. Traders like to use a risk-reward ratio of 1:3 or higher, which means the possible profit made on a trade will be at least double the potential loss. To work out the risk-reward ratio, compare the amount you're risking to the potential gain. For example, if you're risking $100 on a trade and the potential gain is $400, the risk-reward ratio is 1:4.
Remember, you can manage your risk with stops.
Decide how much capital you have for trading
Look at how much money you can afford to dedicate to trading. You should never risk more than you can afford to lose. Trading involves plenty of risk, and you could end up losing all your trading capital (or more, if you are a professional trader).
Do the maths before you start and make sure you can afford the maximum potential loss on every trade. If you don't have enough trading capital to start right now, practise trading on a demo account until you do.
Assess your market knowledge
The details of your trading plan will be affected by the market you want to trade. This is because a forex trading plan, for example, will be different to a stock trading plan.
First, evaluate your expertise when it comes to asset classes and markets, and learn as much as you can about the one you want to trade. Then, consider when the market opens and closes, the volatility of the market, and how much you stand to lose or gain per point of movement in the price. If you're not happy with these factors, you may want to choose a different market.
You can learn more about different asset classes and markets through IG Academy.
Start a trading diary
For a trading plan to work it needs to be backed up by a trading diary. You should use your trading diary to document your trades as this can help you find out what's working and what isn't.
You don't only have to include the technical details, such as the entry and exit points of the trade, but also the rationale behind your trading decisions and emotions. If you deviate from your plan, write down why you did it and what the outcome was. The more detail in your diary, the better.
Listen to our podcast on how to set up an efficient trading plan with the veteran trader and coach Casey Stubbs. You can listen to the episode on Apple, Google, Spotify and YouTube.
Discover how to start trading online
Example of a trading plan
You can use the questions and answers below to help formulate your trading plan. Remember, your trading plan is a personal roadmap – you should therefore consider your own, unique circumstances when creating one.
What is my motivation for trading?
Example: 'I want to challenge myself and learn as much as I can about the financial markets to create a better future for myself.'
What is my time commitment?
Set aside enough time to monitor your trades but consider what time of day will work best for you. Some traders prefer to keep an eye on their trades all day, while others set aside some time in the morning, during the day, and in the evening. It is always recommended that you manage your risk with stops, but this is especially true if you plan to keep positions open when you will not be monitoring them.
What are my short, medium and long-term goals?
Example: 'Ultimately, I want to increase the value of my portfolio by 15% in the next 12 months. To achieve this, I plan to take opportunities three or more times a month, but only when they fit my strategy. I also want to be consistent, to increase my risk every three months if I am exceeding my 15% target, and to continue to learn by reading financial news for at least two hours a week.'
What is my risk-reward ratio?
To calculate your desired risk-reward ratio, compare the amount of money you want to risk on each trade to the potential gain. If your maximum potential loss is $200 and the maximum potential gain is $600, the risk-reward ratio is 1:3.
It is recommended that you risk only a small percentage of your total trading capital on each trade – generally, less than 2% is considered sensible, while more than 5% is considered high risk.
How much trading capital am I going to set aside?
Example: 'I will set aside $1000 a month, for the first six months.'
Which markets will I trade?
Example: 'I want to trade forex markets and hard commodities as these are the markets I understand best.'
How will I review my trades and performance?
Example: 'I will start a trading diary, make notes with every trade, review the notes every weekday morning and do a recap of the month. I will write down successes and failures, why I made certain decisions and how I felt about trading every day. I will use my notes to revise my strategy every three months.'
Ready to start using your trading plan? Open a live account with IG to start trading today, or open a demo account to practise in a risk-free environment.
This information has been prepared by IG, a trading name of IG Markets Ltd and IG Markets South Africa Limited. In addition to the disclaimer below, the material on this page does not contain a record of our trading prices, or an offer of, or solicitation for, a transaction in any financial instrument. IG accepts no responsibility for any use that may be made of these comments and for any consequences that result. No representation or warranty is given as to the accuracy or completeness of this information. Consequently any person acting on it does so entirely at their own risk. Any research provided does not have regard to the specific investment objectives, financial situation and needs of any specific person who may receive it. It has not been prepared in accordance with legal requirements designed to promote the independence of investment research and as such is considered to be a marketing communication. Although we are not specifically constrained from dealing ahead of our recommendations we do not seek to take advantage of them before they are provided to our clients. See full non-independent research disclaimer and quarterly summary.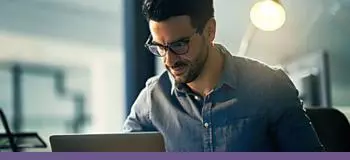 Explore the markets with our free course
Discover the range of markets you can spread bet on - and learn how they work - with IG Academy's online course.