Experience Turbo24 with our exclusive trading simulator
Practise trading risk-free with €10,000 in virtual funds
Access unique educational content on IG Academy
Try different strategies on the go with our free mobile apps
Experience Turbo24 with our exclusive trading simulator
Practise trading risk-free with €10,000 in virtual funds
Access unique educational content on IG Academy
Try different strategies on the go with our free mobile apps
Turbo warrants are complex financial instruments. Trading these financial instruments involves the high risk of losing money rapidly.
What is a trading simulator?
Use our unique trading simulator to get a feel for placing Turbo24 orders and to test-drive our platform – completely risk-free. We've created a realistic copy of our live platform, complete with tools like our built-in turbo calculator, so you can experience the benefits of turbo trading without committing any capital.
By opening a trading simulator account with us, you get immediate access to €10,000 in virtual funds – ideal for experimenting and getting to know Turbo24.
Why use our trading simulator?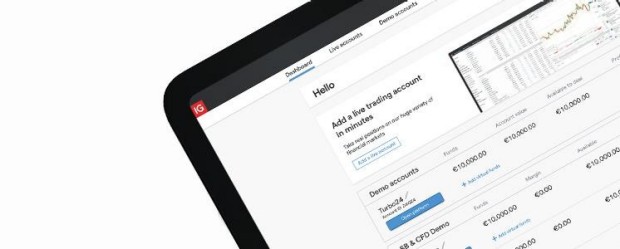 Set up your trading simulator account quickly and easily
Discover a platform tailor-made for turbo traders – with a built-in turbo calculator and interactive charts
React to volatile market movements wherever you are with our mobile and tablet apps
Trade on Spectrum, a multilateral trading facility with a transparent order book
How does live trading differ from the features offered by the simulator?
The main difference with live trading is that you're risking real capital rather than virtual funds. Practising with the simulator will give you a feel for the speed at which both profits and losses can develop, underlining the need to pay close attention to the markets and use techniques to reduce your risk. Our simulator will give you a realistic experience, closely mimicking live trading, so you can test tools such as our custom alerts, stop orders and intuitive charts that will help you to manage risk. You'll also be able to try choosing different knock-out levels, which will cap your maximum loss at your initial outlay.
Learn all about turbo warrants and how they work.
Discover how you can trade currencies with Turbo24.
Trade all the top local and global stocks.